Astore is one of the most beautiful valleys in Northern Pakistan, with few amenities as compared to Gilgit and Hunza. But it offers endless opportunities for trekking and exposure to previously unknown cultures. It is known for its diverse natural wonders, and access to the world's unique mountains.
With a total area of over 5,000 km² ,spread over 120km makes it difficult for visitors to see the entire valley in one visit. Characterized by its geographical diversity, numerous hiking trails, and alluring landscapes, the Astore Valley is a great destination for adventurous travelers.
Location Of Astore Valley
Astore Valley is in Astore District of Gilgit Baltistan, located to the southeast of Gilgit and occupies the east of majestic peak of Nanga Parbat.
This picturesque valley of beautiful mountains is lies at an altitude of 2600 m above sea level. There are over 100 villages in valley it has about 250 square kilometres of glaciers. After entering the valley, the closest glacier is Harcho, the most accessible one is Siachen Glacier.
Routes Towards the Astore Valley
Via Deosai Plain
It takes 7-8 hours to reach Astore Valley via Deosai Plain, about 152km from Skardu. Road conditions are not good so personal cars are not recommended for this road. This road is too bumpy, so you need to rent a jeep from Astore to Deosai Plain.
However, the Deosai road operates only in summer from July to September. In winter, it is blocked by heavy snowfall and landslides.
Via Jaglot Route
Astore valley is accessible from Gilgit via Jaglot, a 4-5 hours driver over 120 km by jeep. The valley can only be accessed by 4×4 vehicles.
This beautiful valley is surrounded by high snow-capped peaks of Hindu Kush Range.
Weather of Astore Valley
The weather in Astore is favourable for tourism as it provides an exit for tourists from hot places.
But you can see the true beauty of Astore Valley in summer from June to September. In other seasons, heavy weather makes travelling dangerous.
Temperature in Summer
Astore Valley's climate is generally cold but mild, with precipitation even in driest months. Summers in the valley are very pleasant with temperatures between 21 degree Celsius and 8 degree Celsius.
The average rainfall is 427mm. In summer, most of the areas are bright and lush green. And you can get a snow view on slightly higher point of plateau.
Temperature in Winter
Winters in Astore Valley are cold with snowfall and temperature can drop as low as -4.5 degree Celsius. To keep yourself warm, it is recommended to bring a thermal jacket, hiking boots and socks.
Heavy rains, snowfalls and landslides are likely to occur in winter, which can make access difficult to this stunning place.
How to get to Astore Valley from Islamabad & Gilgit?
By Air
PIA operates daily 2 flights from Islamabad to Gilgit-Baltistan with a travel time of 45 minutes. The distance from Gilgit to Astore is 98km and can be reached in about 4 to 5 hours.
There is another option to take flights from Islamabad to Skardu and then drive up to 5 hours from there to reach your destination.
By Road
The distance from Islamabad to Astore is about 494km and you need to take the N-15 National Highway. This entire itinerary takes approximately 11 hours and 35 minutes with no rest. Various corporate commuter buses and vans arrive at Astore Valley from Rawalpindi and Islamabad.
If you're planning to visit Astore Valley in summer, we recommend that you visit destination via Naran-Kaghan Valley and Babusar Pass.
But if you're visiting Astore Valley in winter, the Karakoram Highway is a good choice to get to your destination. Because in winter the Babusar Pass is closed due to heavy snowfall while the Karakoram Highway is open all year round.
Tourist Attractions In Astore Valley
This valley is a hub of scenic lakes, greenish meadows and  majestic mountains, and you can't explore all these places in a single day. Here is the list of places to visit in Astore valley.
Rama Lake
One of the best place to take your breath away is Rama Lake. The beauty of this place attracts visitors like a magnet. It is 42km from Astore and the road to this lake is very adventurous in itself.
A variety of medicinal plants, snow leopards, ibex, musk deer and partridge surround this lake. For views of Nanga Parbat from Astore Valley, you must visit Rama Lake, and these mesmerizing views make it even more beautiful.
Minimarg
Perched at an altitude of 2,844 m, Minimarg village is a real paradise on Earth. It is famous for its warm and hospitable people, beautiful scenery, gleaming streams, fertile fields, and lush pine forests.
Minimarg is located on the border of Gilgit Baltistan and Kashmir. Access to this village requires military permission at Chilim Chowki due to the border area. And you should consider renting a good 4×4 jeep for this road.
Rama Meadows
Rama is considered one of the most beautiful meadows in Pakistan. Nana Parbat can also be captured from here.
With lush greenery, alpine trees and shrubs, pristine lake and mountain views, Rama Meadows is the perfect gateway.
Domel
DIt is a piece of heaven, in Astore District, located at an altitude of 2845 meters. Domel is a home to majestic peaks covered in lush foliage, dense pine forests , and a natural lake, known as " Crystal Lake". The water of this lake form as result of melting of mountains ice.
Rainbow Lake
On the way to Domel, there is a small village called Nagai, which consists of small wooden huts. The jewel of this town is the unspeakably beautiful Rainbow Lake. This lake is home to large brown trout popular with anglers trout.
This is an artificial lake that draws water from local streams. It is so named because the crystal clear water takes on different color at a different time of day.
Deosai Plains
Deosai, often known as, " The land of Giants" , is the second highest plateau in the world at altitude of 4114 meters above sea level. It is the most desirable jeep safari among visitors from Astore Valley.
Deosai Plains is home to ibex, wild horses, Tibetan blue bears, snow leopards and brown bears. This region also has a spectular Sheosar Lake.
Allah Wali Lake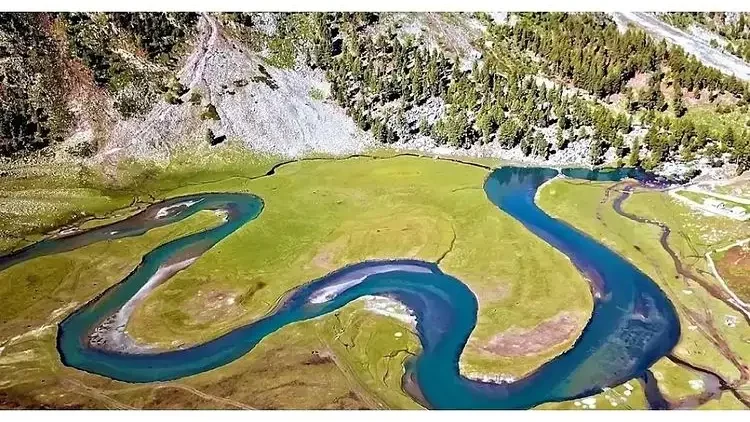 Allah Wali Lake is one of the ancient tourist destination, located at the edge of this perishing valley, a 45-minute drive from Astore. This is a majestic place and the water streams will amaze you.
This lake is in zigzag shape, and when viewed from a height of 70 meters, the name of Allah is clearly visible.
Nanga Parbat
The Nanga Parbat Basecamp Trek is one of the most popular treks in the world. It is not a single peak, but a mountain range of 20 Kilometres. The southern side is known as Rupal, and the northern side is called as Raikot.
If you want to take incredible views of Nanga Parbat, you  should visit Nanga Parbat Viewpoint.
Rupal Valley
Overlooking the south side of Nanga Parbat, Rupal is a spectacular valley in Astor District.
This beautiful village is  surrounded by huge mountains and glaciers, juniper forests and other kind of plants that offers wonderful and breathtaking views for visitors. It is also known for its adventurous hiking trails.
Activities to do in Astore Valley
Mountaineering
All climbing activities in Astore Valley center around the Nanga Parbat. For climbers, who want to climb 8,000 metres, this killer mountain presents the great challenge.
The peaks of Chongra and Rupal are major attractions for climbers in Astore Valley, among other climbing options.
Trekking
Astore Valley is a utopia for trekkers, offering visitors a wide range of trekking options ranging from easy to strenuous hikes.
The famous routes for trekkers include Rama Meadows and Lake, Astore to Skardu via Deosai Plain, from Minimarg to Domel, and Tarishing to Fairy Meadows.
Jeep Ride
In addition to mountaineering and trekking, tourists can also take an exciting jeep ride through Astore-Shounter valley road. This road is less strenuous but highly adventurous.
The Beauty of Astore Valley
At the beginning of the valley, the landscape is defined as a dry plain, with sharp rocky mountains on either side. A short path leads to fertile green meadows overlooking Nanga Parbat.
The Astore valley is a famous center of cultural and historical activities and the terminus of many major tourist destinations in Gilgit-Baltistan region. This valley is strikingly delightful, completely different and contradictory in geology, environment and geography.
Individuals of Astore Valley
The Astore Valley has about 100 villages with 70,000 inhabitants. The residents of valley are very welcoming. During your travel, you will find that the people of this area are very simple and they leas a self-sufficient lifestyle but their hospitality is beyond bounds.
Astore has rich language experience and the most of the locals speak Shina, an Indo-Aryan language. There are many festivals happen in valley such as Navroz Festival, Shandur Polo Festival, and Babusar Cup Polo tournament.
Places To Stay In Astore Valley
PTDC Motel Rama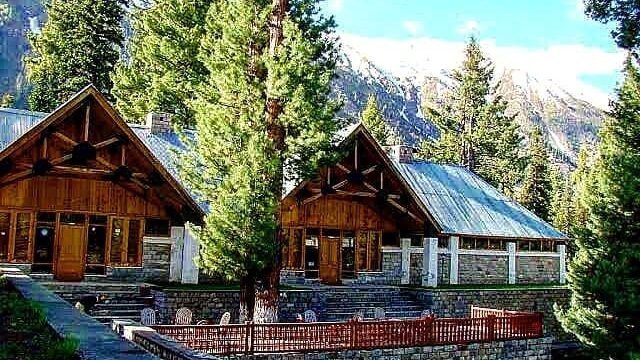 Astore Valley has only few hotel options to choose from, but the PTDC Motel is considered one of the best location.
It is a comfortable and cozy place In remote area and offer great amenities and delicious food to its customers. They also offer quite a bit of what is considered a luxury in that valley, like gas heaters.
The motel has a beautiful dining and sitting room with nice wooden architecture. A neat and clean place with variety of rooms, friendly and courteous staff, and the best thing is their fixed rates.
Rama Midway Guest House
With 24-hour room service, dry cleaning services, free parking, free Wi-Fi, a restaurant and a free cooked- to- order breakfast, Rama Midway Guest house is not to be missed.
Featuring a garden, this guest house also provides a shared lounge and terrace. They also provides picnic area and barbecue grills if you want to enjoy a barbecue night there.
Kamran Hotel
This hotel is on the way to Rama Meadows. Beautiful newly built rooms for guests with exquisite taste. Kamran Hotel has many amenities such as free breakfasts, Wi-Fi, and hot water for shower.
Regarding the price of this hotel, there is a fixed rate by the management. They also offer jeeps for excursions to Ram Lake and Deosai.
Conclusion
Astore Valley; a great destination for adventurous travellers, is the gateway to many tourist attractions,  surrounded by Diamer in the West, Gilgit in the North, Skardu in the east, and Neelum Valley in the south. You are truly blessed with this sight!