Lahore is best known for its lively atmosphere and rich culture, but when it comes to food, Lahore has made it to the top because you can get everything from high to low at very reasonable prices. Food and Lahoris are synonymous,  and if the food is biryani, who doesn't get the hunger pangs?
Biryani is the king of South Asian cuisine and everyone's favorite. No food can beat the taste of it. The question is often asked, " Is biryani Pakistan's national dish?" For those looking for the best, read on to find out about the 15 best biryani spots in Lahore.
Student Biryani
After more than 40 years of dedication and hard work. It is one of Pakistan's most famous names for the best biryani flavor.
From here, mouth-watering hot biryani and other dishes on the menu can be delivered to your doorstep in minutes. Priced a little over Rs 300, a bit pricey for budget-conscious customers, but the tasty biryani is well worth the price. Student Biryani is not only ideal for students but also the best choice for families.
Location: Fortress Stadium road, Lahore, Pakistan.
Biryani Express
Biryani Express, the ever-growing network has 30 outlets across the city, and each one seems to offer a uniform and alluring flavor. The taste and texture of the biryani served here are amazing.
For less than 200 rupees, you can get a plate of heavenly biryani filled with spiciness, raita, salad, and drinks. Pretty surprising, right? Well, that's what makes them stand out. You will become an avid biryani fan when you taste the perfect combination of herbs and spices at Biryani Express. This famous biryani spot in Lahore has dine-in, takeout, and delivery options.
Location: Block E Phase 1, Johar Town, 369 E Allah Hoo Chowk, Lahore, Pakistan.
Waqas Biryani
Waqas Biryani is the best biryani spot in Lahore and you won't get tired of eating it over and over again. It may not be the ideal place to sit and eat, but it's nonetheless a great place to grab a plate of your favorite meal.
The biryani prepared here is characterized by a strong, appetizing aroma and a rich, spicy taste. No wonder their biryani retains the title of Lahore's best biryani. Their chef's most distinctive feature is the addition of pulao flavor. They provide quality taste to their customers.
Location: Hall road, Lahore, Pakistan.
Karachi Biryani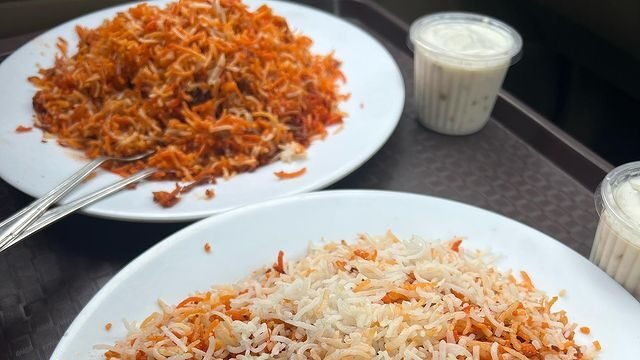 If you're looking for a Sindhi-style biryani in Lahore, this seems to be your place. Sindhi biryani lovers prefer Karachi Biryani. Not only does it reflect the taste, but the price is also very reasonable. They have several branches around the city.
They provide delivery service, if you want something delicious, Karachi Biryani is the most preferred biryani spot in Lahore. Just call and your favorite dish will arrive at your doorstep.
Location: Commercial Area Garden Town, 22 Civic Centre, Barkat Market, Lahore, Pakistan.
Nova Biryani
Nova Biryani will take your taste buds to heaven with a special traditional flavor. They promise a royal experience of expertly prepared biryani with the freshest ingredients in the region.
This unique biryani center uses a variety of meats, herbs, and masalas to serve up a creepy flavor. The most important thing today is that food should be hygienic. Moreover, Nova Biryani's packaging system is unique, the way they wrap or serve makes their food quality even better.
Location: Abdul Haque Road, Block G1 Phase 1 Johar Town, Lahore, Pakistan.
Biryani King
Next on the list is Biryani King, famous for its tasty and delicious biryani in Lahore. It offers you the perfect combination of spices, aromas, and meats to create delicious flavors that will give you a thrilling and soul-satisfying experience.
They not only serve traditional biryani but also share Eastern and Western tastes. And the sitting area is too comfortable. So, if you're in Lahore, Biryani King is the perfect place for you to fill your stomach.
Location: Agro Squire Shop No.31 Shadman Market, Lahore, Pakistan.
Master Biryani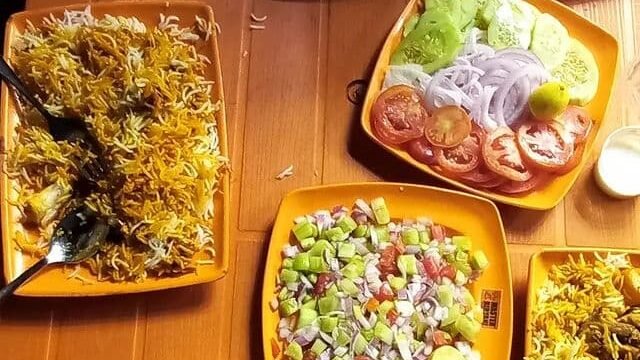 This legendary biryani spot in Lahore, is not to be missed. Their must-try dishes include chicken, mutton, and kabab biryani. Their serving size are great and worth the price.
Their dishes are made with fresh, high quality ingredients and spices. They have several branches throughout the Lahore. Bring your friends to Master Biryani, and enjoy a meal together.
Location: Near Hall Chowk, Shahrah-e-Quaid e Azam, Lahore, Pakistan.
Rizwan Biryani
If you want to enjoy the best biryani in Lahore, this is the place to go. Other than biryani, they offer you pulao, daal chawal, and shami Kebab.
Local herbs and spices are the secret to its exquisite taste, and the raita adds a festive touch. You can also get this tasty biryani at your doorstep by using their delivery service.
Location: Shop 6E Main Market, Block B F.C.C, Lahore, Pakistan.
Lazzat Kadh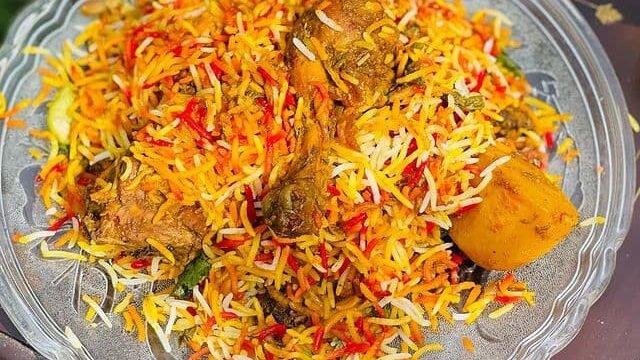 Lazzat kadh takes a different approach to making biryani because they modified the traditional biryani with Palak and mutton. The combination looks simple, but with a mixture of spice and herb and a unique recipe, this is where you will find Lahore's most delicious biryani.
The Lazzat Kadh restaurant also offers many other unique dining options with excellent presentation, great serving, and cooking styles.
Location: Gulberg III, Block A-2, Jamia Masjid Rizwan, Lahore, Pakistan.
Biryani Hut
Biryani Hut is one of the fine restaurants in Lahore serving the best biryani cuisine. This is the small cozy place for friends and family in town.
Whether it's chicken, beef, or plain biryani, Biryani Hut guarantees the best combination of flavors. There are many other options and offers that can provide you with a variety of food at affordable prices.
Location: 174 Main Blvd Gulberg, Block D1 Gulberg III,  Lahore, Pakistan.
Biryani Plus
This restaurant is known for its atmosphere and biryani specialties. Biryani Plus brings you the most authentic taste of Sindhi Biryani in Lahore. It is one of the most visited biryani spots in Lahore that has added a delicious indulgence to flavorful biryani.
The serving quantity of biryani is enough to fill your stomach, garnished with chutney and salad. It also offers dine-in, takeout, and delivery options.
Location: Main Blvd Gulberg, Opposite Hafeez Centre, 1-B Ejaz Centre, Lahore,  Pakistan.
Matka Biryani by Patakha
Patakha serves great Matka Biryani just like any other biryani, full of flavor and aroma. Topped with succulent slices of beef and generously garnished with onions, potatoes, and lemons.
It takes almost 40 minutes to prepare this Matka biryani, but rest assured, the wait will eventually be worth every bite. To be honest, the fantastic taste and the idea of serving biryani in glazed earthenware seemed quite appealing.
Location: 177 CC, Commercial Market, Phase 4 DHA Lahore, Pakistan.
Daleem e Khas Matka Biryani
Recently opened Daleem e Khas restaurant, offering one of the best daleem and Matka biryani in Lahore. The new matka biryani trend is on rising in Pakistan and this unique preparation style gives biryani a new taste that might steal your heart.
The best thing about Daleem e Khas matka biryani is that it is served fresh. So next time you are near Gulberg Market Lahore, you must try this place for one of the most delicious matka biryani in Lahore.
Location: 207-G, Raja Centre Main Market, Gulberg 2, Lahore, Pakistan.
Butt Biryani
Butt biryani is a brand that pursues fresh and delicious biryani at a reasonable price. It is highly praised for its unique flavor. Interestingly, the appetizing taste draws all inhabitants to the yard.
Lahore's famous Butt biryani serves biryani in a unique and delicious way, paired with Malai Botti and chicken tikka. In terms of price, the place is very reasonable and economical.
Location: Market 545, Karim Block Allama Iqbal Town, Lahore, Pakistan.
Lasani Biryani
The famous Lasani biryani in Lahore is different from all other types of biryani because of the spices used in it. Their food combos go very well with Zeera Rice or Chapli Kabab.
The recipe followed by Lasani Biryani is almost the same as in other restaurants, the only difference is the way the dish is served. In most restaurants, biryani is served in a bowl rather than a traditional dish called dam pukht.
Location: Firdous Market, Gulberg III Model Colony, Lahore, Pakistan.
The Monal Lahore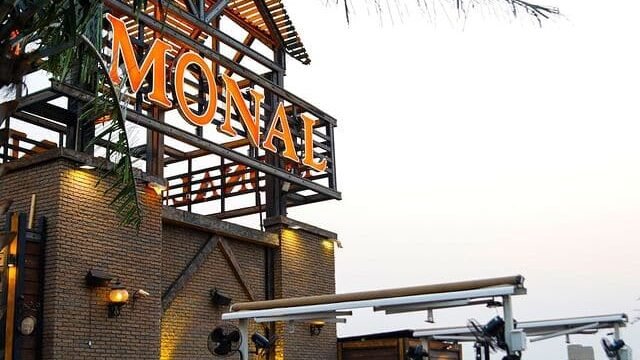 Lahore's favorite restaurant, Monal also serves the finest biryani in town and is a great place for buffet dinner. The food is always fresh and the chef sends out your order quickly so you don't have to wait long.
This rooftop place is undoubtedly the best choice for biryani in Lahore. Be sure to get a taste of Monal when you come to Lahore. You can observe an amazing environment, atmosphere, and food quality compared to other biryani outlets.
Location: Plaza Liberty, Shahdara Park, Commercial Area Gulberg III, Lahore, Pakistan.
Dogar Restaurant
In a city where most people go for fine dining, Dogar restaurant won't let you down with an interesting selection of biryani with no compromise on taste.
Dogar restaurant offers a unique flavor, spicy, fragrant, and not greasy at all. You can easily choose between Plain Biryani and Spicy Chicken Biryani with full plate or half plate options. Whatever you choose, the most important thing is a spicy taste of absolute biryani that will make you want to eat more.
Location: Sector H DHA Phase 1, Street 141, Lahore, Pakistan.
Conclusion
Locals and visitors love to eat biryani in Lahore because it combines a variety of ingredients and masalas that make it tastier.
These top spots make up for a busy day at work and are also a great way to organize a meal with friends or family. Eating biryani at your favorite place with friends is still a dream for many people. So, we've compiled the list of 15 best biryani Spots in Lahore that will satisfy your cravings.