You might have heard this "Jinne Lahore Nai Dekhya, O Jamya E Ni" many times. This is so because Lahore, the heart of Pakistan is enriched with ethnicity, food, and traditions. Moreover, being Lahori or being in Lahore is all about knowing variations of food.
To bring to you the best out of the lot we've come up with the List of 50 Exotic Places to Eat in Lahore One Must Never Miss!.
Places to Eat in Garden Town 
Options Restaurant (BBQ, Lebanese, Pakistani, Continental, Chinese)
Explore the exquisite flavors all the way from Iran, Lebanon, Pakistan, Continental, and Mediterranean cuisines here at Options restaurant. 
The place is likewise appreciated for its praiseworthy event arrangements. However if you are someone who loves Turkish food then do not forget to check our list of Turkish restaurants in Lahore.
Bean n Grain (Chinese, Continental, Fast Food)
Visit Bean n Grain to get a taste of delectable BBQ, Chinese, Continental, Pakistani, and Fast Food dishes. They equally specialize in serving exquisite desserts and coffee. We have also got a separate list of Lahore's top Chinese restaurants, that might be helpful to you if you just love Chinese food.
The customized cakes available here are the ones making it perfect for celebrations. It is without a doubt one of the most visited places to eat in Lahore.
Al Nafoura Restaurant (Lebanese and Pakistani)
Are you a party lover? Visit Ten 11 Lounge to enjoy exquisite American, Chinese, and Italian varieties. Do not forget to miss out on their exotic Cheese Lava Burger and enticing Hi-Tea Platter. 
The place is ideal for any party lovers to go because of the lively ambiance and decorum.
Ten 11 Lounge (American, Chinese, Italian)
Are you a party lover? Visit Ten 11 Lounge to enjoy exquisite American, Chinese, and Italian varieties. Do not forget to miss out on their exotic Cheese Lava Burger and enticing Hi-Tea Platter. 
This modernistic place to eat in Lahore is ideal for any party lovers because of the lively ambiance and decorum.
Places to Eat in Gulberg
The Balcony (American, Asian, Continental, Fast Food)
The Balcony is a contemporary place to enjoy diverse varieties of meals. People prefer to visit here due to its ambiance.
Some of the specialties include stuffed butter chicken, grilled Artichoke, parmesan herb chicken, green curry, and Thai ginger prawns.
Bagh- The Garden Kitchen (Traditional, BBQ)
Bagh is not just famous for its food but for its ambiance too. Those who are fond of traditional Pakistani handis, BBQ, desserts, and other dishes can always visit here. 
It can likewise be considered as the best place to celebrate birthdays.
The Brasserie (French, American, Mediterranean) 
The Brasserie has gotten much more than the traditional French cuisine. It is one of the top-notch restaurants in Lahore to delight diverse palates. 
One cannot just enjoy a variety of dishes but of hot and cold beverages too.
EAST (Chinese, Thai)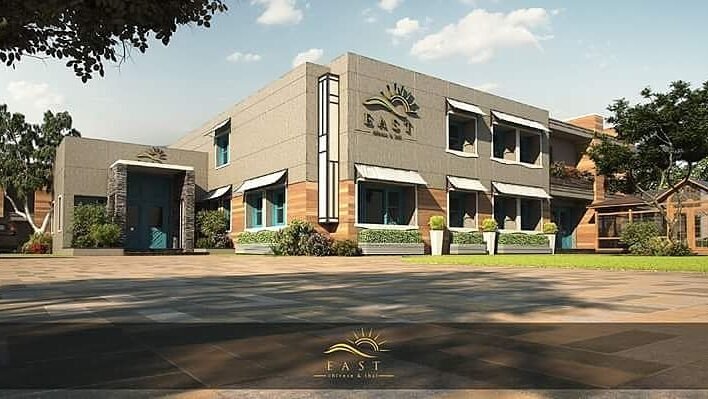 Want to taste delectable Chinese and Thai? Try the best at EAST. Get a chance to enjoy the best Chinese food in Lahore in a sumptuous ambiance. 
The most exciting thing is that they can do picture-perfect decor for any celebration without all costs.
The Urban Kitchen (Mediterranean, Continental, Hi-Tea)
If you are a foodie but you want an all-at-one-place solution to the cravings, then come to The Urban Kitchen. Not just will you be served here with the finest food but it surely is the best place to have brunch. 
Remember not to forget their specialties in the brunch menu including Nawabon ki Thali and other assortments from diverse cuisines
The Otus Rooftop (Buffet)
It is an ideal option for those who are in search of a unique dining experience as well as buffet options. The Otus Rooftop offers an exclusive rooftop buffet in Lahore for dinner and hi-tea. To keep their guests excited they change their menu after 8 weeks. 
This casual open-air dining place is also appreciated for the unmatched birthday and anniversary decor packages.

Places to Eat at MM Alam Road
Wasabi (Japanese)
Japanese, Chinese, and Korean cuisines are so in demand worldwide. Wasabi is one of those platforms one can get authentic Japanese food at.
 It is one the best places for breakfast in Lahore, with exotic Japanese specialties in option. The best part about eating here are those healthy drinks and smoothies options one must give try to.
Pinch of Spice (Hi-Tea Buffet, HotPot)
HotPot is an utmost part of authentic Chinese dining found rarely in Pakistan. Pinch of Spice has brought to you this unique opportunity to explore this HotPot dish in Lahore. 
Moreover, their diverse hi-tea menu consisting of more than 35 dishes is equally appreciable.
Amavi (French, Italian, Middle Eastern, Seafood)
Amavi is surrounded by already hundreds of Cafes you can explore at MM Alam Road. The place is famous for offering scrumptious French, Italian, middle eastern, and seafood varieties. 
You can without much stretch quality ensured breakfast and other meals here with a family-friendly environment.
Coco Cubano (Cuban, Mexican)
Do you want to have a lively feast in a lavish atmosphere? If yes, Coco Cubano is an answer. They are the pioneers of serving Cuban food infused with authentic flavors from Havana. 
They have now begun to serve the premium coffee made of beans from Paradox Coffee Roasters.
Mastani (Streetfood)
Lahore has so many options when it comes to street food, Mastani is the name that Lahoris are already so familiar with. One can effortlessly find a number of options from burgers to parathas, chaats to roll parathas, evening snacks to full-fledge desi breakfast items. 
The star of the show is their flavorful Karak Chai, Raj Kachori, Bhel Puri, Bun Kebab, Zinger Burger, and Pani Puri.
Spice Bazaar (Buffet)
If you are fond of enjoying buffets, try any of the buffet packages available at Spice Bazaar. The exclusive Sunday brunch for a joyous Sunday includes more than 40 dishes. 
Furthermore, they have also introduced the Super Hi-Tea Buffet, other than their Hi-Tea buffet with 35 delicious options. All these factors make it one of the 30 best buffet places in Lahore.
Aladdin Lounge (Pakistani, Asian, Continental)
Have you ever seen your childhood fantasies transforming into realities? Here at Aladdin Lounge, one can have such a phenomenal experience. It is a theme-based restaurant bringing to live your favorite Disney fantasies to reality. 
One can have a delightful feast here with a royal family-friendly environment.
Places to Eat in Johar Town
Qabail (Afghani, Pashtoon)
Have an incomparable dining episode at Qabail amidst the traditional tribal ambiance. The unmatched hospitality and authentic Afghani, as well as Pashtoon cuisines, are the specialties of this place.
Due to the authenticity in not just the taste, and ambiance but also the decorum it is considered one of the best Afghani restaurants in Lahore.
Chhintalia (American, Desi, Continental, Asian)
Are you in search of a place to make your celebrations memorable? Chhintalia is surely an ideal option. It is one of the 20 best places to celebrate birthdays in Lahore due to the effort they put in to make it remarkable. 
Their menu with more than 80 options to choose from and a pleasant ambiance makes it worthwhile.
Sichuan (Chinese)
Sichuan restaurants are the perfect option to have enjoy authentic Chinese with family or friends. Check out their special deals to enjoy the best you want as per your requirements. Everything is prepared fresh and according to the demands of customers with great taste and quality.
The visitors can enjoy both indoor and outdoor dining here with the same services and serene ambiance.
Howdy's (Burgers, Steaks)
In search of mouth-watering burgers in Lahore? Why not try Howdy's then? The hub of juicy, cheesy, and meaty burgers. One can avail the best burgers in Lahore from here full of flavors and better in quantity. 
The other succulent specialties one can enjoy here is the Monsta Wrap, Chock a block, and a wide range of grilled wings.
Places to Eat in DHA
Sumo (Japanese)
From being the pioneers of Japanese food in Pakistan till today, Sumo has always been at the top. They excel in creating the ambiance and serving food both having Oriental flavors. 
The place is famous for having live teppanyaki cooking stations, a Sushi bar, and their Robata grill.
Pasta La Vista (Italian)
As the name itself suggests, Pasta la Vista is all dedicated to Pasta and Italian cuisine lovers. It is a small place with only a capacity of 26 people standing out among the crowd due to having a modern industrial interior. 
Everything related to Pasta is available here for Pasta lovers to dig in.
Bamboo Union (Pan Asian)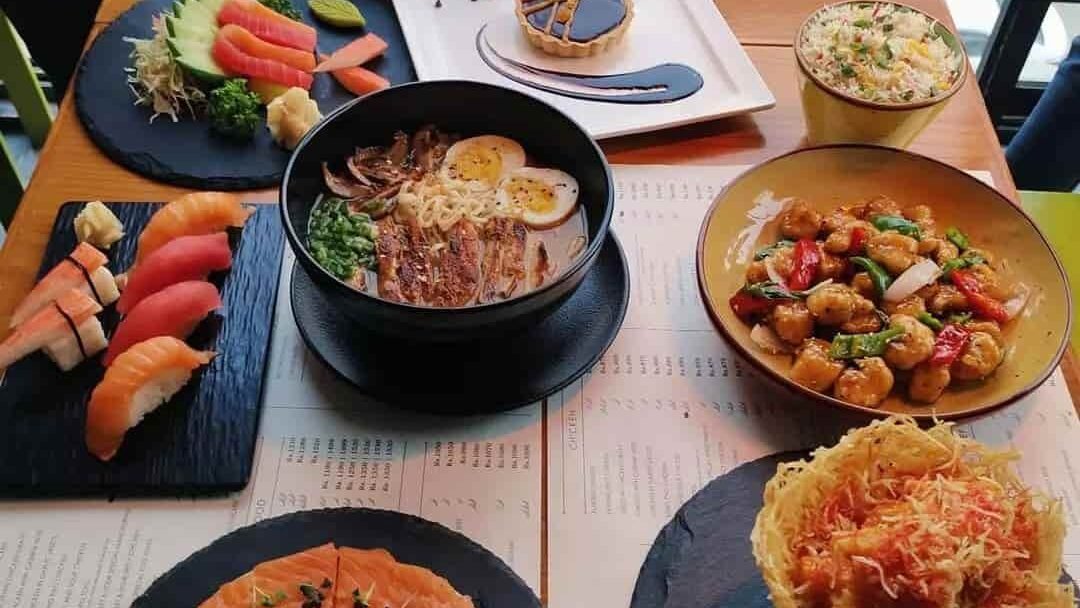 The only place from where the Pan Asian Cuisines emerged in Pakistan is the Bamboo Union. The skilled chefs serve the best food from different Asian countries.
From soups to kiddy bowls, chicken to beef, and vegetables, desserts to savory seafood everyone can get the food of his choice.
Veera5 (Thai, Chinese)
Veera5 is a legitimate Thai restaurant with a calm family-friendly environment. One can either visit them or order food online.
It is one of the best places to enjoy Thai as well as Chinese food in Lahore. Moreover, they also offer car dining to ensure the safety of their customers.
Gaia Japanese Fusion (Japanese)
The luxurious restaurant with the contemporary elegant ambiance is making the Japanese food experience better each day. Gaia was before a premium restaurant to have dinner only but now they are also serving lunch.
From soups to seafood, and main courses to desserts and beverages you will find everything purely from Japanese cuisine here.
Places to Eat in Walled City
Haveli (Pakistani, BBQ, Continental, Chinese)
Located in the historic Landmark Haveli of Khalil Khan in Fort Food Street, Haveli restaurant serves great food with greater hospitality. 
It is one of the best rooftop restaurants in Lahore that serves flavorful food in an equally appreciable ambiance. The historic vibe and royal setup make it considered among the most interesting places to eat in Lahore.
Andaaz (Pakistani Cuisine)
Andaaz restaurant is famous for so many things but the traditional breakfast and the view of Badshahi Mosque are the major ones. 
The main specialties are all those traditional Pakistani dishes and hospitality that portray national culture. It is one of the affordable places to eat in Lahore due to the price they charge with adequate quantity and well-maintained quality of food and services.
The Poet (Mughal, Pakistani, BBQ)
Who wouldn't love to have a royal and lavish dining experience? The Poet Boutique Restaurant is just made to fulfill that desire. The eatery serves specialties from Mughal, Pakistani, and BBQ infused with indigenous flavor and aroma.
One can also have a taste of multiple traditional cuisines in their Sunday Brunch Buffet, and Dinner Buffet.
Places to Eat at Lakshmi Chowk
Nishat Cafe (Traditional, BBQ)
Nishat Cafe is famous for serving the best desi food in town. They have an exquisite variety of BBQ and traditional dishes prepared with Desi Ghee. 
One must never miss out on their delicious Roghni Naan, Mutton Chops, Brain Masala, and Katakat.
Butt Karahi (Karahi, BBQ)
Butt karahi is one of the favorite desi food places for Lahoris. They serve multiple varieties of Karahi and BBQ items prepared in Desi Ghee to tantalize your tastebuds. 
If you want to try the most authentic Lahori food, visit this place once. Visit here if you are looking those places to eat in Lahore that serve the best traditional food in the town.
Places to Eat in Bahria Town
Nadeem Tikka (Desi, BBQ, Fast Food)
Nadeem Tikka has been serving since 1979 with the same unique taste and appreciable quality. Lahoris and other netizens visit this place to enjoy the appetizing BBQ, Desi, and fast food dishes.
One can also enjoy their meal beneath an open sky on the rooftop while enjoying the view of Bahria Town at front.
Dar's Delighto (Afghani, Pakistani, Mughlai, BBQ)
After successfully serving in Johar town for years the tastemakers have also started serving in their Dar's Delighto Bahria Town branch also. The special items served here include Chinese, BBQ, Pakistani, and Mughlai dishes.
Moreover, the place is also preferred to avail one of the affordable decor packages for birthdays and anniversaries.
The Clove (Continental and Mediterranean)
The calm ambiance with low lighting and modern interior makes The Clove a calm place to eat at. It serves the varieties of Chinese, Thai, Pakistani and other cuisines.
The family-friendly environment and warm treatment of its staff are the other reasons for its fame.
Chow Ming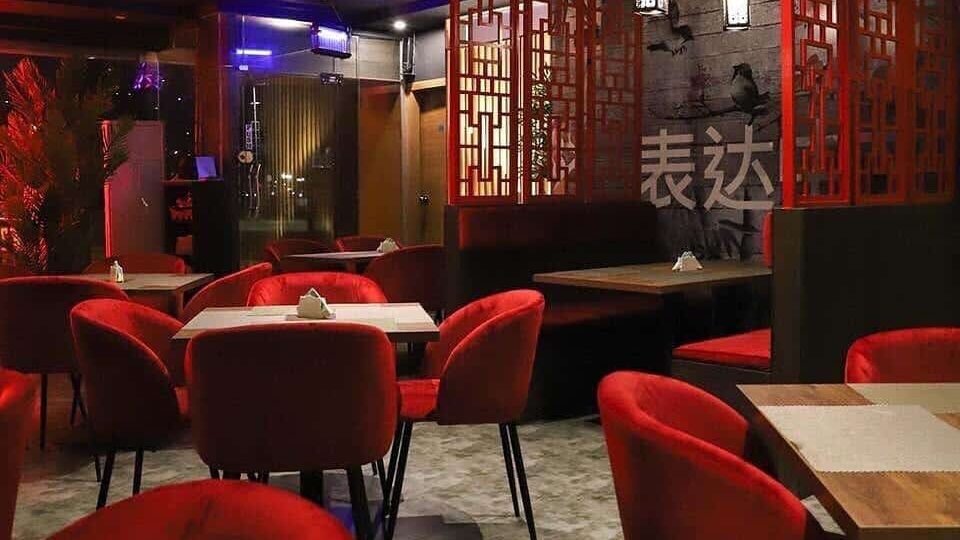 Want to try out affordable Chinese food in Bahria Town? Make it happen at Chow Ming. The specialties served here include Chicken, Beef, Rice, Soup, noodles, and Seafood. 
One can further enjoy their delectable platters and exquisite Thai options. The standard they have set for the quality, quantity, and authenticity of taste makes it one of the best places to eat in Lahore.
Places to Eat in Fortress Stadium
Eedon (Asian, Continental Mediterranean, BBQ)
Eedon is one of the ideal places to dine in Fortress Stadium because of its diverse menu. Everything is cooked fresh as per the requirements of customers. Professional chefs ensure the taste, quality, and quantity of everything that they serve.
The minimalist ambiance and soothing vibe of the eatery attract more diners.
Balochi Sajji by Bundu Khan
Balochi Sajji by Bundu Khan is a new addition to the list of fine eateries located in Fortress. It is one of its kind place with Balochi traditional interior and ambiance and Sajji varieties. 
The ones craving to have the best Balochi sajji restaurant in Lahore can surely visit here. 
Habibi Restaurant (BBQ, Afghani)
Habibi Restaurant is a perfect place to opt for trying desi, Chinese, and afghani specialties. They serve with flavorful Handis and other desi items with meat choices. 
Moreover, one can also enjoy here the Afghani style special Qabuli Pulao and so much more with live background music.
Guji's Steakhouse (American, Italian, Fast Food)
The fortress is an all-in-one destination to explore fun, entertainment, shopping, and food at the same time. Guji's is one of the exotic places here to try exclusive steak diversities from.
The menu consists of premium American, Japanese, Italian, and Fast Food items.
Places to Eat at Mall Road
Covo Restaurant (Italian)
Covo located in the PC hotel Lahore is an all-Italian restaurant for Italian cuisine lovers. The well-trained chefs prepare delish Italian dishes with authentic taste and aroma maintaining the quality.
One can also enjoy their special lunches and dinners available on special occasions like Eid, Christmas and etc.
The Lakhnavi (From the Kitchens of Nawabs)
Visit the Lakhnavi restaurant in Avari hotel to get the flavors of cuisines from the sub-continent. Being the pioneers of it they serve Nawabi dishes with the same delicate recipes from the past. 
It is undoubtedly the best place to experience the 200 years old culinary styles.
Koyla (BBQ, Italian, Pakistani)
There are many places in Lahore where one can enjoy desi food items at. However, Koyla is a premium place to have it in the finest ambiance. The sizzling yet savory BBQ makes it feel worthwhile to invest at such a place. Moreover, they also have dishes from other continental and Asian cuisines too.
The restaurant is comprised of two floors has enough space to serve multiple customers at one time.
Fujiyama (Japanese)
Fujiyama is another great place in Avari hotel to get delighted with Japanese cuisine. The traditional Japanese interior and low-lighted calm ambiance make it more look bona fide. 
Visit here to have the premium Japanese dishes prepared by master chefs.
Places to Eat in Faisal Town
Gourmet Restaurant (Mediterranean, Continental, Middle Eastern, Asian)
Gourmet food is the one serving diverse dishes at an economical price in Lahore. They have on their menu and extensive range of Chinese, Italian, Pakistani, Mughlai, BBQ, Middle Eastern, and Asian food.
It is one of the preferred places for multiple events like celebrations and meetings.
Charsi Tikka (Traditional, BBQ)
A lot of people visit Charsi Tikka to enjoy the authentic Hujra culture. The special BBQ mutton, lamb, and chicken served here is exceptional. 
The specialties are the Mutton Namkeen Handi and the Dumba/Lamb Karahi. Moreover, the Afghan taste and ambiance are worth appreciating here.
Places to Eat in Qaddafi Stadium
Nadeem's Buffet 
Nadeem's Buffet offers lunch and dinner buffets with Pakistani, BBQ, fast-food, seafood, and Chinese dishes. They also have a different party menu.
They charge half of the amount for children under 6 years and charge nothing for children up to 2 years.
Dera Restaurant (Pakistani, Chinese, Afghani)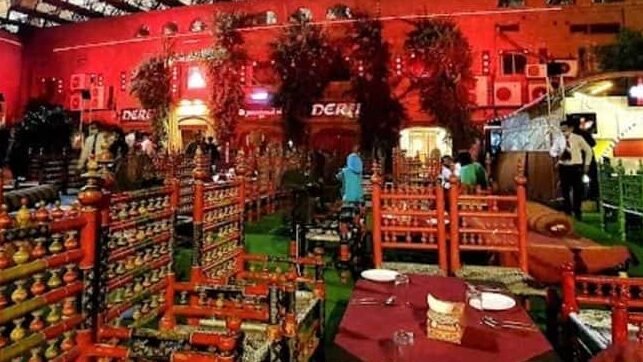 To explore the heritage and cultural cuisines along with both outdoor and indoor ambiance, visit Dera Restaurant. 
Alongside providing the vast diversities in food, they also serve with an appreciable quality with quantity. 
Mattam Makkah Restaurant (Traditional, Tribal, Pakistani)
Mattam Makkah Restaurant is a combination of international and national flavors. One can visit this place to have memorable dinings with family or friends.
They serve with both buffet and ala carte menu in outdoor and indoor seating.
Places to Eat in Shadman
Savour Foods (Pakistani)
If you are in search of something economical but with good quality and quantity, you can surely find it at Savour. It is the most affordable restaurant in Lahore serving Pakistani cuisines only.
Everything is brought fresh and quick to the tables and as well as to the ones who choose to take away.
RES Royal Lounge
At RES Royal Lounge one can enjoy being served high-quality food in a comfortable environment. The sophisticated ambiance, taste, and quality are their priority.
It is also a considerable place for the arrangement of both business and personal events.
Conclusion
Lahore is indeed is home to a lot of eateries representing cultures across the world. The list of 50 exotic places to eat in Lahore one must never miss has those that you must visit once being Lahore.