Lahore's talent is unmatched in art, taste, and food, and the city probably has some of the best restaurants and bakeries that will win your heart. A cake is a delicious delight that must be there to fill your event with joy and happiness. These fluffy, creamy creations can make an ordinary day special. But the best cakes are those that melt in your mouth, hit all the right sweet spots, and leave you wanting more.
Whether ordering a cake for a special occasion or picking up a Thursday midnight treat, choosing the proper baker is essential. Want to satisfy your sweet tooth craving? Don't worry. To improve your day, we have compiled a list of Top-notch cake bakers in Lahore.
Bakisto- The Cake Company
Lahore's most fantastic bakery mainly sells deserts with excellent taste. To satisfy the sweet taste of customers, Bakisto offers a variety of designer baked items. You'll find an eclectic range of the most delicious cake varieties. In addition, they also sell cupcakes, brownies, macarons, and Naan Khatai.
Bakisto offers items like flowers and chocolates, making it an excellent choice for customers looking for the perfect gift.
Cake Feasta
If you're into classy cakes with intricate designs, look no further. Cakes Feasta is one of the famous cake bakers in Lahore. They use the highest quality ingredients, and all their products are made with love.
Share your favorite design and get the best 3D cakes. What makes Cake Feasta unique is that they deliver throughout Lahore at no extra cost to their customers.
Jalal Sons
Jalal Sons are undoubtedly one of the most famous cake bakers in Lahore. They started as a simple bakery and now have many branches. Their delicious desserts and pastries are perfect to satisfy your sweet tooth. Their attitude is professional, and their quality is unmatched.
They offer a variety of baked goods, such as cakes, cookies, traditional sweets, and delicious burgers. If you try them, you'll love them. You can find Jalal Son's in Gulberg, DHA, Shadman, and Johar Town.
Sweet Affair
Sweet Affair is an easy solution for all your cake needs and is known for its intricate designs. It is among the most preferred cake bakers in Lahore for custom cakes. And if you don't know the specific design you want, just share your party theme and be ready to get your masterpiece.
They strive to provide their customers with perfect products. Order any of these, and the cake will be delivered to your home, saving you the hassle of going to the store. You will never forget their taste… divine!
Cakes & Bakes
If you plan to find the best birthday cakes in Lahore, look no more than Cakes & Bakes. They have different designs for each event. Their taste is matchless, and the service is impeccable.
All of the cake decorations are made with fondant, and these decorations are edible. The best part is that you can visit their website and design your cake. They have various branches all over Lahore, so just place an order and enjoy home delivery on the date and time of your choice.
Opulence Bakery
If you're looking for something a little more upscale, Opulence Bakery is your best bet. It is one of the few bakeries in Pakistan that serves gluten-free and sugar-free cakes. They are the masters of all kinds of baked goods.
They have a wide range of cakes for all occasions such as birthdays and weddings. They even have 30% off custom on wedding themes. Their sweets are delicious, and their desserts are classic. Regardless of the presentation, flavor, freshness, and price, Opulence deserves to be included in the list of top-notch cake bakers.
Cinnabon Bakery Café
Packed with heavenly flavors, the softest buns, and the most tempting toppings, Cinnabon can be easily ranked as one of Lahore's best dessert places. All it takes to love this bakery is the warm and sweet scent of cinnamon.
The bakery is famous for its cinnamon rolls and donuts, and we promise all the hype is real! They also offer a variety of coffees that perfectly complement the cinnamon flavor.
Kitchen Cuisine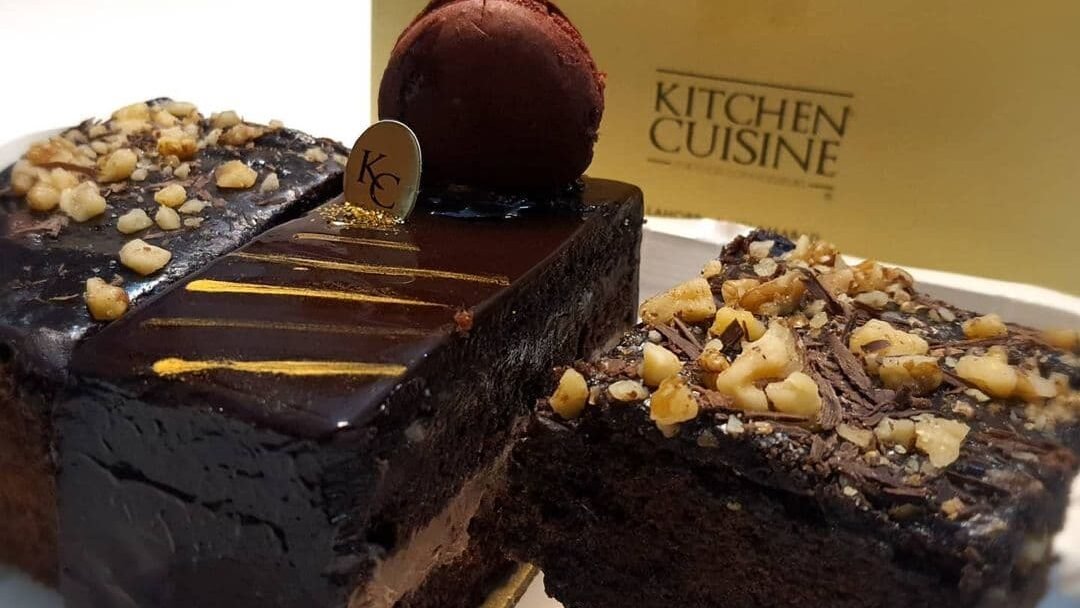 Imagine a cake that will take you to another world with its fantastic taste and soft fluffy feel! Kitchen cuisine is the one in town offering some of the best desserts that will make you visit them every time. They create custom cakes for any event.
They undoubtedly serve the most delicious Caramel Crunch and Ferrero Rocher cake with a velvety surface. They also make airline food, and their frozen foods are also popular. They are available at Iqbal Town, Gulberg, Model Town, Johar Town, and DHA. They are one of the best cake bakers in Lahore.
Layers Bakeshop
Layers Bakeshop needs no introduction when it comes to desserts. This bakery offers an extensive dessert menu and tempting cakes. Their moist and fluffy cakes are sure to hit all your sweet spots.
Among the menu list, their salted caramel cake and the lotus cake are highly recommended. The rich, salty, buttery caramel sauce brings out the deliciousness of moist sponge cakes. The lotus biscoff with cream cheese is a mouth-watering treat.
La Patisserie
Artisan bread and pastry shop recently opened in Y-Block, D.H.A., and is getting much attention. It's a one-stop shop for desserts and more. La Patisserie's toffee coffee cake is a natural adornment.
They have a wide range of baked goods, including one-bite sweets, pastries, specialized cakes, chocolates, éclairs, cupcakes, tarts, and cheesecakes. In addition, they claim to serve "French Royal Breakfast," which includes French toast, cheesy croissants, bagels, and eggs. Treat yourself to one of these desserts when you're in town!
The Cakery Bakery
Looking for a birthday party, bridal shower, or Graduation? Cakery Bakery offers a variety of flavored cakes and you can choose your favorite one. This homemade bakery is known for its satisfying quality. Send them a picture of the design you want, and they will have your dessert ready in no time.
The variety of sponges offers will mesmerize you completely. Their moist chocolate sponge cake with heavenly icing is so magical that it might even bring you to tears. Go and treat yourself now with their homemade bakery desserts.
Cake Valley
Cake valley is proud to offer the best 3D-crafted cakes in Lahore. Other products they offer include macarons, muffins, cupcakes, and cookies. Their cakes represent superior quality, unmatched design diversity, and deliciousness that will never fail to please your taste buds.
 They offer a warranty on all their products and if the cake doesn't satisfy you, let them know they will prepare a new one. If you're a caramel cake fan, you must try their Caramel Delight cake.
Cake Monster
If you're looking for customized cakes that are also full of flavor, Cake Monster is for you. They are known for their quirky designs, and without compromising taste and quality, they deliver the best cakes for your event.
Whether it's a surprise celebration for a best friend, a memory of happy marriage, a child's first birthday, or a proud graduation moment, Cake Monster loves to add value to your joyful celebration.
Sweet Rack
Sweet Rack is known for its outstanding mouth-watering delicacies of unique quality. They have everything from cheesecake to Tres Leches cake to Banoffee Pie, but their Chocolate malt cake will take you out of this world. A must-try!
They serve sumptuous dessert dishes with classic ingredients and flavors that are beloved by the public- which means they are perfect for any occasion. And the other best thing is their affordable prices for Tres Leches Cake, compared to other bakeries. Here you can grab the best brownies, chocolate tarts, and cookies.
Mini Treats
Mini Treats won't disappoint you, whether it's a delicious cake or scrumptious brownies. It is one of the biggest names among the best-customized cake bakers in Lahore.
Apart from their magnificent cakes, they offer éclairs, macarons, and mini cakes. Their black forest cupcakes are to die for! Delicious and worthwhile, we recommend everyone to try it. It's the perfect choice for any occasion. You can make your day even more special by choosing Mini Treats.
The Coffee Bean & Tea Leaf
Coffee Bean & Tea leaf is your go-to place if you're looking for creamy, melt-in-your-mouth cake. The best cake here is Belgian Chocolate cake, a juice chocolate marvel that can solve all your problems with the first bite.
This bakery is known for its perfection of desserts. And pairing these cakes with a good cup of coffee will make anyone's evening extra special.
Redolence by R & F
If you're looking for a custom cake made with a combination of caramel and fondant, Redolence by R & F is a place. Their cakes' quality and variety are unique, and their service is second to none.
They make artistic and whimsical cakes that are perfect for surprises and birthday parties. It is the best place to buy an event cake with great taste and beautiful packaging. You'll surely be so impressed with the packaging that you won't be able to throw it away.
Waffle On Bakery
Waffle on is a local bakery on Valencia's central Boulevard. It is famous for custom-themed cakes. The bakery's creative team comes up with fresh ideas for your orders. Their cakes are just what you need for any special occasion.
This bakery is a bit pricey, but the quality ingredients used in cakes make it worth the price. Each piece of their cake is better than the last, and you can test that for yourself!
Iqwee's Bakery
You can't deny that Iqwee's will make smog-filled Lahore more bearable and sweeter. You'll be captivated by the bakery's Instagram page full of pictures of mouth-watering cakes.
Cakes are not the only reason for their popularity; their donuts and cruffins are also tempting. Every dessert fan in Lahore will surely know Iqwee's Bakery. Wouldn't a perfectly wrapped donut bouquet make anyone on the planet happy? You should try them.
Bread and Beyond
Bread & Beyond offers some of the best cakes in Lahore. The most popular seasonal cakes include fresh fruit and the finest ingredients.
They also offer a variety of traditional sweets such as barfi, laddu, paisa, and rasgulla. Bread & Beyond's cakes take all the stress away and make a great end to the week.
Delve Into A Sweet Affair!
The cake is one of the best desserts, loved by everyone, everywhere. It's now easier to get a customized cake to match the theme of your party. You can also get all decorations from these bakeries if you're late.
Cake Monster is best at providing unique and beautiful designs. For online cakes, Cakes & Bakes is your best bet. If you're craving lotus cheesecake, just head to the sweet rack. Life is short, so don't waste your time thinking about eating your favorite dessert; just go and grab it from any of these top-notch cake bakeries in Lahore.