Regarding the best food, Lahore needs no false praise because this city will surprise you with all the traditional and modern food. When it comes to mithai, it is a tradition passed down from generation to generation, and we still hold it in our hearts. "Moun Meetha Ho jay?" No special occasion seems to be complete without this phrase.
All you have to do is to find the right place that fits your budget and excites your taste buds like never before. Choosing the right mithai for you event is not an easy task. Well, no worries, this article introduces the list of Best Mithai shops in Lahore that are worth trying.
Butt Sweets & Bakers
Among Lahore's famous sweets, Butt Sweets & Bakers are undoubtedly at the top of the list. They give tough competition to their competitors by providing high-quality products. They offer a variety of mithai to choose from, including everything from Cham Cham to Gajar ka halwa.
Butt Sweets is especially famous for serving the best barfi. So, if you are a barfi lover, you know where to go! Their sweets can enslave dessert-loving taste buds forever.
Bundu Khan Sweets
Bundu Khan has maintained its name and popularity in Lahore, not only for mithai but also for the other desi food they offer. Along with the best Halwa Puri breakfast, they offer a variety of traditional sweets that are hard to miss.
You can pick up mithai from the shop, or you can benefit from their home delivery option. So, if you are in Lahore, there's no reason to turn down Bundu Khan.
Chashni-The Sweet House
Chashni has gained a reputation in significant cities and won the trust of Lahori Mithai lovers. Whether it's Gulab Jaman, Barfi or Laddu, every dish has a unique flavor that's hard to beat, despite the increasing competition in the market.
This sweet shop is not to be missed, whether it's an ordinary day or an event. You can rely entirely on Chashni as they take orders for various occasions and offer delivery services throughout Lahore. Their packaging will add a touch of glamor to your experience.
Gourmet Bakers & Sweets
Gourmet is a colossal name and famous throughout Lahore for desserts or sweets of all kinds. The mithai is made with the purest ingredients, so this place will never disappoint your mithai-loving taste buds.
If you want to try "Gajar ka Halwa," then Gourmet is the best choice. And if we are talking about other baked goods, this bakery is at the top of the list. The rates of their mithais are easily affordable. No matter how your day goes, brighten your mood with one of the most exquisite mithai shops in Lahore.
Baba Bakers & Sweets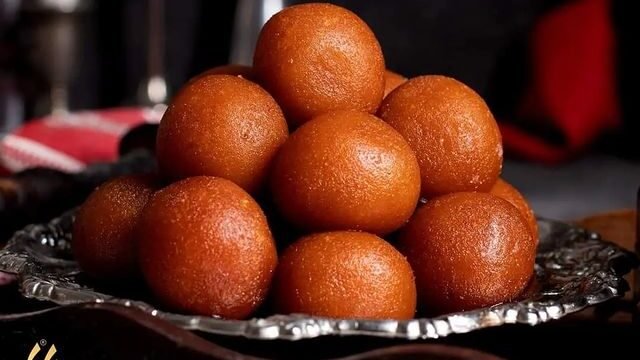 Baba Bakers will be your go-to place whenever you crave a traditional delicacy. Their home delivery options allow you to enjoy the best of Gulab Jaman, Rasgulla, Barfi, and Laddu in the comfort of your own home.
Each of their mithais tastes good, but their Kaju barfi is popular among customers because of its unique taste. When you go to this place, taste their barfi, and you will feel out of this world.
Cakes & Bakes
Cakes & Bakes offers delicious sweets and cakes in the town that are perfect for any occasion at reasonable prices. The variety of sweet delicacies includes Gulab Jaman, Barfi, Kalakand, Coconut Rasgulla, Almond Pateesa, and many others. And you will make custom mithai boxes according to your wishes.
Cakes & Bakes brings your favorite mithai to your home, so it's a savior when you're craving sweets or need to serve mithai to your guests. They have many outlets all over Lahore and also in other cities.
Nirala Sweets & Bakers
If you want hygiene, purity, flavor, and quality all at once in Mithai, then Nirala Sweets & Bakers are your ultimate go-to place. They have over 150 delicacies to suit all tastes. Various delicious sweets include Cham Cham, Moti Chur k Laddu, Baloshai, Halwajaat, and many more. And the best part is that each one has its unique flavor.
They serve custom-made mithai and are the first bakery to offer sugar-free mithai.  They have only a takeaway service, so you can enjoy fresh sweets anytime. They work not only in Lahore but also in other major cities.
Fazal Sweets & Bakers
Fazal Sweets and Bakery is one of the oldest and most famous shops in Lahore. They have been serving the best sweets, and other delicacies since 1930, and the essence of their sweets never fades.
In addition to mithai, you can enjoy the badam barfi, Pista roll, Balushahi, Ras malai, daal ki pinniyan, Gajar Halwa, and many more. And all of this will put a bright smile on your face.
Mehar Sweets
Gulab Jaman is a Pakistani delicacy, but adding almonds makes it simply more delicious. When talking about sweets, especially in Gulab Jaman, Mehar sweets is the best place in town.
You can trust this place to make the most of your happy moments. Their desserts are prepared in desi ghee to enhance the flavor. Once you go there, you can't come back without Badami Gulab Jaman.
Qasr-e-Shireen Sweets
It would be fair to add Qasr-e- Shireen to our list of best mithai shops in Lahore. This bakery has won the hearts of locals with its delicious, freshly prepared baked goods.
You can find everything from mouth-watering khoya Barfi to juicy Gulab Jaman. But their Gajar ka halwa and daal halwa have no match on Earth. They provide a hygienic environment using only the best products. And they also offer home delivery service to their customers.
Amritsari Sweets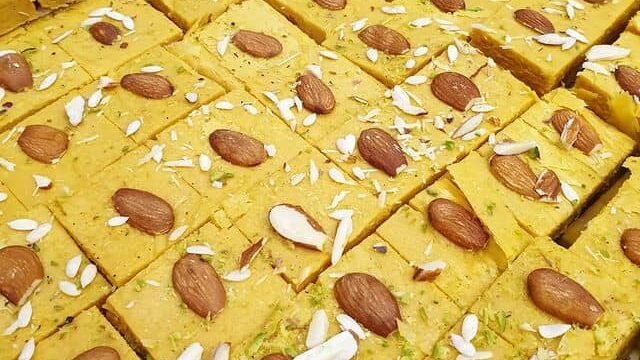 Amritsari Sweets is a renowned bakery that brings sweetness and pure goodness to your table. All their sweets are delicious, but Patisa is too good and the popular item of Amritsari Sweets.
In addition to Patisa, other sweets also depict traditional precision that is hard to find these days.
Ahmed Sweets & Bakers
Another reliable name when it comes to the best mithai. The place is especially famous for traditional desserts made with desi ghee. These sweets have an excellent and refreshing taste that leaves a delightful experience.
Ahmed Bakers are selling the famous Sharaqpuri Gulab Jaman, prepared with pure khoya and suji and served in a clay pot. They don't provide a delivery service, but their prompt and professional staff will help you in the best possible way.
Conclusion
Being a Lahori is no more difficult because every street lined with mithai shops is a great start and a perfect end to your event. And mithai lovers always find a way to satisfy their cravings.
So, try any of the best mithai shops in Lahore that are worth trying. And the best thing about mithai is that it is light on the pocket yet very rich in taste and sweetness.