Fairy Meadows also called "Joot" by the locals is located at the foot of Nanga Parbat. The grassland is famous for its heavenly sights appreciated by tourists visiting here from all over the world. This article contains all that you need to be savvy about Fairy Meadows: A Dreamy Place in Pakistan. 
Fairy Meadows Location and History
Fairy Meadows was originally named "Marchenwiese" was initially named "Marchenwiese" by the German troopers who visited there and got entranced by the magnificence of this spot. This green knoll is found just underneath the Nanga Parbat Mountain at a height of 10,800 ft in the Diamer locale of the Gilgit district. The significant place of interest however is reached precisely after a trip from Raikot bridge to Tattu town. 
How To Get To Fairy Meadows
The only way to reach Fairy meadows is a jeep and trekking. However, to enter the main region people can choose any of the two mediums as well as the suitable routes listed down below. 
By Your Convenience
Those going by their transport could arrive at Islamabad and afterward go to Naran, Kaghan, and Chillas on their own. Though, they would need to get a jeep to go to Raikot bridge and trek towards Tattu village to reach Fairy Meadows. One can also go to Gilgit or Chillas directly from Islamabad by road.
By Public Transport
Visitors always have an option to choose public transport like an airplane, bus, or train to arrive at Islamabad. One can also board a plane or choose a bus to go to Gilgit directly. Many tourists book cabs from Kaghan and Naran to reach Chillas and then further towards the destination via jeeps.
How To Get Fairy Meadows From Major Cities
Fairy Meadows could be reached via airplane, car, or bus from Islamabad. One can have a trip planned from picturesque Naran Kaghan towards Chillas and further by car. Visitors also have the option to reach Gilgit by plane and depart to Hunza, enjoy beautiful places en route, and then proceed towards Raikot.
How To Get Fairy Meadows From Naran Kaghan?
Fairy Meadows is a way off of 4 hours and 42 minutes from Naran that is 171.6 Km away either through N-15 or Karakoram Highway. Travelers who wish to see Fairy Meadows could go through Babusar Pass via N-15. Vacationers get the facility of a minibus at the passage of the Babusar pass that takes them forward to Chillas safely. They would then be able to head towards Raikot a jeep will take them to Tattu village from there they will hike for 2 hours to finally arrive at the Fairy Meadows. 
How To Get Fairy Meadows From Murree?
It would require 11 hours and 12 minutes for those who need to make a trip to Fairy Meadows from Murree that is a distance of 355.2 Km. They can use any means of transport to head towards Naran Kaghan via N-15 and stay there. It is encouraged to go towards Fairy Meadows in the daytime. From Naran one can move towards Chillas, crossing the Babusar Pass. After crossing the Raikot bridge a jeep will take you further. 
How To Get Fairy Meadows From Hunza?
Visitors yearning to visit Fairy Meadows from Hunza will have to travel for 114 km to reach there. One would need to cross Karimabad first to arrive at Raikot and afterward drive towards Raikot. In the wake of getting a jeep one will be taken to Tattu Village. To get to fairy meadows one should hike further for 2 or 3 hours. 
Why is Fairy Meadows Road Dangerous?
The road towards Fair Meadows has been declared as the second deadliest road in the world. It is where you can only go by a jeep and deep down is a dreadful ravine. Even the jeeps can also go to Tattu village the way further is only enough for trekking and hiking. It gets more dangerous during unpredictable weather conditions like rainfall when there are most chances of land sliding. 
Temperature and Weather of Fairy Meadows
Fairy Meadows in Summer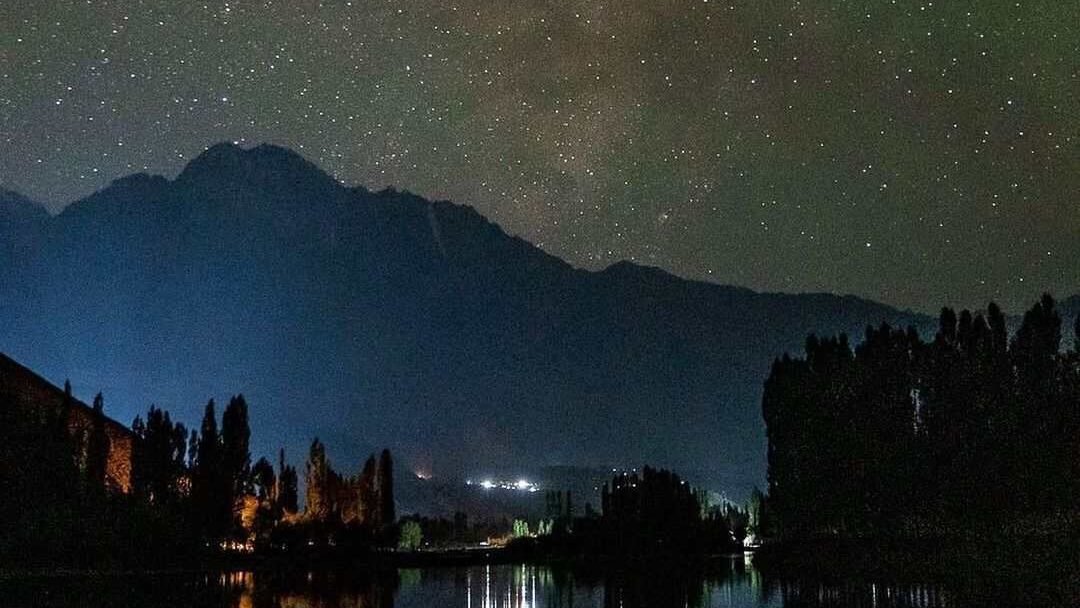 The temperature in Summer in the daytime reaches a maximum of 16 degrees. During the night it gets dropped to a minimum of 6 degrees, the sky full of stars presents a scenic view at night. The weather remains cold even during the summer with a clear sky. The best time to visit Fairy Meadows is April, May, September, and the beginning of October. 
Fairy Meadows in Winter
During winter the Fairy Meadows is all covered with snow. The temperature drops minimum to 2 degrees and maximum to –10 degrees. The place is not accessible to tourists as it gets extremely cold and snow-packed in winter. Fairy Meadows is closed for tourists in winter from October till March.  
Things To Do in Fairy Meadows
Camping in Fairy Meadows
People visiting Fairy Meadows in Summer enjoy camping here. They spend a night here to enjoy the night and early morning view. You can either set your camp or rent one here. Visitors who wish to stay there for the night must pack with them enough food, extra warm clothes, comfortable shoes, enough water, and a map too.  
Hike Towards Beyal Camp
It requires roughly 4 hours to travel up to Beyal Camp. This is yet another spot tourists can trek up to and plan a stay. The place is famous for having numerous cottages, freshwater streams, green lands, etc. Individuals visit here primarily to camp and take in the wonderful landscapes of the spot. 
Trek To Nanga Parbat Base Camp
One can further hike up towards the Nanga Parbat base camp for 4 hours. This point is quite low for even the untrained trekkers, however the best time to visit there is Summer. Being one of the most adventurous trekking places, it attracts people more by its snowy peaks and a mind-blowing view of the Indus River from up the mountain.
Places To Visit in Fairy Meadows
Rama Lake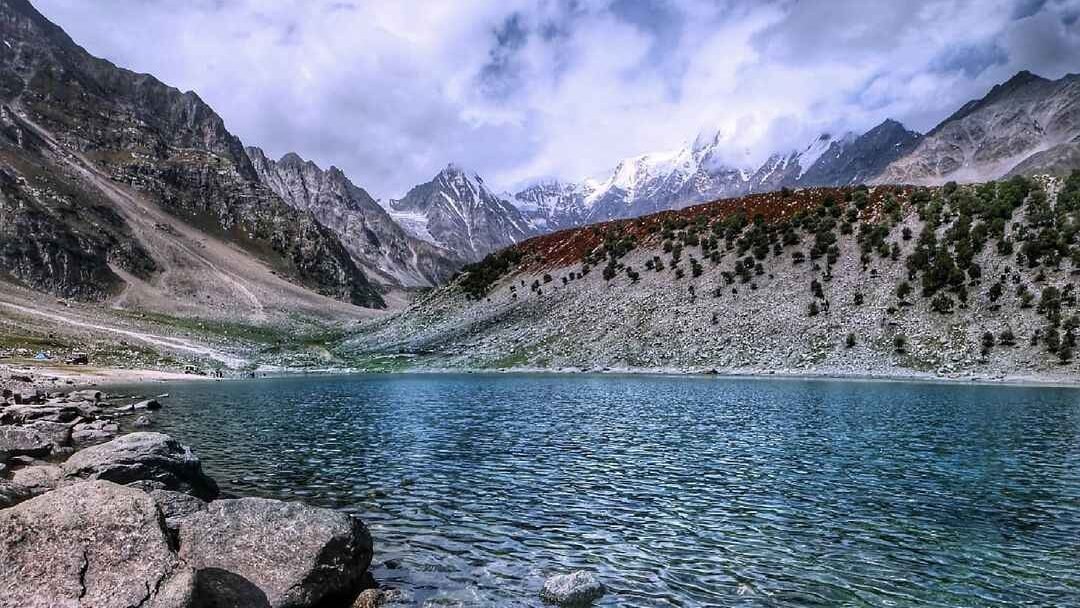 Rama Lake is 20 minutes away from Fairy Meadows, located in the Astore village of Gilgit Baltistan region. Tourists are required to visit the Rama meadows first to trek towards the lake. The place is famous amongst visitors because of its lovely sights of oak trees, mountain peaks, and other lakes like Sarot and Shina nearby. 
Raikot Sarai & Raikot Glacier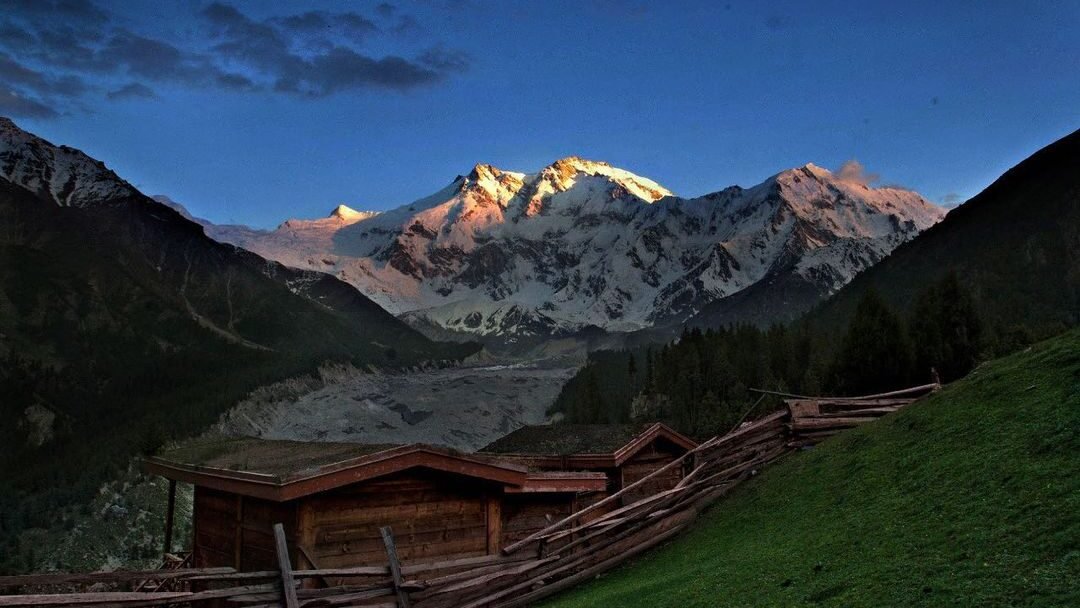 Raikot Sarai is a place where one can stay before moving towards the Fairy Meadows. It is located before the Tattu village and has many resorts and lodges. Raikot Sarai is quite a picturesque place with greenery around and one can also view the Raikot Glacier from here. The spot is 450 km away from Islamabad and could be reached in a single day. 
Nanga Parbat
Nanga Parbat is the world's 9th largest mountain approximately 26,660 ft high from sea level. It is called Diamer by the locales and is one of the hardest mountains to climb also called a killer mountain. People hike towards Fairy Meadows to see closely its peaks and trek further towards to Nanga Parbat base camp to camp here. 
Hotels in Fairy Meadows
Fairy Meadows Inn in Raikot
Fairy Meadows Inn is located near the Raikot Bridge at Karakoram Highway. They offer hospitable services to the guests arriving at the Gilgit-Baltistan region to visit Fairy Meadows and places nearby. One can have a comfortable stay here in hygienic rooms. They have an Ala Carte menu with both Continent and Pakistani food at their restaurant. Tourists can also rent jeeps to visit different beautiful spots. 
North Inn Hotels
North Inn hotel is located in Tattu village offering appreciable facilities to the guests. Fairy Meadows is nearest to this point and one can have a comfortable stay with 24-hour services in the hotel. North Inn hotel also has a restaurant where one can enjoy all the meals. A parking spot could likewise be organized on additional charges. Security and tidiness have been exceptionally dealt with. 
Fairy Meadows Broad View Hotel
Fairy Meadows Broad View Hotel is located at a distance of just 5 minutes from Tattu village. Staying in here feels so surreal as one can have a sight of all 5 mountains peaks namely Nanga Parbat, Raikot, Chongra, Ganalo, and Susrobosh as well as the Raikot Glacier.  They offer comfortable rooms with 24/7 room service and free WiFi. Free of cost parking is provided to the guests followed by free breakfast at their restaurant.  
Fairy Meadow Cottages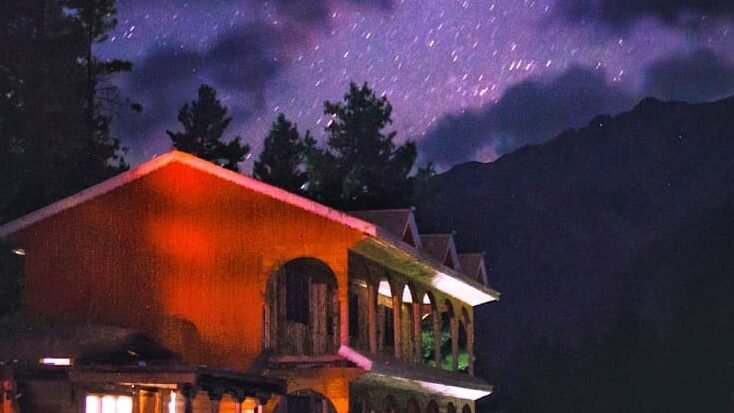 Fairy Meadow Cottages are located in Gilgit which makes it nearest to the Fairy Meadows and other tourist points close by. The cottages have all that is required for a happy and comfy stay. They have free Wi-Fi and parking facilities with well-embellished cozy rooms having 24-hour service. Both Continental and Pakistani cuisines are served at their restaurant every day. The seating area has been made for visitors to enjoy the view. 
How To Book Fairy Meadow Cottages
One can effortlessly book a room in Fairy Meadow Cottages by contacting them or visiting them. Since in the peak seasons, more vacationers visit the spot making it hard to track down the reasonable room. Henceforth, one can do it either on the web or by calling their delegates. You should enlighten them regarding your timetable as well as the duration of your stay.
Normal Rates of Fairy Meadow Cottages
The price of all the rooms varies according to the season. In an off-season, throughout the year the prices get low from 5000 to 7000. Whereas, they might also get extended to 8000 to 10,000 per night for normal rooms. Another factor is the extra services that one might ask for including extra mattresses, such facilities cost extra. However, the rates of normal rooms are lower than the VIP rooms and further negotiation could be done accordingly.
Which is The Best Time To Visit Fairy Meadows
The best ideal time to visit Fairy Meadows is in April, May then September, and October. During these months the climate is vivacious and cold and the sights appear to be more pleasant. Whereas, the route to Fairy Meadows gets deadliest during rainfall due to excessive and unpredictable land sliding. The place gets packed with snow in winter and the temperature gets dropped preventing anyone from visiting here. The best time to hike and arrive at Fairy Meadows is daytime because of the treacherous route.
How To Book Fairy Meadows Guest House
Fairy Meadow Guest House and Restaurant could be booked without much stretch. You just need to visit them or contact them, illuminate them about the date, and term of your visit and ask about the accessibility of rooms with their rates. One can undoubtedly remain in these reasonable and comfortable guest houses with family to partake in the climate and magnificence of the surroundings.
Conclusion
This article was all about Fairy Meadows: A Dreamy Place in Pakistan located in the lap of Nanga Parbat Mountain peaks. Explore more tourist spots in the Northern Areas of Pakistan through our Ultimate Guide to Naran Kaghan. Stay connected with us to explore more about Pakistan.