Skardu's main tourist attractions and cultural food are equally notable. The Balti people adhere to their cultural cuisine in everything from soup to nuts.
Here is a list of 15 famous foods of Skardu that are unique trademarks of this valley. So, let's take a closer look at Balti cuisine and treat ourselves to them. Try these foods whenever you visit Skardu or its nearby places.
Balay (Noodle Soup with Goat Meat)
It is a thick, sauce-like noodle soup with goat meat broth. As Skardu is a cold mountainous area, nothing is more satisfying than soup when it is cold outside.
This Balti dish has a rich, rubbery texture mixed with noodles and little pieces of meat. Balay is the perfect dish to start a traditional meal in Skardu and is one of the most famous foods of Skardu.
Mamtu- Northern Dumplings in Skardu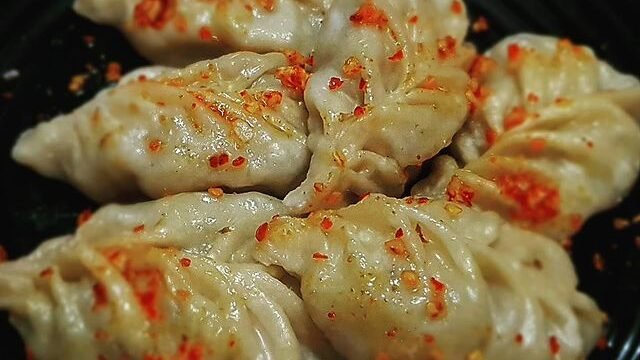 Mamtu, or northern dumplings, is an exceptional and delicious food from Skardu. The long cooking process of this food is extraordinary, just like its taste, because steam is used instead of fire.
Locals make these dumplings by mixing chopped meat, onions, chili peppers, garlic, and vegetables and wrapping all of these in the dough. Some might consider it a typical dish of Gilgit-Baltistan. Mamtu is served with chili sauce, ketchup and black pepper. You must try this popular food of Skardu on your next visit.
Prapu (Noodles with Walnut Paste)
Prapu is one of the delicious and famous traditional foods of Skardu. It is a noodle dish thickened with almond flour. These noodles are hand-made from wheat flour.
The noodles are cooked until soft and then covered with a thick paste of apricot oil, local herbs, walnuts, potatoes, and fenugreek seeds, known as Muskut. This combination of walnut paste and noodles makes prapu, the delicious food of Skardu.
Chapshoro
A delicious, savory, pizza-like dish that every meat lover will love is Chapshoro. Bread is stuffed with minced meat, onion, coriander, tomatoes, pepper, and butter and then baked in the oven. The fresh and natural ingredients of this round meat, the pie-like dish, will make you drool before you even take a bite.
The best thing is that you can order the type of meat according to your taste, such as chicken, beef, or mutton. Try this, one of the best foods in Skardu.
Boiled Goat ( Skinless)
The entire goat is first marinated with seasonings and salt, then boiled with a few vegetables such as carrots and onions.
The meat is served while still attached to the bone. Eating goat meat like this is truly an exceptional experience, and each bite of this dish is enjoyed to the fullest.
Dawdo Soup
It's hard not to want something warm and cozy in the cold winter. Dawdo is one of these traditional soups that will make your mouth water. It is prepared with apricots, sugar, lemon juice, and water.
It is a sweet and sour blend having delicious aromas. Dried apricots are the main ingredient of this soup. Dawdo is the perfect remedy for colds, constipation, and flu.
Hoilo Garma
It is a street food offered in many parts of Gilgit-Baltistan. Hoilo Garma is a fantastic blend of spices, vegetables, mustard leaves, and chapati over low to medium heat.
It is traditionally served with a salad of chopped tomatoes, green onions, salt, and lemon juice. Once you start eating it, you literally can't stop until you empty the pot!
Khurba
Khurba is a kind of bread just like roti. It is a dry item that is included in every meal in Baltistan.
Instead of reheating in a pan, it is prepared right next to the fire when it is half-cooked. The combination of khurba, salted tea, and butter is a popular breakfast menu in Skardu.
Shinwari
Chicken Karahi or Mutton Karahi is an untouched and most loved and untouched dish in Northern Pakistan. Shinwari is made with sheep meat, green chili, and salt.
Try it before any other dish, and the taste is indescribable.
Azoq
Azoq is known as Paratha and is served with salted tea, a dream breakfast for the Skardu people. It's a kind of donut with various shapes and is more delicious than donuts.
Azoq is most often served to special guests in Skardu. It is also distributed during religious events.
Payu Cha (Butter Tea)
Butter tea is one of the basics of Balti cuisine. It is a salted tea with butter, milk, salt, and water. The breakfast of Skardu's people would be incomplete without this drink.
This tea is served with buckwheat flour and a small bowl of pure apricot oil, that you can add if desired.
Trout Fish
Above all, the beauty of Skardu Valley food is hidden in trout fish. Here, you can find trout fish in abundance, and tourists love to go fishing at lakes.
You need to taste this spicy, tender meat in perfect surroundings while exploring the stunning Skardu Valley! As trout fish is abundantly present here, it is the most common food of Skardu.
Potato Stew
A thick curry is made by frying the ingredients to create a rich sauce, adding water, and serving them as a thick curry. Masala spices such as cumin, turmeric powder, black pepper, and dried ginger can be tasted in this particular dish.
Potato stew is jam-packed with goat meat, potatoes, and special herbs and is much spicier than other Balti dishes.
Gyal (Buckwheat Cake)
Gyal has different versions, all using local varieties of red or brown buckwheat as the main ingredient. It is a combination of the wheat cake coated in apricot oil.
Gyal is usually cooked on a flat griddle over a wood stove; that's why it has a delicious smoky flavor. Some are even covered with honey or apricot jam.
Marzan (Buckwheat with apricot oil)
Marzan is one of the energetic foods of Balti cuisine. In ancient times, this multi-food dish was served to guests. It is a sticky, dry wheat dough served with pure apricot oil. This sweet dish is made with buckwheat flour.
Marzan is prepared using flour that is barely cooked over a wood fire in a pot of boiling water. It is simple yet reassuring and satisfying so we highly recommend you to try at least once in your lifetime.
Go-Lee
Go-Lee is a flatbread often served with meat dishes or eggs, and locals make their breakfast delicious with this food. It is made from eggs, water, salt, and vegetable oil.
It is energizing breakfast before heading off to work. You've never tasted any bread like this before.
Frus Fulka
It is a chapati stuffed with homemade cheese, chopped onions, coriander, tomatoes and local herbs and topped with apricot oil.
Chapli Kebab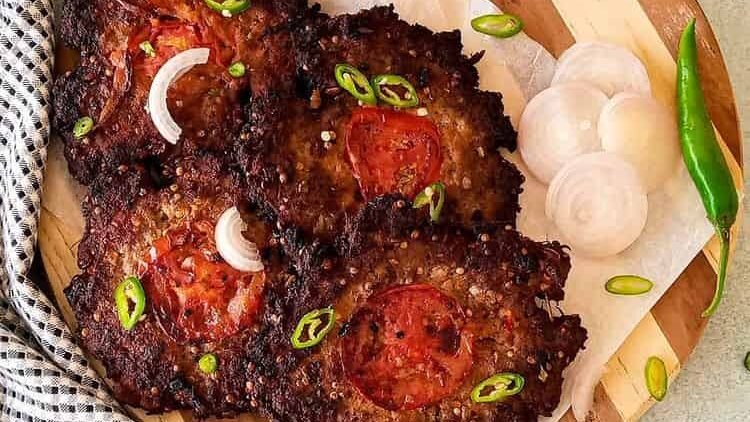 This Peshawari kebab is the specialty of the North. These mouth-watering kebabs are made with ground beef or mutton, and to increase its taste spices, dried coriander, green chillies, and pomegranate seeds are also added.
This dish is served with naan, yogurt and salad and is enough to make your dinner delicious. It's a must-try food on your trek to Skardu.
Apricot Juice
Apricot Juice also known as Gulli chil, a refreshing and wholesome drink that's great for hot summer days.
All you need to make this delicious drink is water and dried apricots!. It is a highly affordable food of Skardu because you can see apricot trees everywhere in this region.
Kehwa
Balti people drink this special kehwa after a meal. It is rich in flavor and has a distinctive taste. It is made by using green tea, lemon juice, and honey.
This creates a fragrant herbal blend that works wonders for indigestion and the common flu. You can even add dried ginger powder before serving for added flavor!
End Note!
If you are looking for famous foods of Skardu, don't worry! This article has it all in one place. Just plan your perfect trip to Skardu and enjoy every bit of it!