Let's just make one thing clear, it's the era of metrosexual men and should no longer be denied because every man deserves to feel like a king. Whether it's a wedding or an office presentation where you must look good, men undergo the same meticulous grooming process as any other gender. Besides the best salons in Lahore for women, there are also places to provide pampering services to men!
We'll share details of top-notch salons for a great haircut, a foot soak, and some fantastic massage treatments. So, our list will help you Check out the 15 Best Male Salons in Lahore, will help you keep an eye on your grooming, and make you look your best. Check out this list!
Depilex Men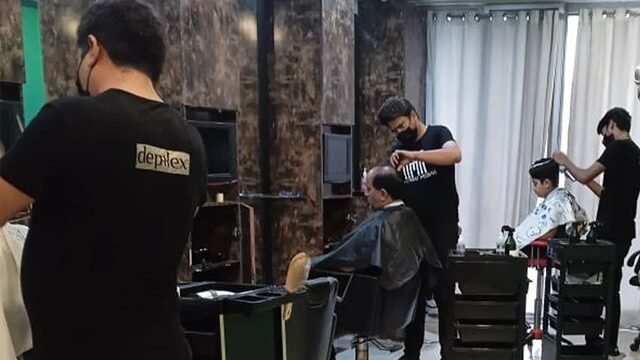 Depilex promises to treat both men and women in a way that can get everyone's attention in seconds. They offer top-notch grooming services, always work professionally and create a comfortable environment for their clients.
The great Musarat Misbah founded Depilex men, and she got the best salon award. The salon offers not only classic haircuts but also other services, including facials, hair treatments, manicures and pedicures, and basic makeup.
Services
Top-notch haircuts
Hair treatments
Basic Makeup
Facials
Manicure & Pedicure
Contact
(042) 35692874
Location
135, CCA, Phase IV Sector DD D.H.A Phase 3, Lahore, Pakistan.
Trimmer's Salon For Men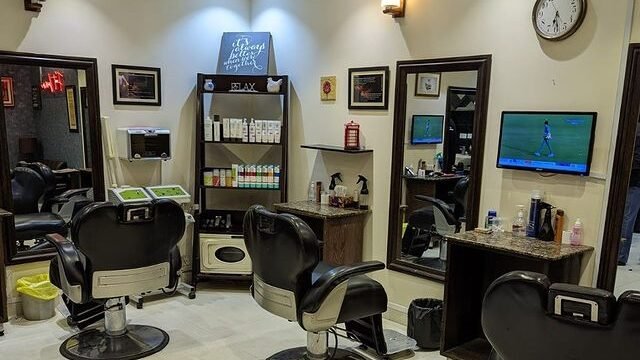 Trimmer's Salon offers ultimate luxury and has excellent grooming services. From haircuts and treatments to professional facials, the salon has a luxurious environment for a refreshing experience. They also offer some great deals so you can look your best!
Trimmer's Salon for men is an upscale male salon in Lahore, and they not only provide excellent services but also offer customers a cup of coffee.
Services
Professional Haircuts
Facials
Waxing
Massage treatments
Grooming services
Contact
0312 3333331
Location
98 R, Commercial Area, Phase 2, D.H.A, Lahore, Pakistan.
Toni & Guy
Toni & Guy is one of the finest male salons in Lahore with 50 years of history. They are renowned for their wide range of hair products and experienced stylists. Classy men always want to look glamorous, and the uncompromising styling by this salon sets them apart.
They offer all beauty services from professional makeup artists. So, if you want to feel good and be in the spotlight, book your appointment today with Toni & Guy!
Services
Hair cuts & Hair Color
Men's Grooming
Dry Styling
Hair Extension
Movement & texture of hair
Wedding Hair
Contact
0311 1100864
Location
M.M Alam Road, Gulberg III, Lahore, Pakistan.
Khawar Riaz Men's Salon
Khawar Riaz Men's Salon provides the best hair care and styling services. It is the choice of many celebrities, and Pakistan's best stylists work in this salon.
Khawar Riaz has a unique way of styling men and always stands out from the crowd. This salon is perfect for modern metrosexual men, and the relatively affordable price for luscious services is a win-win!
Services
Haircuts and shaves
 Beard & Moustache Trim
Skin Treatments
Hair Styling & Hair colors
Contact
042-3576074780
Location
90-B, M.M Alam Road, Lahore
Nexus Men's Lounge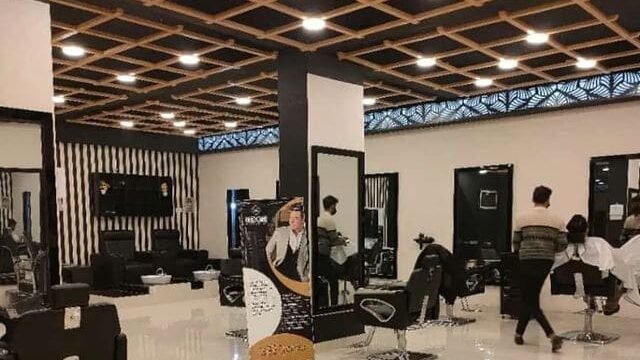 The Nexus Men's Lounge offers various hair services in an elegant, professional, and well-organized environment. In addition to hair care services, they also provide multiple services, such as manicures, pedicures, and head massages.
Their talented stylists share a passion for beauty and a commitment to excellence. If you're looking for a salon that will make you look gorgeous on any occasion, head to Nexus Men's Lounge.
Services
Hair Styling
Manicures
Head Massage
Contact
0326 4048850
Location
13-Q Block, Opposite Metro, Model Town, Lahore, Pakistan.
Dessange Pakistan
Dessange Salon is well known for its body and hair treatments. It is a global spa chain dedicated to providing its customer with truly luxurious experiences with first-class service and pampering. It is designed for both men and women.
Dessange also offers a hand and foot spa for men. Their facial and hair spa service is fantastic. In short, a comfortable environment awaits your arrival!
Services
Facials
Hairdressing
Hair spa
Hair treatments
Skin treatments
Massages
Contact
0308 4888833
Location
Green Street, Block E3 Gulberg III, Lahore, Pakistan.
Tariq Amin Salon
Tariq Amin, a style guru, is a pioneering hairdresser in Pakistan. It is the best place for a trendy and versatile haircut. From haircuts and facials to pedicures and massages, this salon offers a range of services designed to meet male clients' needs best.
Tariq Amin Salon is one of the oldest but still the best of all recent salons. Their services are excellent and highly praised by customers. The salon features Pakistan's best stylists, including the glamorous Tariq Amin himself. This is a worthwhile place to visit!
Services
Paraffin
Hair highlight
Massage
Manicures
Haircuts
Blow drying
Contact
+92 331 5444675
 Location
Avari Hotel, Lahore, Pakistan.
Blade Hair Salon & Studio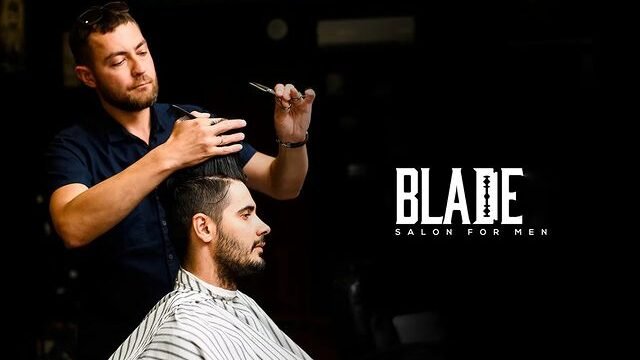 Blade Hair Salon is one of the most famous men's hairdressing services in the city. They are well known for their haircuts and skin care services. Renowned for its meticulous attention to personal beauty, this salon is listed among the most famous male salons in Lahore.
Apart from their hair-cutting services, they also offer hair spa treatments. If you're looking for a new look and the best skin care service in Lahore, don't miss the Blade Hair Salon.
Services
Curated Customized Haircuts
Hair color services
Creative Highlighting
Brazilian For Men
Hand and Foot Treatments
Contact
0343 4097744
Location
Block L Phase 2 Johar Town, Lahore, Pakistan.
Headlines Studio & Salon
Mikaal Zulfiqar's beautiful salon Headlines is the talk of the city. This salon is a hub for celebrities and those seeking first-class services delivered by a talented team of stylists.
Headlines offer exceptional hair care, beard care, manicures and pedicures, and all manners of facials. Whether you're looking for a basic haircut or five-star grooming services, this salon has proven to be one of the best choices for every elegant man in Lahore.
Services
Skin services
Beard Care
Hair Treatments
Styling
Hair cuts
Contact
(042) 37189273
Location
Phase 5 D.H.A, Lahore, Pakistan.
N-Gents by Nabila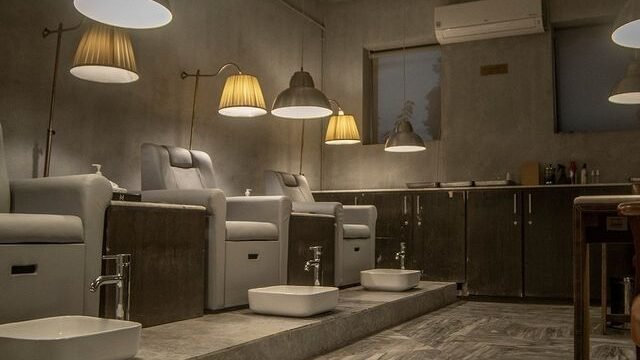 N-Gents by Nabila's is an upscale beauty salon offering exclusive services from facials to massages, and there is also a hammam. Their way of ensuring guests feel a particular luxury upon arrival is a crowd pleaser.
N-Gents provide the best hair styling treatments and ensure customers are delighted with the service. The salon represents everything luxurious while maintaining a "men's place." From the overall salon décor to the ambiance, it's generally a top-notch Western-style male salon in Lahore. They are also highly appreciated for their professionalism.
Services
Grooming Services
Classic Barbering
Skin Hydration Facial
Manicure & Pedicure
Massages
Skin Treatment
Body waxing
Contact
0331 8888184
Location
Block C1, Gulberg III, Lahore, Pakistan.
Hair Flair Salon
Hair Flair Salon is the perfect venue for the most modern and versatile haircuts. The salon offers amazing haircuts and grooming services at affordable prices.
Hair Flair Salon has a team of experts who make you feel great. Their massages and skin care treatments will make you feel like you are at the right place to be pampered. All we can say is; go for the style, come out with new love for cherished luxury!
Services
Hair Rebonding
Scalp Treatment
Keratin Treatment
Blow drying
Professional makeup
Contact
0309 4916595
Location
Plot 39, Sector DD D.H.A Phase 4, Lahore, Pakistan.
Paragon Salon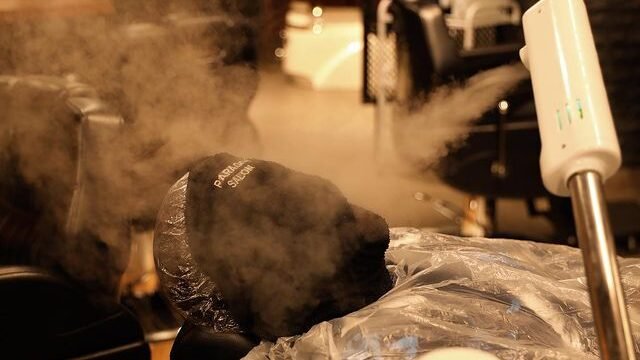 Paragon Salon is a men's only salon opened up by ex-model Waqar Ahmed Butt. It offers fascinating grooming services, as it's time for men to enjoy all the benefits to receive maximum attention and care.
Paragon Salon has a classic feel and is ideal for modern, well-groomed men. They are known for styling many models and celebrities, so it is no wonder that many customers appreciate them. Along with styling and hair care services, they also offer spa treatments. Paragon is high on our list of places we recommend!
Services
Haircut & styling
Skincare & Facials
Spa services
Waxing Hair Removal
Manicure & Pedicure
Contact
(042) 32294007
Location
M.M Alam Road, Gulberg III,  Lahore, Pakistan.
Prince Hair Salon
Prince Hair Salon is another place known for offering some of the best local hairdressing services. From basics to professional haircuts and facials to beauty treatments, there is so much to choose from.
If you want something stylish for your hair, you can trust Prince Hair Salon as they are master of it. Another good thing is their affordable prices; you should visit them.
Services
Hair Rebonding
Hair Straightening
Hair Extensions
Contact
(042) 35710442
Location
Mini Market, Block P Gulberg II, Lahore, Pakistan.
AB Men's Hair Studio
Whether you want a simple haircut, skin care treatments, waxing, or professional makeup, AB Men's Hair Studio is your choice. Their service is excellent and highly praised by customers.
Apart from hair care treatments, they also offer Micro-dermabrasion and derma planning. And another plus point is that to ensure everyone's safety, their rooms and lounges are always kept clean and sanitary.
Services
Micro-dermabrasion
Facials
Hair Styling
Derma planning
Contact
(042) 37186462
Location
Khyaban-e-Iqbal, D.H.A. Phase 3, Lahore, Pakistan.
Cosmo Salon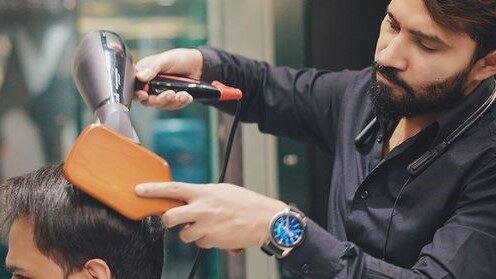 Despite being a unisex salon serving both men and women, the salon has a high rating as one of the best male salons in Lahore. They provide the best services for hair, beauty, and skin.
Their staff is well trained and knows how to treat customers and pay attention to each individual. And in addition, they also offer attractive discounts to their customers. If you haven't experienced Cosmo Salon yet, you've probably been there at least once and will go again.
Services
Head Massage
Haircuts & Hair Dye
Makeup & Makeover
Facials
Threading
Contact
0345 0084262
Location
148, Y Block, Commercial Area D.H.A, Lahore, Pakistan.
Final Words!
These salons can provide the relaxation and beauty care you are looking for after a busy day or before an event, and it's ok to be a little extravagant once in a while.
So, relax and unwind your beauty with one of these  15 best male salons in Lahore!