Highlighting your beauty and pampering yourself is being most pleasing by women? So, a beauty salon can do wonders for your looks and confidence. The science of fashion is changing daily, and the competition between salons is getting tough. Every makeup artist wants to be the best at fashion events by doing the best for their clients.
There are many beauty salons and spas in the city, but isn't it tiresome and cumbrous to find a place that can satisfy all your needs and provide services at not too expensive prices? Below is the list with details about the top 15 beauty Salons for women in Lahore.
Alle Nora Annie's Signature Salon
Alle Nora is a well-known name in the field of makeup, and others always appreciate her brides. It offers various services, including hairstyling, makeup, manicure pedicure, and different hair treatments.
Alle Nora is known for their bridal makeup. If you want to look great on your big day, you must go there. They have a team of staff who work exclusively for their customers.
Services
Haircuts and styling
Manicure and pedicure
Bridal Makeup
Party makeup
Hair treatment
Contact
0321 4003123
Location
86-B Street 2, Block B2 Gulberg III, Lahore, Pakistan.
Toni & Guy
Toni & Guy has a total of 4 branches in Lahore, while many more are spread across the country. A distinctive feature of this salon is the latest hairstyles and makeup.
Need a decent hairstyle at an affordable price? You don't need to go anywhere because Toni & Guy is the perfect salon for women in Lahore to get a flaunting haircut. They also provide all beauty salon services, including party makeup and bridal makeup, with high-quality professional staff.
Services
Haircut and Hair colors
Dry Styling
Keratin smoothing treatment
Party & Bridal Makeup
Nail treatment
Contact
+92 423 5731 559
+92 423 5731 560
Location
20-C-1, M.M Alam Road, Gulberg III, Lahore, Pakistan.
Nabila's Salon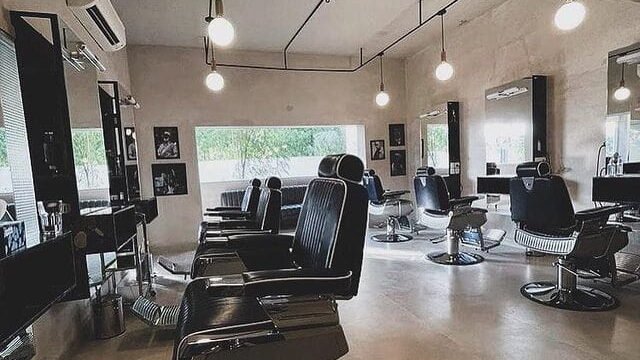 When it comes to Lahore's best stylists, Nabila is a top-notch stylist, and her famous specialty is the no-makeup look. They will make you look special and unique on your special day.
In addition to hairstyling and cosmetics, it will provide many other services, such as manicure/ pedicure, wedding facials, and skin care. Nabila gives a whole new meaning to everyone's fashion sense. Make an appointment with Nabila Salon and learn how you can get your hair done before your wedding.
Services
Hair Care
Hair Treatments
Deep Cleaning Facials
Skin Care
Waxing
Bridal Services
Contact
0333 4299948
Location
10-Q, 1st Floor Gulberg II, Lahore, Pakistan.
Depilex Beauty Clinic
Depilex Beauty Clinic is one of the oldest and most famous salons for men and women. It comes with all the necessities for women like makeup, facials, manicures and pedicures, haircuts, blow-drying to Keratin treatments, and many more. It also offers different training courses to individuals at different rates.
They offer unique solutions and follow the latest trends in hair care. They strive for customer satisfaction with original makeup ideas. The good thing about Depilex provides its clients a free consultation to find out which beauty service is best for them.
Services
Straightening
Waxing
Hair Cuts and Styling
Hair Rebonding
Bridal Packages
Consultation
Contact
0323-8871800
042-35692875/4
Location
22-Z Block Commercial Area, D.H.A, Lahore, Pakistan.
Madeeha's Bridal Salon and Studio
Madeeha's salon and the studio are among the top-rated salons for women in Lahore. Each customer receives services that are worth their money. Complete wedding packages are also offered here, and their make-up skills are on point!
This salon provides not only the best service but also reasonable costs compared to other salons. Thanks to the environment, top-quality branded products, exceptional service, and highly qualified staff. If you're getting married soon, you're not ready to pick a salon, and you're on a tight budget, choose Madeeha's. A must-check-out salon!
Services
Hair Texture
Hair styling
Bridal Makeup
Party Makeup
Nail Care
Contact
(042) 35712005
Location
12-A, XX Block, Commercial Area, Lahore, Pakistan.
Mariam Khawaja Salon
Mariam Khawaja holds MUA status like a boss. They spend significant time on bridal makeup, hair styling, manicure/pedicure, and occasional makeup. Not only that, but Mariam also prepares her professionals just like her.
However, it is too expensive, but for those who can afford it, there's nothing better than having her hand on your face! Be sure to grab your appointment in advance!
Services
Personal Care
Professional Makeup
Bridal Make-over
Skin Treatment
Nail Services
Contact
0300 6274267
Location
67B/1, M.M Alam Road, Gulberg III, Lahore, Pakistan.
Ather Shehzad Studio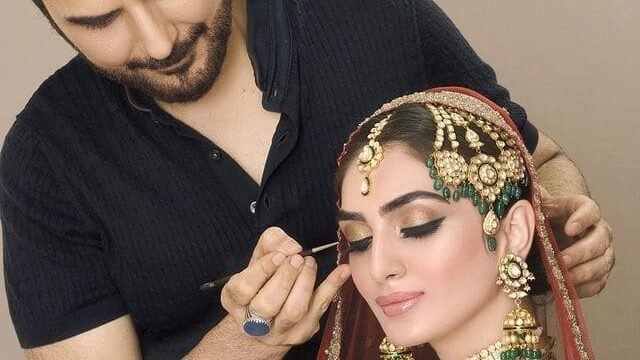 Need more words? No introduction is needed. From serving models, International fashion weeks, and Celebrity weeks, there is nothing Ather Shehzad hasn't stepped up. He is not only the owner of the salon but also a professional photographer.
Not only do they provide hairstyles and party makeup, but they also make a name in the field of bridal makeup. So if you have a budget and don't mind spending too much on your wedding, this might be your best bet.
Services
Skin Care
Hair Care
Bridal Makeup
Signature and Glamor Makeup
Photo Shoots
Contact
0320 3764225
Location
1 C, Block P, Gulberg II, Lahore, Pakistan.
Amina. Z Salon
Don't miss out on this full-service salon for women in Lahore that caters to the hair, makeup, and grooming needs of today's women. If you are looking for an excellent treatment for your nails, hair, and skin, then Amina. Z should be one of your top choices. The quality of service you will receive in this salon is worth paying attention to.
The certified beauty experts and the experienced beauty services of Amina Z are highly appreciated. In addition, if you opt for more Arabic makeup, this will be your choice. A choice for those who like bright makeup!
Services
Great Eye Makeup
Nail Services
Haircut & Styling
Bridal Makeup
Contact
(042) 35725863
Location
119-Y, Commercial Area, Phase III,  D.H.A, Lahore, Pakistan.
Nikki's Salon
Another unique salon where you can get all the services you need to unwind and beautify yourself. NIKKI provides excellent beauty services for makeup and hair. It is the best place for perfect and ultimate party makeup. In addition to providing services, they offer a range of proven products for hair, skin, and body that can magically work.
Whenever you visit the Nikki Salon in Lahore, you will appreciate the quality of service and the makeup and beauty products used. But this salon also belongs to the upper class, so get the look if you've budgeted.
Services
Party Makeup
Hair Care Services
Best Hairstyles
Skin Treatment Services
Contact
0300 9444908
Location
940-C, Faisal Town, Lahore, Pakistan.
Arammish
Whether you're looking for a classy or sensual look for your special occasion or you're more into everyday fashion, Arammish has something for you. They have professionals ready to dress you up for your important day. Additional spa features add to the charm of this one of the most renowned salons for women in Lahore. Get the treatment you want and sit back and relax.
Arammish is also known for the serene atmosphere it provides while you do manicures, pedicures, and other beauty treatments. They even provide you with snacks and drinks while relaxing during your stay.
Service
Spa procedures
Professional makeup
Regenerating treatments
Professional stylists
Haircut and styling
Contact
0311 3522222
Location
65 Syed Maratab Ali Road, F.C.C. Gulberg IV, Lahore, Pakistan.
Ava Turkish Spa and Salon
A sensual and luxurious one-stop destination for all your beauty needs is Ava Turkish Spa and Salon. With a wide range of services, including all types of makeup, hair care, and skincare, this salon offers additional spa features to relax your body and mind.
If you want more than just hair, skin and nails, and other treatments, one of the best Turkish salons for women in Lahore is for you. So, if you don't try this salon, make an appointment with Ava Turkish Spa and Salon and try any of the services; I'm sure you will say goodbye to your previous salon.
Services
XTenso
Bridal services
Depp cleansing Facials
Exceptional hair services
Depp Tissue Massage
Spa Treatments
Contact
(042) 35877722
Location
164-P, Gulberg II, Lahore, Pakistan.
Hifsa Khan- Studio & Salon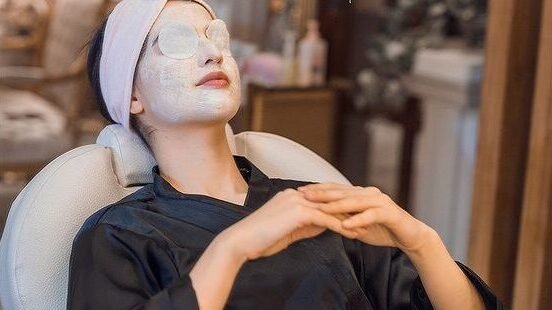 Whether you want a relaxing day with a manicure and facial or stand out from the crowd at a gathering, Hifsa Khan Salon is a perfect choice to show off your best at special events. Makeup, facials, body massage and exfoliation, waxing, hair care, and nail art are some of their services.
If you want a royal look, waste no time and book an appointment with Hifsa Khan and elevate your beauty!
Services
Acrylics Nails
Exfoliation and massage
Bridal/ Party/ Glamor makeups
Waxing
Bleach
Facials
Contact
0304 1111820
Location
Off Sherpao Bridge, CMA Colony, Lahore, Pakistan.
Envogue Beauty Saloon & Spa
This salon doesn't just provide the best service, but it creates a comfortable environment where you will feel relaxed during your massage or facial. This is the salon for those who live nearby to do quick thread or get regular waxing and other services.
If you need the best hairstyle for any occasion, Envogue is the place to be. You must visit this salon for quality treatment in an affordable package. So grab an appointment and get makeup from good hands at a reasonable price.
Services
Waxing
Makeup deals
Threading
Hair styling
Spa and massage service
Nail Services
Contact
042-35716060-1
Location
M.M Alam Road, Mini Market, Gulberg II,  Lahore,  Pakistan.
NINA G
NINA G Salon made a name in the fashion industry with its impeccable artistry. The salon's talented beauticians will make you more beautiful. Only the best-known high-quality hair and beauty products are used and that includes top brands like OPI. L'Oréal, Thalgo, and Guinot. Enjoy manicures and pedicures in luxurious areas.
Although NINA G is famous for its professional facials and hair treatments, bridal makeup has become popular in recent years and is recognized as the best service. Also, they offer different luxurious treatments, including Guinot skin treatment facials and Micro-dermabrasion treatment.
Services
Hair cutting & styling
Mehndi Designs
Skincare Treatment
Keratin & Rebonding Treatments
Micro-dermabrasion Treatment
Bridal, engagement, and party makeup
Contact
(042) 35740051
Location
61Z Block, Commercial Area Phase 3, D.H.A. Lahore, Pakistan.
Uzma's Beauty Salon
Uzma's Beauty Salon is one of the most demanding and famous salons in Lahore. They know how to provide high-quality service and cosmetics to everyone.
Firm contours, blended makeup, and the right color choices of lipstick and eyeshadow are what you want to emulate, and the bridal makeup of this salon is unmatched. So, if you're looking for a salon that provides everything you need, Uzma's Beauty Salon can be your place.
Services
Hair Protein Treatment
Whitening and Herbal facial
Skin Polishing
Signature Makeup
Bridal Make-over
Contact
(042) 35692925
Location
304-Y Block Commercial Market D.H.A, Phase III,  Lahore, Pakistan.
Sab's The Salon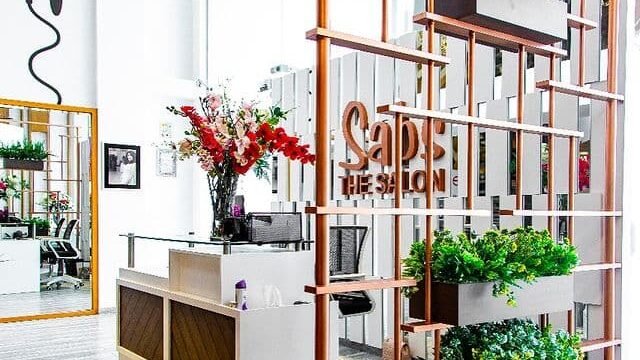 It would be unfair to list places where you can pamper yourself for a day without mentioning Sab's salon, led by Saba Ansari.
Sabs Salon is one of the best salons for women in Lahore, providing services with unparalleled skills. They offer a full range of salon services, from bridal makeup to waxing, haircuts, and other services, including facials.
Services
Top Class Bridal Makeup
Facial Services
Acrylic Nail art
Styling Services
Hand and Foot Care
Contact
0304 4440507
Location
164-P, Mini Market,  Gulberg II, Lahore, Pakistan.
Pamper yourself- You deserve it!
Doing your hair and dressing well gives you confidence and makes you look better.
So, break away from your daily routine and enjoy your day at one of these top Salons for women in Lahore. You deserve It!