Islamabad is the picturesque capital city of Pakistan, set amidst the backdrop of the majestic Margalla Hills. Everyone loves to celebrate their big day in this beautiful city, and there are plenty of Marquees and Marriage halls in Islamabad to choose from.
We have compiled a list of some of the best venues for your special day, ranging from intimate spaces to grand halls, traditional Pakistani marquees to modern banqueting halls. So, whether you are planning a small gathering or a large wedding celebration, you are going to get the best option. So, let's slide in!
25 Top Marquees And Marriage Halls in Islamabad
Now no need to worry about finding the best marquee for your wedding or any other big event. Check out our top 25 marquees and marriage halls in Islamabad that will make your event more memorable.
Marquee In Islamabad Expressway
Empire Marquee Islamabad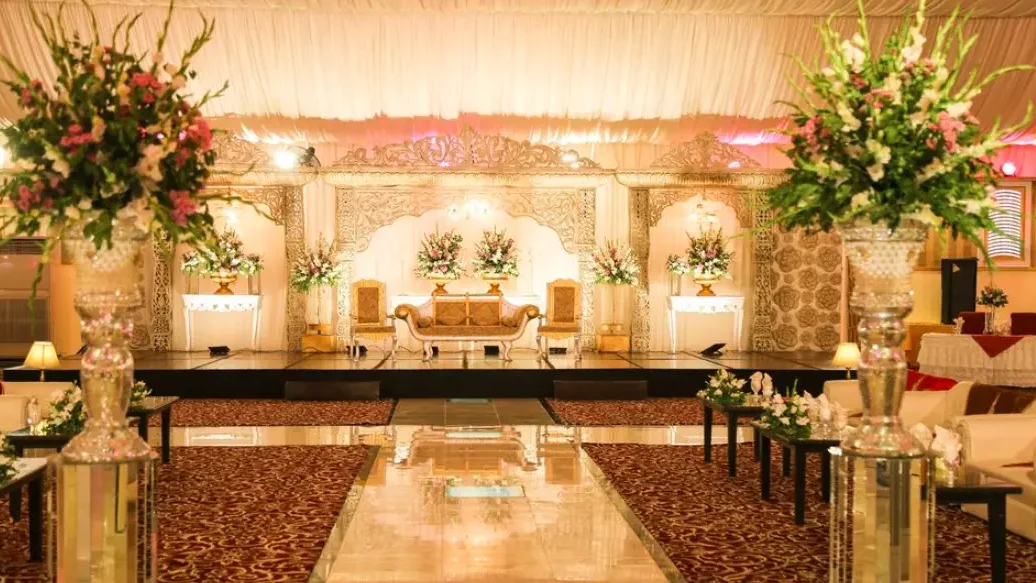 Empire Marquee Islamabad is a popular marquee in the capital due to its convenient location on the Islamabad expressway. It is perfect for large gatherings, with multiple event spaces and a large capacity.
The facilities available at Empire Marquee include a bridal room, event planner, DJ sound system, Wifi, catering services, valet parking, and more. The marquee also offers an indoor and outdoor seating option, as well as a covered outdoor area.
So, if you're looking for a top-notch venue for your next event, be sure to check out Empire Marquee Islamabad.
Fortress Events Complex
A dream place for your wedding day, the Fortress Marquee offers an unbeatable combination of style, substance, and service.
The perfect setting for your fairytale wedding, this marriage hall in Islamabad offers a range of indoor and outdoor spaces to make your special day even more magical.
With a capacity of 100-3000 people, you can be sure that all your guests will be accommodated. The facilities include an event planner, DJ sound system, electricity backup, and much more.
So if you're looking for a venue that ticks all the boxes, visit here.
Mawaa Memorable Moments
How many people will your function be hosting? Whether it is an engagement, wedding, or seminar, at Mawaa they make sure that all your guests are comfortable.
They have different halls with varying capacities so that you can choose the perfect one for your event. The building and interior are artsy examples of the best structure design.
The food is one of the most important aspects of any event and at Mawaa they make sure that you and your guests are well taken care of. They have a team of expert chefs who will prepare the perfect meal for your event.
Paradise Complex
The capital city of Pakistan is home to some of the most majestic marquees and marriage halls. One such venue is the Paradise Complex.
The complex can accommodate corporate events, meetings, conferences, weddings, and parties.
It consists of 5 event spaces, namely the Anabia Hall, Hakim Hall, Paradise Marquee, Marjan Marquee, and Jawahir Hall.
To make things even more convenient for you, the complex offers all the facilities from the beauty salon to a photography studio. They also have a wedding planner on staff to help you with all the details.
Majesty Marquee Islamabad 
For a dreamy wedding that will be remembered for a lifetime, Majesty Marquee is a perfect choice. The grand white exterior and magnificent lawns make it a picturesque setting.
The venue offers wedding planning, catering, and decor services to make your big day even more special.
With a bridal room, DJ/sound system, and off-season discounts, Majesty Marquee has everything you need to make your wedding day perfect.
Haveli Marquee Islamabad
The Haveli Marquee is a popular choice for weddings and other events in Islamabad. The hall's traditional architecture and unique interior make it a truly grand setting.
In-house services such as professional photography, floral banquets, exquisite wedding cakes, and photography add to the appeal.
This marquee in the Islamabad expressway is also easily accessible to residents of both Islamabad and Rawalpindi. Traditional menu items are Haveli's specialty, making their cuisine quite renowned.
Avalon Banquet Arena
Here at Avalon, they pride themselves on providing a one-of-a-kind banquet experience for their guests. From the moment you step through their doors, you'll be treated like royalty.
Their team of experienced event planners will work closely with you to bring your vision to life. They have a state-of-the-art kitchen, a spacious banquet hall, and a team of highly skilled staff.
You can customize your menu to suit your taste and budget, and their in-house decorators will take care of all the details.
Blessings Marquee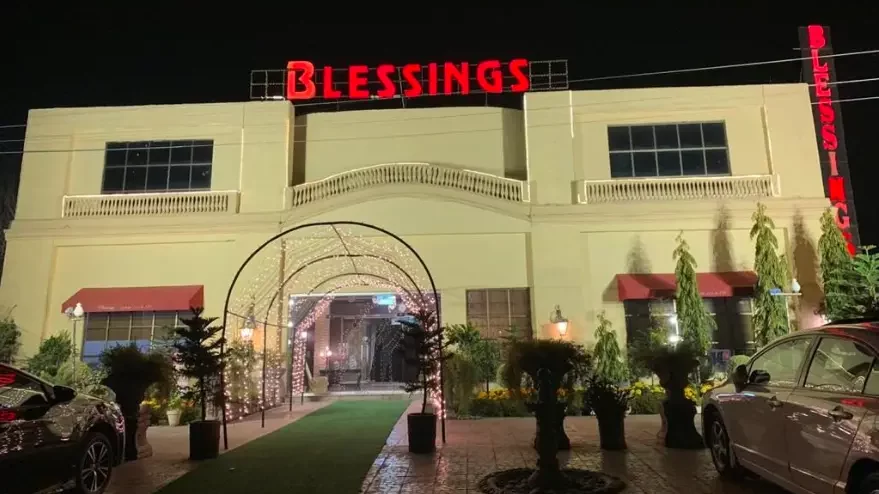 To perfectly customize your marquee wedding and make it extra special, their in-house design team can create a bespoke look for you.
From draping to flooring, lighting to linens, Blessings Marquee in Islamabad works with you to bring your vision to life and make sure every detail is just perfect.
The facilities at Blessings Marquee are also second to none, with air conditioning to keep you cool in the summer months, a banquet facility for evening meals, and even handicapped facilities to make sure everyone can enjoy your big day.
Events Marquee Islamabad
Events Marquee is an acclaimed and preferred event service provider in Islamabad or Rawalpindi. It has a modern and well-equipped, unique environment and enormous Marquee which can entertain up to 450 people.
It gives an immaculate setting to all kinds of functions, ranging from quality wedding receptions, ceremonies, corporate events, Birthday Parties, School/college Functions, etc.
Their engaging and well-trained staff ensures your event is worry-free and our extensive yet scrumptious menu reflects a high-class dining experience. They also offer outdoor catering.
Orchid Marquee Islamabad 
Here comes the next best thing in town, Orchid Marquee Islamabad. Located at lohi bher, this place is a must-visit for anyone looking to celebrate an event in style.
With two outstanding halls and the ability to accommodate up to 1500 guests, this is the perfect venue for any event.
The creative designs and theme colors are sure to make your event just awesome. And if you're looking for tasty food, you're in the right place.
The extended service pack and strong market presence make Orchid Marquee a central hub for all your event needs.
Reet Wedding Hall
Get your dream marquee with all the modern facilities you can think of with a reet wedding hall. Their team makes sure that everything is taken care of so you can enjoy your big day to the fullest.
From decoration to catering, they will make sure your day is perfect. Even if you have a specific vision in mind, they will make it happen.
Their decor and setting options are endless, so you are sure to find something that suits your taste. So, if you are looking for a one-stop-shop for all your wedding needs, look no further than a reet wedding hall.
Pavilion Marquee Islamabad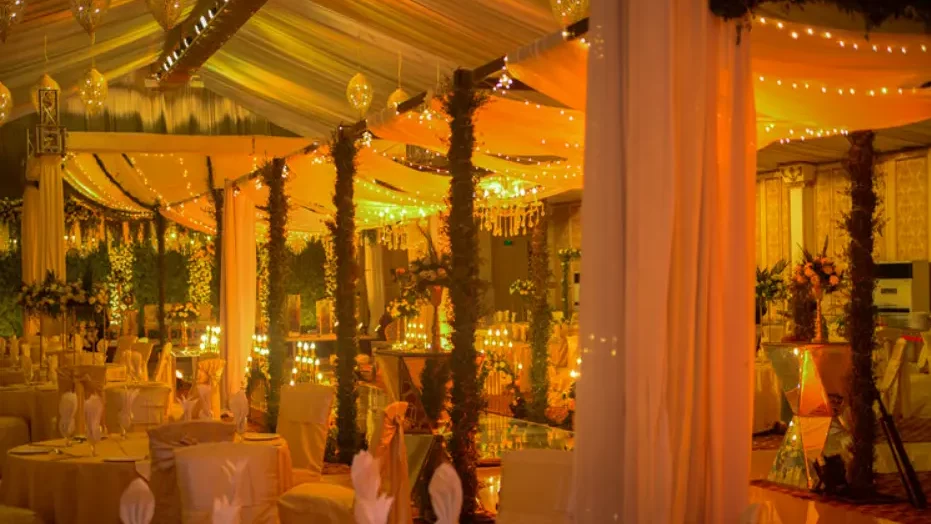 Pavilion Marquee is a beautifully landscaped event space to manage small gatherings or large celebrations. The location is also convenient, being situated on the Islamabad Expressway behind the PSO Burki Petrol Station.
With Hanif Rajput's signature dishes and decades of experience in catering, this venue is sure to make your event a success.
From intimate gatherings to grand affairs, Pavilion Marquee has the perfect setting for your special occasion. The facilities available include event management, catering services, and indoor and outdoor event space.
Wedding Hall In Islamabad Pl1, ShakarParian
Ramada by Wyndham Wedding Hall
Ramada Islamabad is a 4-star deluxe hotel that also offers various wedding packages and makes it easy for you to get everything you need, from the perfect venue to the wedding banquet menu to the accommodation.
With in-house florists and make-up artists, your wedding will be exactly what you've always dreamed of. If you have specific requirements or themes, they will work with you to create the perfect custom package.
They have two halls that can accommodate 350 guests each and a rooftop venue that can accommodate 450, so no matter the size of your wedding, they have you covered. 
Marquee In Islamabad D17
Bisma Farm House
To get a head start on the wedding preparations, Bisma Farm House is the perfect venue. This farmhouse can be used to host all sorts of events, from small family gatherings to large weddings.
The place is fully equipped with all the necessary amenities and can accommodate up to 750 guests. There is also a separate area for parking, so you don't have to worry about finding a spot for your guests' cars.
Facilities such as air conditioning, stage decoration, and music system are also available, making it a perfect choice for your big day.
Marquee In Islamabad E-11
Paragon Marquee Islamabad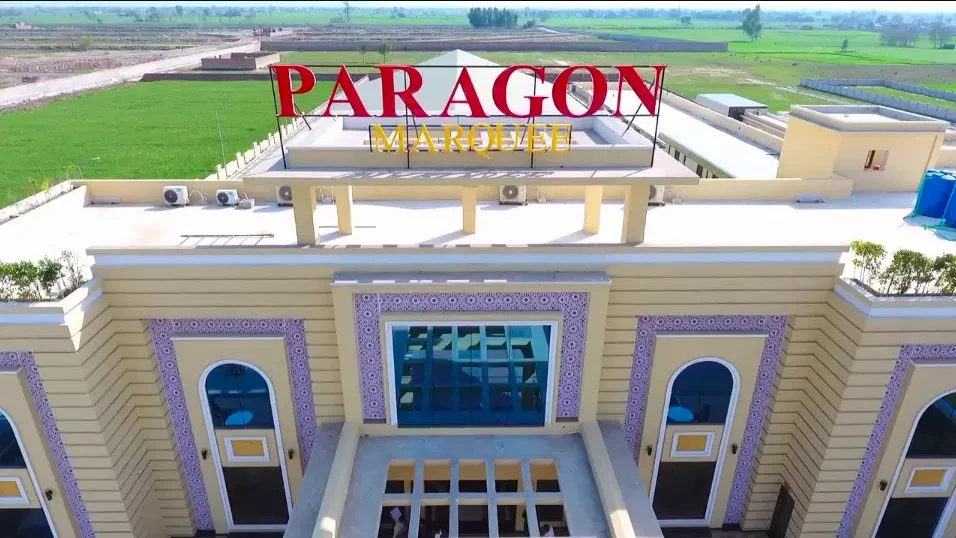 To begin with, Paragon Marquee in Islamabad e-11/4 is a large venue with 4 event spaces and a capacity of 2200 people. The venue is popular for its affordable rates, brilliant decor, and scrumptious food.
Paragon Marquee offers a variety of services such as event planning, DJ/sound system, choreography, catering, and valet parking.
The venue also offers a variety of facilities such as a bridal room, wifi, dhol, limousine, parking lot, electricity backup, and wheelchair access.
Monal Marquee Islamabad
Monal Marquees and wedding halls are a world-class wedding facility situated in E11 Islamabad, Pakistan. The marquee offers an extensive range of services, from international cuisine to essentials such as baby changing rooms and bridal suites.
What sets the marquee apart is its extravagant decor, contemporary architecture, and stunning chandeliers that make your special evening a night to remember.
If you're looking for a truly royal experience as the building looks like a European palace, Monal Marquee is the perfect choice for your next event.
Zakia's Marquee Islamabad
Host your next event at Zakias Marquee in E11 Islamabad for an unforgettable experience. You can arrange any type of event here, from elegant dinners to cocktail parties.
Your event will run smoothly thanks to their experienced banquet staff. And their Executive Banquet Chef creates both contemporary and traditional dishes that will delight your guests.
Zakias Marquee and Marriage hall is affiliated with Afzal Foods and Events, a company with over 35 years of experience in the food and event planning industry.
Aura Grande Complex
Sophisticated and modern, Aura Grande is one of Islamabad's most popular marriage halls. The complex has four halls that can accommodate 100 to 800 guests, making it a great choice for large weddings.
The management also offers contingency planning, so the marquee can accommodate additional guests on short notice.
With its impressive facilities and services, Aura Grande is a lavish choice for a wedding venue. The marvelous decor and luxurious interior of the hall will make your wedding day truly unforgettable.
Margalla Grande Marquees
How about getting the best of both worlds? Margalla Grande Marquees is the perfect venue that offers an elegant and amazing place for you.
Its two halls with a capacity of 800 guests each, combined with its modern facade, lush green lawn, and grand lobby make it the most luxurious event area in Islamabad.
They stand out because of their grandeur and beauty, 5-star services, and scrumptious food. Get the best out of your event with Margalla Grande Marquees in Islamabad!
The Weddings Marquee
This marquee is another luxurious option when deciding on a venue for your big day. The Weddings Marquee is located in the E/11 area of Islamabad and can accommodate as many guests as you want.
The hall is complete with a stage, dance floor, and state-of-the-art lighting and sound system. You and your guests will be blown away by the elegance and sophistication of this hall.
To customize your wedding experience, the Weddings Marquee also offers a variety of packages that can be tailored to your specific needs and budget.
Taj Marquee Islamabad 
The Taj Marquee is one of the most luxurious and well-known marquees in Islamabad. It is perfect for extravagant weddings, and events.
The services provided by the Taj Marquee are top-notch and include an event planner, catering service, DJ/sound system, valet parking, and choreographer.
What makes them unique is their ability to make your event feel like a royal affair. From the moment you step in, you're transported back to the grandeur of the Mughal era.
The Taj wedding marquee in Islamabad is the perfect inspiration for an unforgettable event.
Marquee In Islamabad Bani Gala
Rawal Wedding Marquee
Imagine your wedding day taking place lakeside with a backdrop of the beautiful Rawal lake and Islamabad's stunning sunset. This is what the Rawal wedding marquee offers; a truly unique and unforgettable experience.
They can accommodate both indoor and outdoor events, making them the perfect choice for those looking for a more grandiose affair.
Additionally, the Rawal marquee is located away from the hustle of the city, adding to its serenity.
If you're looking for an elegant vintage-themed event space for your wedding or another special occasion, the Rawal Marquee should be your go-to choice.
Marquee In Islamabad Club Road
Tulip Banquet Hall
If you want to host a grand and luxurious wedding or any other event, in the most trustable venue then Tulip Banquet Hall is the best option for you.
The hall comprises 3 event spaces that can accommodate 100-1900 people at a time. The hall is beautifully designed and furnished.
You will find all the facilities and services that you need to make your event a success. The staff is highly trained and experienced to make your event a memorable one.
The location of Tulip Banquet hall is also very convenient at Club Road. You can also avail the valet parking service to make your event even more special.
Marquee In Islamabad Kashmir Highway
Royal Executive Marquee Islamabad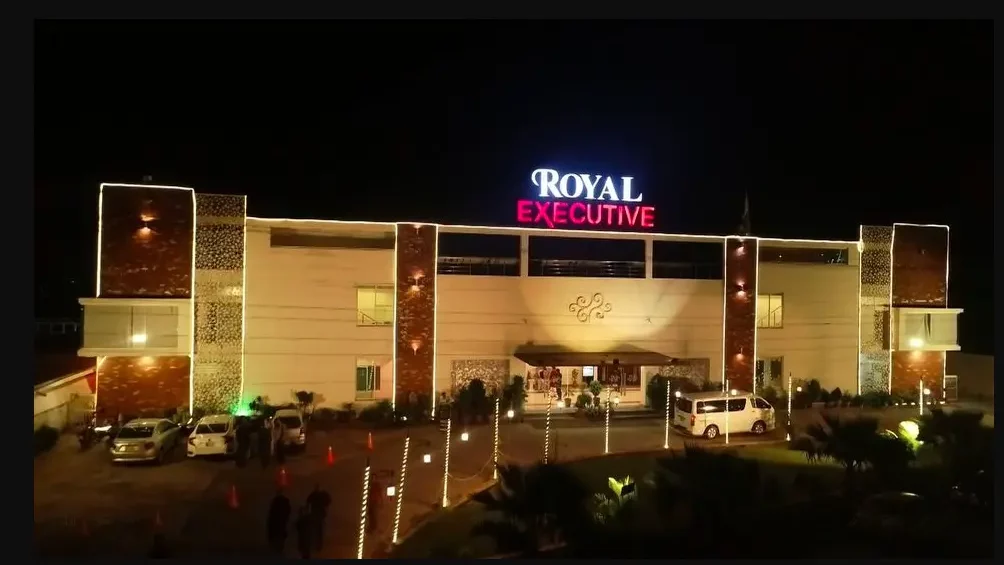 Visit the Royal Executive, the Wedding Marquee in Islamabad for your next event! The large capacity and multiple event spaces make it perfect for weddings, corporate events, parties, and more.
Located on Main Expressway Sector H-13, the Royal Executive offers complete event management and catering services, as well as a bridal room, dhol, valet parking, and wheelchair access.
Moreover, the place speaks of elegance and is sure to make your event a memorable one. It will definitely be worth your while.
Imperial Marquee
Imperial Marquee is an excellent choice for those looking for an affordable and full-featured venue in Islamabad.
The marquee offers a large capacity, making it perfect for weddings and other large events. Additionally, the on-site event planner and catering service make planning your event a breeze.
However, The 100% assurity of food quality and quantity will make your event more than just memorable, it will be outstanding.
Final Verdict
After carefully considering all the options, we believe that the best marquee for your wedding or event is the Royal Executive Marquee in Islamabad. It offers everything you could need to make your event a success.
Another best option could be the Rawal marquee because of its mesmerizing lakeside location. And if you're looking for an affordable and full-featured venue, Imperial Marquee is the perfect choice for you.
Although our all options are the best in their way, so you can pick any one of them according to your event's requirements.