Mahodand Lake is a famous tourist place in Swat famous for its unimaginable natural beauty. Located in Ushu Valley, 40 KM from Kalam, Swat district, this place attracts a large number of tourists from all around the world. 
The lake is surrounded by fascinating pine trees, meadows, and mountains while getting water from the glaciers of Hindukash Range. However, this place amazes the visitors with its magnificent scenic beauty, lush greenery, snow-covered peaks, and cool weather. Also, this place offers a lot of entertainment activities to make your trip memorable. 
About Mahodand Lake 
Mahodand Lake in Swat valley is one of the most beautiful lakes in the world. This is a top place among magical places to visit in Swat because of its cool and shining water in the midst of pine trees, snow-covered mountains, peaks, and lush green landscapes. 
The shinning waves along with incredible clouds over it make a surreal atmosphere leaving tourists an amaze. Mahodand lake water is extremely cold as it is coming directly glaciers of Hindukash mountain range. A large number of nature lovers flock to this every year as the track is discovered and opened for travel.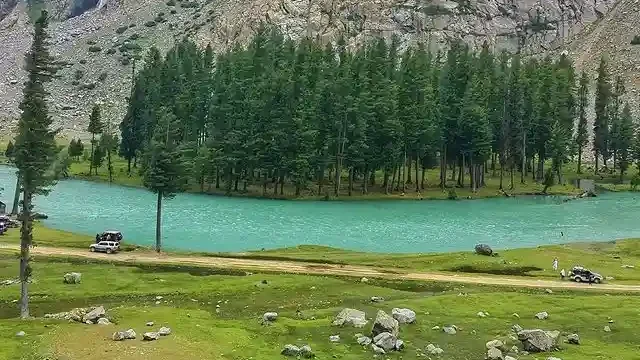 Where is Mahodand Lake Located?
Mahodand lake is located in Swat District of Khyber Pakhtunkhwa, Pakistan, which is famous for a lot of beautiful places. Malam Jabba, Fizagat, Bahrain, and Madyan are name a few. In Swat, the lake is nestled in Hindu Kash mountains in upper Ushu Valley, at the height of 9,400 feet and spread over 2 KM by length. Mahodand lake distance from Swat Kalam is 40 KM. However, this place is highly peaceful where you will encounter unforgettable nature views along with enjoying various exciting activities. 
How to Reach Mahodand Lake?
To get to Mahodand lake, you should start your journey early in the morning. From Swat Kalam, this lake is 40 KM away that can be covered within 3 to 4 hours by 4×4 jeep. You cannot reach the lake by car due to the sloppy route. While making your way to Mahodand, you will first cross Kalam forest and arrives in Ushu valley. 
Mahi Banal, Mighty falls, and Matiltan also come in your way that all are mesmerizing places. On your route to Mahudand lake from Swat, there are various shops and sellers offering edibles and drinks to tourists. Also, you will cross chashma-e-Shifa water that is believed to have holy water suitable to cure all diseases. Then, you will reach Mountain Falak Sher and then Mahodand lake after 15 minutes of travel. 
Mahodand Lake Weather 
Mahodand lake is an extremely cold place as its water fets frozen during the winter months. In winters, the weather goes as low as -12°C. However, in summers, the weather is moderate thus the lake surface looks magical while reflecting the sunlight, shades of floating clouds, and wildflowers falling in it. 
What is the best time to Visit Mahodand Lake?
During the winter months including November, December, January, and February, the weather remains extremely cold due to heavy snowfall causing the blockage of roads. Also, the lake water gets frozen. In winters, traveling to Mahodand lake can be risky. However, the best time to visit Mahodand Lake is in the summer months from April to October. 
Things to Do at Mahodand Lake 
Perched in the midst of the magical alpine hills of Ushu Valley, the exquisite Mahodand lake is a tourists hotspot. The tourists will fully indulge in the fascinating beauty of this lake as it is a great place to visit for nature enthusiasts. Besides, the lake offers an abundance of adventurous and entertainment activities to make your time more memorable. During your visit to Mahodand lake, you can enjoy the following activities. 
Fishing 
Along with many other aspects, Mahodand lake is famous for the abundance of trout fishes it has. However, you can have a great fishing time at this place. But for fishing, you have to take permission from the concerned authorities as anyone cannot do this at the lake. The fishing equipment is available at this place thus you can also bring your own. 
Camping 
Camping at Mahodand lake will be a lifetime memory for anyone. Spending a night in a camp near this incredible lake while surrounded by fascinating mountains, trees and landscapes will take you into a magical world. This will prove a remarkable experience as the sky is filled with stars at the night thus the temperature gets colder. You can bring your own camps, blankets and other necessary equipment. Also, some locals provide camping facilities at the lake as per your needs. 
Horse Riding 
Horse riding is another memorable experience you can have during your tour to Mahodand lake. Many locals are roaming around the lake with the beautiful horse to offer you a remarkable ride around the lake so that you can explore the beauty of this place in an incredible way. 
Boating 
Tourists visiting Mahudand lake must not miss the boating activity. In the magical blue water of lake while surrounded by incredible pine trees, snow-covered mountains, and landscapes, the boating will take you into a magical world. Along with scenic views, you can enjoy the rhythmic cool breeze, dancing pink flowers and many other fascinating aspects. Through boating, you can make lifetime memories.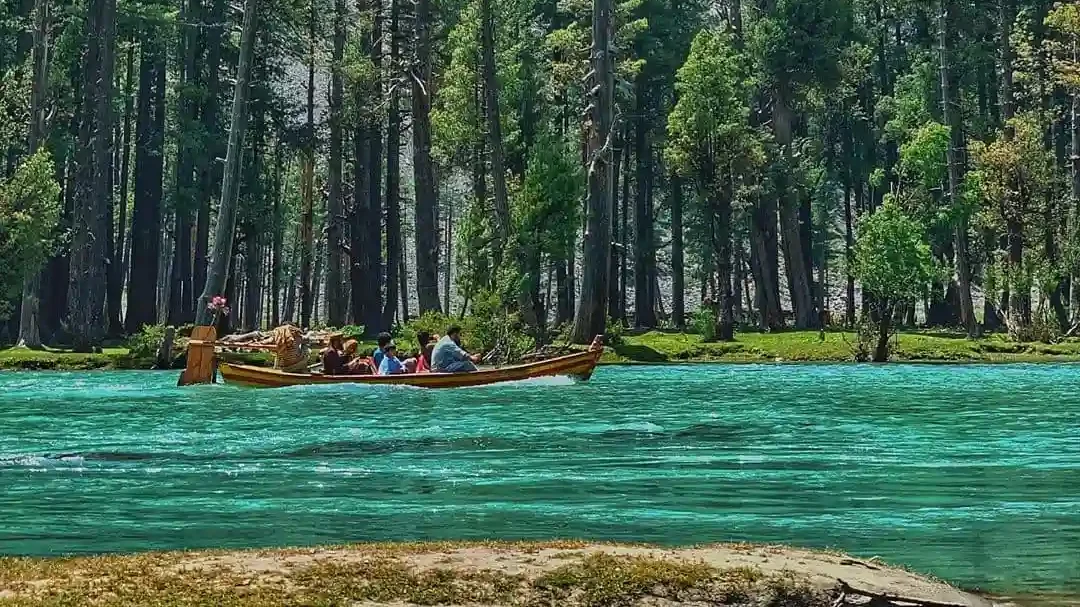 Mahodand Lake Nearby Places 
Mahodand lake is a magnificent place to visit in Pakistan with all its magical beauty, pleasant atmosphere, lush green surroundings with snow-covered mountains and much more. As swat is one of the richest tourist destination with Marghazar, Malam Jabba and Bahrain, for both local and foreign tourists. 
You will have an incredible time here while enjoying the scenic beauty along with many other activities such as fishing, boating, horse riding, camping and more. To make your trip more memorable and exciting, you must also plan to visit the nearby places of Mahodand lake. Some of the best places near this lake are as follows! 
Ushu Forest 
Ushu forest is famous for its surreal beauty due to the abundance of pine, cedar, and other types of trees. This place is greener with a soothing atmosphere offering a peaceful ambiance. This place comes on the route to Mahodand lake that you must visit. 
Kundol Lake 
Kundol is another fascinating lake in Swat valley that is accessible through Mahodand road. This is a nearby place to Mahodand lake that you can access to enjoy some of the unforgettable natural scenes and exciting activities.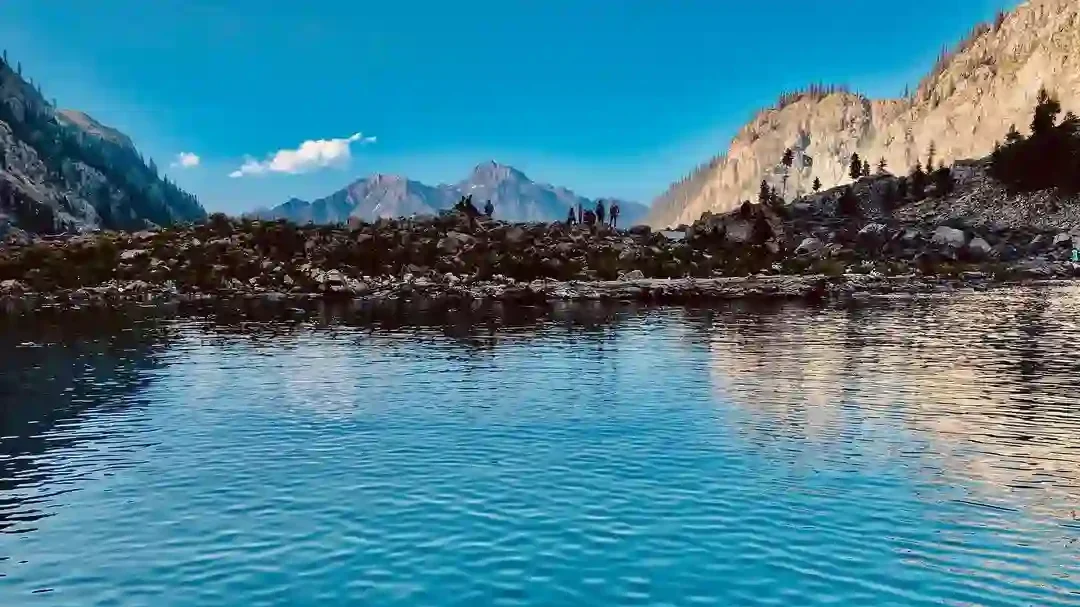 Matiltan Valley
Matiltan valley is 22 KM away from Mahodand lake you can reach it in one and half hours. This valley is famous for its peaceful atmosphere, green landscapes, an abundance of wildflowers, trees, fascinating mountains, waterfalls, lakes, and much more. You can make lifetime memories by spending time here. 
Mighty Falls 
Mighty Falls are worth visiting due to their exquisite beauty and serenity. This place is a 43-minute drive away from Mahodand lake. Visiting this place will take you into a surreal world as it is full of natural beauty within a pleasant ambiance.
Where to Stay at Mahodand Lake?
There is no proper restaurant or resort near Mahodand lake to accommodate tourists. Usually, the tourists stay in Kalam Swat hotels and make one-day trips to Mahodand lake. However, some people can spend the night at  Mahodand lake through camping is definitely a lifetime experience. 
Can we travel by car to Mahodand Lake?
To reach Mahodand lake, you have to travel through a long, rough, and sloppy track. However, a car does not work to travel to Mahudand lake. You have to hire a 4×4 vehicle such as a jeep or SUV to reach safely to the lake.
Is Mahodand Lake open in Winter?
During the winter months, the road to Mahodand lake gets blocked and access becomes limited due to heavy snowfall. In winters, traveling to this lake can be risky. So, you should make a plan to visit Mahodand lake in summer.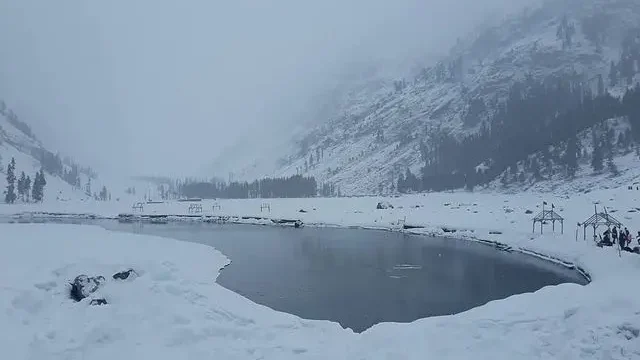 Bottom Line
If you are planning to visit the Northern areas of Pakistan with your family, consider Swat which has Mahodand Lake, Fizagat, Gabin Jabba, Bahrain and many more. Definitely, visiting this place will prove a lifetime experience thus your appreciation for the beauty of Pakistan will also increase. So, plan a trip now!