It is within the verdant and captivating views of Kashmir that one can see the charisma of nature. Among all the resplendent sites one can visit here is Arang Kel to give you a paradisical experience. The mesmerizing hilltop is visited by multiple tourists to explore the enchanting sights and the ultimate adventure the place offers. Being located in Neelam Valley, the place is also nearer to the other wonders of nature in the locality.
If you are looking for a spot with both thrill and natural charm, do not miss out on Arang Kel; The Best Place to Visit in Kashmir.
Arang Kel As A Perfect Vacation Getaway
Arang Kel is renowned for the picturesque surroundings and the freshness of nature that you can breathe in. It is undoubtedly a place that could take you away from the daily grind of life into a zone of comfort and adventure. There are many more amazing places in Pakistan to plan a tour.
Kashmir is already famous for its unequaled beauty and high pinnacles covered with snow that is apparent even from other Northern Areas of Pakistan. One can get a view of the mesmerizing meadows, and hilltops, and enjoy multiple tourist activities in Arang Kel amidst clouds and greenery. 
Location of Arang Kel, Kashmir
Arang Kel is located in a verdant village of Kashmir at an elevation of 8379 ft from sea level. Due to being located at such a height, you will face network issues so it is better if you get an Scom sim that functions only in the Kashmir region.
The tourists must need travel to Kel located in the Neelam Valley division. It requires a 2 kilometers trek further from Kel to arrive at Arang valley, also considered the major tourist point.
The journey toward this magnanimously enthralling that one can experience in two ways to reach Arang Kel. 
How to Reach Arang Kel?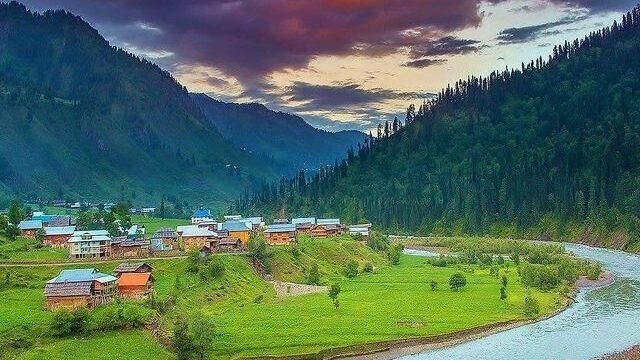 People aspiring to travel towards Arang Kel must start their journey from Muzaffarabad. It takes a 110 kilometers drive to cover the distance from there to reach Sharda through Neelam Valley. Tourists find Sharda perfect for staying before moving towards your destination as it is a renowned campsite in the region. Arang Kel is 19 kilometer away from Sharda but due to construction of road it usually takes 2-3 hours to get Arang kel.
Once reached in Arang Kel, one can choose to travel to Kel by a chairlift hanging more than 200 ft above the ground. They can otherwise choose to trek for 1000 meters to arrive at Kel. It might sound frightening or tiring but doing this all to reach the best tourist spot in Kashmir like Arang Kel makes it worthwhile. 
By Your Conveyance
The journey begins from Muzaffarabad to Sharda one can easily cover on one's conveyance. It usually takes 4-5 hours to get Sharda from Muzaffarabad but unfortunately, if you find some traffic blockage then this journey may extend to somewhere between 5-7 hours. Once you get Sharada on your own conveyance then you have two ways to get Arang Kel. Either to rent a jeep from Sharda or go on your own vehicle. However these last 19 kilometers easily take 2-3 hours because road construction but you can easily reach to Arang Kel on your vehicle with careful drive.
By Public Transport
It gets quite easier when you choose public transport to travel anywhere. When it comes to reaching Arang Kel, any public transport could take one to Sharda from Muzaffarabad.
The journey from Sharda to Kel is not much paved hence most people choose to travel by jeep or again you could travel via local vans and buses. 
Places to Visit Nearby Arang Kel
Sharda Peeth
Sharda Peeth is one of the significant religious sites for Hindus located in Kashmir and one of the best places for tourists in Kashmir. The temple was a center of learning for renowned Hindu scholars. 
People are inquisitive about visiting this historic temple that once served as a university in the Indian Subcontinent. It takes 1 hour and 19 to travel from Kel to Sharda Peeth.
Gurez Valley
It takes approximately 4 hours to travel from Kel to Taobat the major point one needs to arrive at to reach Gurez Valley. Although the route is scary the destination is worthwhile with scenic sights. 
One requires to hire a professional driver preferably a jeep from Kel to reach this place. Having all the accommodations, the place is also one of the perfect places to stay in Kashmir.
Chitta Katha Lake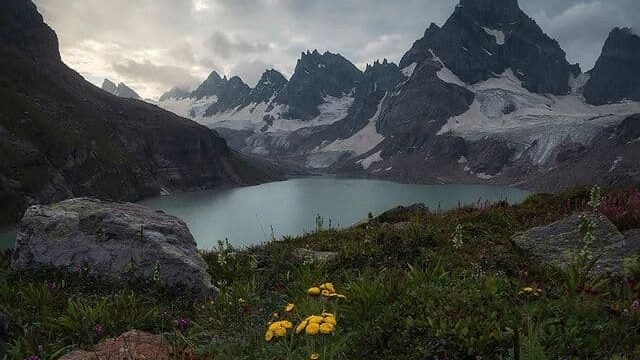 Nestled amidst snow-capped mountains in Shantour Valley, Chitta Katha lake is yet another Alpine Lake located in Pakistan. Kel to Chitta Katha Lake distance is 20 kilometers, and one needs to cover this on a jeep. 
Because it is also one of the best hiking spots in Kashmir so travelers can also get to this lake by trekking for 5 kilometers. The tourists can also delight themselves in other nearby tourist places that they will come across during this trek.
Things To Do in Arang Kel 
Arang Kel is a spot with so many options to keep the visitors entertained and curious to know the hidden treasures the place beholds. It is one of the best tourist spots in Kashmir with natives welcoming everyone with open arms and warm smiles. 
One can sit back comfortably with a cup of tea keeping aside all other thoughts and delve into the beauty of this one of the best places in Kashmir. 
Trekking
Trekking is a must when you are traveling to Arang Kel. Firstly one could choose 2-kilometer trekking towards Arang from Kel. Secondly,  the tourists can grab the opportunity of trekking toward one of the beautiful meadows in Pakistan or to the sky-high mountains.
The paths are all paved and covered with green grass and awful surroundings to have a view of. 
Sightseeing
Kashmir is encircled by multiple admirable sights that one can cherish. People visiting Arang Kel have the same sightseeing experience as one of the liveliest activities.
You can take in the attractiveness of the scenery surrounding you. The snow-covered peaks, forested hills, and the lush green meadows feel refreshing to the soul. 
Camping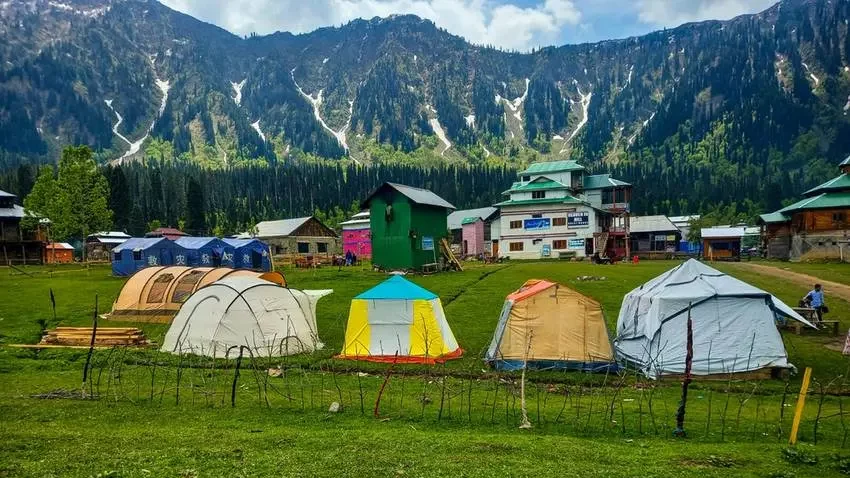 A great many options for camping are available for the tourists visiting and planning a stay in Arang Kel. There are camp pods that one can book a few days before the visit or one can take his camps up to the Arang valley and spend some quality time with family and friends.
Moreover, the natives also provide the camping facilities with other services at negotiable prices to the tourists. 
Photography
Is it even possible not to capture the beauty of such a heavenly place as Arang Kel? This valley is a great option for filming, vlogging, and photography.
One could easily find the picture-perfect landscapes to get a click on and mesmerize their friends and followers on social media. 
Horse Riding
Horse riding is one of the favorite activities of tourists visiting Arang Kel or any other Northern Areas of Pakistan. The locals have kept these horses, especially for people getting these services for their recreation.
One could enjoy a horse ride to the lovely green luscious meadows and roam around amidst the greenery to explore more amazing sites.
Stroll Towards the Meadows
Strolling toward the meadows is yet another enticing activity. Tourists can choose their way to walk towards the meadows and spend the time having bonfires or other outdoor activities.
One can likewise plan to stroll towards the hills or mountains located nearby Arang Kel.
Hiking Towards Mountains
Arang Kel is nestled beautifully in the lap of snow-covered mountains. Tourists cherish capturing a glimpse of the snow that shines like a pearl when the sun rises. 
If you are an adventure-loving person then do not hesitate to set your schedule of hiking toward any of these wonderful mountains. You can start off with this thrilling yet scenic journey early in the morning and take a rest at the camp bases or set your own camp. 
Bonfire at Night
Have you ever had a bonfire beneath a star-studded sky with forested hills in your surroundings? If not, then here at Arang Kel you can have such an amazing experience.
Enjoy a bonfire on cold nights in this fairyland with a sky full of embedded stars above you. The actual scene looks more charming than this description of it to those who really take a chance to explore it. 
What Is The Best Time To Visit Arang Kel?
Arang Kel is located in the Neelam Valley and the best time to visit the region is between April to October. However, the month of July is preferable for hiking toward mountains and other nearby places. 
If you want to explore the beauty of Arang Kel meadows then you must visit it either during the Summer or Spring season. Due to the unpaved routes, it is not advised to visit this place during monsoon or snowfall.
Places to Stay Near Arang Kel
There are multiple routes that lead toward Arang Kel and tourists. Many people prefer traveling directly from Muzaffarabad to Arang Kel, some of them decide to take a journey from Muzaffarabad to Sharda and others also choose to travel from Sharda to Kel.
However, you will easily be able to find accommodating guest houses, hotels, and motels in all these places.
Places to Stay in Sharda
Sharda Highland Hotel
Who wouldn't like to miss a stay at a beautiful hotel located in a piece of heaven on Earth? Sharda Highland Hotel is a perfect place to have such an experience.
Being one of the best places to stay in Arang Kel, the hotel provides hospitable services as well as delectable food that is available at its restaurant. Additionally, you can have enough parking space, free WiFi, and a secure online booking option to get any of their well-equipped rooms.
The Lodge Sharda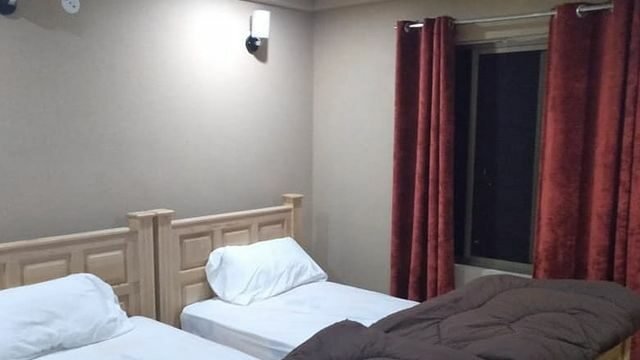 Located in a peaceful environment amidst greenery, The Lodge allure its visitors. The finest amenities and minimalistic ambiance of this lodge are still convenient in many ways for those who stay here. 
The Lodge offers food and drinks facilities, with enough parking space and extra bed options. Moreover, one can enjoy BBQ with the company as well as visit the nearby places easily from this location. 
Places to Stay in Arang Kel
Hill View Guest House
Hill view guest house is one of its kind places to stay in Arang Kel. The place has accommodating family rooms with a balcony presenting an attractive view of the surroundings. 
Hill View Guest House has all the facilities required for a comfortable homely stay. Along with all the top-notch services, visitors can also enjoy appreciable food services on the spot. 
Elysium Inn Guest House
Elysium Inn Guest House has better proximity to the restaurants in Arang Kel. Like all other guesthouses in Arang Kel, one can also get a private kitchen facility here. 
All rooms in the Elysium Inn Guest House have a view of the beauty of the meadows. If you want to make your trip memorable then visit here and spend your trip in joy. 
Conclusion
Kashmir has always been through a lot but it never made a difference to the beauty it has always been a home to. This article will enlighten you about Arang Kel; The Best Place to Visit in Kashmir.
Don't wait anymore to explore this exciting and aesthetically enticing spot with your loved ones this vacation. Keep connected with LovinPakistan to know more about Pakistan.