Skardu is one of the best places in the world for all kinds of tourism. The landscape is diverse, and the weather is incredible, especially during peak tourist season. This region offers excellent adventurous activities, but camping is one of the favorite things to do by travelers. Camping trips are the best way to escape from everyday life.
We've compiled the list of best-camping sites in Skardu. Read on, plan your trip, and enjoy every moment in one of the world's most mountainous, culturally and historically rich regions.
Camping Sites in & around Cold Desert Skardu
Cold desert is a highland with an altitude of 303 meters, surrounded by black-grey mountains and bushes. This incredible desert has enchantingly cold nights, and sandy landscapes travelers want to visit. Imagine sleeping under the stars in this beautiful landscape, so it is the best site for camping.
And you know what? Glamorous camping is possible here! There is a campsite called Glamp Pakistan, offering waterproof tents, bathrooms, and hot water.  They offer two types of accommodation. The first one is an all-weather tent with mesmerizing views of natural beauty from your bed.
The second one is a wooden hut with a large window overlooking the outside beauty. They also serve cozy camp dinners; you can enjoy a bonfire here.
Camping Sites in Deosai Plain Skardu
The Deosai Plain is one of the few regions in the world with vast expanses of extraordinary natural scenery and abundant wildlife. If you're planning to visit this wonderland, it will be an enriching experience.
Camping is challenging and not the most fun experience in the land of giants because of wild animals, but it is permitted in certain areas. There are three significant camping sites in Deosai Plain Skardu.
Bara Pani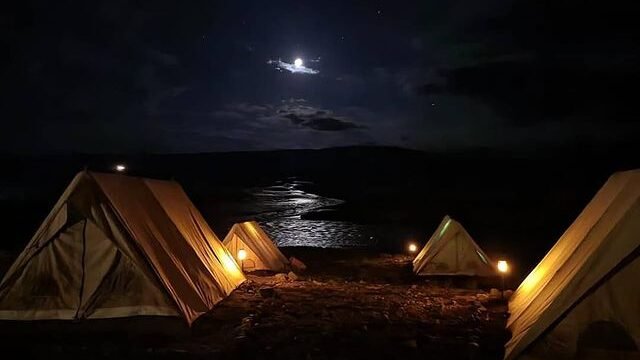 Bara Pani is one of the most popular camping sites in Skardu and perhaps the best accommodation in Deosai. Behind the campsite is a hill with breathtaking views of plains and Nanga Parbat.
Glamp Pakistan also offers excellent amenities at Barapani Deosai Plains, and you can enjoy that facility. But better to camp a little further away in your tent, because it will be quieter and you will be able to dine in camp.
Kala Pani
Kala Pani is of the ideal camping sites in Skardu, and it is named because the water seems almost black from a fair distance, but it is crystal clear. The campground is located at a low elevation, surrounded by green hills, making it ideal for camping and sheltering from the chilly night winds.
And it is better to bring waterproof tents and food because sometimes unexpected heavy rains occur. Hence, it is good to do careful planning and necessary precautions in advance to ensure safety.
Sheosar Lake
Camping at the riverside is an out-of-this-world experience that inspires many to return to their natural dreamland at least once in their lifetime. But Sheosar is the simplest of the three and doesn't have as many facilities as Bara Pani and Kali pani campsites have.
So, if you plan to camp here, please bring your gear. You can enjoy the lush green scenery during the day and enjoy stargazing in the clear starry sky at night.
But sleeping outside the camp is not recommended due to the high bear population in Deosai. The centers also have guards, so no worries, but cooking or putting food near the tent attracts bears, so try to avoid these kinds of situations.
Basho Meadows Camping Site in Skardu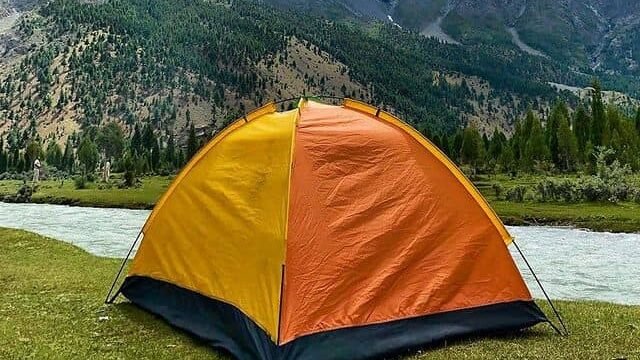 Basho Meadows is considered to be an ideal place for camping. It is one of the most beautiful destinations in the Basho Valley, and during summer, it is one of the most visited camping sites in Skardu.
This camping site at the riverside offers one or two camps. If you plan to camp at Basho, we recommend you bring all your gear, including tents and sleeping bags. Pack everything you need and be prepared for cold and chilly weather.
Khamosh Waterfall Camping Site, Skardu
It is one of the highest waterfalls and bird eye Viewpoints in the Khamrang District of Baltistan. It is famous for its sparkling water that falls from height. If you want to spend your vacation beside a tranquil waterfall with amazing views, this is the place for you.
For those who want to spend the night near Khamosh waterfall, we recommend you get camping gear and other equipment to enjoy the bonfire. You just need a good guide, and you're ready to go.
SOQ Valley Upper Kachura
SOQ Valley is located in a beautiful small town about 37 km from Skardu and can be reached within half an hour from Shangrila Resort. This place is one of the beautiful camping sites in Skardu, located at the bank of a beautiful stream, and the real essence lies in camping here.
All you have to set up your camp, cook food, do a bonfire, and enjoy other fun activities. Even locals are very welcoming and help you a lot.
Nothing could be better than a starry night under the blue skies of this beautiful valley, tinged with golden colors of autumn, a river flowing in amidst, and gusts of cold breeze blowing through your body. Are we exaggerating? No, this is a reality, and camping here will allow you to witness this beauty!
Fairy Meadow Cottages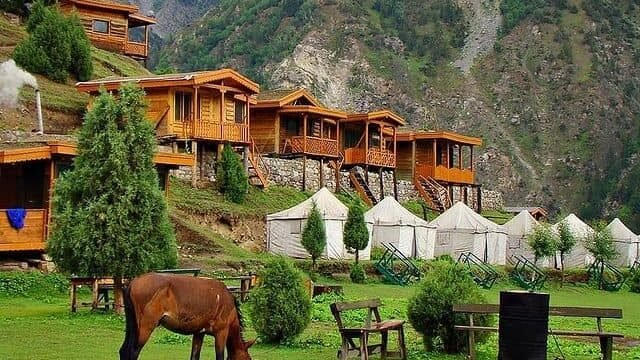 Renowned for its scenic beauty, Fairy Meadows is considered one of the perfect camping sites in Skardu. Take a jeep from Raikot Bridge to Fairy Point, and then hike towards your destination. You can also walk from this place to Beyal Camp and Base Camp of Nanga Parbat.
There is an excellent campground near the fairy meadows cottages, and this site overlooks the Raikot Glacier and offers spectacular views of the north face of Nanga Parbat. This campsite offers excellent facilities for travelers, including tents, meals, bathroom facilities, hot water, and arrangements of evening tea and bonfire.
Beyal Campsite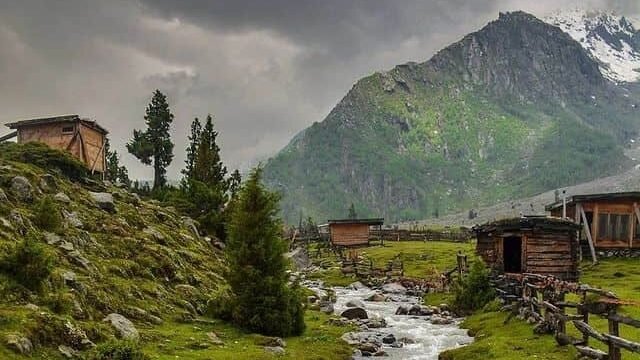 A few miles from Fairy Meadows is a second campground called Beyal, much quieter and more scenic than the previous one. You can be reached here in an hour from Fairy Meadows. Camping gear and food can also be arranged for this trek.
Camping at this campsite is an exciting and adventurous experience. Small streams, snow-capped peaks, and carpets of rich green trees are the main attractions of the Beyal camping site in Skardu. Many foreign tourists visit this place and enjoy camping here. It is a perfect gateway from the everyday hustle and bustle of your life.
Manthoka Waterfall
Manthoka waterfall is spectacular and famous for its picturesque and breathtaking scenery. The location is fantastic and perfect for camping.
This is the kind of place where you can sit back and enjoy a cup of tea because the peace and tranquility of this waterfall are hard to beat.
Get your backpack ready!
There are many campsites in Northern Pakistan, camp pods and tent offices set at many locations. But still, it's recommended to bring your food essentials and other vital gear. We hope this list of the Best camping sites in Skardu helps you a lot.
Plan a visit and explore the beautiful sites in Skardu to have one of the best treats for yourself!