Skardu, the capital of Gilgit-Baltistan, is a stunning place that offers all amazing dream tourist destinations. The scenic Soq Valley Skardu, is known for its magnificent natural sights such as camping sites, hiking trails, lakes and lush green fields.
Are you excited to explore this hidden gem of Skardu? Here we are introducing an ultimate guide to Soq valley Skardu for you.
Location of SOQ Valley Skardu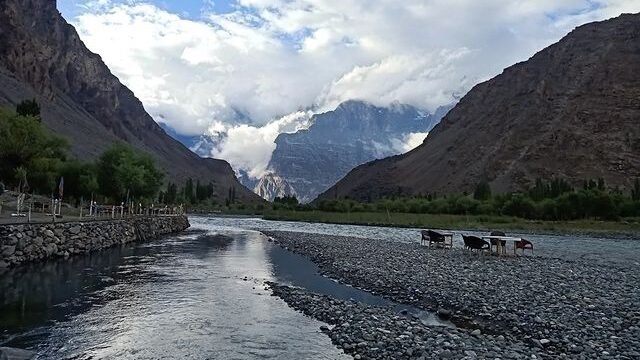 The beautiful Soq valley Skardu, located in the upper part of Kachura, at an elevation of 2,500 meters. It is only 23.4 kilometers away from Skardu. One can reach here within half an hour from Shangri-La Resort. This short journey of 30 minutes is so engaging and worth your time.
Only jeeps or bikes can be accessible to this picturesque Soq valley in Skardu. This area receives SCOM signals only at certain points. But this doesn't detract one from the charm of enchanting beauty of this place.
How to get to Soq Valley Skardu?
One can travel to Soq Valley by air or by road. Both routes offer you amazing views of the natural beauty of Pakistan that God has bestowed.
By Air
PIA schedules daily flights from Islamabad to Skardu and it takes only 45 minutes, flying over the Kaghan Valley, famous Mount Rakaposhi, and you can also see the resort from bird's eye view before landing. From Skardu Airport, one can reach Shangrila resort within 12 minutes.
From Shangrila Resort, one can travel towards Soq Valley along the Soq River. This is a kind of trekking where 4×4 vehicles are suitable.
By Road
Travelling by road to Soq valley is adventurous and fascinating. You will have to start your journey by using public transport or a personal car. You can travel through the Karakoram Highway or via Babusar Pass.
This beautiful and long journey of  623 kilometers is completed in 13 hours and ends at Shangrila Resort. One has to take a straight road to upper Kachura lake. From Kachura Village, the road diverges into two, and the one that turns left takes you towards Soq Valley Skardu.
The beauty of Soq Valley
Although it's no longer a hidden place for visitors, the beauty of Soq Valley Skardu has been mostly untouched and unexplored by travelers due to its rugged terrain and lack of infrastructure. Shangrila Lake and Soq Valley are on opposite sides of one mountain.
The area is home to the rich flora of the western Himalayan conifer forests. This valley is famous for its orchards of wild apricots. The rest of the beauty has already been created by Allah, making it a heaven for nature lovers. Every time you visit Soq Valley, it offers a whole new life experience.
Things to do in Soq Valley Skardu
Along with mesmerizing sights, Soq Valley offers many recreational activities for tourists.
Trekking
Trekking is one of the favorite things to do people. Soq Valley itself is a spot reached through trekking from Kachura village.
If you're adventurous and love to do hiking, then you must visit Soq Valley and enjoy its rugged and bumpy terrain.
Camping
Most people visiting Skardu prefer camping. And a place like Soq Valley offers a camping site with few lodges and food stalls. You can only hear the sounds of nature here.
Just set up your camp, enjoy the food from nearby stalls, and have an amazing bonfire underneath the starry sky. Don't forget to grab your camping gear from Skardu City.
Explore the Soq Valley
Soq valley Skardu has many exciting things to explore, making it one of the amazing tourist attractions. Grab some tea and fries from nearby stalls and enjoy the beauty of this valley.
Don't forget to explore endless conifer forests and apricot gardens. The little streams run through these forests and offer spectacular views. There are no signs of wild or dangerous animals in this valley.
Trout Fishing
Trout fish is famous all over Skardu and are one of the main reasons people prefer fishing here.
Here's a reminder that you shouldn't forget to bring all your fishing gear to enjoy this activity.
Best time to visit the Soq valley Skardu
The best time to visit this scenic valley is from June to September, when the greenery is everywhere.
In summer, the temperature of Soq Valley is 15 degrees Celsius. Whereas in winter, the entire surface freezes and is covered with snow. The upper Indus River flows nearby at low elevations.
Tourist Attractions Nearby Soq Valley Skardu
Shangrila Lake
Shangrila Lake, also known as Lower Kachura Lake, is at an elevation of 2,500 meters. This fascinating heart-shaped artificial lake is fed by crystal clear water from upper Kachura Lake.
The beauty of the surrounding mountains, the lush greenery of different types of trees, and the fresh air of Lower Kachura lake are all one looks for when choosing a vacation spot.
Upper Kachura Lake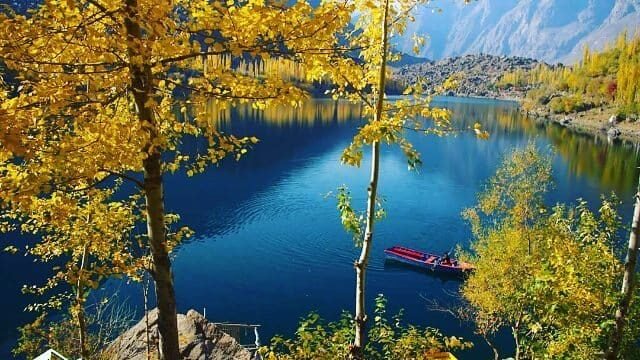 Upper Kachura Lake is located at the height of 2,500 meters. It is about a drive of half an hour from Soq Valley.
One can enjoy trout fishing, hiking, and views of snow-capped mountains here. But the beauty of Upper Kachura Lake is still unexplored by tourists.
Katpana Desert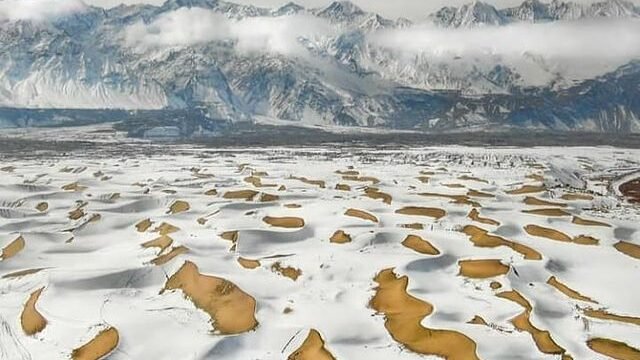 Katpana Desert is ranked as the world's highest cold desert, at an altitude of 2,226 meters.
The white dunes of the Katpana desert are an absolute wonder. This fascinating landscape makes it the best destination of tourists.
Satpara Lake
Satpara Lake is considered as one of the highest lakes in Skardu. This lake is the primary source of water for the people of the town.
 It is located at a distance of 20 minutes from Skardu town. And one can visit this place by using 4×4 jeeps. There is also a Satpara dam adjacent to this lake.
Places to stay nearby Soq Valley
There are many hotels around the Soq Valley Skardu. Some of them are budget-friendly wherever some are expensive. Check below the list of best hotels you can book whenever you visit this beautiful valley.
River View Hotel & Camping Site
The River View Hotel is the best option to stay in the Soq Valley. They have a few rooms but their facilities are good at reasonable rates.
The location of this hotel is impressive as it offers excellent views from all four sides. They also provide the best facilities for bonfires and camping.
Contact
0355 4114939
Rainbow Resort Kachura
Rainbow Resort located at the Soq valley road, near upper Kachura. This hotel offers great accommodation amenities with a restaurant.
Their rooms are cozy, spacious, comfortable, and well-equipped to relax after an adventurous day. Rainbow Resort's other services include breakfast, free Internet, a spacious garden, outdoor dining, and 24-hour staff availability.
Contact
0346 9557955
Shangrila Resort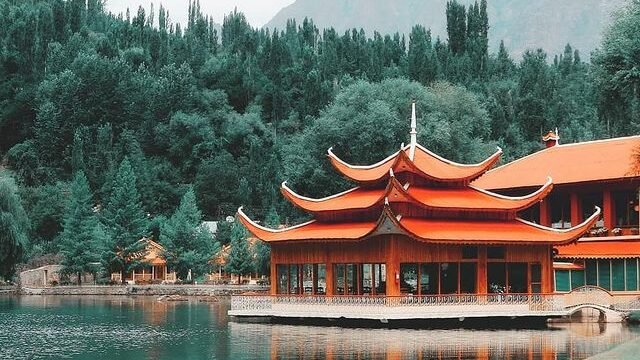 Shangrila Resort Skardu is set around a tranquil heart-shaped lake. This hotel offers all amenities such as five-star rooms, free wi-fi, 24 hours staff availability, laundry services, and much more.
As Shangrila Resort is located along the lake, it offers impressive views from the rooms.
Contact
92 05815554942
Mir Hotel and Restaurants
Mir Hotel and Restaurants is an ideal place to stay while visiting. It offers all the facilities, including the best rooms with great mountain views, dining areas, free wi-fi, complimentary valet, and self-parking.
Mir Hotel and Restaurant's additional amenities include barbecue grills, a TV in the common area, and laundry facilities.
Contact
0355 5779743
The Bottom Line!
This ultimate guide to Soq Valley Skardu will tell you more about the mystical wonders of this valley. This hidden paradise is worth a visit!