Haleem is more than just a combination of ingredients. It has a beautiful aroma and an irresistible taste. It is one of the Lahori people's favorite dishes, but Lahore still doesn't offer many options for haleem lovers.
This complex dish is prepared all over the world with little changes. Due to the difficulty of balancing the spices, only a few places serve the best haleem in town.
We've provided a list of the 16 best haleem places in Lahore, so you can try something new you've never been to.
Kozi Haleem
With branches near Punjab Secretariat, Regal Chowk, Lakshmi Chowk, and Township, this place has proven itself the undoubted king of haleem. Their prices are very reasonable.
Along with great hospitality, this restaurant offers high-quality haleem made from beef and chicken. They serve this dish with a special roghni naan, lassi, or cold drink. If you are visiting Lahore, you must visit this place as it is one of the most popular haleem places in Lahore.
Contact
(042) 37225412
Shafique Haleem Hotel
Shafique Haleem house is a Desi restaurant located on Walton Road, Lahore. They serve various dishes but are considered one of the best haleem places in Lahore.
Shafique Haleem Hotel specializes in chicken haleem, best paired with ginger, lemon, fried onion, coriander leaves, fresh tandoori naan, and roti. Their prices will also fit your budget, so you must try this place.
Contact
0334 4965993
Delhi Nihari House
Delhi Nihari House is a famous nihari shop in Lahore that serves haleem. They make haleem with just the right amount of ingredients. Their haleem is convenient for both the pocket and the stomach.
Their spices are so mild that even children can enjoy them. They serve a plate of haleem with sweet fried onions. A must-visit
Contact
(042) 35222560
Dogar Restaurant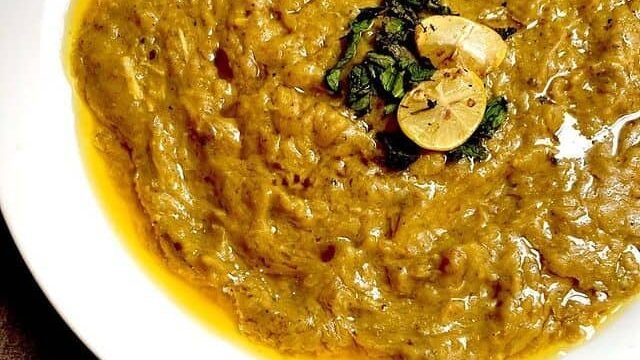 Dogar Restaurant is the best breakfast option in Lahore. They offer many options, from stuffed parathas to halwa, naan channy, and haleem. They offer dine-in and takeaway options.
In addition, their delivery service is also the best. So, if you're craving a delicious haleem and are too lazy to go out, you know who to turn to.
Contact
0321 2222511
Haji Sultan Ahmed Haleem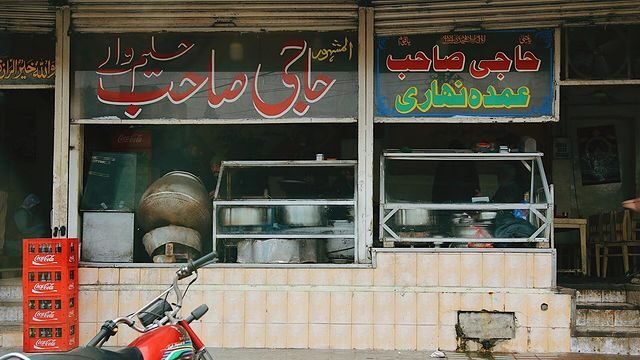 Haji Sultan Ahmed is a renowned name for offering the best haleem in Lahore. A haleem platter is served with all necessary toppings that everyone will adore, such as lemon, coriander, and green chilies.
They also offer nihari with fresh roti, raita, and salad. They have a separate hall for families, so everyone feels comfortable. Their staff service is also commendable. It is one of the oldest haleem places in Lahore.
Contact
0311 7020233
Hospitality Inn
This beautiful place is best suited for gatherings and other casual events with friends and family. Hospitality Inn offers delicious haleem with all the necessary seasonings.
The atmosphere, food quality, and service of this place are fantastic. A highly recommended place for all.
Contact
(042) 36310077
Ashiq Channay & Haleem
Ashiq Chanay is another popular desi restaurant located in Sadar Bazaar Lahore. Their famous dishes are chanay and haleem.
Locals usually visit this place for an excellent taste of haleem for breakfast and lunch. If in doubt, Ashiq Haleem is the perfect place to satisfy your cravings for haleem!
Nawab Haleem
Nawab Haleem is a very famous place among the residents of Model Town Lahore. They offer haleem, kofta, and naan chanay. Ask them to add the chicken masala if you want something extra spicy.
Their tasty haleem combination with chicken pieces tends to be featured among the top haleem places in Lahore.
Contact
0300 9466212
Desi Khabay ( Hareesa & Haleem)
If you want to enjoy exceptional tastes you can't get at home, Desi Khabay must be your stop! Their serving size of haleem and other garnishing items is always extra.
This is the best place to order authentic haleem and hareesa. They don't offer delivery service, but you can order through food panda.
Contact
0308 3070000
Bombay Gardens
Bombay Gardens is a buffet restaurant in Lahore that also offers flavorsome haleem. With a rich culinary tradition, this restaurant is a challenge for its competitors.
Bombay Garden is suitable for small gatherings. You must visit this place for tasty food with your friends and family.
Contact
(042) 35771677
Shezan Regale
Shezan Regale is a famous family restaurant. Although it's not a typical desi Dhaba, their haleem has reasonable rates compared to other haleem places in Lahore. They have a good variety of breakfasts, from chanay, paye to paratha, haleem, and kulcha.
In addition, their chicken kabab and handi are also excellent. This restaurant has a peaceful environment and is highly recommended for families.
Contact
(042) 35690870
Nadeem BBQ Restaurant
This is a decent place for Desi food, but they also serve haleem. Their serving style has a special desi touch. They do haleem with desi ghee tadka and other ingredients for topping.
You can enjoy all kinds of food at this place in a great atmosphere, but especially the haleem and Barbecue they serve is something your taste buds will appreciate.
Contact
0320 0008883
Haleem Kinara
Haleem Kinara is a lifesaver, offering the best beef haleem, chicken haleem, and nihari in town. They use high-quality ingredients to make their dishes delicious, ensuring hygiene and taste.
With affordable prices and fantastic taste, you can't help but come back to Haleem Kinara again and again for haleem. Don't forget to sprinkle additional chat masala on top to double the flavor.
Contact
0317 4936239
Rakha Khoy Chanay & Haleem
If you want the perfect chicken haleem with freshly made naan, Rakha Khoy is the place. Their complementary fried onions and coriander are the cherry on top.
Their perfect balance of spices and seasoning herbs make their food extraordinary. If you're ever in the mood for ideal chicken haleem and fresh naan, head to Rakha Khoy!
Contact
0320 4571471
Al-madina Murgh Chanay & Haleem
For a typical chicken haleem, you should visit Al-Madina Murgh Haleem. They have the best taste in town. In addition, they also offer the best naan chanay with raita and salad.
Sprinkle coriander leaves, lemon juice, chat masala, and oil on top, and enjoy this mouth-watering haleem.
Conclusion
Craving for savory haleem? We have compiled a list of the best haleem places in Lahore. Try these places to eat in Lahore for the tastiest haleem at reasonable rates.
If you want to explore more traditional Pakistani cuisine, read our Best Biryani Places in Lahore article!