Have you ever been to a place where you can see the mountains up close? Well, if you haven't, then Daman-e-Koh Islamabad is the place for you. It is a hilltop garden on the northernmost side of Pakistan amidst Margalla Hills, Khyber Pakhtunkhwa.
The name Daman e Koh means "Viewpoint of the Mountains" It is situated at an altitude of around 2400 ft above sea level and provides stunning views of the surrounding mountain ranges.
To visit this little piece of paradise in the mountains, you need a guide, and that's what this article is for. So, without further ado, let's get started!
Where is Daman e Koh Islamabad located?
Daman e Koh Islamabad location is not hard to find as it is uncovered in the Khyber Pakhtunkhwa province of Pakistan. The accurate address to get there is Daman -e- Koh Rd, E-7, Islamabad. You can also use daman e Koh Islamabad map.
Why Daman e Koh is the Best Place to Visit in Pakistan?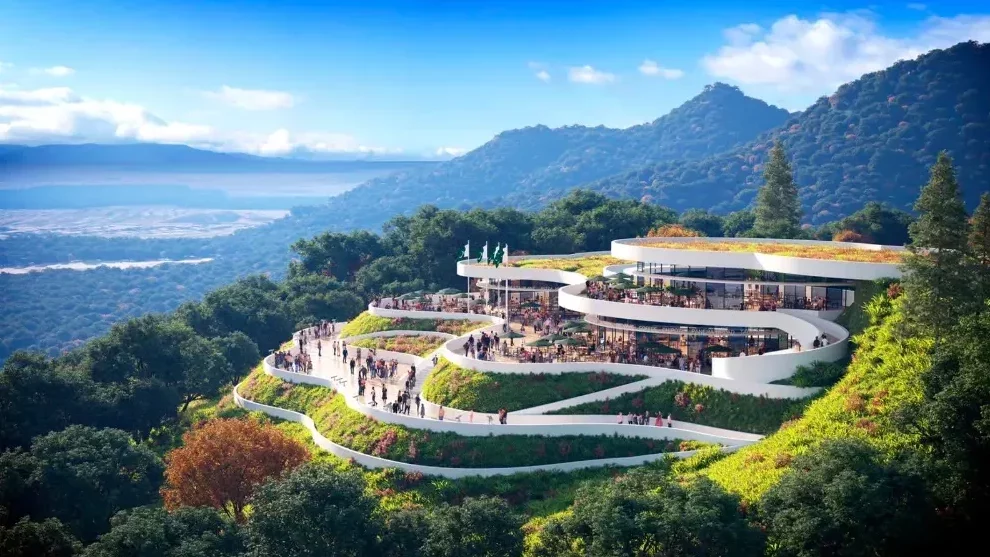 Daman e Koh Islamabad is a popular tourist destination for both locals and foreigners alike. It is a great place to enjoy the fresh mountain air. The greenery and flowers at different locations add to its beauty.
High-quality restaurants, exceptional food, live music, trekking trails, horse riding, and lush green hills make it a top choice destination for both locals and outsiders. There are also several restaurants and cafes located here.
This place is famous as located in the green woods of Margalla Hills and you'll see it all around long trees. A beautiful terrace top offers you panoramic views of Islamabad.
This place is also known for its monkeys, a common sight in the winter months. Cheetahs are also frequently seen leaping from higher mountains of Murree during snowfall. You can also check the customer reviews before visiting this place. 
Things To Do in Daman e Koh to Keep You Spellbound
HikingTrails to Take Your Breath
Hiking is one of the most popular activities in Daman e Koh. There are several Hiking trails of varying difficulty levels that lead to different parts of the Margalla Hills.
Trial 2 is the most popular one and takes around 30 minutes to complete.
Multiple Photography Spots
Daman e Koh in Islamabad is also a photographer's paradise. There are several spots from where you can get breathtaking views of the Islamabad cityscape and the Margalla Hills.
One of the best times to visit this place is during sunset when the city lights up, and the sky turns a beautiful orange hue.
Refreshment Points in Daman e Koh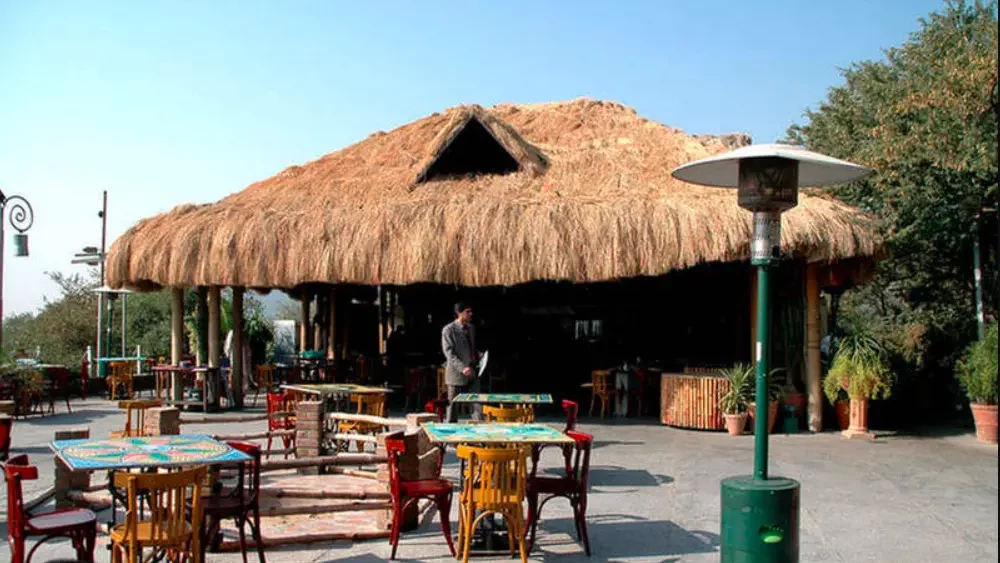 There are several restaurants and cafes located in Daman e Koh like PTDC restaurant and Kashmir Wallas, within the vicinity of 5 to 10 minutes.
You can also enjoy fries, coffee, ice cream, and snacks in Daman e Koh's small kiosks.
Picnic Points in Daman e Koh
Daman e Koh is a great place to picnic with your family and friends. There are several open areas where you can spread out a mat and enjoy the beautiful views.
There are also a few playgrounds for children. Even there are many wide benches where you can sit and enjoy the scenery.
When is the Best Time to Visit Daman e Koh?
Daman e Koh timings are very convenient as it is open all days of the week from 9:00 a.m. in the morning to 11:00 p.m. at night. The best time to visit Daman e Koh is between September to March.
The views during these months are simply breathtaking. The best time to go for a hike is early morning when the sun is not too harsh. Winter is the best time to visit if you want to see the monkeys.
How To Get To Daman e Koh in Islamabad?
Reach By Car
Through the winding roads and sharp turns, up towards the sky, you will find Daman e Koh, just a 20-minute drive from the hustle and bustle of Islamabad.
The best way to get there is by your own vehicle or careem or Suzuki from Khayaban-e-Iqbal, 7th Avenue. The distance from Islamabad Zoo to Daman-e-Koh is approximately 3.5 km.
Hike from Trial 2
If you're feeling adventurous, you can hike up to Daman-e-Koh from Trial 2. It's a relatively easy hike and takes around 30 minutes to reach the top. The views along the way are stunning, so make sure you bring your camera.
Bike Ride to Daman e Koh
For the more physically fit, biking up to Daman-e-Koh is a great way to see the sights and get some exercise. The elevation in Islamabad is about 1650 feet, while the height at Daman-e-Koh is 2400 feet above sea level.
Things to Keep in Mind when Visiting Daman e Koh in Islamabad
Wear comfortable shoes as you will be doing a lot of walking.
Carry sunscreen and a hat if you're visiting during the summer months.
If you're hiking, make sure to wear proper footwear and carry a water bottle.
Do not feed the monkeys, and keep your food well-covered.
Do not litter, and help keep the area clean.
Respect the culture and traditions of the people living in the area.
Nearby Places to Visit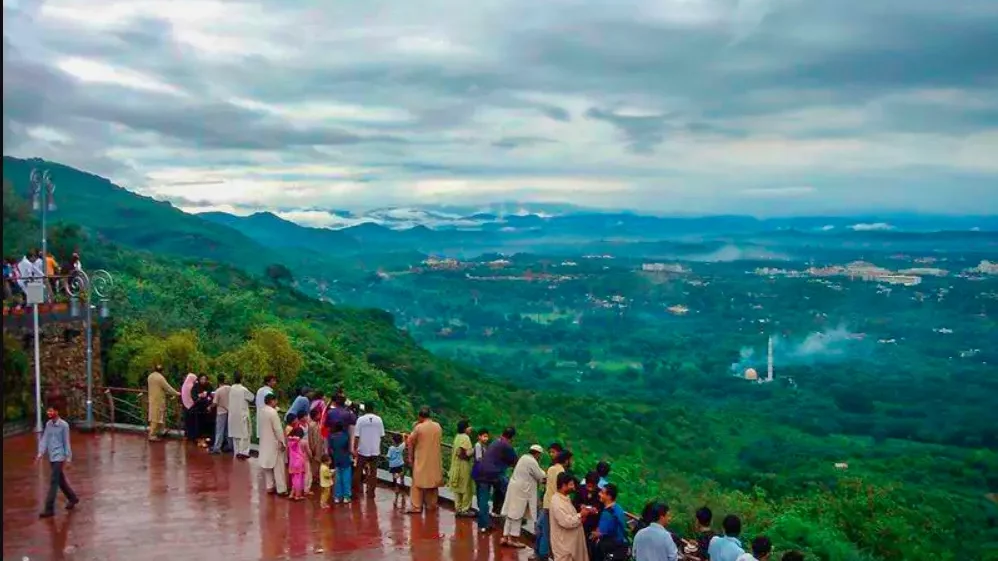 Pir Sohawa & Monal
Pir Sohawa is a popular spot for picnics and camping. It's located at an elevation of 4000 feet and offers stunning views of the Margalla Hills.
Here you can visit Monal restaurant, enjoy the views, and go for a hike. Here you can enjoy a great time while watching Islamabad from the top.
Faisal Mosque
Faisal Mosque is one of the most popular tourist attractions in Islamabad. It's located at the foot of the Margalla Hills and offers beautiful city views.
The mosque is open to visitors from all over the world and is a great place to learn about Islam and Pakistani culture.
Loh e Dandi
Loh e Dandi is a mystical site located in the Margalla Hills. It is a renowned place in the name of Bari Sarkar. You'll see a deep cave and a small pond at the top.
You can reach here through stairs. It is also the highest point of Margalla Hills, where the Air Blue plane crashed in 2010.
Highland Country Club
The Highland Country Club and Resort is located at Margalla hills, 7.5 miles from Shah Faisal Mosque, and has a restaurant and a garden.
Various activities are available, from hiking and cycling to movie nights, walking tours, bike tours, themed dinners, local culture tours, live music/performances, live sports events, and archery.
Bruti Waterfall
There is a Bruti waterfall in the Margalla Hills of Islamabad. It is close to the Quaid e Azam University and Bari Imam.
Drive to the Bari Imam Shrine, turn right at the crossing just after Bari Imam and continue to the Nurpur Shahan Loh e Dandi parking.
Then hike to Bruti Waterfall from Loh e Dandi. It is an excellent spot for hiking and swimming. Some people also call this Daman e Koh waterfall.
Wrapping Up!
Daman e Koh is a beautiful spot in the Margalla Hills of Islamabad. It offers stunning views of the city and is a great place to go for a hike or picnic.
The guide above covers everything you need to know before visiting Daman e Koh, from how to get there to nearby places to visit.
So what are you waiting for? Pack your bags and head to Daman e Koh for a memorable experience.