Islamabad is a beautiful, mountainous city with plenty of hiking trails to explore. Whether you're looking for a challenging hike with stunning views or a leisurely stroll through nature, there are suitable hiking trails in Islamabad for you.
The locals and visitors alike enjoy taking advantage of the city's outdoor offerings because hiking is a perfect way to stay active. Some take it as a morning walk while others go on long expeditions.
If you are a newbie or want to explore other hiking trails in Islamabad, this guide is for you! We will take you through some of the most popular trails in the city so that you can find the perfect one for your next adventure.
Hiking Essentials To Pack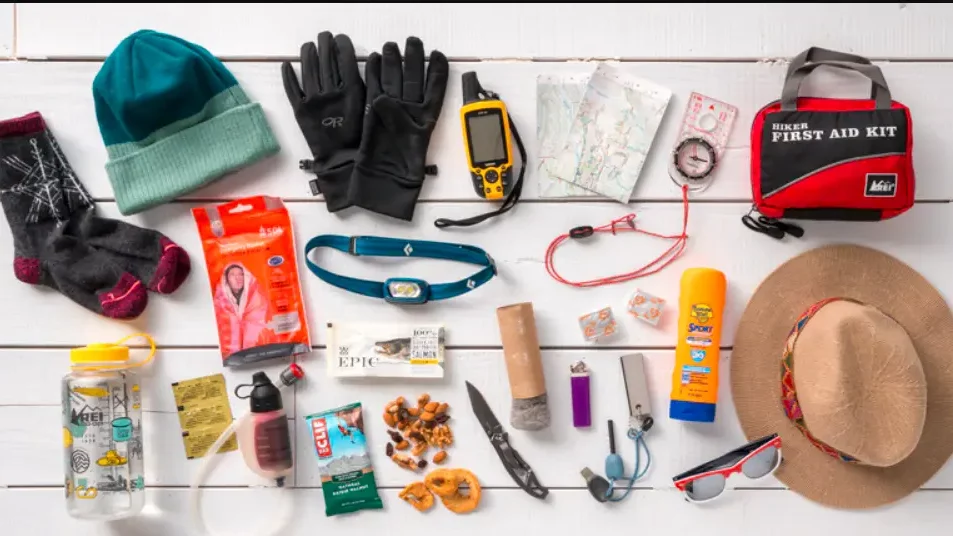 Before you hit the hiking trails in Islamabad, it is essential that you are prepared with the proper gear. Depending on the difficulty of the trail and the weather, you will need to pack different items. Here is a list of essential items that every hiker should bring:
You need a hiking backpack to store all of your gear.
Keep plenty of water with you, at least 2 liters per person.
Comfortable shoes with good grip.
Bring a map of the area.
Pack a first-aid kit in case of any emergencies.
Bring a flashlight or headlamp.
What is the Best Time For Hiking or Trekking in Islamabad?
The best time for hiking or trekking in Islamabad is early morning. However, if it is the rainy season, it is best to avoid hiking or trekking because the trail becomes slippery and dangerous. Moreover, during the summer, it is best to hike or trek in the evening to avoid the heat.
6 Most Famous Hiking Trails in Islamabad
Lace up your hiking boots, and let's explore the following hiking trails of Islamabad.
Trail 1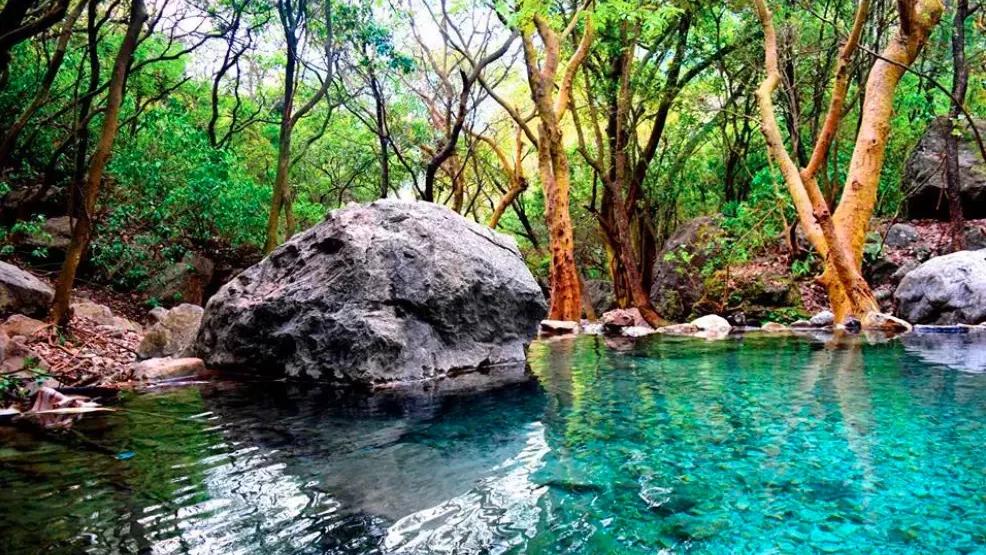 Trail 1 is one of the toughest hiking trails in Islamabad. The trail is located in Village Kalenjer and starts behind Sector E-8 and Sector E-9 Islamabad with Margalla hills.
It takes you to the top of the Margalla ridge with an imprecise hike of 4 to 5 hours. You have to hike three hills before reaching the top of Margalla's elevation.
The trail requires an intense medium hike to reach Pir Sohawa with an extended walk of twenty minutes to experience the fantastic sunset up from the mountains. Moreover, you can go camping in the summers at Olive Woods and hiking in Islamabad.
Features
The sub trails make the hike exciting and adventurous.
Beautiful water streams at some spots to take a break during hiking.
It has scary cliffs with rocky formations of a high rock.
It gives a real hike and climbs experience, just like the northern areas.
The mountains have wild animals such as bears and snakes and beautiful birds.
Trail 2
One of the shortest hiking trails in Islamabad is Trail 2. It has two separate routes to reach the destination, the Daman-e-Koh viewpoint.
One of the routes starts from the Islamabad zoo, while the second starts from the main road of Pir Sohawa. Trail 2 is one of the hiking trails with picnic spots.
You can enjoy street food and drink tea at the Daman-e-Koh viewpoint. Moreover, the children can play in the playgrounds. It is one of the best hiking trails in Islamabad for families with children and senior citizens. Check out the customer reviews.
Features
You can also witness the famous cactus viewpoint.
The trail is suitable for hiking for children, adults, and old people.
You can also find the famous Air Blue 202 Crash Memorial Site.
It is restricted to hiking after 6 pm because of the presence of wild animals.
It takes only 40 minutes to complete the hiking on the trail.
Trail 3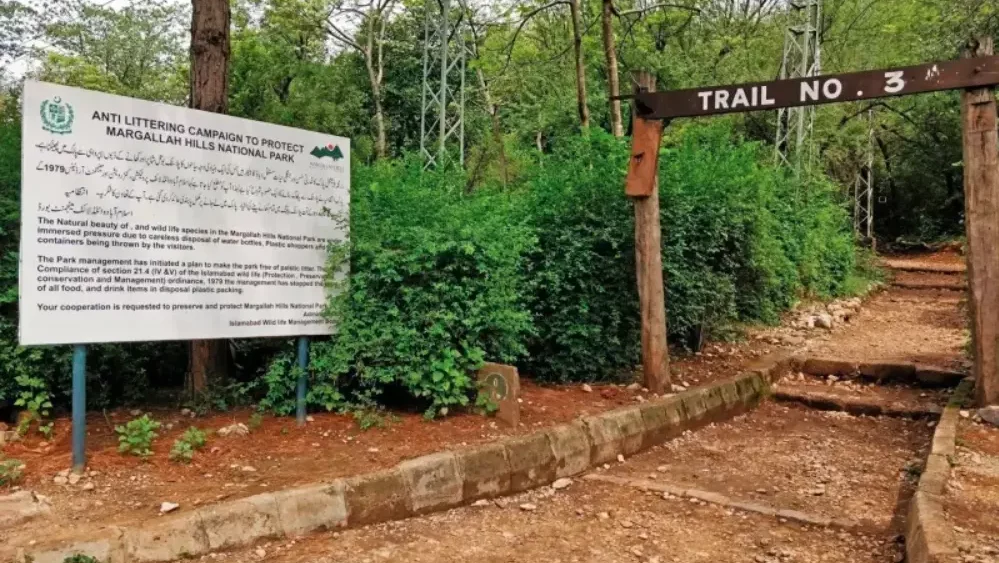 Trail 3 is one of the famous hiking places in Islamabad among locals and foreigners. It is an old trail that starts from sector F-6 and ends at a viewpoint in 30-50 minutes. You can also hike more for 45-60 minutes to reach Pir Sohawa to eat at Monal or La Montana restaurant.
This beautiful trail for hiking in Islamabad has two different routes for different levels of hiking. The simple route for newbies while the exhausting and tiring route for experienced trekkers.
Features
Beautiful crafted wooden benches to take a rest during the hike.
The exhausting steeper route is for physically fit trekkers.
The beautiful viewpoint of all the buildings, monuments, and visible pathways are Islamabad.
Zigzag pathway with steep hills and soothing nature.
Trail 4
Trail 4 is one of the only hiking trails in Islamabad that connects two different trails, trail 3 and trail 5. This hiking place near Islamabad has complex routes with various paths leading to other sites.
To enjoy the beautiful scenery of Talhaar Village, trekkers can hike on the Talharr Ridge trail, which starts from the Faisal mosque and ends at Monal Road.
The route from the Monkey viewpoint has a gorgeous jungle surrounding with a whole view of Rawalpindi on reaching the top. To join either trail 3 or trail 5, you have to move right from the monkey viewpoint.
Features
Breathtaking view on reaching the top of the hiking trail
Beautiful scenery along the way while reaching the trail 4
A small spring of water that gives a soothing effect
No wild animals to be afraid of during the hike.
No significant rest area while hiking.
Trail 5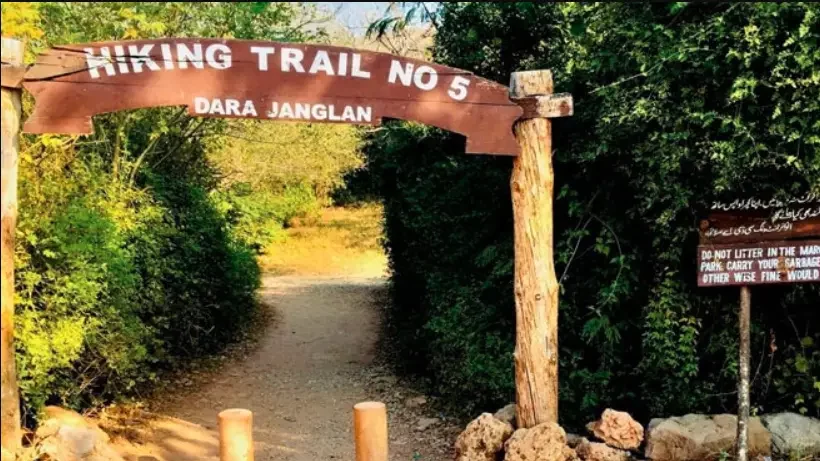 Trail 5 is well-known among foreigners for its diversity of paths and adventurous hiking. This track is also known as the Ratta Hotar Murad Gali hike. It begins in a beautiful valley surrounded by the Margalla Hills.
It is one of the hiking trails that have a waterfall where trekkers can rest near the stream and breathe some fresh air. The trail covers a total distance of 5.08 km from the F-5 sector to Pir Sohawa.
This trail offers the best hiking track in Islamabad that remains busy with people all week long. Moreover, you can enjoy yourself with your families as there are many picnic and camping spots with breathtaking views. You can feel close to nature and relax for a long time.
Features
Three different tracks for hiking of all levels
Streams of fresh waters with sitting arrangement to relax
The trail has many picnic and camping spots for hikers
One of the popular hiking spots in Islamabad among foreigners
Trail pathway in between the dense jungle with no mobile signals
Trail 6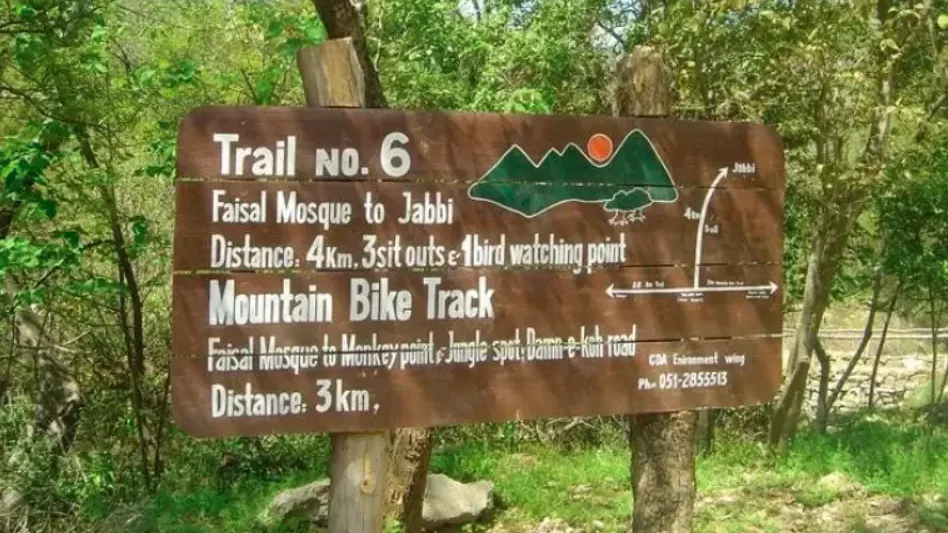 Trail 6 is the best hiking and biking trail in Islamabad, which appeals to both the trekkers and bikers.
The trail starts from the back of the E-7 sector at the back of the Faisal mosque and ends at the top of the Margalla hills. The trail has a well-defined route that runs through a valley to reach the Pir Sohawa road.
It takes approx 3-4 hours for a trekker to reach the top of the Margalla hills. However, there is a separate track for mountain bikers to trail bike in Islamabad.
Features
A new hiking trail in Islamabad for mountain bikers is clean and maintained.
This trail passes through a thick jungle, and you can see the date and palm trees.
Experience a beautiful water fountain and streams along the trail.
Sitting spots at different points for rest.
This trail also leads to Village Jabbi.
Tips & Tricks for a Successful Hike in Islamabad
There are a few tips and tricks that you should keep in mind for a successful hike:
Wear comfortable shoes with an excellent grip to avoid slipping.
Carry a water bottle and snacks to stay hydrated and energized.
Don't forget to apply sunscreen, especially if you are hiking in the summer.
Wear a hat or sunglasses to protect your eyes from the sun.
Your dress should be loose and breathable to avoid sweat and heat exhaustion.
Hiking in a group is always safer than hiking alone, so make sure you go with friends or family.
Make sure you know the route before embarking on your hike.
Be aware of your surroundings and don't take any unnecessary risks.
Wrapping Up!
Hiking is a great way to explore the beauty of Islamabad and get some exercise at the same time. There are many different hiking trails in Islamabad to choose from, according to your comfort. Just remember to take the necessary precautions and follow the tips we've given you, and you're sure to have a great time hiking in Islamabad!