Katpana Desert or 'Biama Nakpo' as called by local people is a cold desert with white sand situated at Skardu. It is known by a few different names by local people yet one can observe this spot close to Skardu Airport. This aide by Lovin Pakistan will unveil intriguing data about this Cold Desert.
Thus, if you are wanting to visit Skardu too then read this Ultimate Guide to The World's Highest Katpana Desert.
Location of Katpana Desert
Katpana extends from the Khaplu Village, Shigar, Nubra Ladakh to Zanskar. However, the significant white dunes could be easily seen located around the Indus River in Skardu.
A major part of this desert is located in Skardu and Shigar Valley. Being near to the Skardu Airport, it is an easy to visit location for tourists. 
World's Highest Cold Desert 
Katpana Desert is the world's most elevated cold desert with a height of roughly 7303 feet. Being at such a rise from ocean level makes the climate of this desert incredibly cold. The tall white sandhills stand radiantly to make the desert look more wonderful.
Moreover, the Katpana Desert is known as the world's highest desert since it is situated at the highest point of gigantic mountains.
Splendid White Sand Dunes
The magnificent dunes are a major part of the Katpana desert enhancing its beauty. Tourists visit here to relish the beautiful dunes covered in white snow. 
These sandhills can be seen standing beautifully alongside River Indus that passes through Skardu.
Katpana Desert Surroundings
Katpana is surrounded by several scenic surroundings. The visitors can have a surreal experience among the beautiful meadows, freshwater streams, and gigantic mountains. The snow-covered white dunes and the white sand of this desert equally contribute to its beauty.
It is a wonderful feeling to walk in the soft sand underneath the bluest sky and cool breeze that one can have in Katpana Desert Skardu. 
The temperature in the Katpana Desert
Katpan Desert Temperature in Winter
The temperature of the Katpana Desert falls to –10 Celsius in winters and sometimes below that in October. The temperature sometimes gets extremely cold as the temperature falls to -25 Celsius making the desert colder than the mountains. 
The snow-covered dunes feel exactly like snowy hills in winter. The Katpana desert Skardu is unlikely to be visited by tourists in winters due to freezing temperatures.
Katpna Desert Temprature in Summer
The temperature of Katpana Desert Pakistan during Summers remains 8 Celsius usually at night and is a bit more than that during daytime. During summer it also rises to 27 Celsius.
However, during Summers also one can have lovely snow-capped sandhills. These dunes keep shifting their place due to extreme winds.
How To Reach Katpana Desert?
There are multiple routes to visit the Katpana desert, but one has to reach Skardu first. One can either travel on his conveyance or via public transports specifically by air to arrive at Skardu.
However, to reach their desired locations in Skardu the tourists will have to travel by road. 
By Your Conveyance
Skardu is at a distance of 13 hours and 45 minutes from Islamabad. However, the real adventure and scenic locations are viewed when one visits there by road. Tourists can choose their conveyance to visit the Katpana Desert.  
The visitors need to reach Mansehra from Islamabad then Basham to Dasoo and Chilas to Deosai or Jaglot to reach Skardu.
By Public Transport
There are multiple public options available for people to travel to Skardu or Katpana Desert in Skardu. One can choose to travel to Islamabad then go all the way towards Skardu via car, and by air.
For those arriving at Skardu airport by air, the visit to Katpana Desert becomes much easier as the distance between is 32 minutes only. However, the flights operate only on clear days. 
Things To Do In Katpana Desert
Cherry Picking
On the way towards Katpana Desert, the tourists pass through the cherry trees. If the cherries are ready to harvest at the time of your visit you can enjoy picking them.
Most people spend their time picking these cherries and enjoying them fresh before reaching Katpana. If you are traveling with a local, they will also help you get as many cherries as you want.
Camping
People love setting up their camps in the Katpana Desert when the weather is suitable enough. Many tourists visit there to experience staying beneath the starry sky to have an experience similar to that one can have in the Fairy Meadows.
Places located nearby this cold desert such as the Blind Lake are also preferred by tourists for camping.
Star Gazing
During Summers or when the weather is clear, the sky at night is glittering with the stars at Katpana Desert. People visiting here feel great charm in looking up at the star-studded sky especially during summer nights in this desert.
Tourists prefer to enjoy staying either in Katpana or somewhere nearby just to enjoy this view at night. 
Sight- Seeing 
Apart from the magical view of the starry nights, the Katpana Desert delights the visitors more with other scenic sights. The tour to Skardu itself is incomparable in terms of picturesque views.
The tall gray mountains, lush green meadows, and glassy lakes. The blue sky in summer makes the place look more placid and attractive.  
Places To Visit Near Katpana Desert
Katpana Lake
Katpana Lake is one of the major tourist sites in the Katpana desert surroundings. The lake mirrors the beautiful sights encompassing it like the Satpara Lake has got.
Katpana Lake is surrounded by snowy mountains and dunes as well as green trees and patches of grass. Tourists mostly visit this place during the daytime to enjoy the lively scenery and set up camps in summer.
Shigar Fort
Shigar Fort is a 400 years older historical monument located near Katpana Desert Skardu in Gilgit-Baltistan. However, it has transformed into a luxury Serena Shigar Fort Hotel now, but tourists can also visit here.
Shigar fort has 20 rooms each being the finest representation of Balti culture. Moreover, one can also enjoy the Balti cuisine served here.
Hashopi Garden
Hashopi Garden in Skardu Gilgit- Baltistan covers an area of approximately 100 acres. The place is renowned for its flora and fauna. Being near Shigar Fort, it is highly preferred by tourists.
Hashopi Garden is also considered an orchard as it has multiple plums, apricot, and apple trees.  The garden is locally addressed as "Hashopi Bagh".
Sarfaranga Desert
Sarfaranga Desert is a good way off of a 22-minute drive from the Katpana desert. It is one of the cold deserts in Pakistan with an elevation of 7500 feet.  
Sarfaranga desert is exceptionally known for the jeep rally held here each year. A large number of individuals partake in this yearly treat and numerous others visit here as they move towards Shigar. 
Blind Lake/ Yarbatso Jheel
Blind Lake also known as Yarbatso, Zharba Tso, and Zharba lake is located on the way towards Shigar valley. It is a broad lake that has the Indus River on one side and the Shigar river on the other. 
The lake is mainly supplemented by water from the Indus River. The blind lake also serves as the major water reservoir for Shigar valley.
Places To Stay Near Katpana Desert
Skardu Villas
Skardu Villas is one of the advantageous spots to design your visit to while visiting Skardu Gilgit-Baltistan.  It is an ideal place with one deluxe bedroom and camping outside on its lawn. 
Skardu Villas have the facility of a separate dining area and kitchen with all necessities.  Being close to the air terminal this spot is advantageous to reach and make a trip from to visit different spots.  
Contact Information
Phone: 0347 5440786
Location: Gayoul Housing Society, Airport Rd Skardu, Gayoul, Skardu, Gilgit-Baltistan
Hotel Sarfaranga and Restaurant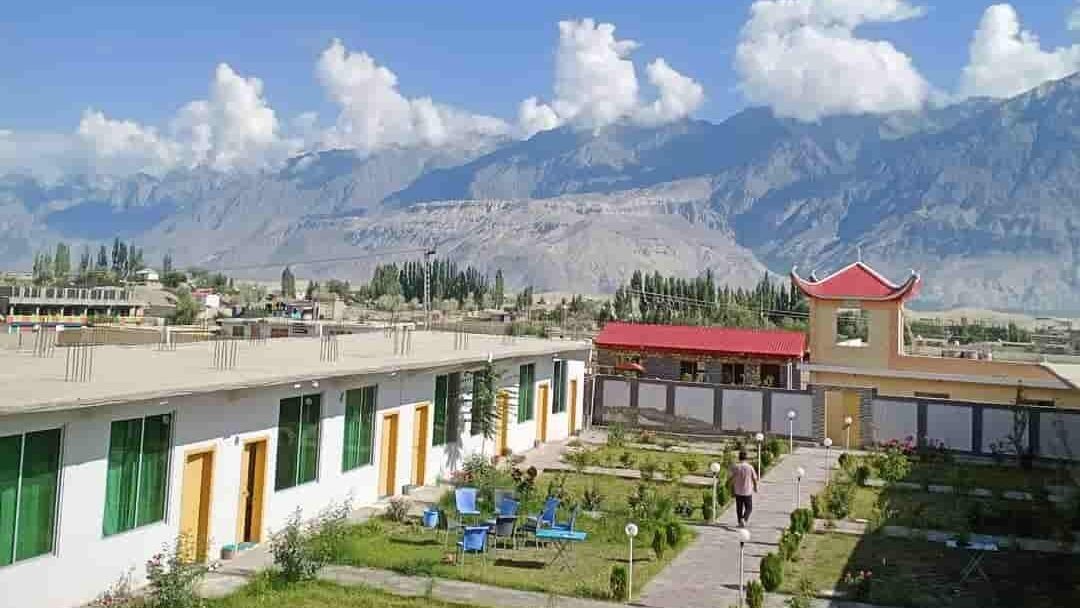 Hotel Sarafaranga and restaurant is located near the Skardu Fort. It has a wide car parking area with comfy rooms and an extensive lawn area. Individuals staying here can easily plan their trip to Skardu Fort, Deosai National Park, K2 Museum, and Kachura lake. 
Hotel Sarfaranga and restaurant offer ultimate facilities of 24/7 room service, free parking, free Wi-Fi, and an elevator. 
Contact Information
Phone: 0340 8905227
Location: Airport Rd Skardu, near General Bus stand, Gayoul, Skardu, Gilgit-Baltistan
Hargisa Hut
Hargisa Hut is a decent place to stay, its location is the major factor that makes it unique. It has comfortable accommodation with a warm and kid-friendly environment. One can plan to have an event also on its wide lawn.
Hargisa hut has rooms with mountain views and garden views with free parking, Wi-Fi, and housekeeping facilities. Fishing is one of the things that lure tourists more.
Contact Information
Phone: 0333 5456604
Location: Near Police Line, Sundus, Skardu Baltistan. Skardu, Gilgit-Baltistan
Conclusion
Skardu has innumerable places that will make you experience heaven on earth.
To explore more places in Skardu do visit our blog. Furthermore, keep connected with us to check out more wonderful places of Pakistan.