From deserts to snow-capped peaks and stunning meadows to lush green valleys, Skardu is truly a beautiful place. But apart from all these places to visit, there is an organic village in Skardu, that has unparalleled beauty and is a testament to its originality.
This historic site is exceptional as it is the first surviving natural habitat village. It really does not feel like part of this world and words are not enough to describe the beauty of this place. Nansoq- The first organic Village in Skardu occupies a special position among Skardu's most attractive tourist destinations.
Location Of Nansoq Village in Skardu
Nansoq village is a settlement behind Kharpocho Fort on the bank of the Indus river. This unique little village is located only 16km from the city of Skardu, and you can reach here within half hour. This place is famous for its clear climate and vegetation.
This organic village was built with the support of the Aga Khan Rural Support Program. The town was visited by Prince Charles,  Prince of Wales, and the Duchess of Cornwall.
How to reach Nansoq Organic Village Skardu?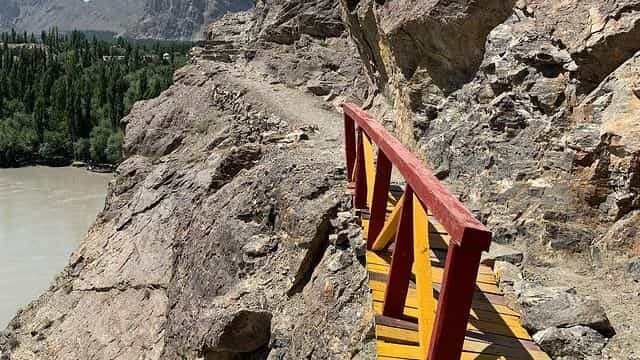 After a journey of 637km from Islamabad by road or air, you will reach Skardu, now you've to travel towards your destination. There is no road, so it is about a 40-minute walk from Skardu to Nansoq Village. The road goes through the mountains and follows the river. Rafts are the only means of transportation used by Nansoq people. You have to follow spooky trails that lead to amazing destinations.
The trekking start from Kharpocho Fort and the first half of the path is arduous and difficult. There are places where you have to go through two small wooden bumps along the way. But the second half of the route is relatively easy and the natural scenery is great. A wooden sign welcomes you to your destination. It is hard to get there, but the significance of this place makes it worth the trip.
Historical View of Nansoq Village
Nansoq Village is historically a very old town, and people settled here even before the city of Skardu. This town recalls past centuries. The village begins with the self-made gate of stones.
There are several old houses, which indicates the village's antiquity. The original name of this place is "Nangthoq", but because of its simple lifestyle and pure food, it is known as " Organic Village".
The lifestyle of Nansoq Organic Village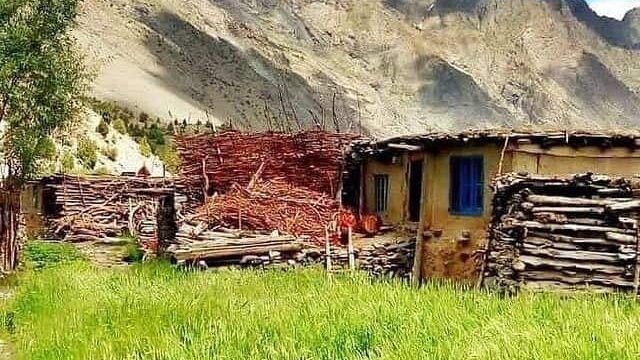 The lifestyle of the residents of Nansoq Village is the same as the vintage traditional Balti style. They lead simple lives, and their lifestyle is totally different from this world. They grow organic vegetables and fruits and catch fish from the river. The people here live almost exclusively in agriculture.
Their homes are organic with little use of machines and artificial products. The windmills here are still in use. Food and fuel storage techniques are the same as it was 50-70 years ago. As soon as you enter the village, you can feel the peace and serenity of this place.
Population & Beauty of Nansoq Village
The total population of this village is almost 70 to 80 people with at least 12-15 households. These people provide them with basic necessities of life.
As soon as you enter the village you feel like you are an in another world, a place where greenery, flowers, and water bring freshness. Many visitors to the Skardu region are unfamiliar with this picturesque village. Therefore, you must visit this place.
Why maintain an organic lifestyle?
Preserving this place in a vintage style is an iconic expression of the importance of an organic lifestyle, and it shows that it's still possible to live a healthy lifestyle to preserve nature. And these are ways to get out of environmental problems and climate problems like global warming. Switching to an organic lifestyle helps provide physical and mental health, and reduces the likelihood of accelerated diseases.
Maintaining such a harsh lifestyle in the 21st century is nothing short of a survival challenge. But Nansoq people use it as an opportunity to attract tourists. Their old-fashioned, pure life makes this village one of Skardu's most promising tourist destinations.
Best Time to Visit Nansoq Village
The best time to visit Nansoq Village is from June to September, but tourists can visit till October. Because in winter, snowfall cause the blockage of roads of Skardu, so most people avoid traveling in winter.
Colorful flowers bloom in spring, making the scenery of this place even more beautiful. From watching colorful rainbows to catching gentle streams, this beautiful place has a lot of fun with friends and family.
Tourist Activities to do at Nansoq Village
Nansoq Village has the potential to become a popular tourist attraction. It offers different activities for tourists.
Camping
Riverside camping is one of the favorite activities of visitors. Considering the demand for tourists, a campsite was set up at the end of the village.
This is an ideal place for camping away from all the hustle and bustle of this world in a pure and organic environment.
Relaxing in Organic Forest
Compared to the perpetually jarring Skardu, this place is so peaceful, that you even forget the city here. Take a leisurely stroll and enjoy the serenity of this organic place.
There are several places to stay along the man-made lakes or canals. Consider packing some food so you can have a picnic when you get there.
Picking Fresh Fruits and Vegetables
The region is famous in the world for the production of apricots, cherries, and nuts. You can pick fresh organic vegetables and fruits from this village after taking permission from the owners.
As they use only organic ways to grow, the taste of these vegetables and fruits is unique. The hospitality of the people makes this village worth visiting as a tourist destination in Pakistan.
Places To Visit Nearby Nansoq Organic Village
Kharpocho Fort
Kharpocho Fort is just 3km away from Nansoq Village. Even the trek towards this organic village started next to Kharpocho Fort. This fort stands on a mountain, at a height of 40 meters.
Kharpocho Fort has its own reputation for showing the way kings and queens lived with their families. From this mountain, you can see the entire valley, the Indus River, and the settlements below
Katpana Lake
Katpana Lake is just 5km away from the Nansoq Organic Village and you can reach there within 15 minutes. The views of Lake Katpana and its surroundings are stunning.
With the cold desert on one side, this lake is surrounded by the Indus River and the majestic mountains of the Karakoram Range. The captivating landscape creates an aura of charm and takes viewers to another world.
Kachura Lake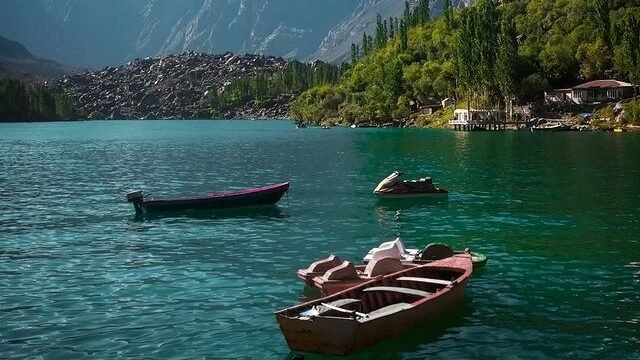 Kachura Lake refers to three Lakes in Skardu; Lower Kachura, Upper Kachura, and Zambakha Lake. It has been described as a vast expanse of nature, a mixture of enchanting beauty and fresh air. These lakes are located at various elevations in the Karakoram Range in the Western Himalayas and the Indus River.
Lower Kachura lake, known as Shangrila lake, is a natural gem in Skardu. Recreational activities tourists can do here include hiking, trout fishing, camping, and boating.
Mantokha Waterfall
Mantokha Waterfall is a popular place to visit near Skardu. It is quiet at a height of 180 feet and is about 40 km from the town of Skardu. The road itself has great views and around the waterfall are typical landscapes, steep mountains, and tall lush green trees.
In winter, the Mantokha waterfall freezes completely like a glacier. Frozen waterfalls like this are rarely seen anywhere in the world.
Manthal Buddha Rock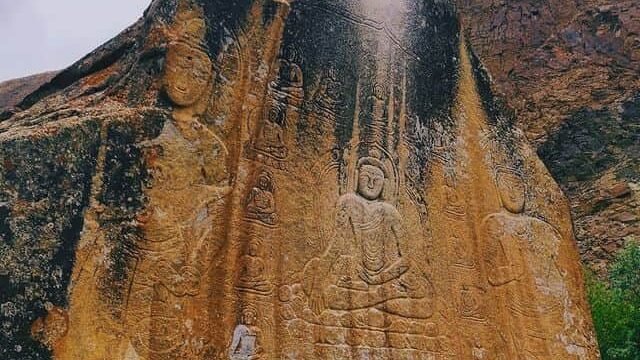 Located at the end of town, Manthal Buddha Rock has somehow survived over a thousand years. This large granite rock depicting Buddha looks a bit out of place, but nevertheless, it is very nice to see it. As this rock is located on a hill, it offers great views of the surroundings.
For those who are interested in Buddhist culture, this place is relevant as it provides insights into Buddhist traditions. If you want to visit this place, come in the morning as the light is better and the heat is less intense. The entrance cost of Buddha Rock is 150 rupees.
Places To Stay In Organic Village
There are no actual hotels or guesthouses in this area. So, visitors prefer to do camping at the riverside or at the end of the village, where locals set up a camping site.
Recently, a local has converted an old house into a traditional guesthouse, but there are only a few rooms, so if you want to stay there, you should check availability before you go.
Final Words
We must take responsibility for preserving natural and cultural resources for future generations.
If you plan to visit Nansoq- The First Organic Village In Skardu, please do not harm this beautiful village, because tourism has a downside, the more people who visit it, the more it become polluted with garbage and unsustainable development.