Out of the many lakes that are located in Skardu, Kachura lakes are among the most visited ones. They are two lakes named Upper Kachura Lake and Lower Kachura Lake also known as 'Shangrila Lake' and 'Zambakha Lake'. Both of them are surrounded by immensely beautiful sights to give a sense of relief and tranquility.  
Do you want to escape from the everyday monotonous schedule? Read this Guide to the Wondrous Upper Kachura Lake. 
Let's Explore Upper Kachura Lake Together!
Thousands of tourists visit Upper Kachura Lake to appreciate its entrancing environmental factors. The lake is encircled by tremendous mountains with snow-covered pinnacles. 
Upper Kachura Lake in Skardu is likewise prestigious for being home to Western Himalayan Alpine Conifer Forest. Also, it has Peach Orchards and significantly more to excite the travelers.
Where are Kachura Lakes Situated in Skardu?
Upper Kachura Lake in Skardu is one of the two lakes famous as Kachura Lakes in Gilgit Baltistan. It is located at a height of 2500 meters above sea level and a depth of 70 meters. 
This freshwater lake adjoins the Karakoram range, Indus River Basin, and the Greater part of the Kashmir region.
How To Reach Upper Kachura Lake Skardu?
Skardu is at a distance of approximately 13 hours and 30 minutes by road. Those aspiring to plan their visit can either choose their conveyance or any public transport like buses, airplane, car, etc.
However, Upper Kachura lake Skardu is just a 36 minutes drive.
Route From Islamabad To Skardu
If you are planning to visit Upper Kachura Lake you will first need to travel to Skardu. From Islamabad to Skardu the distance can be covered through any private or public conveyance.  
By air, the distance can only be covered in almost 1 hour via PIA airlines.
Route From Skardu to Upper Kachura Lake
The distance between Skardu and Upper Kachura lake is just 30 minutes. Tourists can plan to visit Lower Kachura Lake first, which is just 13 minutes away from it. 
After passing through the Kachura village and the fine paved road either via a car or jeep they can reach the Upper Kachura Lake Skardu.
Upper Kachura Lake Temperature
Upper Kachura Lake Weather in Winter
As per the Upper Kachura Lake weather forecast, the weather here remains low throughout the year. However, during winter it gets low to maximum -10 Celsius and minimum to -20 Celcius. 
The nights at Upper Kachura Lake in winter are relatively cloudy than the days that are partly cloudy and sometimes sunny.
Upper Kachura Lake in Summer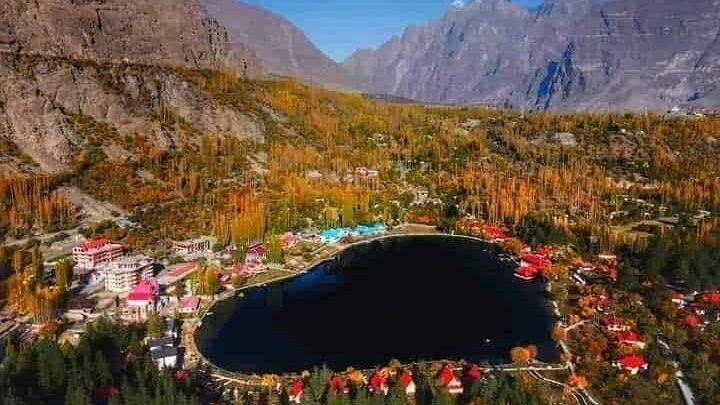 Upper Kachura lake is more suitable to be visited during summer or spring. The beauty of this place gets more enhanced by the sunlight and the freshly bloomed flowers. 
Upper Kachura Lake can be your best getaway to beat the summer heat. The temperature remains 15 Celcius and might get dropped a bit at night.
Things To Do In Upper Kachura Lake
Trout Fishing
Trout fishing is an ultimate sport that people enjoy at Upper Kachura Lake. The entire region is known for trout farming.
People enjoy getting it fresh from the lake and enjoying it being cooked and eaten live while sitting by the lake.
Trekking
There are multiple trekking points near Upper Kachura Lake. People visiting there can choose to trek from Lower Kachura Lake towards it. 
The sights and route towards Upper Kachura lake are mesmerizing, covered with White Eucalyptus trees that turn yellow in autumn.
Himalaya Mountaineering
Upper Kachura Lake connects with the Western Himalayan Range and the mountains can also be seen in their surroundings. There is a great opportunity for mountaineers to climb up the Himalayas when the weather is suitable. 
However, one will have to ensure safety measures and consider the weather forecasts before planning Himalayan Mountaineering.
Boating
Kachura lakes are ideal for enjoying boating as the water is calm and soothing. Boating is also preferred by tourists to get a closer look at the beauty encircling the Upper Kachura Lake. 
The boats are controlled by the locals and they will guide you along the way. One can pass through the conifer forests and take a closer look at trout fishes beneath the surface of the lake.
Places To Visit Near Upper Kachura Lake
Katpana Desert
Katpana is the world's highest cold desert located in Skardu. It has white sand that allures the tourists. 
Katpana Desert being nearest to the Skardu airport can be the first place to visit also with many other places on its route to explore in Skardu.
Satpara Lake
Satpara is one of the highest lakes located in the Skardu Gilgit Baltistan region. It is visited and appreciated much by people due to its unique surroundings and turquoise-colored pure water. 
Satpara is just a 20 minutes drive from Skardu downtown. However, one can only visit this place via jeep and can also visit Satpara Dam located adjacent to the lake.
Sheosar Lake
Sheosar Lake is an alpine lake located in the middle of the mountains in Skardu. It is also known as the Blind Lake in the local Shina language. 
Sheosar lake in Skardu is famous for the diverse wildlife one can get to see there. It is also located at a distance of 96 kilometers from the Upper Kachura lake in Gilgit Baltistan
Lower Kachura Lake
Lower Kachura Lake is 30 mins away from the Upper Kachura lake. It is mainly known as Shangrila lake, a Tibetan word that means "Heaven on Earth" because of the Shangrila resort located at its bank.
Lower Kachura lake is relatively smaller than Upper Kachura Lake and is also considered an artificial lake.
Manthokha Waterfall
Mantokha waterfall also known as the 'Manthak Chopar' in the local Balti language is located in the Kharmang valley in Skardu.
The spot is scenic for the tourists as many visit there to take in the view of it falling from the steep Karakoram Mountains. Manthoka Waterfall is also renowned for Trout fishing farming.
Deosai National Park
Deo means 'giant' and 'sai' mean shadow hence, etymologically it is known as the "Giant Plains" or "plain of the Giants". This Plateau was converted to a national park for the conservation of indigenous brown bears and other animals.
Deosai National Park is the world's highest plains located between Skardu and Astore. It is at a distance of 53 kilometers from the Kachura Lakes.
Hotels At Upper Kachura Lake
You can find many hotels around the Kachura Lake. Some of them are expensive and some of them are budget. We have listed both of them in our list. However one can book budgeted hotels in Skardu and then travel from there to upper kachura lake.
Safari Resort
Safari Resort is an exotic place to visit or plan a stay near the Upper Kachura Lake. It has state-of-the-art accommodation facilities for the guests with an in-house fish farm.
Safari Resort is close to the Soq Valley in Gilgit Baltistan. One can get a hut and any of their adequately embellished comfortable rooms for a stay at an affordable rate.
Contact Information
Phone: 0336 6655522
Address: Soq Valley Kachura, Skardu, Gilgit Baltistan Pakistan.
Shangrila Resort Hotel
Shangrila Resort is located in Skardu right in the heart of snowy mountains. This hotel is known for its marvelous facilities such as currency exchange, free wifi, five-star rooms, 24 hours staff availability, and much more.
The most famous Shangrila Resort Hotel is because of its location just by the lower Kachura lake.
Contact Information
Phone: (058154) 54941
Address: Lower Kachura Lake, Kachura Village, Skardu, Pakistan.
Mir Hotel and Restaurant
Mir hotel and restaurant is located at a 9 minutes drive from the Kachura lakes and is nearer to the Skardu airport, Skardu main city, and K2 museum too. It is a smoking-free hotel with all the amenities and facilities required for a comfortable stay.
Mir hotel and restaurant has an option of valet parking, rooftop terrace, generator, and restaurant with diverse meal menu.
Contact Information
Phone: 0355 5779743
Address: Lower Kachura Lake, Kachura, Skardu, Gilgit-Baltistan
Byarsa Hotel Skardu
Byarsa means the place of Summer, it is a perfect place for spending your time while visiting Skardu.
Byarsa hotel Skardu is located at the heart of the Lower Kachura Lake and much closer to the Upper Kachura Lake. It is surrounded by the Hindukush, Karakoram, and Western Himalayan range. The tourists without a doubt enjoy the beauty of the surroundings and make their trip memorable.
Contact Information
Phone: (058154) 57427
Address: Lower Kachura, Shangrila Road, Gulshan Abad, Skardu, 16200
Conclusion
Kachura lakes are known as one of the most beautiful places in Pakistan. One can delve into the beauty of these lakes surrounded by tall eucalyptus trees, conifer forests, gigantic mountains, and crystal clear aqua-colored water.
Thank you for reading this Guide to the Wondrous Upper Kachura Lake. Follow Lovin Pakistan on Facebook and stay with this blog to get more updates.