Skardu feels like a paradise to anyone who visits with lots of scenic locations, historical heritages, deserts, freshwater streams, rivers, waterfalls, and snowy mountains. Among all of these is the Manthoka Waterfall located in the Kharmang Village of Gilgit Baltistan.
Wait no more and explore more about it through this guide on Manthoka Waterfall; A Heavenly Cascade in the Kharmang Valley.
Where is Mantoka Waterfall Skardu located?
Manthoka Waterfall is located in the Kharmang Valley of Gilgit Baltistan. It is 60 kilometers away from the main Skardu city and hence requires a 2-hour drive to be reached. 
Manthoka waterfall is located among the tall mountains and green pastures of Kharmang Valley. All the beauty it is surrounded with makes it the most visited place in Skardu.
Mantokha Waterfall Surroundings
Mantokha Waterfall in Kharmang Valley is surrounded by spellbinding wonders of nature. The circumambient gigantic mountains, green patches, exotic flora makes this place adorable. 
Moreover, the route to Manthoka Waterfall is equally admirable. One gets to see the lovely sights of the snow-capped pinnacles, lively valleys, villages, etc. The view of the waterfall descending towards The Indus River, passing through the valley is unparalleled.
The temperature at Mantoka Waterfall in Skardu
Mantokha Waterfall Temperature in Winter
The temperature during winter falls to -5 Celsius and even below that on extremely cold days. The maximum temperature of Manthoka Waterfall during winter is -15 Celsius. 
The water of Manthoka Waterfall Skardu gets frozen and the mountains get covered in white snow that looks presentable while glistening in the sunlight.
Mantokha Waterfall Temperature in Summer
The temperature of Manthoka Waterfall in Summer keeps shifting from 31 Celsius to a minimum of 14 Celsius. The days during summer are either partially cloudy or sunny. 
Tourists visiting Manthoka waterfall can see the high mountain peaks covered in snow during summer. Occasional rainbows present beautiful scenery to the visitors.
How To Reach Manthoka Waterfall in Gilgit Baltistan?
There are several ways one can choose to reach Skardu. Either by one's conveyance is or via public transportation out of which airplanes are the fastest option. 
However, one will have to hire a car or a driver to take one to the Manthoka Waterfall located at a distance of approximately 35 to 40 kilometers from the Skardu main city.
Skardu to Manthoka Waterfall Route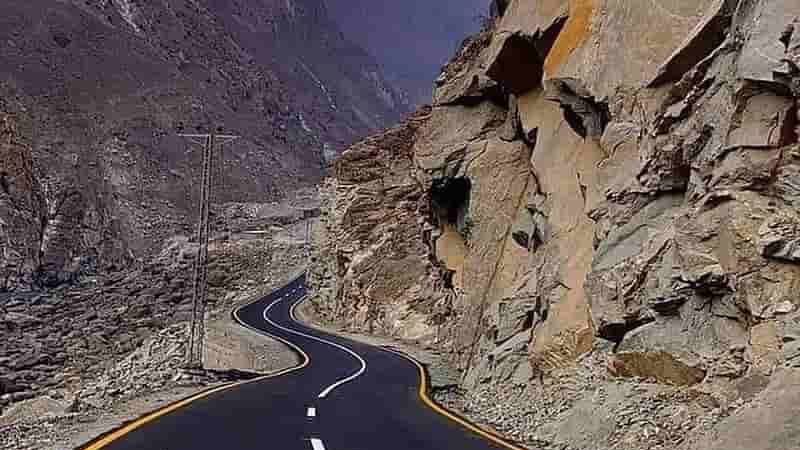 Manthoka Waterfall in Kharmang Valley is 40 km away from Skardu. One can rent a jeep or a car to reach there. The Skardu to Kargil road takes one straight to the Manthoka waterfall road. 
During this ride before arriving one will pass through the gigantic mountains and will be able to have a sight of the Indus River passing adjacently.
Khaplu to Manthoka Waterfall Route
It is a 1 hour and 15 minutes drive from Khaplu village to the Manthoka waterfall. There are two options one can choose to travel towards the destinations. 
Tourists desiring to visit Manthoka waterfall from Khaplu can either take the Kargil to Skardu road or the Shyok River Valley road.
Places to Visit Near Manthoka Waterfall
Kachura Lakes
It takes approximately a 2 hour 27 minutes drive from Kachura Lakes to reach Manthoka Waterfall. To cover this distance the tourists can preferably choose Kargil- Skardu road. 
One can visit the Kachura lakes to take in the beautiful sights. Moreover, visitors can also partake in many fun activities at Upper Kachura Lake.
Deosai National Park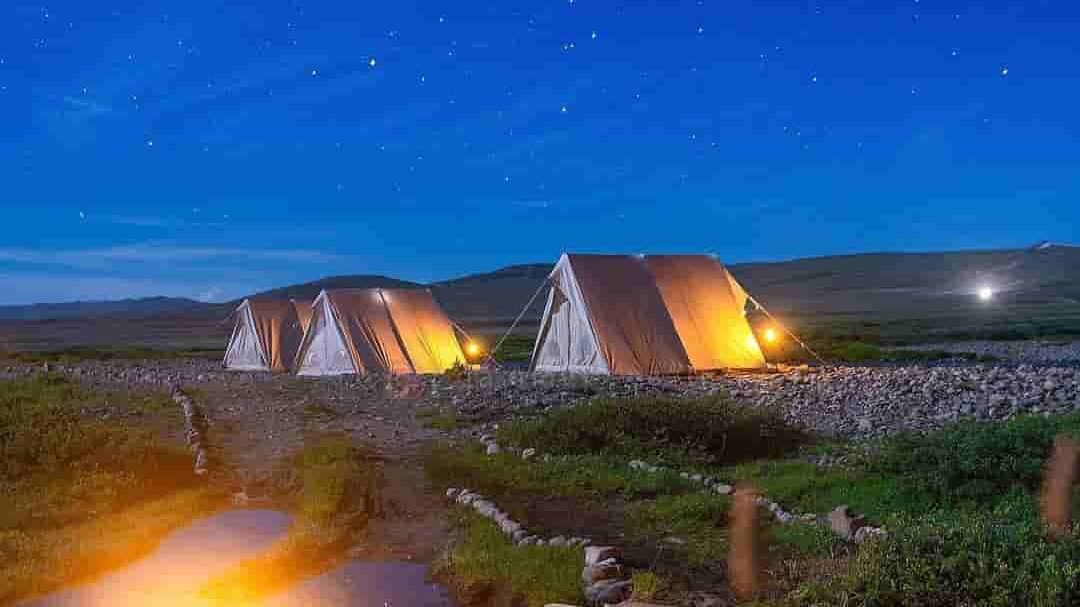 Deosai National Park is an ideal place for hiking lovers. It has wide green plains with exotic flora and fauna. It is located at a distance of approximately 49 kilometers away from the Manthoka Waterfall Skardu. 
Apart from hiking and trekking tourists can have a view of high mountain peaks. Deosai National park also has diverse wildlife, visitors can also set up their camps to make a stay here.
World's Highest Cold Katpana Desert
Skardu is well known for having one of the world's highest cold Katpana Desert. This desert. It has multiple options for travelers to set the camp and enjoy the view of starry nights. 
Katpana Desert is also an admirable place to be visited for sightseeing. It is located at a distance of 66.8 kilometers from the Manthoka waterfall and could easily be visited via Khaplu Valley.
The Sheosar Lake
Skardu has some of the best lakes, Sheosar Alpine, Upper Kachura, Satpara and Blind Lake are top of them. The Sheosar Lake is a scenic locations one gets to spectate in the Deosai National Park. The entire place is significantly known as a home to incredible wildlife. 
Sheosar lake is one of the 3 highest lakes in the world that are located in Skardu. The flower-laden fields and green plains make it look endearing and exotic.
Khaplu Palace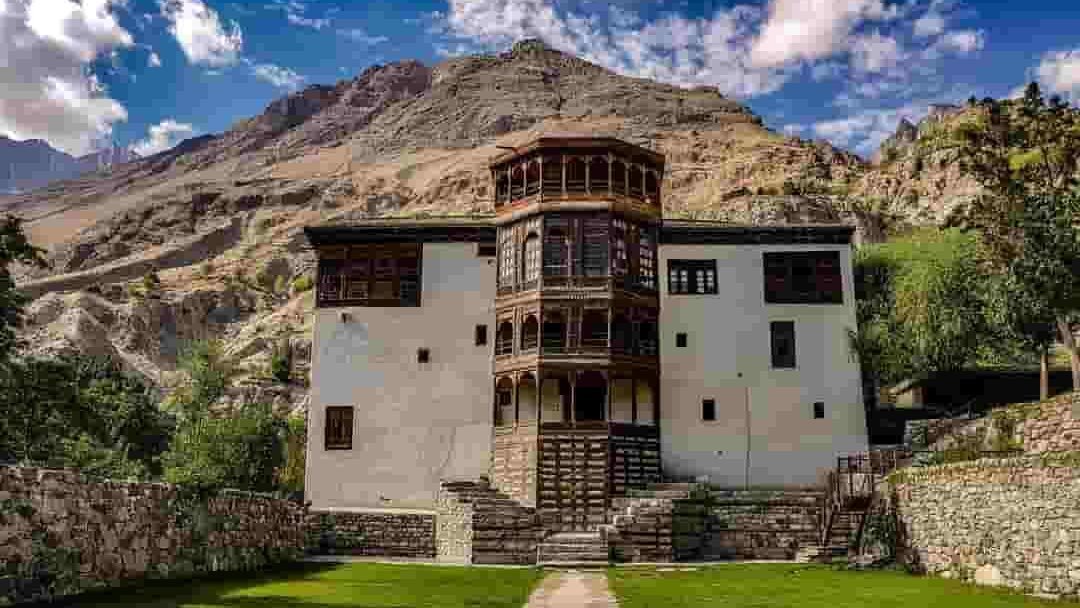 An impressively built historical fort Khaplu Palace also known as Yabgo Khar is located in the Khaplu village in Skardu. Though it has been restored as Serena Hotel now, still tourists can visit this place. 
This 19th-century construction has much to delight the visitors with. Apart from the Balti cultural heritages, one can also enjoy traditional Balti food along with other cuisines at Khaplu Palace.
Shigar Fort
A 400 years old fort situated in the Baltistan region among the Himalayan Mountain Range is a source of an unmatched experience for the tourists. 
It has also been reserved as a luxurious hotel with an "Old House", "Garden House", " Fong Khar Restaurant", and Raja of Shigar's luxurious suites. Shigar Fort is located near the Shigar Valley and is nearest to the Katpana Desert.
Hushe Valley
Hushe Valley otherwise called Vallee De Hushe is situated among the high mountains. This valley is shaped by the Hushe River considered as one of the mountainous regions on the planet.
Hushe town is where the jeep track ends and the trekking and expedition track begins. Mountain climbers can likewise track down a decent chance to set their camps here.
Thing To Do At Manthoka Waterfall 
Eating Freshly Cooked Trout
People visiting Manthoka waterfall can enjoy fishing and eating trout fish. The locals catch them for the tourists and then cook them live. 
Tourists enjoy eating while sitting by the Indus River or by Manthoka Waterfall. The chairs are kept in the cold water with fresh food being served on the tables. There is a canteen from where one can also get other food items.
Capture Lively Memories
Manthoka Waterfall is a refreshing place to visit with family and friends. It is a place with diverse localities nearby to capture wonderful memories at.
Furthermore, the surroundings and the Manthoka Island itself are very attractive. One can enjoy having a great photoshoot here.
Enjoy Beautiful Sights
There is a great opportunity to have a sightseeing experience for the travelers. Manthoka Waterfall is all about the beautiful sights in its surroundings. The colorful flowers that bloom in Spring, and the high mountains all around make it adorable. 
Even during winters, the Manthoka Waterfall presents a scenic view after getting frozen. However, during the summer one can catch a glimpse of a rainbow appearing.
Hiking To The Peaks of Mountains
The places located nearby Manthoka Waterfall bring in multiple opportunities for the mountaineers too. Hushe Valley is one of those places with many high peaks to climb. 
The ones who love trekking and hiking can choose to trek towards the Manthoka Waterfall from Skardu or Khaplu Valley. Deosai National is another great place for trekking and hiking.
What To Wear at Manthoka Waterfall Skardu?
Skardu and the entire Gilgit Baltistan region remain a bit colder even during Summer. Hence, it is advised to the tourists to keep their warm clothes along while visiting Manthoka Waterfall. 
One must wear adequate shoes with a firm grip followed by sunscreen during summer. For the hikers, it is advised to wear warm clothes and shoes suitable for walking on snow.
Places To Stay Near Manthoka Waterfall
Manthoka Waterfall Resort
Manthoka Waterfall Resort is located right in front of the Manthoka Waterfall Skardu. It is refurbished with all the accommodations. The hygienic rooms, lovely views, and matchless services are the facilities that it has. 
Manthoka Waterfall Resort is sometimes also called Tree House in Manthoka Waterfall. The beauty of the place itself and the sight of the Manthoka waterfall one can have from here makes it more beautiful.
Contact Information
Phone Number: (058154) 64070
Location: Manthokha Kharmang, Gilgit-Baltistan, Pakistan
Places To Stay In Skardu
Due to the lack of enough accommodations nearby, Manthoka Waterfall people either set up camps or make a stay in other locations in the region. One will easily be able to book a room in Skardu without much stretch. 
Any of the hotels like Hotel One Skardu, Hotel Mountain Lodge and many other hotels in Skardu can be booked online effortlessly for your desired duration at an affordable rate.
Places to Stay in Khaplu Valley
Serena Khaplu Palace Hotel
Serena Khaplu Palace Hotel is remarkable for being a traditional heritage hotel. Guests can enjoy being surrounded by culture and the warmth of its ambiance. 
Alongside the views and matchless experience, they also offer state-of-the-art accommodation and facilities to their guests. One can also book a room online in Serena Khaplu Palace Hotel.
Contact Information
Phone Number: 0346 8101033
Location: Serena Khaplu Palace, Chaqchan Rd, Sargiab،, Khaplu, Khapalu
Green Land Guest House Khaplu
Green Land Guest House Khaplu is located approximately 205 meters away from main Skardu city. It is located at one of the prime locations with beautiful sights in its surroundings. 
Green Land Guest House is well-furnished and has all the necessary amenities. One can enjoy the mountain view from the terrace. They also serve an exclusive continental breakfast and all other meals of the day.
Contact Information
Phone Number: 0348 5246875
Location: Shahamdan road, Khaplu
Conclusion
Skardu and the entire Gilgit Baltistan region have so much to explore and experience. There are equal facilities for a comfortable stay ranging from affordable to luxurious hotels and guesthouses. In a nutshell, Skardu and its surroundings are perfect for a getaway with family and friends. Wait no more and plan your trip to any of the Top 15 Places That Will Amaze Your Skardu Experience!.