Parks are an integral element of cities where people can spend some recreational family time together and eliminate the burdens of urban life. In a bustling city like Karachi, people are always looking forward to visiting such places and taking in the fresh air.
To make it easier to choose the best from the many such spots in the city we have brought to you An Ultimate Guide on the 22 Best Parks in Karachi. The aim is to walk you through them to explore the best they have to make your time memorable and set you stress-free. You can also dig into the best parks in Islamabad.
Sindbad Wonderland Amusement Park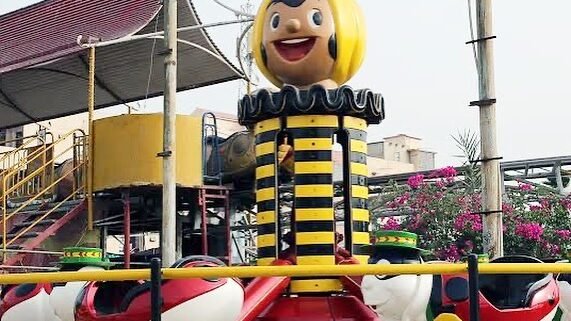 An all-at-one-place spot that has been entertaining the Karachiites for decades now. Sindbad Wonderland Amusement Park has something for all and sundry including gaming zones, rides, etc.
Kids can enjoy here token rides, dodging cars, and water rides. Adults can also have some adventure at the haunted house, 3d ventures, and other thrilling rides. Furthermore, one can avail from here different snacks and spend a lively family time together.
Safari Park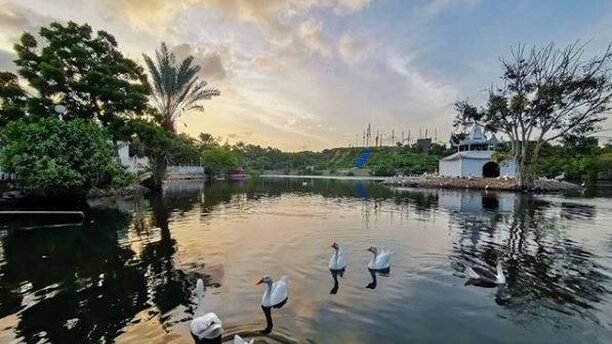 Constructed on 148 acres of land, the decades-old Safari Park is located amid the buzzy locality of Gulshan e Iqbal and in the vicinity of Gulistan e Jauhar. It is considered a perfect picnic spot by visitors as there are many fun activities for a remarkable recreational time.
There are multiple facilities including the Safari Experience with more than 600 species, an Amusement park with multiple adventure activities, a swan lake, chair lift, many rides, Kashmir point, and an Elephant enclave.
Hill Park
Considered one of the best parks in Karachi, Hill Park has so much to offer to everyone. Its multiple features include a fun city with lots of fun activities and different rides, an artificial lake with various species of duck, fish, and swan, a mini zoo, and innumerable eating points.
One can further have a mesmerizing view of the cityscape from the top of the hill. This worth-visiting family park is home to one of the longest walking and jogging track in Karachi.
Jheel Park
Located in the calm vicinity of Bahadurabad, Jheel Park is utterly a relaxing place to spend family time in Karachi. The park covers an area of about 25 acres having multiple grassy lawns good for outdoor games and exercising.
It further has a long walking and jogging track with enough benches and seating areas.
Bin Qasim Park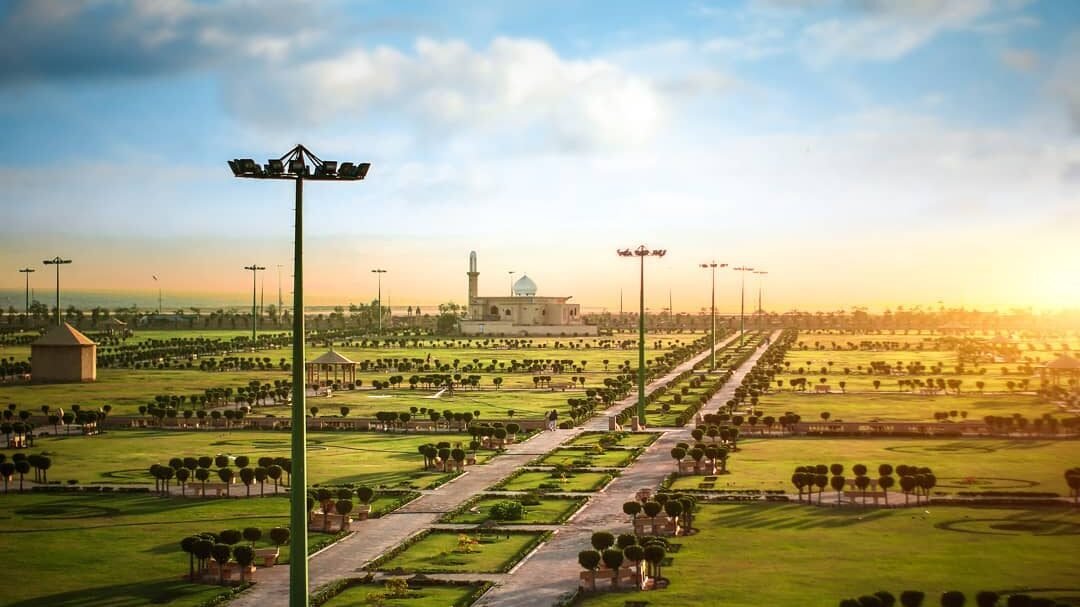 Bin Qasim Park is also known as Bagh Ibn e Qasim the translation of which is the "Garden of Bin Qasim's Son" is a 130-acre beachside park. It is also one of the largest parks in Karachi surrounding the Jehangir Kothari Parade and Katrak Bandstand.
The park is also home to the two historical fountains accompanied by a Mosque, rose garden, and a view of the sea and Port Fountain.
Nisar Shaheed Park
DHA has one of the best family parks in Karachi and Nisar Shaheed Park is one of them. Located in a peaceful neighborhood with lush green professionally trimmed grasslands. The park has a 1-kilometer-long walking track and a playground with different slides and swings for children.
The beauty of this park is further retained by flower beds, fountains, and artistic monuments.
Aziz Bhatti Park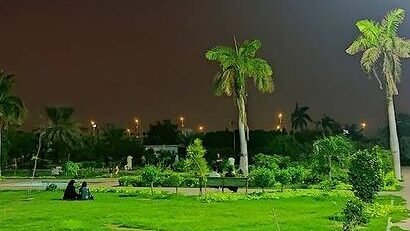 This park is located near Federal Urdu University. Aziz Bhatti Park consists of a large plain grassland good for sitting and a plain area utilized for the parking. It is indeed a good place for morning and evening walks and outdoor sports. The daily morning yoga sessions held here at equally beneficial.
There is an ample arrangement for seating also including benches and canopies placed at different spots in the park.
Hilal Park
Situated in the core of DHA stage 5, Hilal park is one of the most wonderful parks in Karachi. It is a little area park with bright blossoms and vegetation all around.
Further highlights of this park incorporate a cleared strolling track and a perfectly clean environment to breathe in.
Frere Hall Gardens
Frere Hall gardens encircle the famous town hall in Karachi serving as a gallery for Sadequains masterpieces. The place also serves as a space for exhibitions such as book fairs, etc. the gardens surrounding it are rich in greenery and trees bordering them.
It is counted among the best tourist places in Karachi, however, these gardens are also known as Jinnah Gardens or Bagh e Jinnah.
Creek Park
Located in a much-talked-about area of K-town, DHA phase 8 is Creek Park otherwise known as Major Khalid Shaheed Park. It is situated along Korangi Creek and overlooks the Arabian Sea. Near to it is the famous Do Darya point one having the best eateries in Karachi.
The park is enriched with greenery and enchanting flowers followed by the beautiful seaside view that mesmerizes Karachiites.
Shaheed Benazir Bhutto Park
Shaheed Benazir Bhutto Park, located at Boat Basin Karachi embellished with rich vegetation and sunflowers. The park welcomes the visitors with a colossal fountain and has different sitting facilities including open benches and the ones with decorative canopies.
It gives a striking view to the ones who visit there. Moreover, one can also catch a glimpse of the seaside from one of its corners. 
Jahangir Park
Situated in the heart of Karachi Saddar, Jahangir Park also serves as an amusement park. It has an amphitheater, aviary, and a dinosaur park for kids.
The library is one of the features dwelled in this park. It is also popular among the locals because of the famous Bram Bah fountain, cricket ground, and Mosque located here.
Zamzama Park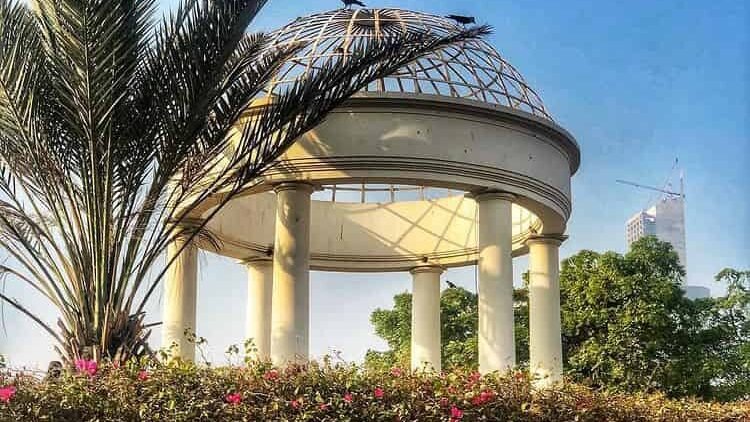 A 26-acre Zamzama park is one of the best tourist attractions in Karachi. The beauty and refreshing atmosphere within the park are preserved through trees, plants, and paved walking paths. It has different spaces of interest for everyone including a playground, skating area, jogging track, aviary, and a tennis court.
Zamzama park further has the facility of el fresco cafes for open-air snacking and dining.
Jamsheed Ansari Park
Jahangir Ansari Park is not just a family park in Karachi but it is also preferred for many events as a neighborhood park. Apart from the beautiful flora and fauna, the park has well-crafted trees also.
It has plenty of fun resources like dinosaur figurines and jumping castles for kids. 
Nishtar Park
Nishtar Park is named after one of the great leaders Sardar Abdur Rab Nishtar. It is comparatively a larger ground used mainly for religious, and political events.
The place is also used for the arrangement of different other sports and cultural events such as cricket, yearly spring festival, and other carnivals. 
A.K Khan Park (Seaview Park)
An exceptionally well-maintained park near the seaside. A.K Khan Park is perfect not just for morning and evening walks but for sightseeing and kids' entertainment also. Among the activities, one can enjoy doing here are photography, jogging, and eating at McDonald's nearby.
Kids can likewise enjoy playing in the playground with multiple swings, slides, and seesaw.
Aram Bagh
Aram Bagh formerly known as Ram Bagh is famous for the religious and historical values it holds for the Hindus. It is located in the middle of the city and hence, it is said that Karachi was built around it.
There are many historical and religious sites, some of which were preserved and are located in this area. The park is also renowned for the three water tanks built by the British empire to supply water. 
Talimi Bagh
Yet another to be considered one of the best parks in Karachi is the Taleemi Bagh. The most interesting thing is that it is affordable and has something for all ages. Located in the vicinity of FB Area is this wondrous park with a Jurassic Park theme for kids.
Adults can enjoy having a stroll or they can also grab their favorite snacks from any of the food points here.
Bukhari Park
A neighborhood park in the vicinity of the calm and posh DHA phase 8 of Karachi covers a small area but much attraction and relaxation. Bukhari Park is adorned with attractive and vibrant flowers and well-trimmed grass and plants.
Though it is a small park it has hosted multiple flower shows till now. With a 450meter walking and jogging track, health freaks also find this place interesting.
Captain Farhan Ali Shaheed Park
A luxurious and modern place with a fine environment and calm surroundings. Captain Farhan Ali Shaheed Park is located beside the seashore.
Being the best park in Karachi it is a perfect place for family outings. One can breathe in the fresh air and cool breeze with hygiene intact. 
Rahat Park
Rahat Park is located at the junction of Khayaban e Ittihad and Khayaban e Rahat on a vast area having a family-friendly peaceful environment. People visiting the park can have an opportunity to keep themselves fit by joining the daily yoga classes in the morning.
The location has a long walking and jogging track with grasslands covered with flower beds and trees. 
Karachi Zoo and Family Park
One of the most visited sites in Karachi and the best tourist spot is the Karachi Zoo and family park. It is a zoological and botanical garden with aviaries, a veterinary house, a reptile house, a National history museum, an elephant house, and different cages and spaces for other species of birds, and animals.
The Mughal garden area is ideal for walking jogging and seating purposes for a lively recreational time. The garden also has the facility of snack bars, cafes, and rides for kids.
Conclusion
It is no doubt a fact that Karachi for the past years has undergone different developments. They have also brought afore some beautiful parks and gardens for the Karachiites and the ones visiting here from different areas.
This Ultimate Guide on 22 Best Parks in Karachi has a list of such spots that are perfect for a productive recreational time.