Karachi is full of places worth-spending lively leisure time with family and friends. One can visit anywhere here from adventure parks and water parks to the soothing seaside, from historical monuments and museums to impressively modern malls.
In this blog, we have brought to you such of those 30 scenic picnic points and places to visit in Karachi. 
Beaches To Visit in Karachi
Turtle Beach
Turtle Beach is one of the most visited picnic point in Karachi. It is popular because of the rare Olive Ridley and Green turtles that often come to the shore. Turtle Beach huts are a perfect option for visitors to stay while spending time by the sea.
They can use huts to enjoy the meals, rest, or even plan a stay. People enjoy numerous activities here like sunbathing, frisbee games, volleyball, cricket, camel/horse riding, and swimming. 
Location
Turtle Beach, Keamari, Karachi
Do Darya
Do Darya has a Persian origin which means "two seas". The place is popular among tourists as well as the people of Pakistan. It has become one of the best food streets in Pakistan having numerous eateries.
Do Darya streets are also famous for bike and car racing, on any special occasion racers gather to perform thrilling stunts that makes it one of the adventurous places to visit in karachi. One can visit here without any tickets and spend some quality time taking in the beautiful view by the sea.  
Location
Sea View Rd, D.H.A. Phase 8 Zone C Phase 8 Defence Housing Authority, Karachi
Cape Mount Beach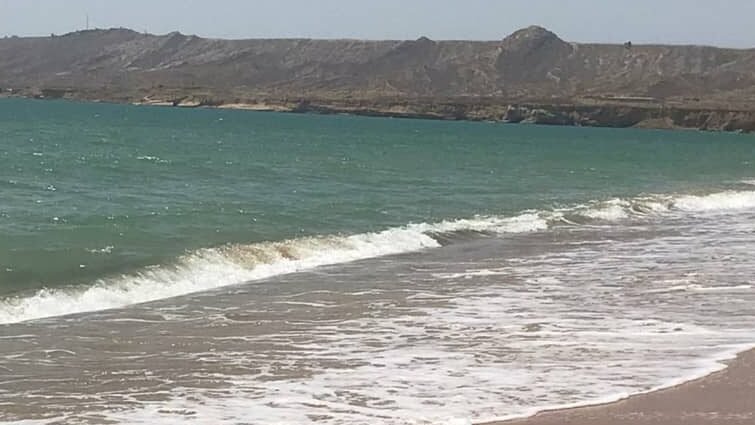 Cape Mount is a well-known calm and out-of-the-ordinary picnic seaside in Karachi. There are many beaches that one has to pass before reaching Cape Mount. The spot has been formed due to the erosion of mountains.
Mountain climbing, swimming, camping, and enjoying outdoor games are those fun activities that people enjoy here. The clean seashore and clear water make the place look adorable. Since only a few people visit here, hence the environment is clean and serene. 
Location
Near Hub River and Gaddani, 80km, Ras Muari, Karachi
Shopping Malls To Visit in Karachi
The Ocean Mall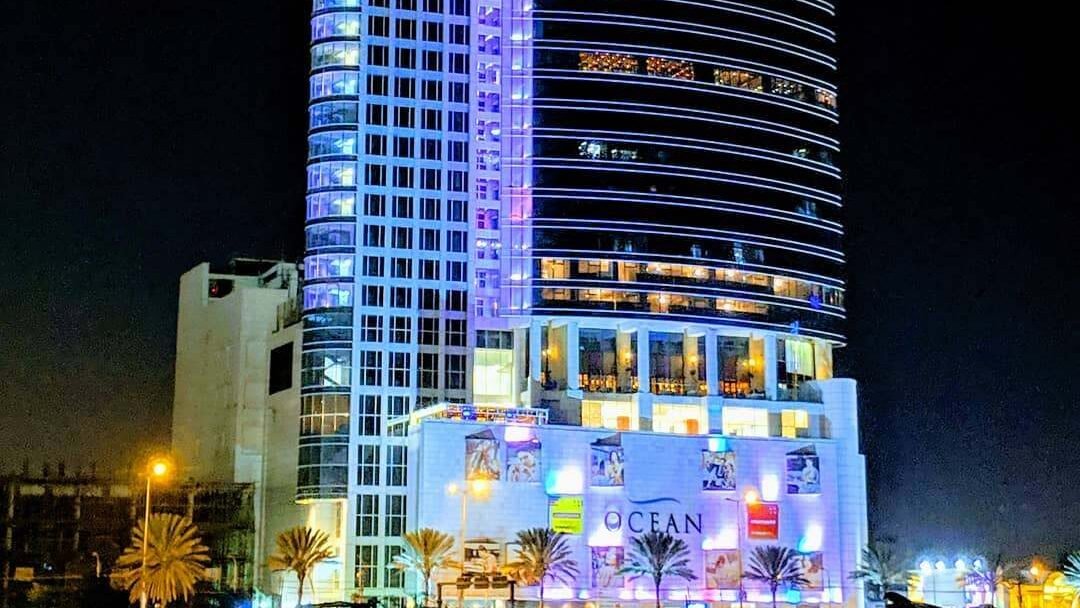 The Ocean Mall has innumerable international and national brands from all categories to shop from. One can enjoy scrumptious and tantalizing food at its cafeteria with numerous eateries and stalls with seating facilities.
The Ocean Mall is loaded with fun as it has Atlantic (indoor theme park), topsy turvy, haunted castle, kid's play zone, Cinepax, and Adventure XD cinema. Additional services include special parking for ladies, separate parking for differently-abled people, car wash, and driver's area.
Location
The Ocean Mall, Plot # G-3, Block-9, Khayaban-e-Iqbal, Clifton, Karachi
LuckyOne Mall
 
LuckyOne Mall is one of the largest cynosures of shopping due to the availability of fun, shopping, and dining all under one roof. Each of its floors has sensational shopping outlets for each category followed by additional stalls.
 LuckyOne Mall has a well-managed food court with hundreds of dine-in options and a capacious seating area. One can have most of the fun at Onderland by enjoying video games, motion rides, and the place is ideal for birthday events too.
Location
LA-2/B, Block 21، Main Rashid Minhas Rd, opp. UBL Sports Complex، Karachi
Dolmen Mall Clifton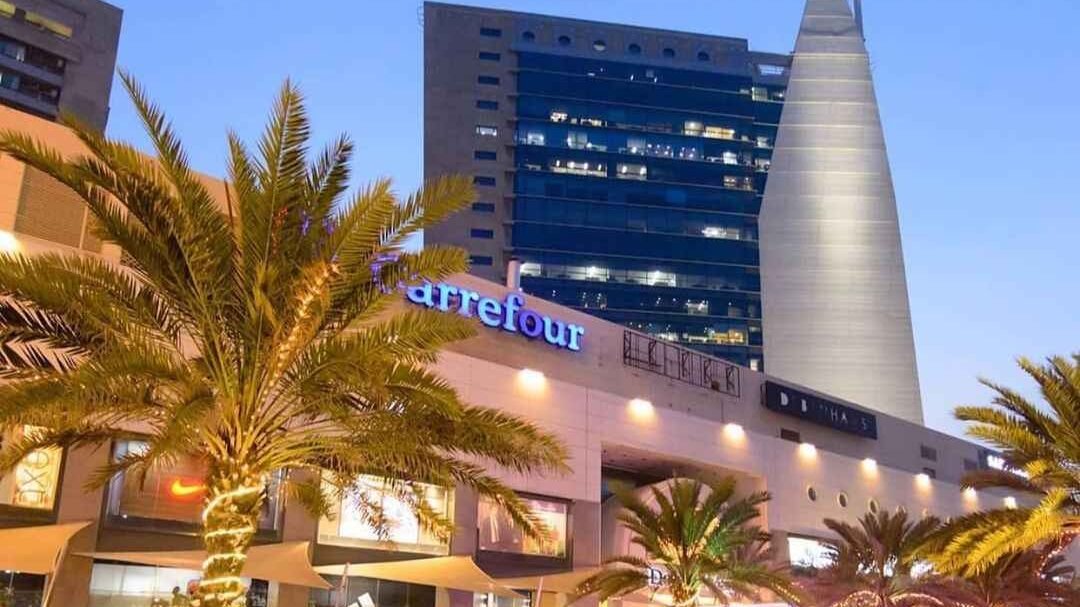 Dolmen Mall Clifton is the finest and luxurious option for shopaholics as well as fun lovers. The mall has state-of-the-art vicinities and facilities to maintain a peaceful yet fascinating ambiance. Dolmen Mall Clifton has got countless international and local brands and stalls for different stuff that make it an ideal shopping place in Karachi.
Its food court is equally spacious, having a large number of dining spots and also we have got an ultimate guide on top places to eat in karachi which would be really helpdul to decided on dining options. Sindbad Wonderland and Sindbad Xtreme make the mall interesting. Furthermore, one can also enjoy exclusive seasonal festivities with discounts on various outlets. 
Location
Dolmen City, HC-3, Marine Promenade, Block 4 Clifton, Karachi
Islands To Visit in Karachi
Charna Island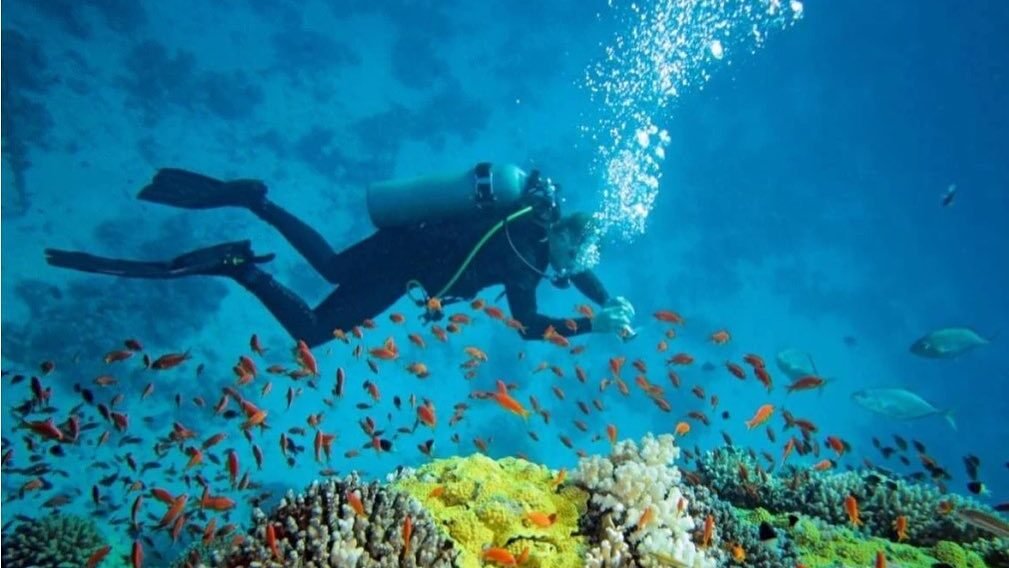 Charna Island is such is one of incredibly amazing places to visit in Karachi. Its clear blue water is the second thing this place is famous for, whereas exploration of marine life is the first. People love to visit Charna Island to get involved in activities like scuba diving, snorkeling, boating, underwater photography, cliff jumping, and so much more.
One can have an ethereal experience here while discovering incredible marine life underneath the water, the overall vibe, and the sight of this island. 
Manora Island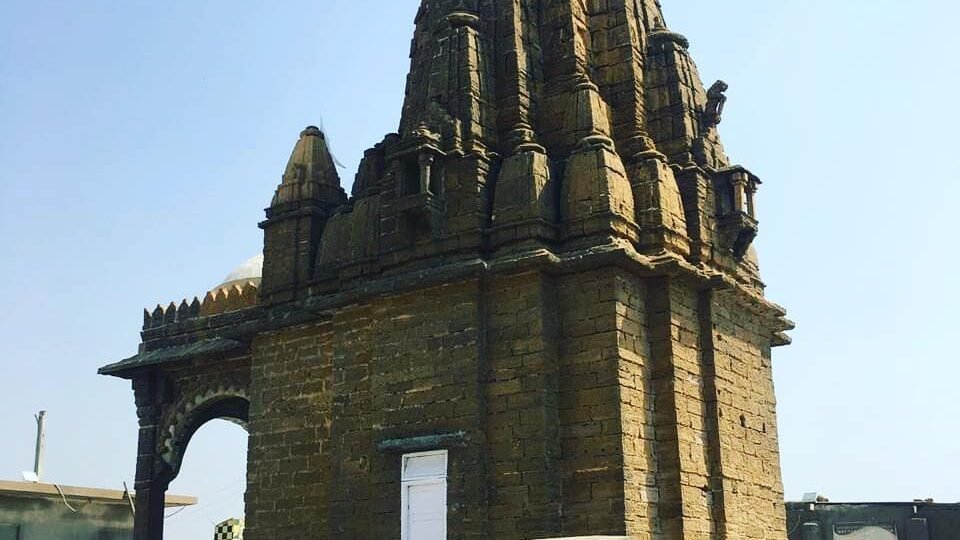 Manors Island is counted as the largest island of Pakistan. The origin and purpose of the place symbolize its historical, political, economic, and geographical values. People visit Manora Island to explore historical sites like Manora Fort and Varun Dev's Temple.
it is the only place in Karachi that allows visitors to enjoy boating and live fishing are the activities. Sandspit is the bridge that connects the island to the coast. Manora Lighthouse is also considered the largest lighthouse in Pakistan with a Hyper Fresnel lens.
Twin Islands
Bundal and Buddo islands are known as the twin islands. They are famous for the shrine of Yusuf Shah and the annual Urs is attended by many people each year. The site is mainly visited for taking in the beautiful sight of blue water and the mountainous twin islands.
Being located on the Kemari reef the place also has many huts of the local fishermen. One can enjoy live fishing and eat here as well as boating and photography. 
Waterparks To Visit in Karachi
Sunway Lagoon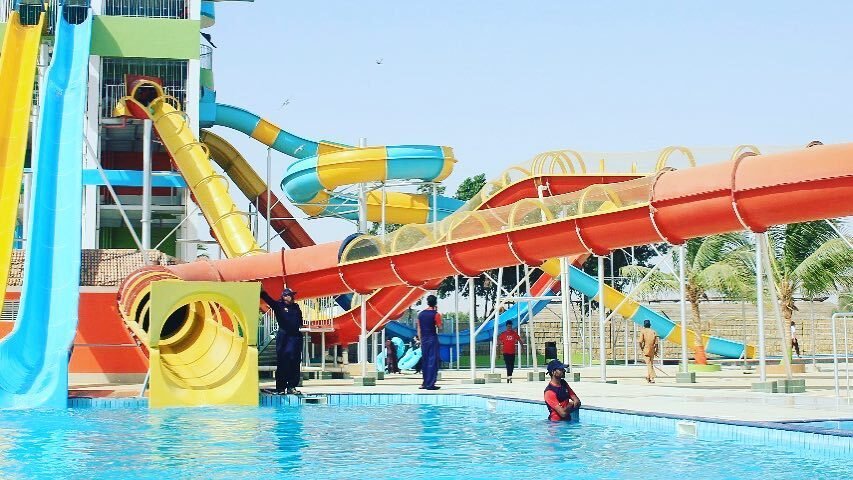 Sunway Lagoon is one of the top-ranking waterparks in Karachi. The waterpark has 25 thrilling and adventurous slides for all ages of people and 12 swimming pools with different water levels. Sunway Lagoon Waterpark is famous for having Pakistan's largest Wave pool and futuristic machines to regulate the waves. 
Special discounts are given for school trips and other private bookings. Moreover, there are separate pools, slides, and rides for kids. The place is also equipped with locker rooms. 
Location
6.5 km, Ahead from Gharo City, Main, National Hwy 5, Gharo, Thatta, Sindh
Fiesta Waterpark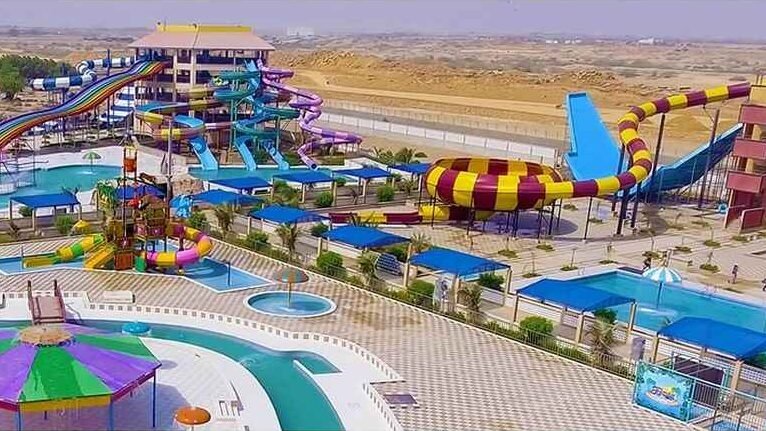 Fiesta Waterpark is without a doubt another famous and most visited waterpark in Karachi. The management of the park ensures well-maintained hygiene and security. Fiesta Waterpark is equipped with more than 14 adult slides and 17 plus kids slides. One can get the facility of private lockers, car parking, canopies, swimming equipment, and restaurant.
Exclusive discounts are given for school trips and private bookings. It has additionally got an Aquatic Island, lazy river, and family slides in Kid's section.
Location
Main Super Highway، Karachi – Hyderabad Motorway, Gadap Town, Karachi
Museums To Visit in Karachi
PAF Museum
PAF Museum has been developed to reminisce the historical achievements, services, and duties of the Pakistan Airforce. The whole place is surrounded by green lawns with fighter jets, radars, helicopters, and other Air Defence equipment.
PAF Museum has much for the visitors to enjoy including the stalls, rides, museum, and souvenir shop. The archive gallery is loaded with aircraft, PCs, models, and pictures of Air Marshals. Two galleries are solely dedicated to the martyrs of the 1965 and 1971 wars.
Location
PAF Faisal Base، Shahrah-e-Faisal, Faisal Cantonment, Karachi
Quaid E Azam House Museum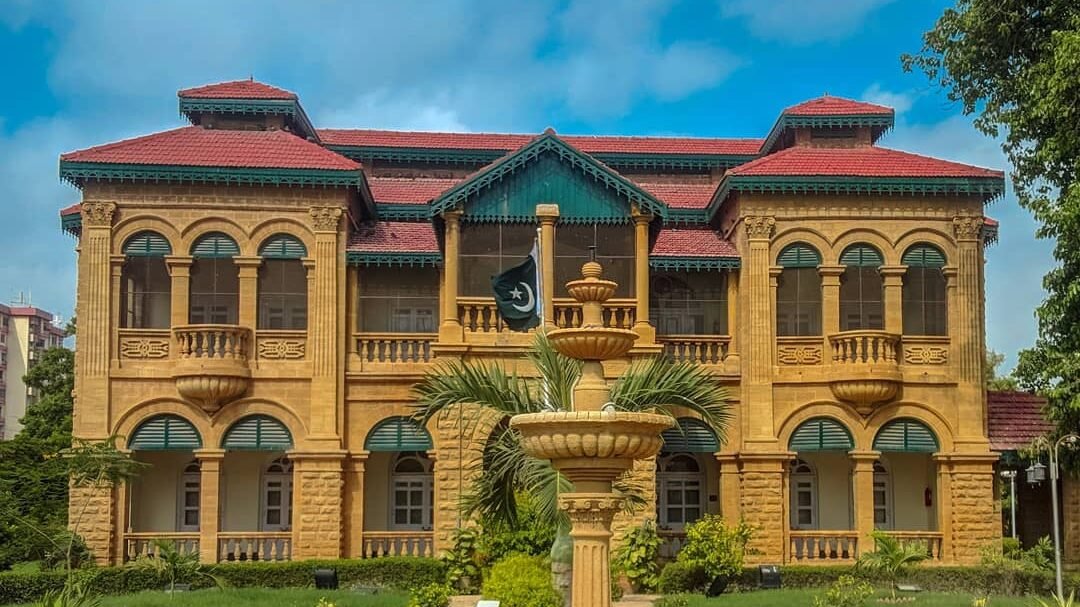 The Quaid e Azam House Museum is where the founder of Pakistan Quaid e Azam once lived with his sister Fatima Jinnah. The place is also called Flagstaff House Museum and is highly secured using the latest technologies. The things that once belonged to the Jinnah siblings are all kept there in their original condition.
The place is well-maintained and has much to explore about Quaid e Azam and Fatima Jinnah including their pictures, accessories, and letters. 
Location
Fatima Jinnah Rd, Karachi Cantonment, Karachi
Pakistan Maritime Museum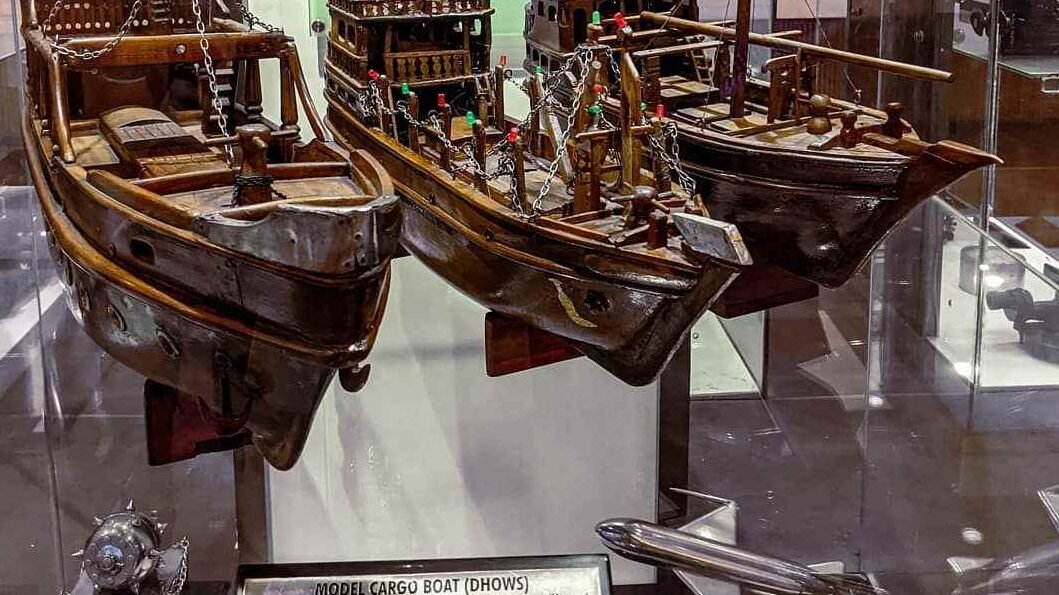 Pakistan Maritime Museum is a place where one can have fun and explore Pakistan Navy and Marine life. The place is well-maintained with grassy areas and equipped well with submarines, boats, and other vintage stuff. One can enjoy visiting the lighthouse and boating in the water lake. 
The museum has paintings, artifacts, aquariums, model ships, and navy officers to educate people more about the navy. Pakistan Maritime Museum also has a library, souvenir shop, and an archives gallery. 
Location
Habib Ibrahim Rehmatullah Road, Karsaz Faisal Cantonment, Karachi
National Museum of Pakistan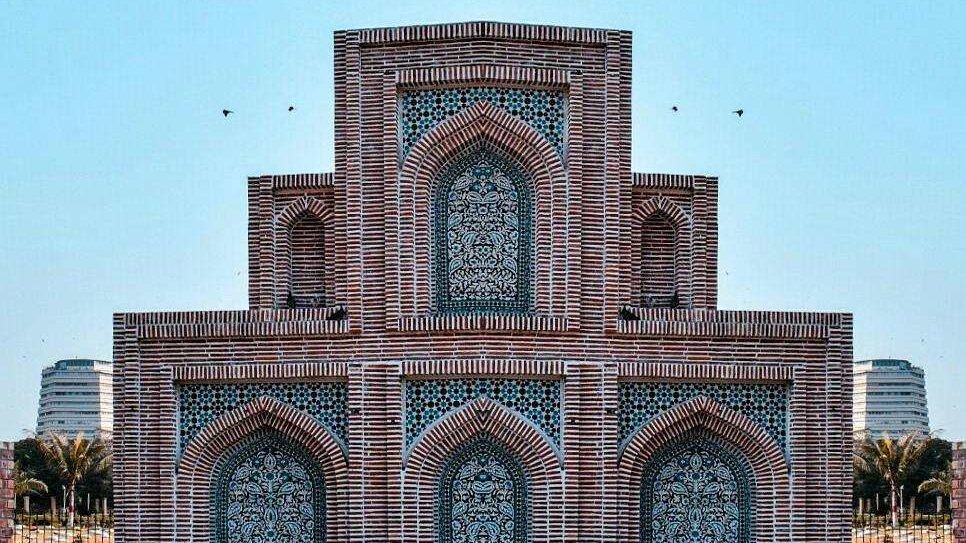 The National Museum of Pakistan is the best choice for those who love history and want to dig into more archeological findings. The museum is located in the Burns Garden surrounded by green grass, flower-laden patches, and tall trees.
Each gallery represents Pakistan's Cultural Heritage from the stone age to the formation of Pakistan as an independent country. The National Museum of Pakistan has 12 galleries with artifacts, paintings, and collections left behind by different civilizations in particular periods. 
Location
Shahrah-e-Kemal Ataturk, Saddar, Karachi
Shrines and Mausoleums To Visit in Karachi
Mazar e Quaid (Quaid e Azam's Mausoleum)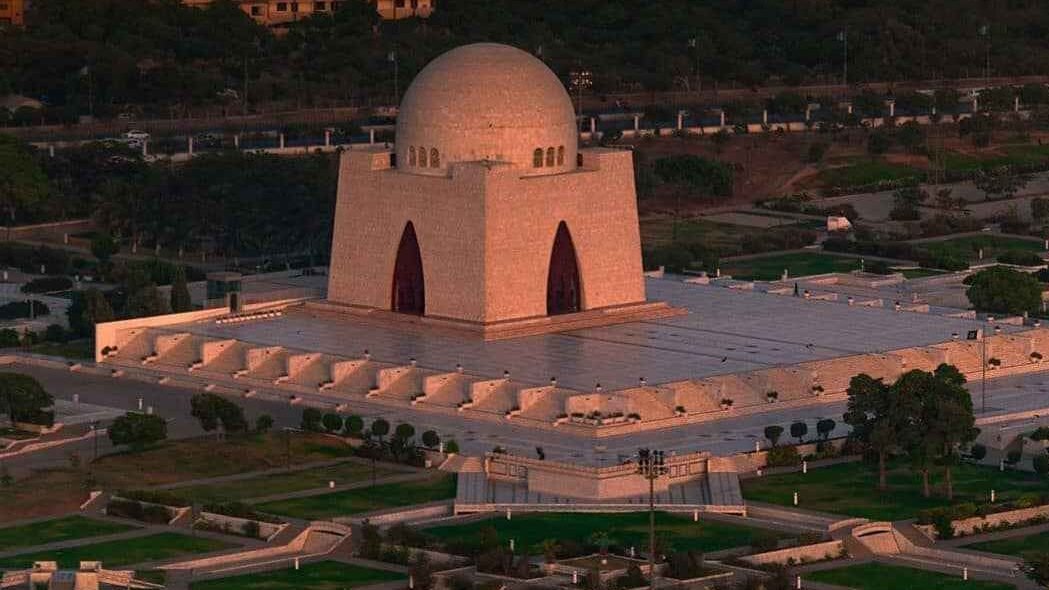 Quaid e Azam's Mausoleum has the tombs of Fatima Jinnah, Liaquat Ali Khan, Sardar Rab Nishtar, Nurul Amin, and Muhammad Ali Jinnah. The mausoleum is of great significance as it is also a symbol to represent Karachi internationally.
Quaid e Azam's mausoleum is made of white marble and has grassy lawns in its surrounding. Many people gather here to pray at the tombs and parades are held on national holidays that are also broadcast live.
Location
M.A Jinnah Rd, Central Jacob Lines Ghm، Karachi
Abdullah Shah Ghazi Shrine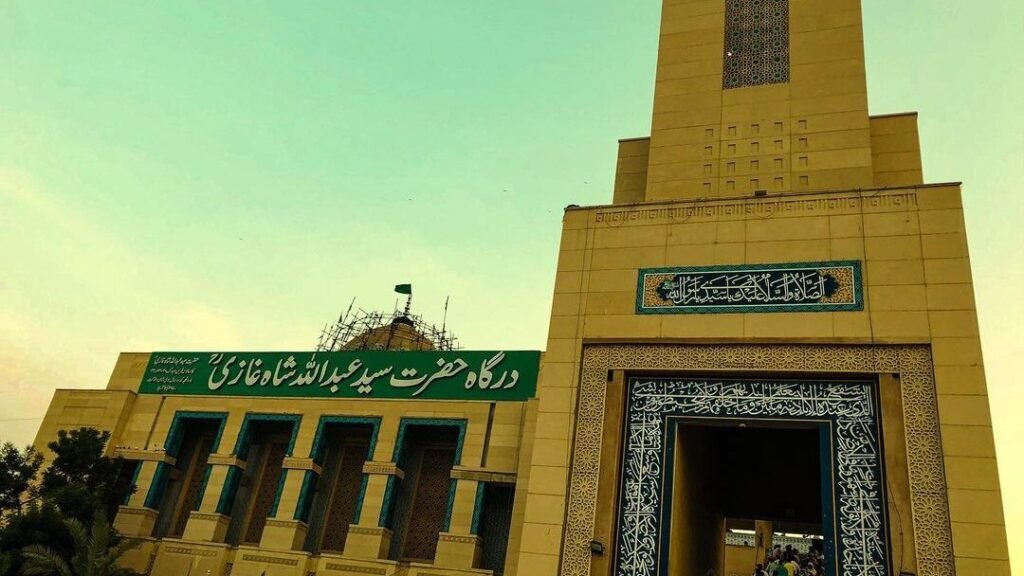 Abdullah Shah Ghazi Shrine is visited by man devotees not just Muslims but Christians and Hindus too. People believe that it is because of this Shrine of Sufi Abdullah Shah Ghazi that Karachi never gets hit by any cyclones. Abdullah Shah Ghazi Shrine is of great importance especially among those who visit Karachi from other places. 
One can visit here to pray, attend the qawwali session and help the needy people. The Mazar also has a water stream that connects it to Mahadev Mandir located in a cave nearby. 
Location
Block 4 Block 3 Clifton, Karachi
Heritage Sites To Visit In Karachi
Mohatta Palace
Mohatta Palace has its association with the residents of pre-partition time as well as Mohtarma Fatima Jinnah who resided here for some time. The palace speaks itself of the grandeur and luxuries of that era that has been preserved by the government for visitors.
Mohatta Palace is a heritage museum with an Indo-Saracenic architectural design that is a symbol of culture, love, and history. The place also has a tunnel that leads to a Hindu Temple. 
Location
7 Hatim Alvi Rd, Block 5 Old Clifton, Karachi
Chaukhandi Tombs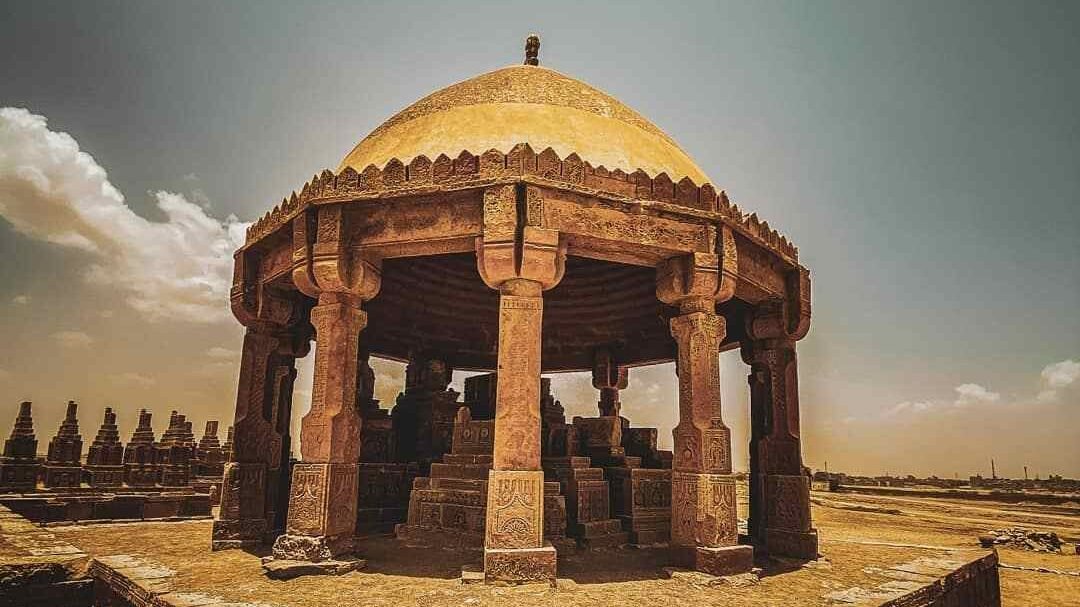 Chaukhandi Tombs are one of the famous historical and haunted places in Karachi. The tombs are graves that are extended from North to South. Visitors are always curious about visiting this place to see and capture the patterns, designs, and scenarios carved in the tombs.
Many archeologists have visited Chaukhandi Tombs to explore more about their history and the patterns drawn onto them. These tombs were constructed in a Pyramid-like shape back in the 15th to 18th centuries.  
Location
N-5 Near، Landhi Town, Karachi
Frere Hall
Frere Hall was constructed in the British Colonial Era and served as a Town Hall for meetings, theatres, and other public events. Later the building was renovated and now it is being utilized as a museum and library.
Frere Hall is surrounded by lush green Jinnah Gardens also called Bagh e Jinnah locally. The building houses numerous oil paintings and stone figures in its galleries, whereas the ceiling is adorned with famous painter Sadequain's painting. 
Location
Fatima Jinnah Rd, Saddar Civil Lines, Karachi
Banbhore
Banbhore city is a hub of historical and cultural heritages and expeditions. Banbhore Museum has a collection of archeological expeditions from Debal and Banbhore. These artifacts include clay, bronze, and gold pots, currencies, utensils, weapons, and tools. Banbhore fort, Debal fort, and river are the other tourist spots one can visit here.
Banbhore is also called the city of mysteries since it has ruins of forts and ancient huts that reveal much about civilizations. 
Location
Banbhore, Dhabeji Town, Mirpur
Amusement Parks To Visit in Karachi
Winterland
Winterland Pakistan is a great place to hang out with family and friends. One can have a chilling experience here in –10 degrees and snowfall. Winterland provides winter stuff on rent, it is equipped with modern technologies to maintain the cool and hygienic environment and to regulate snowfall.
Winterland has numerous slides, characters, and different rides for adults and kids to enjoy. You can also enjoy unique ice air hockey games, bumper cars, and the arctic world here.
Location
Pakistan Air Force Museum, Shahrah-e-Faisal, Karachi Cantonment Faisal Cantonment, Karachi
Bahria Adventure Land Theme Park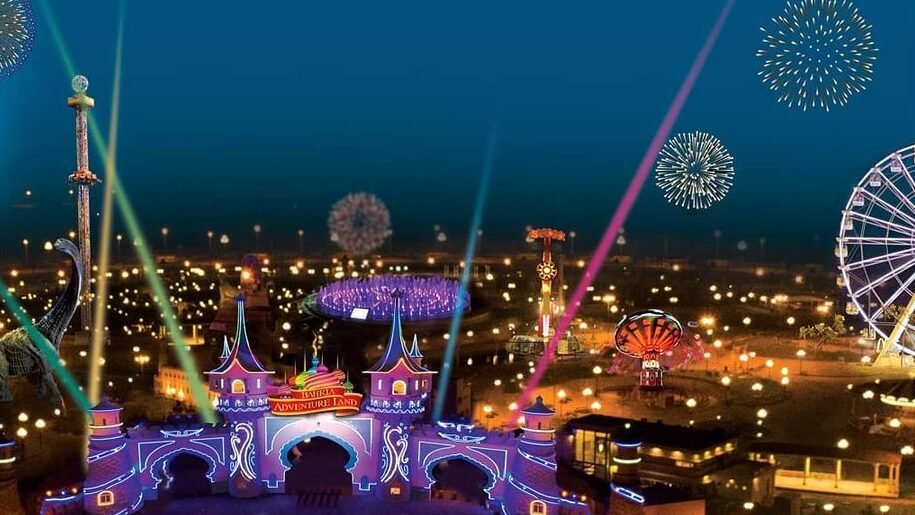 Bahria Adventure Land Theme Park is a complete picnic place with everything amusing from rides to food everything is available for visitors to enjoy. The park has been designed by Italians and is proudly standing amidst the most adventurous and fun-filled theme parks. Exciting rides including The Ferris Wheel, Roller Coasters, Twisty Trains, and Pirate Boats are enough to make that adrenaline rush. 
Bahria Adventure Land Theme Park also has multiple kid's rides, gaming zones, and some top-notch restaurants to dine in. 
Location
Jinnah Ave, Gadap Town, Karachi
Sindbad Amusement Park
Sindbad Amusement Park is a wonderland with lots of fun and amusement all in one place. It has uncountable rides for both adults and kids. Furthermore, Sindbad has a horror house, motion rides, and 4D cinema for extreme adventure and entertainment.
There are numerous stalls and shops to enjoy street food, popcorns, ice-creams, and other snacks to munch on. The food court is equally filled with a variety of food options to enjoy. Sindbad Amusement Park also has many shops and hosts multiple events too. 
Location
ST/G 29، Block 10 Gulshan-e-Iqbal, Karachi
Family Parks To Visit in Karachi
We have listed a few parks here but if you want to get a complete list of parks, visit our ultimate guide on best parks in Karachi.
Bagh Ibn e Qasim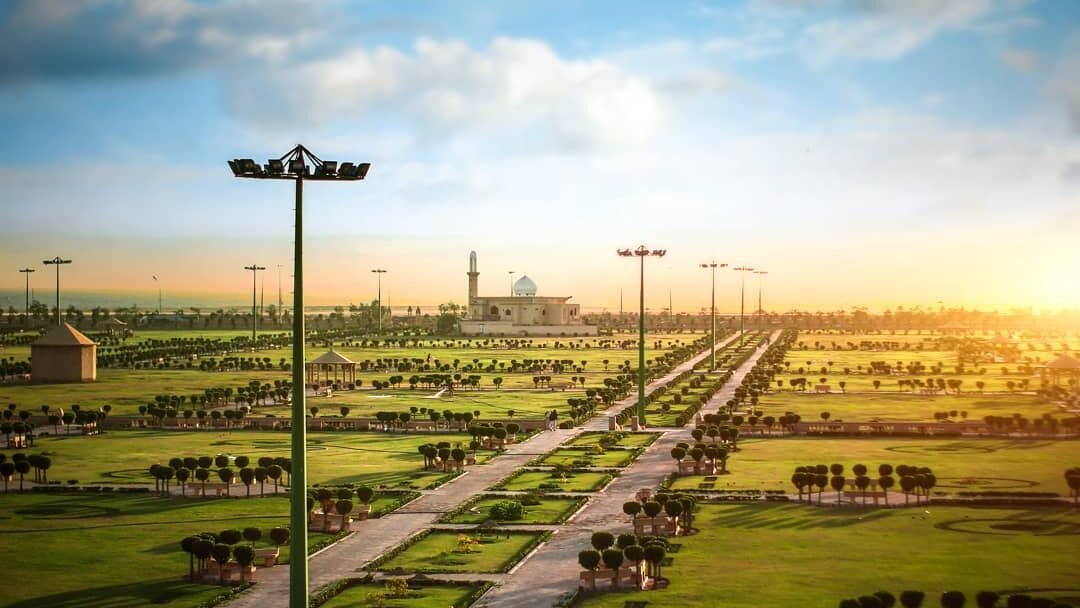 Bagh Ibn e Qasim is located along the coast of the Arabian Sea in a calm locality of Clifton. The park has an elongated walking and jogging track with many grass lawns. Bagh Ibn e Qasim also has 2 cultural heritage fountains. At its north is the Jahangir Kothari parade, Katrak Bandstand, and Lady Lloyd piers.
The park also has dinosaur fresco paintings, Rose Garden, Mosque, Port Fountain, and Turtle Pond. Sindh festival and other events are also held here. 
Location
Block 3 Clifton, Shahrah-e-firdousi، Road، Block 3 Clifton, Karachi
Seaview Park
Seaview Park is located at a posh location of DHA Karachi. The park has a wide and long walking and jogging track. Fountains and flower beds make it look more adorable and refreshing. It is a family park from where one can have a mesmerizing sight of the Arabian Sea Coast.
Seaview Park has separate children's areas with safe and playful swings and slides. Additionally, people also visit here to enjoy the different spring flower shows held here each year. 
Location
Q2WP+VRF, Defence V Defence Housing Authority, Karachi
Shaheed Benazir Bhutto Park
Shaheed Benazir Bhutto is a beautiful place to visit and it looks more adorable in the evenings. The entrance is embellished with flowers and fountains making it look already picturesque. The park has lush green lawns and sunflowers all around.
There are enough canopies and seating places available here followed by walking tracks and bridges. One can also catch a beautiful sight of the seaside from here. The parks look equally lively at night when the lights are all lit. 
Location
Boat Basin Branch, Shop # 40-43, Commercial Sub Plot # FL-7/C/4 of Plot # 7, Block No. 5, Boat Basin, Block 5 Clifton, Karachi
Sea Ports Areas To Visit in Karachi
Port Grand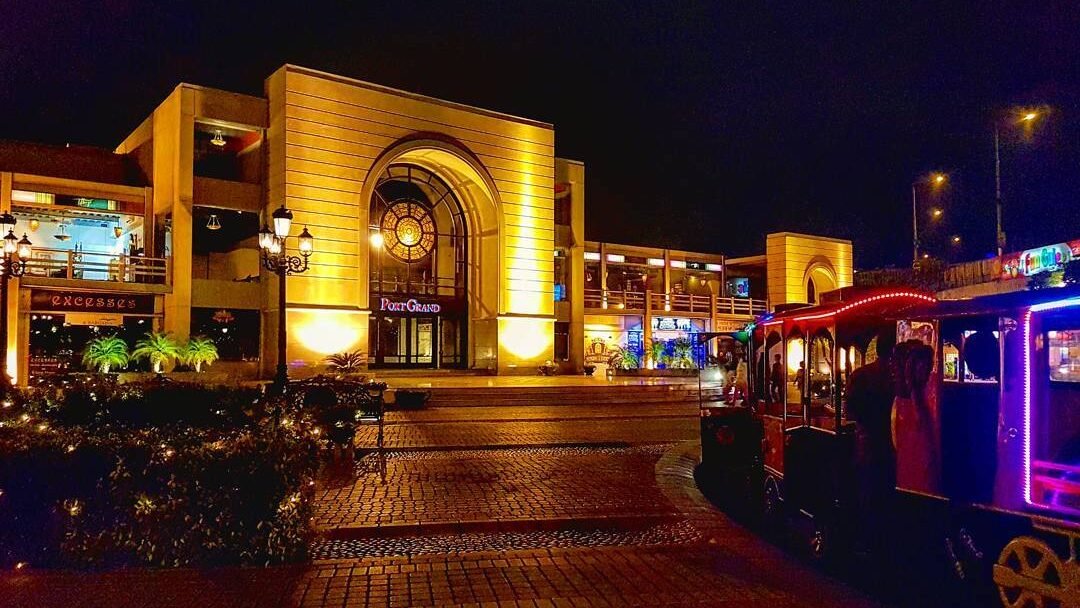 Port Grand is a luxurious and scenic place for dining, entertainment, shopping, and events. It is located on the bridge on the seaport having fine eateries and a mall. Port Grand has many stalls and shops for cultural, lifestyle, food, and drink items.
It is a perfect place to celebrate birthdays, and anniversaries and one of the classy restaurants by the sea. Speedboat rides are also available that take people to China Creek from where they can see Mangroves. 
Location
Road Opposite PNSC building، Port Grand Food St, Karachi
Port Bin Qasim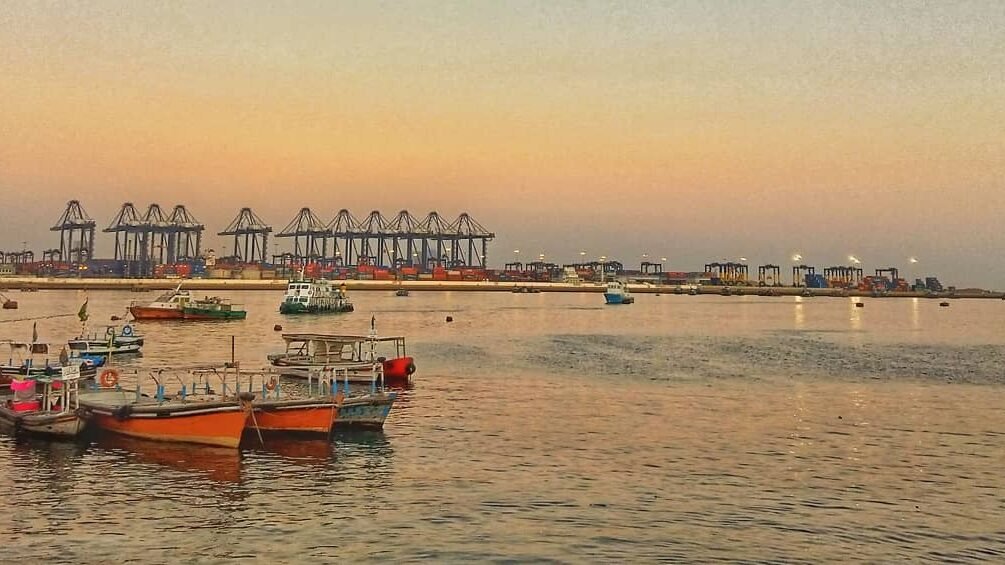 Port Bin Qasim is the second busiest deep-sea port of Karachi. It is of high significance and is equally secure too. Russian Beach is one of the beaches located near Port bin Qasim where there is sea on both of its sides.
The continuously rising water makes the visitors return before sunset. Boats can take one to the island located in the middle of the beach. It is a sandy beach where people enjoy visiting with family and friends for a picnic. 
Location
55 km from Karachi, Mazar Rd, Bin Qasim Town, Port Bin Qasim
Karachi Harbour
Karachi Harbour known as Port of Karachi is South Asia's largest deep-sea port. It is connected with the beaches of Kemari and Manora island. People book a ferry to get to Manora island which is the actual reason people visit here to enjoy this thrilling ride.
The place is famous for fisheries and the availability of deep-water marine species. Karachi Harbour is also linked with Napier Mole Bridge where Port Grand is located onto as well as Baba and Bhit Islands. 
Conclusion
Karachi the city of lights has so many places of amusement, entertainment, and unlimited fun. Thank you for reading this blog that unfolds 30 scenic places and picnic points to visit in Karachi. Have a look at our blog about the 20 best places to celebrate birthdays in Karachi to find cheerful locations in Karachi. Stay tuned to get more lively updates about Pakistan on this website.