Regarding landscape-rich places, Pakistan stands out on the list for its unparalleled, extraordinarily captivating, and breathtaking landscapes. Whether planning a solo adventure or visiting the enthralling mountain range, Skardu's Basho valley should be top on your list.
The word "basho" means "raisin" in the Balti language, as the valley is rich in grapes, from which they make raisins. With its extraordinary beauty, majestic snow-capped mountains, and pristine charm, the Basho valley, a hidden gem of Skardu, is one of the off-beat destinations for tourists.
Location Of Basho Valley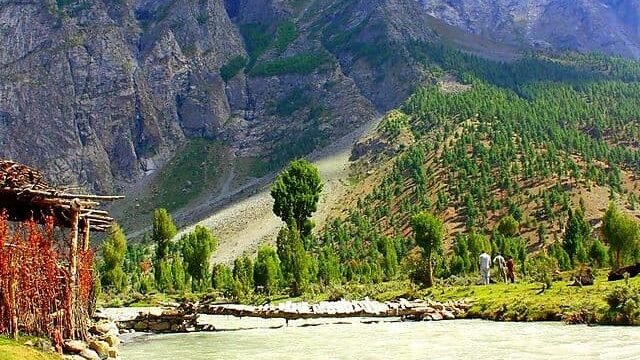 Basho is a beautiful scenic valley about 45km from Skardu and takes about an hour and a half to drive from the town.
The valley is about 8,800 feet above sea level and is covered with lush evergreen forests of pine, juniper, and other tree species, pastures, and bubbling and rippling streams, making it a piece of paradise.
How to reach Basho Valley?
To reach the Basho valley, you must take a long, winding road through mountains.
Via Karakoram Highway
The journey starts from the city of Skardu via Karakoram Highway. It is about three and a half hour drive.
The first two hours, is the journey along Karakoram Highway, which is in great condition. Kachura, Ayub Bridge, and Tshari come along the way.
Muddy & Sloppy Road
Once you reach the Basho Valley Bridge, cars won't be able to go to Basho Meadows, so you'll have to use local transport because 4×4 jeeps can only access it. You will drive along the muddy tracks for 1.5 hours of the trip.
The total length of this uneven and rugged road is 11 km. The bumpy road winds through villages, bumps, sharp turns, and numerous switchbacks before finally reaching the destination. Traveling along this road is a mixture of life's dangers and adventures.
Why should you visit the Basho Valley?
If you're looking for the reason for this "why" question, note that you don't even need a cause because this valley will demand your visit once you know what it has to offer. Once you reach Basho Valley, you won't believe what a fairyland you are in.
The unique features of Basho Valley that make it one of the best tourist destinations are its natural beauty, gifted by God, its fruits, towering hills, clear crystal water, vast forest habitats, and the unusual habitats of animals.
The valley is home to an abundance of rare and protected wildlife such as deer, Markhor, ibex, and snow leopards, making it a perfect destination for nature lovers. According to tourists, the beauty of the valley is indescribable.
Surroundings of Basho Valley
The Basho valley is surrounded by majestic mountains on three sides, the west B21 peak, the north Takh-i-Sulaiman peak, and the south Bruknuk mountain.
The area stands out from the whole region due to its vast pine forests and beautiful scenery. The valley is famous for its lush meadows and waterfalls. This picturesque and spectacular valley is a sight to behold.
Places to Visit at Basho Valley
Basho Meadows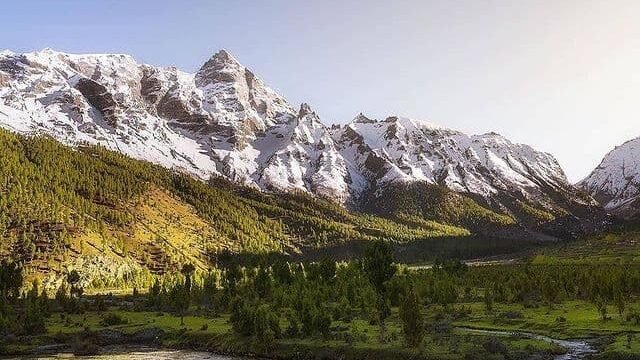 The road from Skardu to Basho meadows takes three and a half hours. It is one of the most beautiful places in town. These meadows are a verdant land and are a source of life for the Basho people to raise livestock.
In the Basho Valley, locals, take their cattle temporarily to this place during the summer. It is the lifeline of cattle, goats, and sheep. You can see the two highest mountain ranges in the world at Basho Meadows. These meadows are the perfect site for camping and bonfire.
Basho Waterfall
Besides the spectacular mountains and glaciers, this valley has stunning waterfall. Basho waterfall is near the entrance to Basho valley, adjacent to Chocolate rock, and is fall into the Indus River.
This waterfall is not natural, water is flowing from the hydel power plant falls off a cliff and looks like a waterfall,  it is the same concept as Mantokha waterfall. But it is still breathtakingly beautiful and overflows with incredible views and splitting voices.
Chocolate Rock Basho
Next to the bridge of Basho Valley, there is a rock that has very unique appearance, much like chocolate. And its name drives from its special chocolate-like appearance.
Most importantly, it glows in the sunlight like a large chocolate rock.
Basho Valley River
The Basho river which flows from the mountains, has very cold and pure water. You can't stay in the water for long because it's too cold. The river flows into several streams in valley before confluence at one point and falls into the Indus River.
There is a famous bridge made on the river that allows visitors to go on the other side. If you go upstream, you will see an ice cliff beneath a huge rock. Locals call this an ice clave.
Basho Forest
The Juniper forest is one of the few ancient forests in the region. Potatoes, cherries, apples, grapes, apricots, and other fruits are found in Gilgit-Baltistan. But if you want to see and taste it all in one place, Basho Forest is your go-to place. And what you can find in Basho valley cannot be found anywhere else.
Continue exploring the forests of Basho valley, and you can see the stream flowing through pine trees. And in addition, animal lovers also find wildlife here.
Things to do at Basho Valley
Whatever your interests, you will find things to do in the Basho Valley. So, come and enjoy all that this incredible place has to offer!
Camping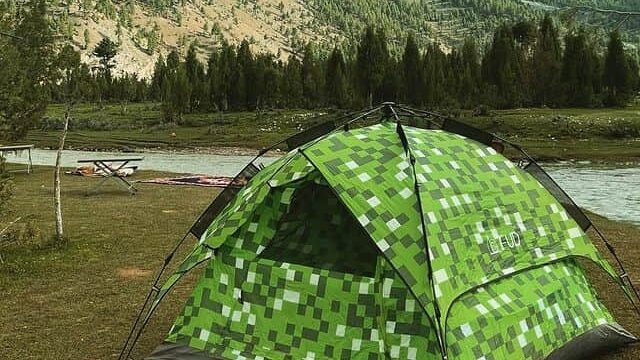 Camping is one of the great tourist activities in the valley, and Basho meadows offer excellent camping sites. One or two camps are also provided alongside the river.
Nothing compares to waking up in Basho Valley when you open your eyes and find yourself in a magical paradise valley. If you're planning on camping at Basho, it's best to bring all your gear, including your tent and sleeping bags.
Fishing
Trout fishing is available in the Basho River. So, if you want to enjoy fishing, find a secluded spot and spend the day there.
But don't forget to bring all your gear from Skardu city, because in the Basho valley there is no facility for these things and there are only a few small grocery stores.
Photography
If you are traveling towards Basho Valley, don't forget to bring your camera because you'll have to take lots of pictures, as its sights are picturesque.
Whether you're a professional photographer or an amateur, you are sure to be able to take some great pictures while in the valley because it has a lot to offer.
Trekking
Trekking is another activity you can do here. The hike will take you through man-made bridges and tall, lush trees. If you're looking for an adventure, consider Basho Valley the best point because the surrounding mountains offer excellent hiking opportunities.
With easy access and various hiking trails, the Basho Valley is an excellent destination for hikers of all levels. You can also hike to the top of the mountains for incredible views.
Kayaking
Water sports like Kayaking and rafting are great ways to enjoy at Basho Waterfall.
You can also enjoy games such as water balloon battles and water gun fights. Basho waterfall, an excellent place for picnics and outdoor activities, is surrounded by green meadows and hills.
Weather At Basho Valley
The weather in the Basho valley ranges from warm days to chilly evenings and nights and is slightly colder than in Skardu. For day trips, keep sweaters, shawls, and coats at night.
Temperature in Summer
The temperature ranges from 15 to 20 degrees Celsius, with rainfall for at least a week.
The summer in Basho Valley is just like heaven. So, immerse yourself in bliss and repair the stress damage to your soul in Basho Valley.
Temperature in Winter
The temperature in winter ranges from -15 degrees Celsius to -25 degrees Celsius. The Basho valley is in the rain shadow of the Himalayas. The average rainfall recorded here is between 100 and 200 mm.
During the peak season, the average temperature in the area can drop to -8 degrees Celsius. The peaks are covered with snow not only in winter but also in summer.
Places to Stay in Basho Valley
In Basho Valley, there are no such hotels with all the facilities. But you can stay there in the forest guest house. There are only two forest service guest houses that can be booked directly. However, water and electricity are still not available in these guesthouses.
So, if you plan to visit this valley, bring a blanket and flashlights. And as many tourists do, camping is allowed here, so be sure to bring sleeping bags if you plan to camp here. And a big yes for camping because there is no comparison between the hotel's view in the morning and the dawn at Basho Valley.
Explore the Basho Valley!
If you are looking for a place to take your breath away, then Basho Valley, a hidden gem of Skardu, is for you!
As it is still in its early stages, tourist facilities may not be the best, but once you are there, you will need to look around and pinch yourself to ensure you are awake because the beauty of this place is beyond words.
To explore more beauteous tourists in Pakistan, read our article on Shigar Valley, A dream tourist attraction in Skardu!