The Centaurus Mall in Islamabad is a shopping haven for all your needs. It is a one-stop destination that offers a wide range of shops and services. The mall has everything from clothing and accessories to food and entertainment.
With its convenient location and easy accessibility, this mall is the perfect place to shop, dine and relax. To get the most out of your visit, Centaurus Mall Guide is here to help.
This guide provides information on the best shops, amenities, and services, as well as tips on making the most of your shopping experience. Let's dive in and explore the Centaurus Mall!
Why is Centaurus Mall Islamabad Famous?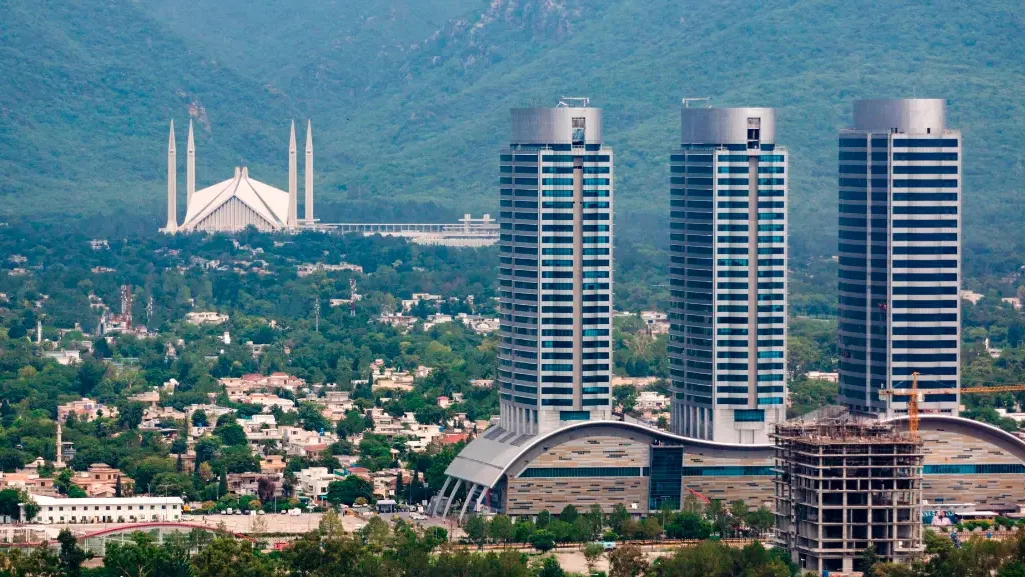 The Centaurus Mall is one of the most famous and luxurious malls in Islamabad, Pakistan. It is known for its unique cross-waved design, and three towering buildings joined together.
The mall was opened in 2013, and since then, it has been attracting visitors from all over the world with its high-end stores, mini stores, and a huge supermarket.
The supermarket at Centaurus Mall is the famous branch of the Al-Fatah chain, and it is a one-stop-shop for all your groceries needs. The mall also has a Fun land with rides and a food street where you can enjoy delicious food.
If you are looking for a luxurious shopping experience, then this mall is your place. Centaurus appears as a magnificent view from afar and is surely an attraction apart from being a retail enterprise.
Centaurus Mall Islamabad Location
The Centaurus Mall is located in the Blue Area, in Jinnah Avenue, F-8/4, Islamabad. It is easily accessible from all parts of the city and is a popular destination for both locals and tourists.
The famous Centaurus Mall metro station named PIMS station is also located nearby, making it even easier to reach the mall. From a distance of 2.5 kilometers, the mall can be seen in its full glory. The Margalla Hills give a beautiful backdrop to the mall as well.
Check it now, how far the mall is located from your place.
What to Expect When Visiting Centaurus Mall-A Shopping Haven?
When you first enter the mall, you will be greeted by a luxurious and modern atmosphere with several Centaurus mall outlets. The mall is spread over four floors, each with its unique purpose. Plus, the mall is centrally cooled and has abundant natural light, making it a pleasant place to shop.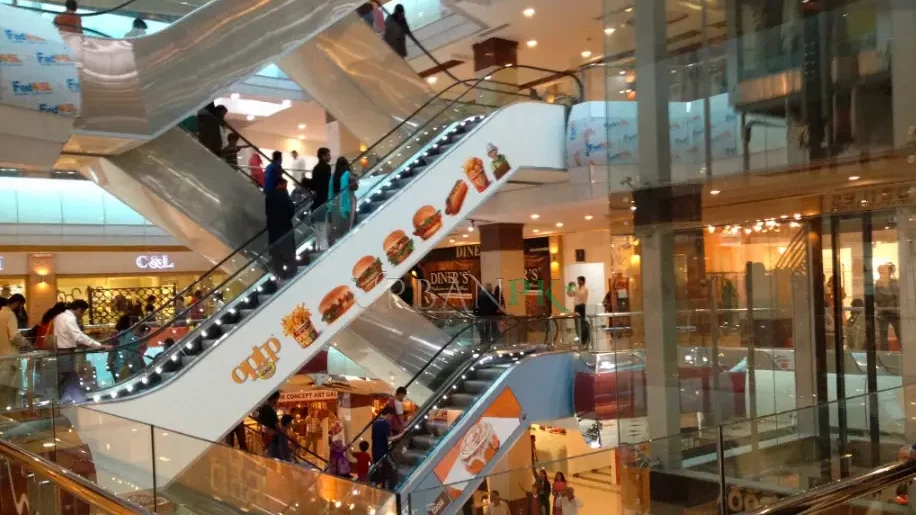 Ground Floor
The ground floor is home to the supermarket, which is the famous branch of the Al-Fatah chain. This is a one-stop-shop for all your groceries needs.
Moreover, here you'll find various International brands like Levi's, Logo Royale, Converse, Aldo, Studio Empoli, and much more. Even Cinnabon and Baskin Robbin's ice-cream parlor is situated on the ground floor.
First Floor
The first floor is dedicated to women's fashion and has stores like  Mantra, Hang ten, Baby Shop, Mango, Adidas, Edenrobe, Nike, Reebok, Puma, and many more.
Moreover, you can also find famous Pakistani designer's like Bareeze, Bonanza Satrangi, Sapphire, and Nishat linen, to name a few.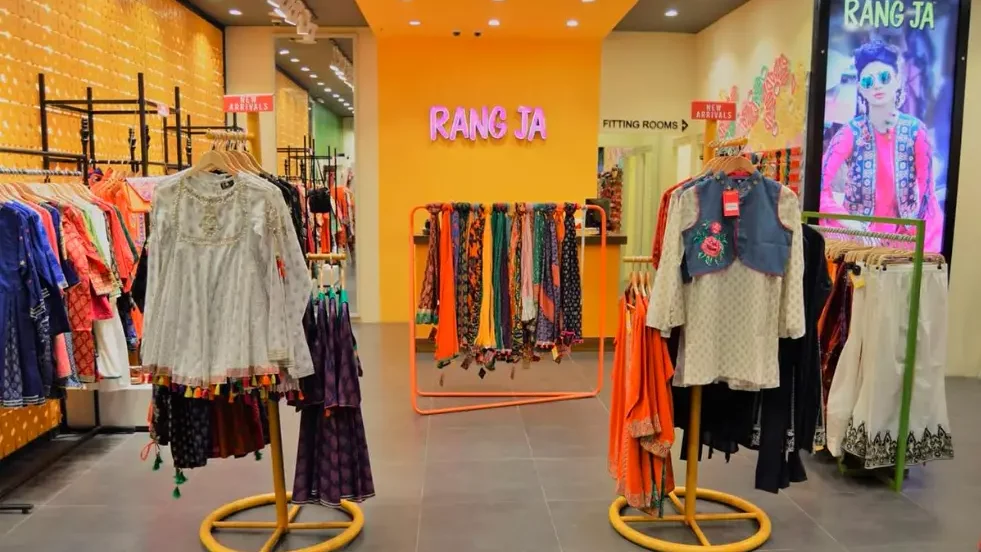 Second Floor
The second floor is male-dominated and consists of stores like Cougar, Royal Tag, ONE, Equator, Charcoal, J., Oxygen, Uniworth, etc. Plus, some famous Pakistani women wear brands like Rang Ja, Batik, Keyseria, Zeen, and Dhanak, are also there.
Plus, If your wallet becomes empty, then worry not, as the ATMs of Habib Bank Limited and Allied Bank limited are also situated on this floor.
Third Floor
The rest of the floors are a combination of cafes, restaurants like Chaye Khana, Khurdan restaurant, Gloria Jeans, and LA Terrazza, the best rooftop restaurant in Islamabad.
There are also a few other apparel shops, Centaurus Mall shoes shops, Jewelry shops, and books exhibitions going on. The best one is one dollar shop in Centaurus mall for all the budget-friendly shoppers.
Fourth Floor
Tired of all the shopping? Take a break and head over to the fourth floor, where you can find a food court with various famous food chains like McDonald's, Hardees, Monal, Subway, KFC, Pizza Hut, Ginyaki, and China Grill, and much more.
The food court has a wide variety of cuisines to choose from. There is also a cineplex for full family entertainment. There is a fun city for children to enjoy different rides.
Centaurus Mall Islamabad-Hub of Various Events
The Centaurus Mall is not only a shopping haven but also a hub of various events. Throughout the year, the mall organizes different events Furniture Expo, Christmas, Animal Welfare Activity, Artizans, Airforce Day, 12 Rabi-Ul-Awal Exhibition, Animal Welfare Activity, and much more.
Even celebrities from all over Pakistan come to the mall for promotional events. So, if you're lucky, you might just spot your favorite celebrity at the Centaurus Mall.
Various Facilities At the Centaurus Mall
Entrance Gates 
There are two main entrance gates of the Centaurus Mall. The west gate is located on the main Nizam Ud Din road, and on the other side, the east gate is located on the Expressway. Both the entrances are accessible and have ample parking space.
Centaurus Mall Parking Lot
The Centaurus Mall has its own underground parking, which is adequate for the needs of the mall. The parking lot is located on the basement level and is reserved for families.
It is accessible from both the west and east gates of the mall. The underground entrance is meant for families or the residents living up there.
The area in front of the building is also for parking and is available for those who want to park their cars and walk into the mall. In parking areas, you also have to pay a nominal fee of RS 30 or maybe less.
Security Check
All bags are checked at the entrance by the security guards, and no one is allowed to take in any kind of weapon.
The security at the mall is tight, and you will see guards at every corner of the mall. CCTV cameras are also installed at various places to ensure the safety of the shoppers.
Lifts & Escalators
The Centaurus Mall has a total of 12 lifts, which are located at various places in the mall. There are also escalators that connect the different floors of the mall. The lifts and escalators are well-maintained and are in good working condition.
Wifi at Centaurus Mall Islamabad
The mall has its own free wifi service, which you can use to stay connected while you are shopping. The wifi is available throughout the mall, and you can connect to it by using your mobile phone.
ATMs at Centaurus Mall
Several ATMs are located in the mall, so you will not have to worry about running out of cash. The ATMs are located on the second floor, for your convenience.
Restrooms at Centaurus Mall
The restrooms at the Centaurus Mall are clean and well-maintained. They are located on the fourth floor, and you will find them to be spacious and clean. Moreover, the staff is always there to help you if you need anything.
Insights of the Centaurus Mall in Islamabad
The Centaurus Mall is a shopping haven for Islamabad residents and visitors alike. It is made up of three skyscrapers, each with its own unique purpose.
The mall was inaugurated on 21st February 2013 by Sardar Yasir Ilyas and is now one of the most popular tourist destinations in Islamabad. It was designed by British architect WS Atkins and construction cost an estimated Rs 15 billion.
The total Centaurus Mall area is approximately 283,140 Square Feet. The 36-storey Centaurus Mall hotel is perfect for those looking for a luxurious stay in the city, while the three 23-storey Centaurus mall apartments (residential) and office towers are ideal for those who want to live or work in the heart of Islamabad.
This is because it provides commercial activities to more than 200 international and national businesses. The four-story shopping mall is a shopper's paradise, with everything from high-end fashion stores to local boutiques and everything in between.
Nearest Places To Visit From Centaurus Mall Islamabad
There are several significant places located near the Centaurus Mall. Some of these places are:
The Pakistan Monument: It is a beautiful monument that has been built to commemorate the Pakistan Movement. It also has a museum with a collection of artifacts from that time.
The Lok Virsa Museum: Here, you can learn about the culture and heritage of Pakistan. Moreover, the museum also has several exhibits that you can enjoy.
The Faisal Mosque is one of the largest mosques in Pakistan and is definitely worth visiting. Plus, it has a stunning view of the city.
Shakarparian National Park: It is a great place to visit if you want to escape the hustle and bustle of the city. The park has a number of hiking trails that you can explore.
Rawal Lake: It is a beautiful lake located in the heart of Islamabad. You can go for a walk around the lake or enjoy a boat ride.
Daman-e-Koh: It is a popular tourist spot located on a hilltop in Islamabad. From here, you can get a breathtaking view of the city.
Pims Hospital: To get the best medical care in Islamabad, you can visit the Pakistan Institute of Medical Sciences. This is a famous hospital in the city and is known for its excellent services.
Things to Keep in Mind When Visiting Centaurus Mall
The Centaurus Mall is one of the most popular tourist destinations in Islamabad, so be prepared for large crowds.
The mall is spread over four floors, so wear comfortable shoes as you will be doing a lot of walking.
Centaurus Mall opening hours are 10:00 am to 09:00 pm, so plan your visit accordingly.
To avoid the crowds, visit the mall on weekdays instead of weekends.
If you are looking for a particular store, check the Centaurus Mall brand list or directory before heading to the mall.
The parking area is large but can get packed during peak hours. So, if possible, take public transport or a careem.
Wrap It Up!
This one-stop-shop is a complete package for a fun day out with family and friends. With a variety of shops, restaurants, cafes, and entertainment options, Centaurus Mall is the perfect place to spend a day.
Plus, the security and facilities are top-notch so you can shop without any worries. Even people come here from different cities and areas to enjoy a day of shopping. Plan your visit to Centaurus Mall today and enjoy a shopping experience like never before!