There's something special about dining atop a skyscraper or enjoying a cup of coffee with a bird's eye view of the city. Rooftop restaurants and cafe in Islamabad have become increasingly popular in recent years.
With its stunning views and laid-back atmosphere, the Pakistani capital is home to some of the best rooftop eateries and cafes in the country.
From romantic candlelit dinners to fun family outings, these eateries offer great food and an even better view, and with panoramic views of the cityscape, you're sure to fall in love with Islamabad all over again.
Here we offer the best Islamabad rooftop restaurants and cafes to help you make the most of your dining experience. Let's slide in!
12 Best Rooftop restaurants and Cafe in Islamabad
Islamabad is not only the capital of Pakistan but also a hub of activity and nightlife. Rooftop or buffet restaurants have become popular among locals and tourists alike. Here are 10 of the best Open-Air Restaurants and cafes in Islamabad.
Ramada Rooftop Barbecue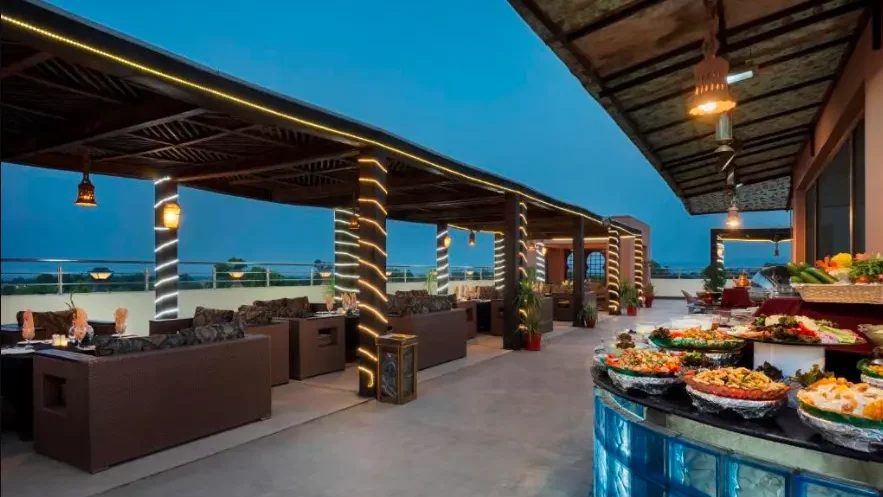 Ramada by Wyndham is an upscale hotel in the heart of Islamabad (at Club Road Adjacent RawalLake, Shakar Parian). BBQ rooftop offers stunning views of the Faisal Mosque and Margalla Hills from its top-floor location in a bustling city.
For a romantic dinner with your loved one or an evening out with friends, the rooftop of the hotel is ideal. Among the options on the menu is a buffet with live BBQ stations and classic BBQ favorites such as ribs, chicken, and sausage.
Vegetarian options are also available. The roof deck is also a great place to enjoy a few drinks while watching the sunset. These factors have added this place to the list of renowned restaurants.
Skydine Revolving Rooftop Restaurant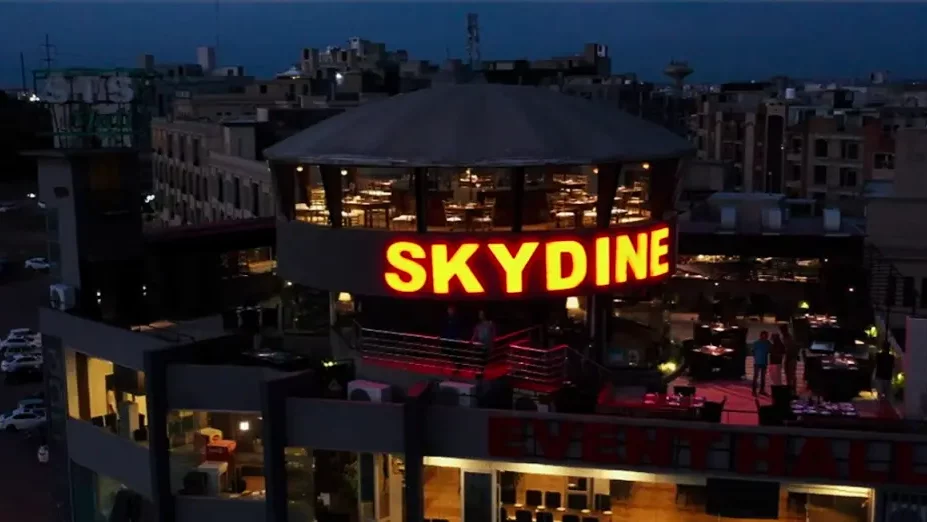 This is the only best rooftop restaurant in Islamabad that offers panoramic views of the cityscape and a scrumptious menu. Skydine Revolving Restaurant is located at STS Mall, Civic Center Bahria Town, and has absolutely amazing service.
The unique revolving top floor gives a 360° view of the whole city, making it a perfect spot for an intimate dinner or a special occasion. Their talented chefs specialize in various cuisines, from Chinese and Continental to Pakistani.
And of course, their specialties like Mughlai Platters, Flamed Grill Beef, and Charcoal Chicken are not to be missed. So come on up and see what all the fuss is about. We promise you won't be disappointed.
Tuscany Courtyard
The famous Kohsar market in Islamabad has an amazing Italian restaurant called Tuscany Courtyard, where you can enjoy some delicious Italian fare. 
This is one of the wonderful restaurants with outdoor seating in Islamabad, with a lovely rooftop patio overlooking the Margalla Hills, which is splendid.
The food is definitely worth trying, with some of the highlights being the Grilled Chicken Caesar Salad and the Beef Carpaccio. The pasta dishes are also excellent, ranging from Spicy Fettuccine to Penne Arrabiata.
If you're in the mood for something a little heartier, the steaks are definitely worth checking out. The Szechuan prawns and the Prawns in garlic sauce are also delicious.
La Terrazza
Our list of rooftop restaurants and cafe in Islamabad also adds La Terrazza as it is a top choice of foodies. On the 3rd level of Centaurus mall, this eatery is located.
There is an open-air terrace dining area that overlooks the Hills of Margalla, the Faisal Mosque, and many other remarkable landmarks in Islamabad.
You can enjoy a delectable Italian menu here. This restaurant is one of the finest places to visit because of its comfy ambiance and relaxed seating arrangements.
After shopping at Centaurus, customers can come to the 3rd floor and fill up their tummies with their famous eateries such as soups, burgers, sandwiches, chicken, fish, and steaks. Don't forget to check out La Terrazza reviews.
Yum Chinese and Thai Restaurant
Are you finding a perfect Open-Air Restaurant in Islamabad? Here comes the Yum Chinese & Thai restaurant if you want to dine on the rooftop with a gorgeous view. On top of the English Tea House in Islamabad's F-7 Markaz is this rooftop restaurant.
With a cityscape view, it's the perfect place for families and friends to gather and enjoy a meal. The menu includes soups, dumplings, seafood, and main courses from both Chinese and Thai cuisine.
The food is fresh and made to order using only the finest ingredients available. The atmosphere is warm and welcoming, and the staff is helpful and courteous.
Despite the high quality of food and experience, the prices on the menu are very reasonable. There are also many other scrumptious Chinese restaurants in Isloo.
Havana Terraces
Havana Terraces, the rooftop restaurant Islamabad e11 on the 5th floor of the Grand Islamabad Hotel, offers a truly unique dining experience.
With stunning views of the cityscape and an extensive menu comprised of BBQ, Arabian, Turkish and Lebanese cuisine, Havana Terraces is the perfect place to enjoy an intimate meal or a lavish feast.
The restaurant's signature dishes include Turkish pizza, beef mandi, and BBQ platters, all of which are prepared to perfection and sure to tantalize your taste buds.
The relaxed and chic ambiance of the restaurant makes it the perfect place to unwind after a long day or to celebrate a special occasion with family and friends.
Cafe Chaiwala
If you're looking for an authentic, traditional chai experience, visit Arshad Chaiwala rooftop Cafe. The cafe is owned by this famous social media star who shot to fame after his picture went viral on the internet with his small tea stall.
His latest venture is the Chaiwala cafe with a rooftop setting at the famous supermarket of f6 Markaz. This place is marvelous to enjoy Islamabad's beautiful weather with having a cup of delectable tea and snacks.
You will definitely love how the string lights look at night and create a cozy traditional vibe. The cafe offers beverages and snacks made from traditional and artisanal ingredients.
You can even celebrate small events with reasonable packages. Take a stroll over to Chai Wala for a cup of tea and meet with the blue-eyed chaiwala himself. 
Eatly Rooftop
To enjoy the breathtaking views of Islamabad, visit Eatly Rooftop Islamabad. Perched atop the Sharoon plaza, f7. This best rooftop restaurant in Islamabad offers stunning panoramas of the surrounding metropolis.
Sip on a refreshing slush while taking in the scenery of the great Margalla hills. Their rooftop is just amazing with the white furnishing, and the overall look and feel of the place are just wow.
They offer a menu featuring continental, Italian, and Pakistani cuisine, and their must-try items are juicy steaks and big burgers.
Hi Sky Rooftop Restaurant & Cafe
The Hi sky rooftop Restaurant & cafe in Islamabad E11 is a great place to enjoy romantic seating under the shade and overlooking the beautiful sky while enjoying some delicious food.
The menu features specialties like Moroccan chicken and tarragon chicken, as well as Continental, Chinese cuisine, and live BBQ on demand.
This Open-Air restaurant and cafe also offer discounts and deals on its food and drinks, making it a great place to save some money while enjoying a meal with a view.
The rooftop atmosphere is perfect for a night out with friends or a romantic dinner for two, and the food is sure to please everyone. So come on up to the Hi sky rooftop cafe and enjoy a meal with a view.
Atrio Cafe and Grill
This place offers a unique rooftop cafe experience with a terrace covered in a small marquee for those who want to enjoy the great outdoors while still being protected from the harsh weather.
One can order from a great menu that includes BBQ grill items, biryani, soups, salads, steaks, pasta, and desserts. Don't forget to get a taste of the delicious fusion of Desi and Continental Cuisines, and try their Moroccan Chicken Handi.
The best part about Atrio Cafe & Grill is the amazing rooftop ambiance, including the tantalizing aroma of freshly grilled food. Sit back, relax and enjoy the view of Islamabad while sipping on your favorite cold or hot beverage.
Monal Islamabad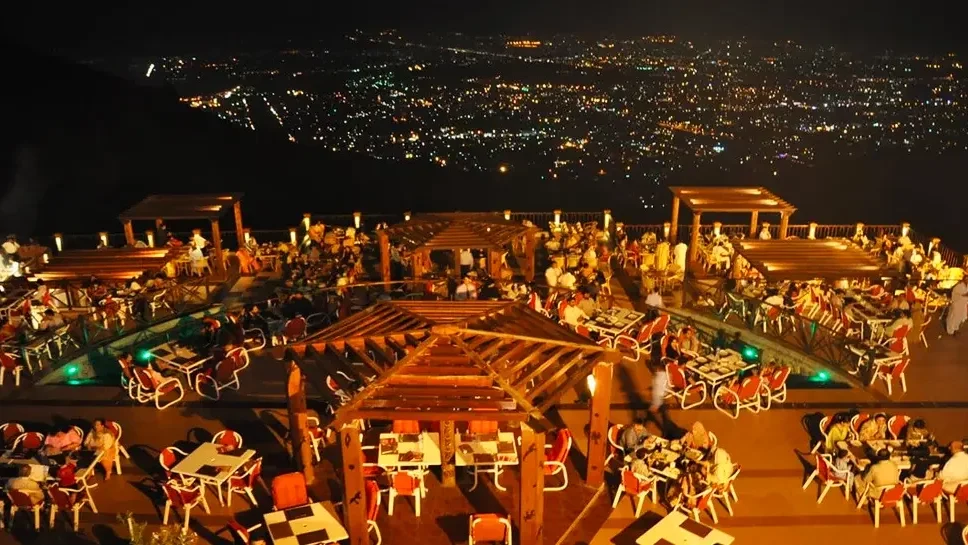 This restaurant is a great choice for those who want to enjoy a meal with a beautiful view of Islamabad and Margalla hills from its rooftop. The establishment offers a variety of continental and Pakistani meals, as well as live music performances.
On special occasions, such as Christmas and New Year's Eve, the restaurant also holds musical events. The Monal restaurant is located atop the Potohar summit and prides itself on serving authentic Pakistani food.
Guests can enjoy a variety of kebabs, brain masala, and other traditional dishes. The views from its terraces are truly breathtaking, making it a perfect spot to admire Islamabad's lights at night.
Malangi Restaurant
Malangi is a one-of-a-kind rooftop restaurant in Islamabad, Pakistan, that offers an unforgettable dining experience. Located on the rooftop of tiny humans, Main Commercial DHA.
This restaurant provides breathtaking views of the cityscape while serving up mouthwatering BBQ, big burgers, biryani, and fire handis. The shah baba platter is a must-try for any visitor to the restaurant.
But what really makes Malangi special is its rooftop with traditional Pakistani vibes and the authentic taste of Pakistan cuisine. Visitors can also enjoy live music sessions while enjoying the delicious food and stunning views.
Ending Note
Now it's definitely confirmed that Rooftop Restaurants and Cafes are the best places to dine in Islamabad, with a perfect view to feast your eyes on. Moreover, the lovely weather of Islamabad makes it the best place to sit back, relax and enjoy a meal with loved ones.
These restaurants offer not only great food but also an experience to remember. So, next time you're in Islamabad, make sure to check out one of these amazing open-air Restaurants and Cafes.