Malam Jabba being an amazing tourist site is also packed with places where one can stay during his tour. It is equally important to choose a comfortable and secure place with all the basic necessities for a good stay. However if your are planning a tour to swat then do not forget to visit our guide on top places to visit in Swat, Pakistan.
Through this list of the 10 best hotels to stay in Malam Jabba, you can discover such places. Wait no more and explore the ways they can make you feel at home with their services and accommodations.
Pearl Continental Hotel 
Located amidst the green forests and gigantic mountains, Pearl Continental Malam Jabba is suitable for a vacation. One can have a view of the majestic Hindukush mountain range from its balconies.
The state-of-the-art amenities and hospitable services make this place preferable for both business and family stays. However if you are on day trip to Malam Jabba then do not forget to check our list on best restaurants in Malam Jabba and PC is top of them.

Mountain View Malam Jabba
With more than 200 well-furnished rooms, Mountain View Resort stands amidst the best 3-star hotels in Malam Jabba. All the basic amenities with quick and friendly services are provided to the guests here.
The best part is that the Skiing resort, Zipline, and Chairlift have located just a walking distance from this place.
Samsons Inn
Samsons Inn located in the middle of the lush green fields of Malam Jabba is a three-star budget-friendly place to stay in Malam Jabba.
It is equipped with the finest amenities in all its single-bed, double bed, and luxury rooms. The location is easily feasible for traveling to the best places to visit in Swat.

Al-Sadiq Hotel and Restaurant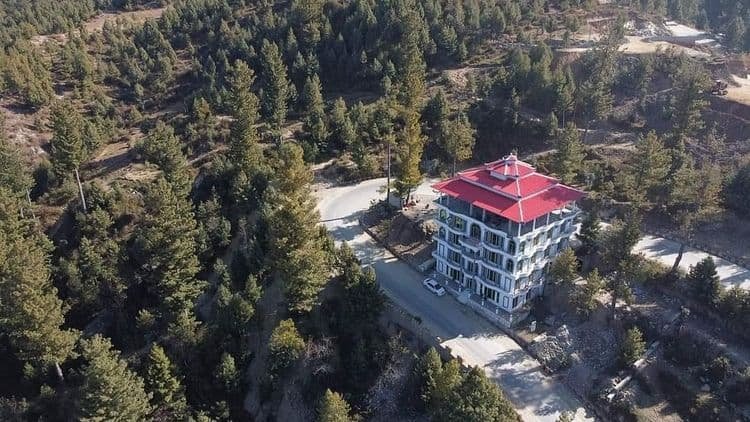 If you want a place not just good for staying but will also help you explore Malam Jabba and places nearby, visit Al Sadiq Hotel and Restaurant.
All of its rooms have a balcony from where one can have the garden. Furthermore, you can also enjoy the piping hot Asian, Chinese, Continental food varieties.
Hotel Eagle Nest
Eagle's Nest Hotel is a marvel of luxury and comfort located in Malam Jabba. It has a restaurant to serve the guests flavorful freshly cooked food.
Furthermore, one can get a lively sight of the surroundings from the terrace attached to almost all of its bedrooms. Free parking and hospitable services are the other reasons tourists prefer this place.
Frontier Tower Hotel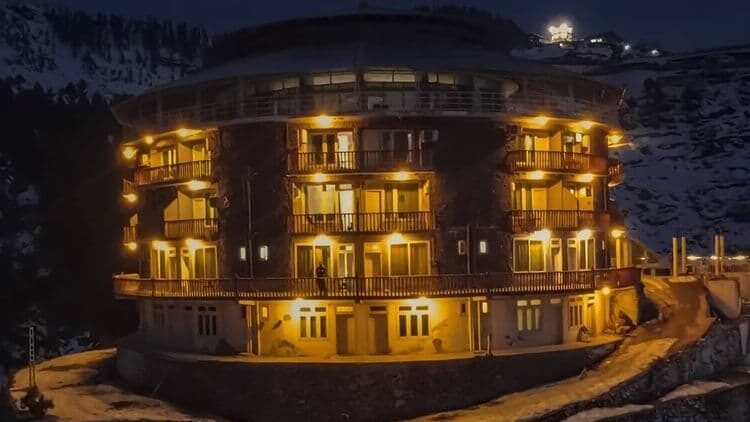 Built-in the shape of a Colosseum, Frontier Tower Hotel is a luxurious hotel located in Malam Jabba. One can get an idea of its serene environment just upon entering this property. The place offers the best facilities to make you feel at home.
You can avail of from here the best laundry services, breakfast and other meals with ala carte and buffet options, etc. You could even try the famous foods of Swat as well.
Green Palace Guest House
Green Palace guest house offers its guests a complete package of comfort while spending their time in Malam Jabba. It has 16 bedrooms all having basic amenities and room service facilities.
The property ensures hygiene and a family-friendly environment having a no smoking policy.
Crown Palace Hotel and Restaurant
With a facility of garden, free parking, and beautiful sights, Crown Palace Hotel makes your stay worthwhile. Each of its rooms has a balcony from which you can take in the beauty of Malam Jabba.
Apart from having its own restaurant the hotel also offers 24/7 room service to its guests.
Hotel Hill Palace
Hotel Hill Palace is located just at a distance of 19 kilometers which makes it accessible from all the major points in Swat.
It is always welcoming its guests to stay in a peaceful atmosphere with warm treatment. One can plan to stay comfortably in its cozy and affordable rooms with all the necessary accommodations.
Rmassa Hotel
Rmassa hotel has 18 rooms accommodation in a smoke-free and hygienic environment. Though the staff is available every time to serve the guests, one can also request housekeeping.
One can spend a lively time here while enjoying the view of Malam Jabba hills surrounding the place.
Conclusion
Being a fairyland in Swat, Malam Jabba is visited by many tourists every year. There are multiple hotels to stay at out of which we have picked the 10 best places to stay in Malam Jabba for you.
Thank you for reading this article, read our guide on Malam Jabba to explore more about it.