Swat is a mini Switzerland of the East that people from across the globe like to visit and stay at. To make this stay in Swat comfortable you need to find a place both convenient and worthwhile to invest in. In this article we have enlisted the 14 Best Places to Stay in Swat, to make your tour cherishable and memorable.
Wait no more and check them out if you are planning a visit to Swat or any of its nearby places. 
Burj Al Swat
An exceptionally luxurious hotel in Swat, with state-of-the-art facilities and 24-hour hospitable services. Burj Al Swat is chosen by the tourists due to its lavish accommodations and exclusive packages for everyone.
One can stay in their honeymoon suite, executive suite, and family suite while having the facility of a dining area, swimming pool, and much more.
Hotel Hilton Palace
Explore the beauty of Swat and encapsulate the heavenly sights of Hotel Hilton Palace's surroundings. The accommodation includes comfy triple rooms, master bedrooms, and twin shared room options with all the amenities.
The plus point is that you can reserve any of their Standard, Deluxe room, VIP room, Family, or Presidential Suites online.
Swat Palace and Restaurant
Swat Palace and Restaurant are located at the Beachfront in Mam Derai presenting a matchless sight to its surroundings. Each of its rooms has an attached balcony from where one can spectate the serene lake view.
The entire property is well-equipped with the best amenities and the staff is always ready to serve their guests making it one of the ideal hotels in Swat.
Hotels in Bahrain
Kohistan Continental Hotel
Kohistan Continental has more than 70 accommodating smoke-free hygienic rooms to welcome you. It is located in one of the busiest and most convenient places situated in Bahrain Swat.
One can be served with the meals if asked and could also rent a car to travel to nearby places in Swat. The environment and the services make it counted as one of the best hotels in Swat.
Bahrain Continental Hotel
Located just a 64-minute drive from Gabin Jabba, Bahrain Continental Hotel is a complete package of reliable accommodation. The place is located near approximately all the famous tourist places in Swat. The calm atmosphere of the place and the view of the gushing Swat River makes it appreciable.
The other facilities include a garden, a separate seating area, and balconies that make it one of the most preferred places to stay in Swat.
Hotels in Malam Jabba
Pearl Continental Hotel Malam Jabba
The grandeur and comfort provided to guests here at Pearl Continental Hotel Malam Jabba are incomparable. Located in the midst of the Hindukush mountain range and surrounded by alpine trees makes the scenes look majestic from here. A trip is incomplete without enjoying the delicious food of that area. These hotels allow you to try the fresh famous foods of Swat.
This hotel is a perfect place to spend your days while enjoying being in the scenic valley of Malam Jabba.
Samson Malam Jabba Skiing Resort and Hotel
Samson Malam Jabba is a famous skiing resort and a five-star hotel in Swat that hosts innumerable visitors every year, especially during winter.
One can appreciate here the adventurous and thrilling winter sports and competitions organized by local people and the public authority for vacationers from across the globe. The hotel further has the facility of a restaurant and luxurious rooms to rest in.
Hotels in Saidu Sharif
Swat View Hotel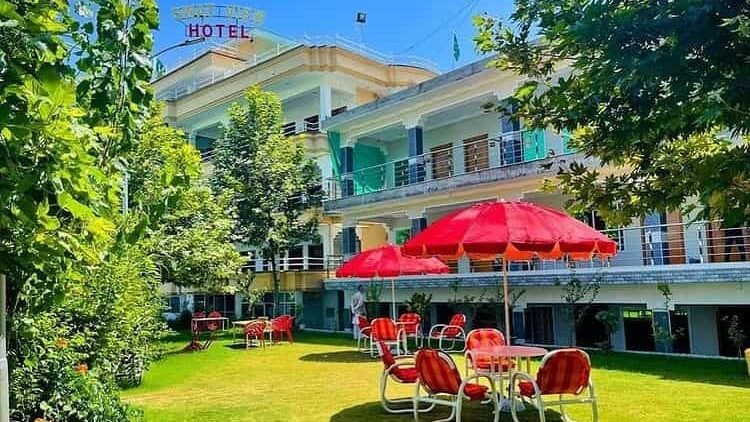 Experience the exuberance encircled around Swat View Hotel located by the river of Swat at a picturesque location of Mingora. One can enjoy the stay in any of its Honeymoon Suites, Executive Suites, and Standard Suites remarkably accommodating with all facilities.
Moreover, do not miss out to enjoy the exotic meals served in their Do Darya restaurant. 
Swat Serena Hotel
Swat Serena Hotel is a serene place to spend the liveliest time in Saidu Sharif, Swat. The guests are welcomed here to stay in well-equipped and well-managed rooms with lavish amenities.
Not just that, the property also owns a tennis court, garden, swimming pool, and restaurant. You can easily book a room here online if you are planning to visit Swat anytime sooner. 
Hotels in Fizagat
Hotel Park Way
Hotel Park Way is located in the beautiful Fizagat valley with lush green plains and flower-laden meadows. The hotel provides 24-hour services with free WiFi and free-of-cost parking.
One can also avail of from here the airport shuttle service that is too charge less. 
Grand Holidays Hotel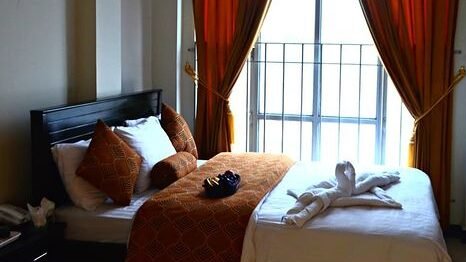 Grand Holidays hotel offers plenty of services and the finest accommodating facilities to its guests at an affordable price. Among all that they have to offer is the facility of a restaurant too where one can also enjoy freshly cooked Asian breakfast.
The spacious rooms with a minimalistic theme provide home-like vibes to the guests.
The Rose Palace
The Rose Palace is located in a calm vicinity of Fizagat Valley in Swat is one of the best places to stay in Swat. The accommodations they offer included 24/7 room service, housekeeping facilities, parking, and free internet.
One can also have all-day meals served fresh in the restaurant here. 
Hotels in Mingora
Blue Diamond Hotel and Restaurant
Contemporary living standards, well-embellished rooms, and a family-friendly environment make Blue Diamond Hotel and restaurant preferable.
The restaurant serves a variety of items including a buffet option. Among all the other facilities of this hotel, the unique one is that each of its rooms has tea and coffee makers installed for its guests.
Lake View Hotel
Are you in search of a relaxing place to stay in Swat? Then Lake View Hotel might be the best option. It is located at a wonderful location in Mingora Swat from where one can have a lively lake view and other surroundings.
The ambiance and warmth of this place as well as the treatment by its staff are enough to make one feel at home. 
Conclusion
Tourists are always in search of places where they can stay comfortably and get enough facilities to enjoy their tour. Anyone planning to visit Sway anytime soon must give a visit to any of these 14 best places to stay in Swat. To get to know about more of these options in Malam Jabba, visit our article on the 10 best hotels to stay in Malam Jabba.