Museums are historical places and buildings which contain the ancient objects of scientists, artists, aircraft, culture, etc. These buildings are really helpful for the all age people to come to know about the history of past ages, Each Museum in Karachi have its own fascinating features that attract the attention of the viewers.
Many people come with their families to visit these historical places and learn a lot from them. Museums are affordable places to visit and spend the holidays, these museums not only fascinate you but also increase your general knowledge about geography. The top Fascinating Museums in Karachi to Visit are under discussion.
Mohatta Palace Museum
The topmost ancient Museum in Karachi is Mohatta Palace which was built in 1927 before the invention of Pakistan. The doors were opened in1999 for the public.
It is full of fine arts and reflects the tradition with the help of wood, stone, cloth, paper, and clay. It contains more than 30 exhibitions for visitors.
Features
It contains scientific exhibitions
The ancient clothing of Subcontinent people
Museology Events
Rare Maps and Prints
The Art of Gandhara
Stone art
Timings
The timings of Mohatta Palace Museum is 11 am to 6 pm
Tickets
Its entry ticket is Rs. 30 for all
Location
7 Hatim Alvi Road, Old Clifton, Block 5, Karachi
Quaide Azam House Museum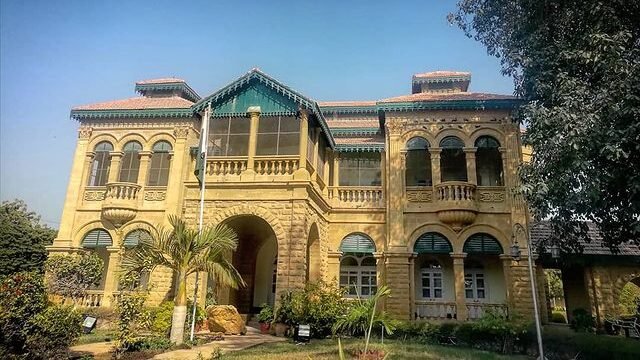 This Museum is named after Pakistan's founder. It contains all the stuff related to Quaid-e-Azam so people would learn which type of life he spent.
Tourists also come here to observe things related to Pakistani history. You can also plan a trip to visit here and learn about the founder of Pakistan.  
Features
Quaid-e-Azam Bedroom setup
Stuff related to her sister Fatima Ali Jinnah
A small library containing books about Quaid-e-Azam
Reading room, side table, and telephone
Timings
It is open from 9 am till 4 pm
Tickets
The entry is free for public
Location
Fatima Jinnah Road, Karachi Cantonment, Karachi
PAF Museum
PAF stands for Pakistan's Air Force and was built after the 1965 war. It represents the history of Shuhada and Heros who lost their lives for the country.
Photographs and paintings are reflections of PAF history. It is one of the best visiting spots in Karachi for families. It lightens up your thoughts about the sacrifice. 
Features
Ancient plane
Painting of 1965 War
Pictures of the Pakistani Army
Weapons
Quaid-e-Azam aircrafts 
Paper tickets 
Timings
PAF Museum is open from 9 am to 9 pm but it can vary on Friday.
Tickets
The entry ticket is Rs. 40 for all locals. 
Location
 PAF Base, Main Shahrah-e-Faisal Road, Karachi
National Museum of Pakistan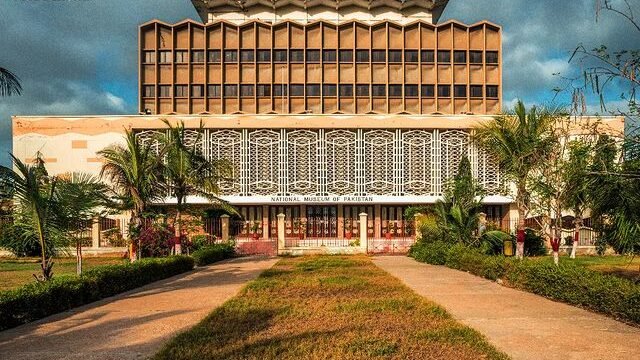 The National Museum was established in 1950 and replaced the Victoria Museum. This historical place contains more than 11 galleries and among this one is the Quran Gallery which represents the religion of Muslims.
The National Museum of Pakistan has a collection of old coins which are about 58,000 in number. Moreover, this Museum also contain books and reading materials on Archeology and science fiction.
Features
Seals and Statues from the time of Mohenjo Daro
Statue of Priest King
Ancient Coins
Personal chair of Allama Iqbal
Itar bottle and a walking stick of Liaqat Ali Khan
The artwork of glass designed by Muslims 
Timings
The timings are 9 am to 5 pm but it can vary on public holidays.
Tickets
They charge 20 PKR for all members.  
Location
Shahrah-e-Kemal Ataturk, Saddar, Karachi
State Bank Museum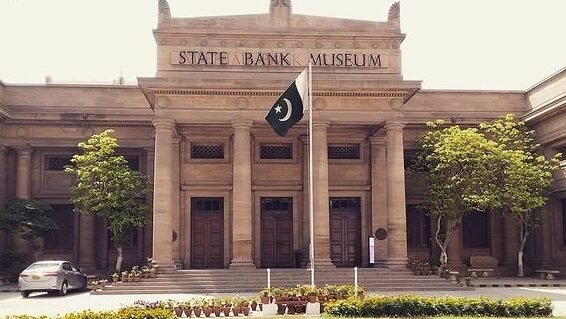 It was the first museum that was introduced as the Money Museum of Pakistan. Tourists come to Karachi to see this historical spot from where they can observe the upbringing of Pakistani Currency from big coins to notes.
The State Bank museum contains publications and final reports of banks in it. Visitors consider this place the most interesting one for a trip and visit.
Features
Historical books of State Bank of Pakistan
Collection of old coins
Stamp Gallery
History of Governors
Bulky data of Currency and different notes 
Timings
It opens from 9:30 to 5 pm from Monday to Saturday and Sundays are closed. 
Tickets
They offer free entry to the public.
Location
I.I Chundrigar Road, Lalazar, Karachi
Pakistan Maritime Museum
In Karachi, the Maritime Museum is famous because of its catchy location, park, and reasonable tickets. It is in the form of a Submarine which is spread around 28 acres. It contains a total of 6 galleries and one big auditorium.
Usually, navy lovers and boat riders come here to learn about the history of the navy. 
Features
Metallic armor of Muhammad Bin Qasim
Modern Computer system to provide the history of Pakistan's Navy
The experiment Submarine ride 
Painting and Sculptors of Masood Akhtar, Ruby, and Noor Jahan Bilgrami
Timings
Pakistan Maritime is open from 9 am to 10 pm which can vary on weekends. 
Tickets
The entry fee is 30 PKR for all ages. 
Location
Pakistan Maritime Museum, Karsaz Road, Karachi
Frere Hall Museum
In 1863 Frere Hall Museum was constructed in Karachi. It represents the services of Sir Bartle Frere who was the viceroy's council.
The building was designed in a unique way by architects. It contains an iron cage, a pathetic roof, and yellowish limestones. Further. There is a collection of books and journals which will raise your knowledge. 
Features
Stones having pictures of animals
Sand paintings
Old pictures of Pakistani leaders
Ancient Bracelets and jewels 
Surrealism and literature 
Location
Central Karachi's colonial-era Saddar Town
Artciti 
One of the most colourful places in Karachi which represents the local art of the citizens and are present globally. It conducts a lot of exhibitions for visitors and becomes a famous museum in Karachi.
Families come to Artciti to see the portraits. This gallery art also showcases these paintings in an online portal. 
Features
Paintings of animals
Calligraphy
Literary pictures
Drawing of Local people
Frames for decoration
Timings
Galleries are open from 11 am to 8 pm
Location
Plot 36C, 2nd Floor, Bukhari Commercial Lane, 13 Khayaban-e-Shujaat, Phase 6, DHA Karachi
PIA Planetarium
This place is for old PIA planes and came into being in 1985, mostly students of science came here to learn about the history of pilots and the air force.
Usually institutes of education plan a trip to visit this place with the students where they learn the use of airplanes thoroughly. It is a vast place with a red dome which makes it the most beautiful aviation museum in Karachi. 
Features
PIA planes
Knowledge of Airforce
Ancient paintings of pilots 
Timings
Daily 9 am to 5 pm
Tickets
For Adults, the ticket charge is Rs. 120 and for children up to the age of 11 is Rs. 90
Location
University Road, Gulshan-e-Iqbal, Karachi 75350, Pakistan
Magnifi Science Centre 
Magnifi science center has been established by Dawood Foundation. MSC provides knowledge of science and all the functions of human body parts.
Further, this place contains a chemical laboratory where people can test different chemicals and make products. This place is best for science students to learn with the help of practicals. 
Features
Water World
Science Garden
Witch House
Mirror Maze
Television Broadcasting 
The Physical World
Timings
Monday to Thursday from 8:30 am to 4:30 pm 
On weekends 10 am to 7:30 pm
Tickets
They charge Rs. 700 on working days and Rs. 800 on weekends for all public.
Location
Plot no 1 RY – 15 Railway Quarter, Karachi.
Sindh Wildlife Museum
Karachi contains a lot of forts and tombs but Sindh Wildlife is the best place in this city to visit with family and kids. This big place contains all the stuff related to flora and fauna, meaning plants and animals.
More than 100 statues of different animals are placed there which seems real. After the Zoo this place is worthwhile for the children to learn about animals.  
Features
Models of animals
Decorated wall with the painting of birds and plants
Micro organs in bottles
Glass boxes having herbs and leaves
Samples of ancient fishes having a real body
Timings
9 am to 5 pm from Friday to Saturday but it can vary due to public holidays. 
Tickets
The entry ticket is free of cost for public
Location
Deen Mohammad Wafai Road, Civil Lines, Frere Town, Karachi
Conclusion
As we all know, that knowledge is power. That's why many people visit museums to gain more information about the real world around them. Foreigners and tourists also like to visit these historical places of Karachi to know about the geography of Pakistan.
All the fascinating museums in Karachi to visit have been discussed in this article. You should also plan a one-day trip to any one museum and know about their specific features. Keep in touch with LovinPakistan for more exciting content.