The delicious and aromatic flavors of China are evident in many Islamabad restaurants. From aromatic lo mein to fried rice with chicken wrapped inside it, these meals take your taste buds on an adventure they'll never forget. These Chinese restaurants in Islamabad have a wide variety to choose from.
Whether you want something sweet or salty on your next dinner date with friends, these joints are not going to disappoint anyone who craves some authentic noodles from across The Great Wall. Let's take a closer look at the best Chinese restaurants in Islamabad to help you decide where to eat. Who knows, you may even find your new favorite spot!
14 Top Chinese Restaurants In Islamabad To Explore 
The following is the list of the renowned and best Chinese restaurants in Islamabad that will make your day.
SiLu Food Culture
Come to Silu Food Culture, which is basically a Cantonese restaurant, which means they use mild spices and serve a bit healthier food than other Chinese restaurants. Their dishes combine the flavors and emotions of both Hunan and Szechuan cuisine.
If you're looking for some good old-fashioned Chowmein or crispy Chinese fish steak, then this restaurant will not disappoint. Their menu features both traditional dishes and ones that might be new to most people who live here (locals).
Moreover, the prices are very reasonable, making it a great place to visit for lunch or dinner. So come and check out Silu Chinese restaurant in f8 Islamabad, where you're sure to find something to your liking.
Yum Chinese and Thai
To get the best Chinese and Thai food in town, head over to Yum Chinese and Thai Restaurant. Their menu is filled with delicious options that are sure to tantalize your taste buds.
They stand out because of their commitment to providing an exceptional dining experience. Yum Chinese restaurant Islamabad f7 can satisfy your Chinese food craving, whether it be for lunch, tea or dinner.
You won't be disappointed by the food or the ambiance, and their rooftop dining is just love. Plus there are many similar rooftop restaurants in Islamabad. Their unique imported duck in BBQ sauce makes them a must-try for Chinese food lovers.
Order their American Chop Suey, and you'll be in for a real treat. So, what are you waiting for? Head over to Yum Chinese and Thai Restaurant today! You won't regret it.
Asian Wok
This Chinese eatery in Beverly center definitely offers a great escape from desi food. The food served at Asian wok restaurant Islamabad has been known for its delicious taste, irresistible looks, and creative flavors that will keep your appetite satisfied all night long.
The recommended Chinese meal to try here includes Kung Pao Fish, Shanghai Special Chicken, and the most promising dynamite prawns are some of their must-try dishes. Even their buffet dinner is worth trying.
The best part about this place is that it won't cost you a fortune to eat here. It's the perfect place for a quick Saturday evening getaway with friends or family. Moreover, the cozy and comfortable atmosphere will make you want to come back for more!
Kim Mun Islamabad
Kim Mun is regarded as one of the top Chinese restaurants in Islamabad. Their menu offers a variety of Chinese dishes that will make your mouth watery, and yes, for a reason.
Their recommended dishes are Beef Foo Yung and Chicken Chow Mein. Kim Mun restaurant Islamabad is also known for its seafood. Plus, they have awesome service too. So next time when your stomach starts rumbling just because it wants some good old-fashioned comfort food.
You can head right over to F7 (a hub of foodies), where this amazing little eatery is waiting patiently at each turn until your hunger has subsided!
Dynasty Restaurant
Authentic Chinese cuisine prepared with the utmost delicacy is what you can expect at The Dynasty Restaurant Islamabad. This beauty is housed in the Marriott Hotel and is located at F-5/1, Islamabad.
With a lovely and vibrant setting, Dynasty Restaurant offers wonderful Cantonese, Szechuan, and Dim Sum dishes that are sure to tantalize your taste buds. The rates may be a bit higher than average, but the food is definitely worth it.
If you're ever in the area, be sure to drop by for a meal, you won't regret it. The ambiance and atmosphere are elite, and the food will have you coming back for more.
Golden Dragon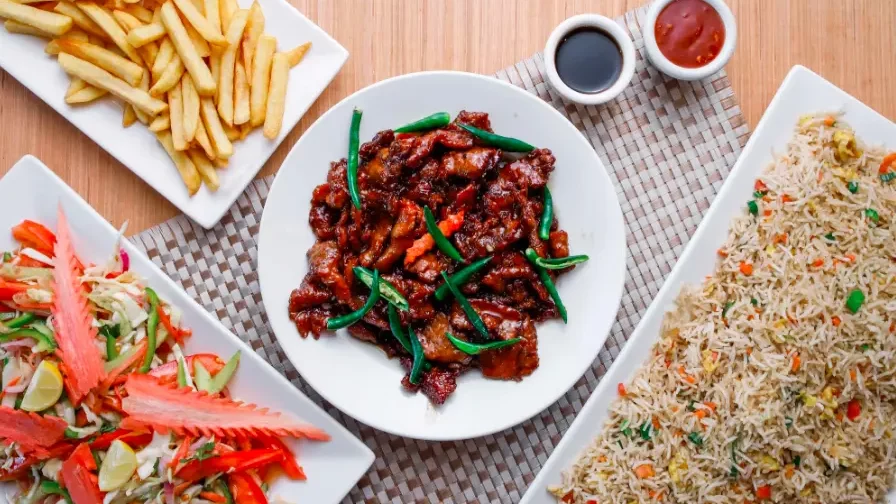 From the moment you step into the time you leave, Golden dragon restaurant Islamabad strives to make your visit memorable with its tempting food, hospitable staff, and breathtaking views of Margalla Hills.
Golden Dragon's menu is extensive to dig in. Whether you're a fan of Chinese Chop Suey or Jiaozi chicken, you'll find something to your taste because their seasonings and flavors are well-balanced in Chinese food.
Their Chop Suey range and dumplings are must-try, and they even offer affordable combos to their customers. The tempting choice of food, great interior, and welcoming atmosphere are just some of the things that make Golden Dragon Restaurant stand out. 
China Town
China Town Islamabad offers a selection of spacious dining rooms to cater to your every need. It has an exclusive menu for quick lunches, home delivery, and takeout.
The food here has been prepared using Szechuan and Thai cooking methods, some of which are unique to Islamabad's cuisine and are a must-try when you visit. The soup is on top alongside other varieties on the menu.
From their service all way down to ambiance, everything about this place screams quality and sophistication. Next time when you have a craving for Chinese food in islamabad, look no further than China Town restaurant Islamabad in F-6 and F-7 Markaz.
Maikong Chinese Restaurant
Meikong is a renowned Chinese restaurant in Islamabad that has been serving the best Chinese food for decades. The quality of the food, price, and ambiance are some of the traits that make it worth visiting.
The restaurant invents colorful, picture-ready dishes that play with textures and flavors, making it a favorite among locals and elites from all over the world.
Family-style dining and corporate sector dine-in services are also available, making Meikong the perfect choice for any occasion.  They serve the top-class buffet in the town with different menu items available each day. 
Dragon City Chinese Restaurant
The food at this restaurant is so good that you will want to eat here every day. Here you can enjoy the Best Chinese Food in Islamabad, and they have a wide selection of dishes for any mood or occasion.
From juicy steamed dumplings, Juha Fish, Shanghai chicken, and so much more, your taste buds will be in for a treat. The 5 live kitchens concept lets you see how your meal is being cooked. Moreover, their special soup is also highly recommended.
The restaurant is located in G-7 and is perfect for family meals, romantic dinners, business meetings, or any special occasion. Come on over to Dragon City Chinese Restaurant and enjoy a delicious meal.
Ginyaki Islamabad
If you're ever in the mood for some delicious Chinese or even Thai food but don't want to spend a fortune, you should definitely check out Ginyaki in F7 Markaz! You'll get a variety of main courses featuring chicken, beef, and seafood.
Ginyaki has reinvented the way oriental cuisine is consumed by introducing single-serving bowls in the Capital, coupled with an upbeat ambiance and value for the price.
I highly recommend their Mongolian beef and Szechuan chicken, which are extremely fresh and flavorful. So next time you're in the mood for some good Chinese cuisine, be sure to give Ginyaki a try! You won't be disappointed.
Wok Bae
Wok Bae is one of the pocket-friendly Chinese restaurants in Islamabad with generous serving sizes and delicious food located in f7 Islamabad. 
The ambiance of this place will make you feel at home as their staff are all very friendly; it's not uncommon for customers to return multiple times per month.
All dishes come highly recommended, including soup (which they serve hot), rice or chow mien, and beef chili dry. This is a place where you can get a lot of bang for your buck.
Shanghai Wok
The new sensation in the Chinese restaurants of Islamabad is called Shanghai wok. Most people must have heard about it, but for some, this may be a place they've never been before. 
They are located in G8, I8, and E/11 sectors with only takeaway and delivery options. The best part about Shanghai wok is their self-creating menu which allows you to choose your bowl with the gravy of your choice, whether it be chicken, beef, or seafood.
You can also select your side dishes, including egg-fried rice, jasmine rice, vegetable chow mein, Thai spicy noodles, or a combo of two.
You can order the food from the comfort of your home and office by going onto their website or through the FoodPanda app.
2 Broke Engineers
There is no better way to enjoy the beautiful Margalla Hills than dining at 2 Broke Engineers. Its low lighting, minimalist decor, and thoughtful seating make it the perfect spot for a meal. 
You can choose from various cuisines, including Chinese, Thai, and Continental. However, this cafe is known for its Chinese Bowls that can be customized for every individual available here, which are Fried Rice and Chowmein.
You can either get it with egg-fried rice, vegetable chow mein, or even both. Other famous items are Parmesan chicken and Moroccan chicken.
Whether you're looking for a romantic evening out or a night with friends, 2 Broke Engineers is the perfect place to be.
Ha Pi Chinese Restaurant
Looking for an authentic Chinese dining experience without breaking the bank? Here comes another choice, visit Ha Pi Chinese Restaurant in F-11 Markaz, Islamabad.
Ha Pi offers a variety of delicious Chinese dishes made by experienced and talented Chinese chefs. The husband and wife team behind the restaurant has put in a lot of effort to create the perfect balance of flavors to suit the Pakistani palate.
From dumplings, Kung pao fish, and soups to chicken Szechuan, there's everything. The restaurant may not be big or grand, but it makes up for its taste and affordability. Plus, they offer amazing discounts on Food Panda.
Wrap It Up!
There are many wonderful Chinese restaurants in Islamabad, each with its own unique offerings. To entice your taste buds, you always have the option to try something new. You can even try Turkish cuisine in Islamabad. With so many delicious options available above, you're sure to find the perfect meal no matter what your mood or occasion may be.