Pakistan is not short of tourist attractions that can beat the world. In essence, a few of its districts contain once-in-a-lifetime viewing spectacles. Malakand division in Khyber Pakhtunkhwa is the location for Swat. It is a popular city for a fine attraction masterpiece. And it holds Shingrai Waterfall that is not developed to the best. However, local and foreign tourists visit the place each year to upgrade their albums. This might be the only activity there, but we will be exploring the region here. 
Shingrai Waterfall finds a location around 20 kilometers from Mingora, which you could find on your way from swat to Malam Jabba. Or you can cover a distance of 12 kilometers from Manglor to reach here. One-way routes appear as you travel to the destination. But around some time, the path stops for vehicles and you have to head to the destination on foot. The attraction above sea level is around 10,000 feet. The temperature in the region rises around 10 degrees in the day while it reduces to about 5 degrees at night. But seasons do play a part that you need to consider.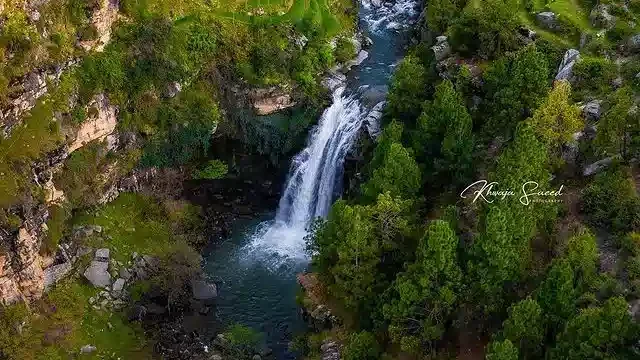 Things to do Nearby the Waterfall
Swat Valley is not short of waterfalls and lakes. Thus, if you explore a new attraction, it has a big competition. But for a destination to be great, nearby places and activities play a big role. These activities are often developed by tourists. Whereas a few come along the destination. While moving closer to the Shingrai Waterfall, this is how to enjoy it to the full. 
Road Tour 
Although many can say this is not an actual activity. But you will find the road trip greatly exciting. In essence, this is where your excitement will begin and you have got the opportunity to visit Fizagat on your way to Shingrai Waterfall. Many locals and guides will inform you that there is no accommodation of food available near the waterfall. Thus, you will need to carry eatables with you through stalls. Hence, your road trip is the first thing requiring planning. 
Trekking 
Shingrai Dand is the place locals inform you about many times. The big importance this place carries is informing you that vehicles cannot go beyond. It is because there is no pavement for roads. And going barefoot is the activity you need to try. You will find trekking routes here that many people cover on their bikes. But this happens to a certain distance. 
Explore the Beauty during Trekking 
While you are on the trekking routes, you will find mountains and trees in abundance. This scenery and view make this place iconic. And within these trees and mountains, you will find glimpses of the waterfall. In addition, this is the location to relax and have a little fruit party. In addition, you can even consider taking some photos here. It is since you might not find such a view in the whole of the country!
Swat View 
While you move closer to the destination, you will reach an open space. This space gives you glimpses of great attractions. One of them is the view of Swat city and the Swat River. People can also have a glimpse of the Mangalore region from this spot. And that of a statue of Buddha. 
Jehanabad Visit 
Jehanabad is a small village located near the trekking tracks leading to the waterfall. It is easy to visit on foot during your trekking. The place holds history within it relating to Buddhism. You will find an ancient architect with Buddhist statues here. This is a fine place to visit in swat among the peace and calmness of the region. And a great exploration to add to your album. 
Boating 
The only popular activity that you will find nearby is boating. In contrast, you will not find any special activities on offer. Thus, tourists do not spend a load of time here. Moreover, in rare instances, you will find locals performing folk music for tourists. But boating is found easily near the waterfall. And it is great while observing the water splash from nearby.
Living in Swat: The Top 4 Hotels Nearby 
People hear about the attractions and activities from various sources. But they do not find good information regarding hotels and resorts here. Thus, their trip does not reach the perfect conclusion. For them, here is a brief guide regarding the four best hotels to stay in. You could also check our ultimate list of hotel in swat that includes luxury and standard accommodations likewise. But we will get to the basics.
PTDC Motel 
PTDC Motel is another great hotel option for tourists. Apart from basic commodities, there is dedicated parking. In essence, the hotel contains a restaurant alongside laundry services. The rooms carry decent interiors including TVs. Backyard gardens with adequate seating arrangements are fine for a breakfast under the sun. 
Starting price for rooms is around Rs. 3000 
Maximum room prices do not exceed Rs. 3500
The motel is close to local shopping markets 
Swat View Hotel 
Having a similar structure to that of the Pearl-Continental in Bhurban. Swat View Hotel carries a good and stylish outlook. Special factors choosing this hotel include warm water alongside heaters. Parking spaces come along for the ease of the tourists. Dedicated restaurants top the charts with TVs and Wi-Fi.
Rooms start at around Rs. 5000 
Most expensive rooms do not exceed Rs. 9000
All basic facilities available with good location 
Swat Continental Hotel 
At first, the local hotel goes by the name of the city. But it carries good facilities from basics to extra. Warm water for winters and air-conditioners during the summers is the best facility on offer. For business tours, swat continental has a conference space likewise. Complimentary breakfast and BBQ dinner come alongside. 
The hotel lies close to the local shopping markets 
The starting price per room is around Rs. 3000 
Maximum prices per room do not exceed Rs. 8000
The Walnut Heights Resort 
This is a luxury accommodation that is worth it. With wooden architecture, you will find a feel of localism here. In essence, executive rooms are nothing short of five-star hotels. Spacious accommodations are ideal if you accompany a family. The resort is located just 2km away from the shopping markets. Thus, you will find calmness and peace around. 
Rooms start at around Rs. 9000
Executive rooms will cost around Rs. 16000
Bottom Line
No doubt Swat is the mini Switzerland and it is not short of natural beauty. Shingrai waterfall is really a do not miss out place when you are visiting to swat. You could also travel to Bahrain and Madyan on the same day after visiting Shangrai Waterfall. Keep in touch with us for more information.