Bahrain also spelled as Behrain is a beautiful town located in Swat the mini Switzerland of Pakistan. It has been named so because of its location at the convergence of two rivers Daral and Swat.
Bahrain is renowned for adorable handicrafts and an abundance of scenic tourist locations. Have a closer look at its beauty with this guide to Bahrain; Junction of Two Rivers in Mini Switzerland. 
Location of Bahrain Swat
Bahrain valley is located in Swat in Khyber Pakhtunkhwa. It is situated 60 kilometers away from Mingora along the Swat river.
It is situated at an elevation of approximately 4700 feet from the sea and is famous for the multiple picturesque places it is home to. Bahrain means two rivers because from here one can have a beautiful sight of River Daral and River Swats's convergence.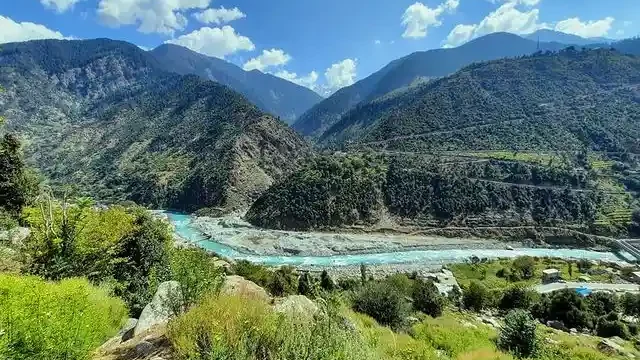 What is Bahrain Swat Famous For?
Bahrain is one of the most beautiful tourist places in Swat. People fond of sightseeing love to visit this place to spend a refreshing vacation. 
One visit to Bahrain also gets an opportunity to explore a wide range of handmade crafts and other specialties including food items. The place is a wonderful holiday getaway for many due to its location near many other tourist places in Swat.
How to reach Bahrain Swat?
There are multiple routes leading towards Bahrain Swat. However, one will need to reach Islamabad through any conveyance to proceed further towards Swat first.
Route from Islamabad to Bahrain
Islamabad to Bahrain distance is 4 hours and 24 minutes. One can choose to travel either by private or public conveyance. 
Islamabad to Bahrain Swat bus service is the most common means of transportation preferred by tourists. Visitors can choose to travel towards the town by bus and can visit anywhere in other public conveyance options like cabs etc.
Route from Peshawar to Bahrain
Peshawar to Bahrain Swat distance is 4 hours and 44 minutes. The journey begins from the Grand Trunk road and one has to pass through Mardan and Malakand road too. 
Bahrain to Peshawar route also passes through Swabi, Hoti, and Bakhshali road after which it gets connected to the Swat Motorway.
Route from Swat to Bahrain
It approximately takes an hour to reach Bahrain from Swat. There is approximately a distance of 66 kilometers from Swat to Bahrain. One can enjoy this journey while traveling towards Bahrain via Mingora surpassing the scenic valleys as the journey proceeds. 
The weather starts getting a little colder as you reach the Swat River. This blissful ride excites the tourists even more to explore Bahrain Valley.
Bahrain Nearby Places To Visit
Malam Jabba
Malam Jabba is located at a distance of 72 kilometers from the main Bahrain town. It is renowned for being to Naltar one of the two ski resorts in Pakistan. Tourists visiting here can find the best accommodating hotels. One of the options is the Pearl Continental Hotel and Resort with lavish facilities.
Chair lifts, ice-skating, hiking, and camping are the other activities Malam Jabba is renowned for. 
Kalam Valley
Kalam is located at the confluence of the Ushu River and the Gabral River. Kalam to Bahrain distance is 1 hour and 16 minutes. 
Kalam is famous for the lovely sight it has to lure the tourists with. 
The place is well-known for the forests, waterfalls, and mountains located here. Kalam valley is also home to many alpine glacial lakes.
Kumrat Valley
Kumrat is one of the most beautiful valleys in Swat. It takes approximately a 4 and 23-minute drive from Kalam to Bahrain Swat. 
There are multiple tourist attractions in Kumrat valley that visitors can enjoy visiting. These include the Thal Wooden Canals, Jahazbanda Waterfall, Katora Lake, and many more.
Mahodand Lake
Mahodand in Pashto means the lake of fishes. People love visiting this lake sometimes solely for the purpose of boating and fishing but the sights are equally cherish able. 
Mahodand Lake to Bahrain distance is of 3 hours and 25 minutes approximately. During this ride itself, one can breathe in the beauty and freshness of the green and lively ambiance.
Saidu Sharif
Saidu Sharif is the capital of the Swat region with multiple official and archeological constructions. It is extremely hot in June and the weather throughout the year remains mostly dry and warm. 
One can easily cover the distance between Saidu Sharif to Bahrain in 1 hour and 50 minutes via the Bagh Deri road.
Fizaghat
Fizagat is a famous hill station located 45 kilometers away from the main Swat city. Fizagat Recreation park is the major tourist site located here. 
The clean green and flower-laden landscape, high mountains, and many other natural sights make Fizagat Mingora famous among tourists. To attract more tourists, many other elements like river lifts, boats, and cable cars have been added.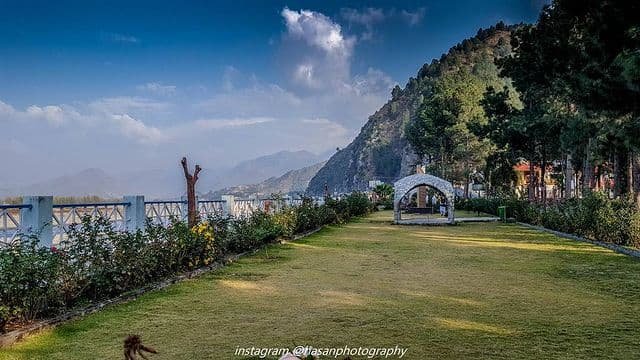 Madyan
Madyan is visited by thousands of tourists each year. It is mostly famous for its fish, so If you are planning to visit Madyan do not miss out on it. 
Tourists can easily find accommodating hotels and guest houses in Madyan. Since it is a hill station, tourists enjoy being among the beautiful hilltop views and freshwater streams located here. 
Marghazar
Marghazar locally spelled as Marghuzar means green land. It is one of the most admirable hill stations in Swat. 
Marghazar is further famous for the mountains, streams, and the White Palace that has now been converted to a lavish hotel also. It is indeed an ideal place to plan a stay because of its moderate temperature in winters too. 
Things To Do In Bahrain Swat
Marina Garden Park
Marina Garden Park could be a perfect place for tourists in Swat. It has the facilities such as the Dolphin Resort and an open area for outdoor recreational activities.
Everyone can spend quality time at Marina Garden Park Swat. There is a train ride for children to take a round of the entire park. An extensive picnic spot is one of the highly appreciated features of this park.
Swat Museum
The Swat Museum is located in Mingora, one of the heritage sites that Swat is home to. It is located at a distance of 1 hour and 32 minutes from the Bahrain Swat valley. 
has Gandharan statuettes and many other Buddhist artifacts. It also has traditional Swati furniture, jewelry, and other handicrafts to display for the tourists.
White Palace
The White Palace is located on Marghazar Road at a distance of 2 hours from the Bahrain town. It has now been converted into a hotel, but still, tourists can visit this place.
The White Palace is located amidst the green plains in a serene ambiance. The building occupies 24 rooms well-decorated according to royal standards. It is also called Sufaid Mahal by the locals.
Camping
There are multiple opportunities for campers to set their camp in any of the picturesque tranquil locations of Swat. Most people prefer camping in the green valley of Marghazar. 
One can also choose to place a camp on the Madyan Valley hilltop. Many tourists prefer camping by the freshwater streams in Madyan to have a lively time.
Boat Riding
Mahodand Lake is an ideal place for boat riding. Travelers can cherish the beauty of their surroundings while exploring through the boat ride. 
Many people also prefer a boat ride in the Swat river. The most preferable location for boating in the Swat River is in the Fizagat park Swat.
Fishing
Trout fish is one of the specialties of Swat valley, tourists prefer catching it and eating it freshly cooked. Swat river is one of the places where one can enjoy fishing at. 
Mahodand lake is another spot ideal for fishing. People can enjoy the view of the surroundings and fishing in this calm lake. There is also a unique opportunity for fishing lovers to experience Ice Fishing in Malam Jabba Swat.
The Weather of Bahrain Swat
Bahrain Weather in Winter
As per Bahrain weather forecasts the temperature drops to 4 Celsius during winter. The lakes are frozen and Swat gets covered in a blanket of white snow. 
It is advised not to travel to Bahrain Swat during rainfall due to landslides or in fog due to less visibility. According to the 15 days weather forecast of Bahrain, the weather had been sunny or partly cloudy on some days too.
Bahrain Weather in Summer
The hottest month of the year in Bahrain Swat is June. The temperature rises to 27 Celcius. Summers are mostly sunny and sometimes the weather gets partly cloudy or rainy. 
The best time to visit Bahrain Swat is from May to June and July when it's not raining.
What To Wear in Bahrain Swat?
Bahrain has a mild and humid subtropical climate. Albeit the tourists are required to pack warm clothes in Summer too. For summer outfits one can pick a combination of moderate clothing with raincoats and an umbrella. 
For winter there is a necessity to pack warm clothes with raincoats and umbrellas. People that are fond of skiing or snowfall must pack their boots, gloves, and cardigans accordingly along with the sticks to help them walk on snow.
Hotels In Bahrain Swat
Liberty Hotel Bahrain
Liberty Hotel Bahrain is located at the main Kalam Road in Bahrain Swat. They provide all the facilities for a comfy stay at an affordable price. 
Liberty Hotel Bahrain has 8 well-embellished rooms of different categories. All are served with great care and dedication to make the guests feel at home.
Contact Information
Phone: 0317 8488888
Address: Bahrain, Swat, Khyber Pakhtunkhwa
Kohistan Continental Hotel
Kohistan Continental Hotel is a family-friendly place to stay in Bahrain Swat. The staff is hospitable and active to serve the guests anytime. The atmosphere is calm and one can easily park the vehicle in its free parking. 
Kohistan Continental Hotel also has a restaurant with 25% for the guests staying there. One can see mesmerizing sights of the Swat river and other hilltops located in the surroundings from the balcony of this hotel.
Contact Information
Phone: 0340 0666662
Address: Bahrain Rd, Bahrain, Swat, Khyber Pakhtunkhwa
Bahrain Continental Hotel
The Bahrain Continental Hotel is a peaceful hotel for families located along the bank of the river. Guests can book a room in this hotel at an affordable price online. Tourists can plan their stay here with the finest services. 
One can also enjoy the Barain Continental Hotel's complimentary breakfast and free-of-cost parking facility.
Contact Information
Phone: 0317 0954933
Address: Madyan Rd, near Ranzra Bridge, Madyan, Swat, Khyber Pakhtunkhwa
More Places To Stay in Swat!
There are multiple options for the tourists planning to visit Swat both in terms of tourism and staying places. The Riverine Inn hotel is one of those luxurious places where people can visit for dining or a stay. 
Bypass Hotel located along the river is one of those places you can view beautiful sights of Swat from.
Conclusion
Swat has many striking places to be explored with friends and family. If you are planning to visit Swat anytime sooner do not miss out on visiting Bahrain; Junction of Two Rivers in Mini Switzerland.