Fizagat Mingora is a famous tourists hill station located in Swat Valley, KPK, Pakistan. However, it is 45 KM away from Swat. This place is famous for its scenic beauty, greenery, and breathtaking views. Located at Swat river bank, Fizagath is a historical park that offers a lot of entertainment activities along with fascinating scenes. A large number of national and international tourists come here to unwind the beauty of this place. Also, the local people come here for picnic and enjoyment. 
About Fizagat Valley Swat 
Fizagat valley in Swat lets the visitors indulge in the mesmerizing views of Swat river, sky-high mountains hidden in clouds, and lush green landscapes. You must visit this place during your trip to Swat valley. 
Fizagat park and Valley have been renovated many times with the addition of incredible entertainment features such as riverboats, river lifts, cable cars, and more. Other remarkable features are its spectacular views, river, and pleasant weather. All this collectively makes Fizagath one of the best tourists places in Pakistan. 
Where Fizagat is Located?
Fizagat is an incredible hill station located in Swat Valley, Bahrain Road, Mingora, Khyber Pakhtunkhwa Pakistan. Malam Jabba Swat, Saidu Sharif, Madyan, and Mahodand lake are some of the Fizagat nearby places. However, you can reach this place directly from Swat within 1 hour of drive. From Fizagat, you can stay for enjoyment and proceed your trip towards Kalam, Bahrain, Malam Jabba, and other destinations. 
How to Reach Fizagat Swat?
Fizaghat is a worth visiting tourist place in Swat that you can easily reach. Firstly, you have to reach Swat through Islamabad or Peshawar Expressway. However, the magnificent Fizagat valley is easily accessible from Swat district as it is located at the bank of the river Swat. You can reach this place by taxi, by private car or by bus. It takes almost 1 hour to reach Fizagat as Swat to Fizagat distance is 45KM.
Things to Do in Fizagat Valley Swat
If you are planning to visit Fizaghat Swat, you must be aware of some tour tips and guides. This place hosts plenty of fun and entertainment activities that you can enjoy with your kids, family, and friends. Here, you can be entertained for hours by encountering the incredible natural views along with many exciting activities. Through your Fizagat Swat tour, you can explore an abundance of activities and experiences that you will never forget. To make the best out of your trip, you should know the things to do in Fizagat. Here is your complete guide!
River Boat Ride 
During your trip to Fizagat valley, you must enjoy boating activities. You will have an incredible boating experience on the crystal-like water of Swat river while encountering the fascinating surrounding views. You can choose from motor boar ride and simple boat ride. 
Water Sports 
To make some exciting and entertaining memories, experiencing watersports activities is highly recommended. You can enjoy boating, snorkeling, cliff diving, and many other exciting things to make your trip unforgettable. Through these fun-grabbing activities, you can make lifetime memories. 
Fizagat Park
During your trip to Fizagat, you must explore and visit Fizagat recreational park while enjoying freshwater stream, and swat river water flowing within park. Fizagat park surroundings are highly pleasant and beautiful that behold the heart of visitors. Also, there are various resorts, rest houses, and hotels around the park. Here, you can enjoy various recreational activities to spend quality time.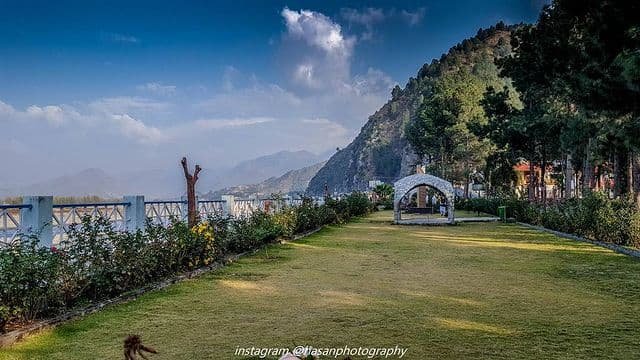 Fishing 
Fishing is among the best activities to do in Fizagat. You can get fishing gear easily to enjoy fishing in a fascinating ambiance. The fishing gives a chance to experience something unforgettable. While fishing, you can enjoy incredible views of Swat river, lush green valleys, meadows, and plains. 
Fizagat Swat Weather 
Fizagat Swat temperature remains moderate during summer time however it becomes extremely cold in winters. There is not much difference between Swat weather and Fizagat weather as they are closely located to each other. In summers, Fizagat weather stays warm with the average temperature of 15°C to 17°C. In winters, the temperature remains low ranging from 6°C to 1°C. During the spring months such as March, April, and May, the temperature ranges from 7°C to 13°C. 
What is the best time to visit Fizagat Swat?
Although you can visit Swat Fizagat anytime during the whole year the best time is during the spring and summer seasons. In the winters, you will definitely have a pleasant time when the mountains are covered with white snow. But you may face certain difficulties to reach one place from other due to heavy snowfall. If you want to visit Fizagat, the months of March to October are the best. 
Where to Stay at Fizagat Valley Swat?
Fizagat is an amazing tourists spot that you can visit for a single day or stay here if you want to double the enjoyment. For stay, there are some of the best Fizagat hotels and restaurants where you can stay. The hotels are luxurious and packed with modern features. Here, you can have remarkable accommodation with the best cuisines. While your stay in Fizagat Swat hotels, you can enjoy incredible views of Swat and Fizagat valley. If you are looking for the best hotels to stay in Fizagat Swat, then consider the following options. 
Hotels In Fizagat 
Some of the most recommended Fizagat hotels to stay in are as follows! 
Moon Palace Hotel Fizagat
Located on Kalam Road Fizagat, this is the best hotel to reside in during your trip. The hotel offers the best room service, spacious car parking and high-end facilities. Also, the guests can enjoy the best cuisines at the restaurant. The rooms in Moon Palace Fizagat are equipped with LEDs and other remarkable features to ensure perfect accommodation. 
Swat View Hotel Fizagat
This is the highly luxurious and facilitated hotel located in Fizagat Swat thus offering incredible accommodation to the tourists. Swat view hotel is located on Kalam Road Fizagat where you can find spacious and well-equipped rooms at economical rates. From the rooms, you can have incredible views of Fizagat and Swat valley. Also, this hotel offers the best cuisine experience and taste to its visitors and residents. 
Burj Al Swat
Located ideally in opposite to Fizagat park, Burj Al Swat way provides a perfect living ambiance to reside during your trip. The hotel has spacious and deluxe rooms with an abundance of luxury facilities such as LED TV, WiFi, and more. Also, Hotel Park Way Fizagat allows you to enjoy the best cuisines at its restaurant. 
Fizagat Nearby Places to Visit
Located in Swat Valley, Fizagat offers an incredible tourism experience as this place offers various recreational activities along with breathtaking scenic beauty. This is a worth visiting destination because of all it has to offer. 
The high-rise mountains, lush green landscapes, crystal lakes, rivers, and pleasant weather make it the best place to visit in Pakistan. However, Fizagat surroundings are also amazing convincing the visitors to continue their journey and visit the nearby places like Shingrai Waterfall and many more.. Some of the best nearby places to visit in Fizagat Swat are as follows!
Malam Jabba 
Malam Jabba is a breathtaking hilly area in Swat district that attracts so many tours from all around the world. Nestled in the high-end foothills of Hindukash range, Malam Jabba Swat allows you to encounter fascinating nature views along with many recreational activities. This place is no less than a paradise where many ski resorts are available. Here, you can enjoy trekking, hiking, and many other amenities.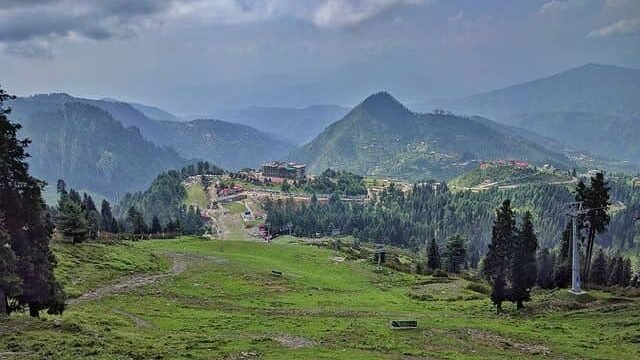 Madyan 
Madyan is a popular hill station near Fizagat Swat. This place has a great appeal for tourists because of its magical natural surroundings and Swat river. The whole place offers panoramic scenic views along with pleasant weather. You will love Madyan because of its incredible atmosphere, delicious cuisines, and amazing activities. 
Bahrain Swat 
This riverside hill station Bahrain Swat, near Fizagat valley offers you a unique and memorable experience to the visitors. Here, two different rivers are merging giving an incredible sight along with many exciting activities. You can have a remarkable time here while doing camping, hiking, and more. However, this Bahrain weather is highly pleasant and moderate. 
Saidu Sharif 
Saidu Sharif is located centrally in Swat that boasts various archeological attractions for tourists. Here you can visit The Tomb of Saidu Sharif, Swat Meuseum, and Royal Palace. This place will take you into ancient times with all its majestic atmosphere and incredible sights. Daily flight operations work from Islamabad directly to Saidu Sharif Airport making it easy for tourists to visit this place. 
Bottom Line
So, plan your trip to Fizagat Swat and its nearby places to make remarkable memories that you will never forget! Malam Jabba, Bahrain and valley of Marghazar are some of top tourist attraction.