Murree Galiyat, also known as the Queen of Hills is visited by millions of tourists every year. The place has got so many beautiful natural spots to visit.
Therefore, this article is a guide to Murree Galiyat and has included all about this 2291 meters high tourist attraction in it.
History and Location of Murree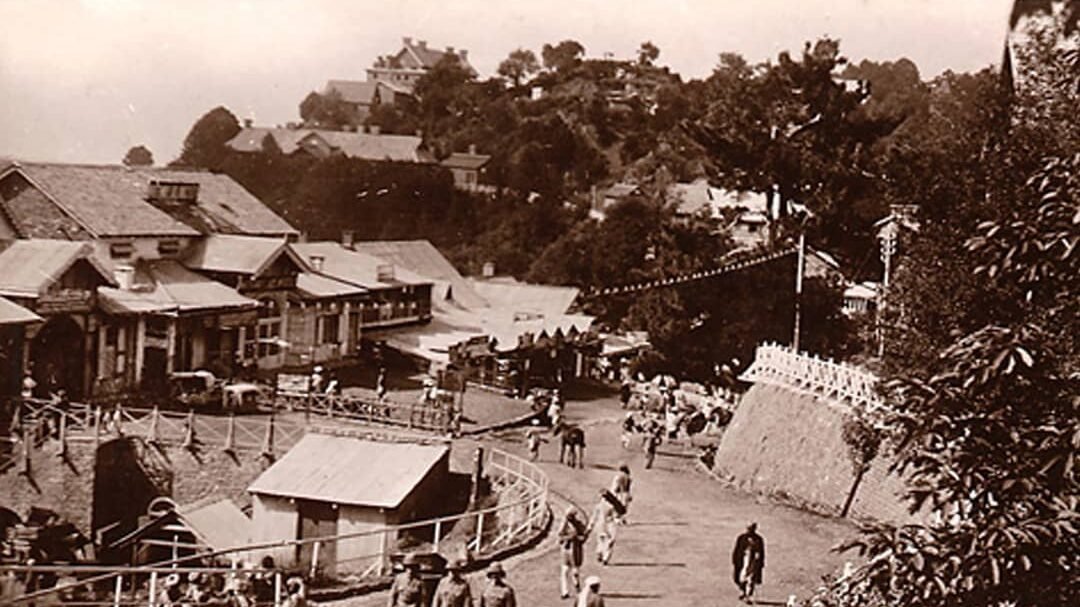 It was formerly named Marhee, being the capital of Punjab province during British rule. Its advancement began in the early 1850s and from that point forward this cycle has never halted.
Murree is situated in the Pir Panjal Range precisely  30 km in front of Islamabad in the NorthEast heading with a height of around 2291 meters. Besides, it is 7000 feet above ocean level.
How To get Murree from Islamabad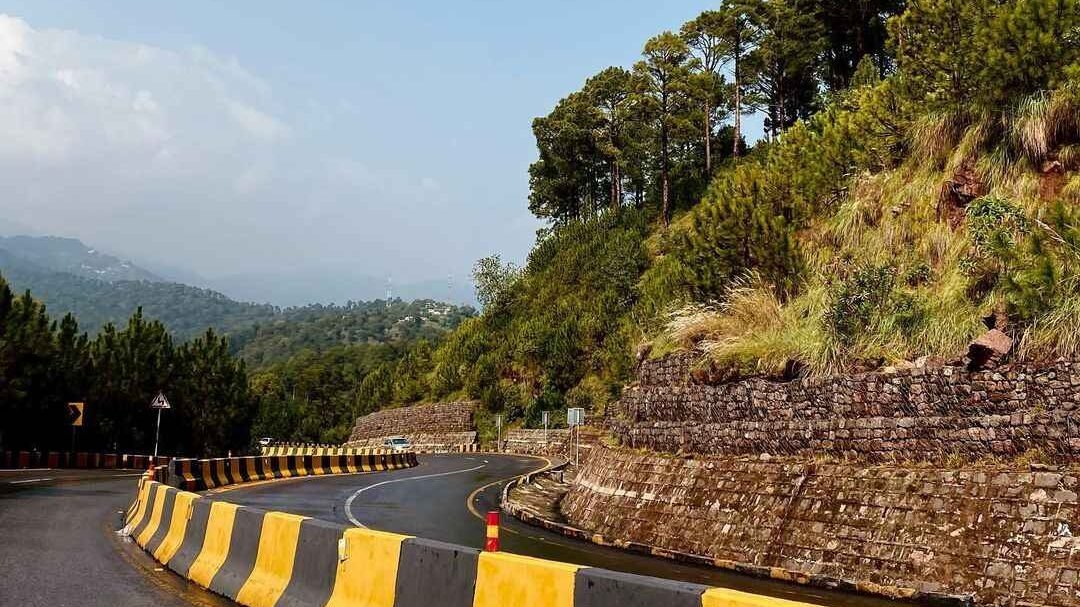 Murree is Pakistan's most visited tourist attraction site with incomparable seasonal delicacies. There are two possible ways to reach Murree.
As there are no airports, one has to travel by road for 67.9 km from Islamabad to Murree. However, buses are not allowed to use the Expressway. 
By Your Conveyance
Going by your conveyance towards Murree has become less tiring with the development of Expressway. From Bhara Kahu one head straight towards the smooth course without numerous perilous bends.
One's movement sets aside the cash that recruiting a vehicle requires. It settles in as you could visit more places while spending relatively less.
Via Public Transports
Luxurious transports to be specific Daewoo, Bilal Travels, and Faisal Movers assist you with arriving at your objective and dropping you at Murree. From that point onwards you need to hire a vehicle to arrive at the lodging.
While public cars take you directly from Rawalpindi or Islamabad to Murree GPO or to the inn you need to stay in. 
What to wear in Murree?
Murree has unpredictable weather and one has to pack clothes accordingly. Being an ultimate guide to Murree, this is going to guide about the dressing too.
Summer Clothing in Murree
On a beautiful sunny day at Murree, you can prefer to wear light clothes of lawn, cotton, and linen. Otherwise, after rainfall, the temperature falls and one requires to wear a bit warm clothes including shoes and sometimes woolen caps too.
Do not forget to take along your Umbrellas and Raincoats too. Make sure you also take a long few warm clothes as in Summers too the weather could get colder sometimes.
Outfits for Winter in Murree
Winters require extra warmer clothing including khaddar shirts, shawls, gloves, jackets, and overcoats. Consider wearing boots with a fine grip to prevent slipping in the snow. Wear leather stuff in snowfall as wool could get wet by the snow.
One can purchase some of the woolen cardigans from Murree too. Socks are a must to keep protected feet from extreme cold.
Temperature in Murree
Murree has a variety of weather one could enjoy. The basics are the two temperatures with their importance for tourism.
Summer
The Summer climate in Murree ordinarily stays somewhere in the range of 20 and 22 degrees. Being situated in the Subtropical region, This temperature could likewise tumble to 14 degrees after rainfall. Generally, it is hazy yet there are numerous days when the sun radiates brilliantly.
Summer climate endures from April to July and is the most active time when most sightseers visit Murree.
Winter
Winters are incredibly cold in Murree with a temperature of 6 to 9 degrees on ordinary days. This can get colder during rainfall and snowfall going from 0 to – 1 and – 3 degrees. Snowfall in Murree again invigorate numerous vacationers and Murree gets loaded with them.
Individuals visit there to appreciate snowfall that happens in December and January usually however may likewise happen in February and March once in a while.
Snowfall In Murree
Snowfall is when the entire Murree is painted white. Tourists love this season that starts from December and lasts till February. Snowfall in Murree Galiyat is all about heavy snowfall, rainfall, and hail.
People enjoy snow fights and making snowmen. Some even enjoy skiing and ice skating in this freezing weather.
Things to do in Murree
 Walk-on mall road
Murree Mall road is the outright shopping road. It is the principal street extended from GPO to Pindi Point Murree. There are countless shops for hand-made garments and design pieces.
One could track down a drawn-out assortment of road merchants selling nuts, hot refreshments including the all-popular Kashmiri Chai.
Chair lift amusement
Chair lifts are a definitive fun and experience asset for the people who visit Murree. One can have a ride on them from Pindi Point and Patriata. These chairlifts convey two individuals all at once from one point to the other.
Individuals have the alternative later to pick between a chairlift or a cablecar for the third round.
Horse Riding
Horse riding is one more fun activity to appreciate while being in Murree. These efficiently trained beautiful horses are sufficiently gifted to convey the travelers from one spot to the next.
One can get stunning pictures while horse riding. Horse riding choices are wherever in Murree to save you from long strolls.
Shopping
There are so many shopping alternatives in Murree. One could find shops for apparel including woolen, western, and cultural attires everywhere. Warm cloaks and handicrafts are the most bought things that sightseers like to purchase as presents.
One could find a wide scope of dry foods and other items at reasonable rates including pink tea and lemongrass tea leaves.
Enjoy Scrumptious Food and Drinks
Murree has countless restaurants serving an assorted scope of food including Chinese, Continental, Fastfood, Indian, Arabian, and Pakistani for supper and lunch. For breakfast alternatives like conventional and English morning meals are accessible.
The vendors are all over selling espresso, hot cocoas, and tea. They likewise have divine snacks to chomp on.
Places to visit in Murree
Mall road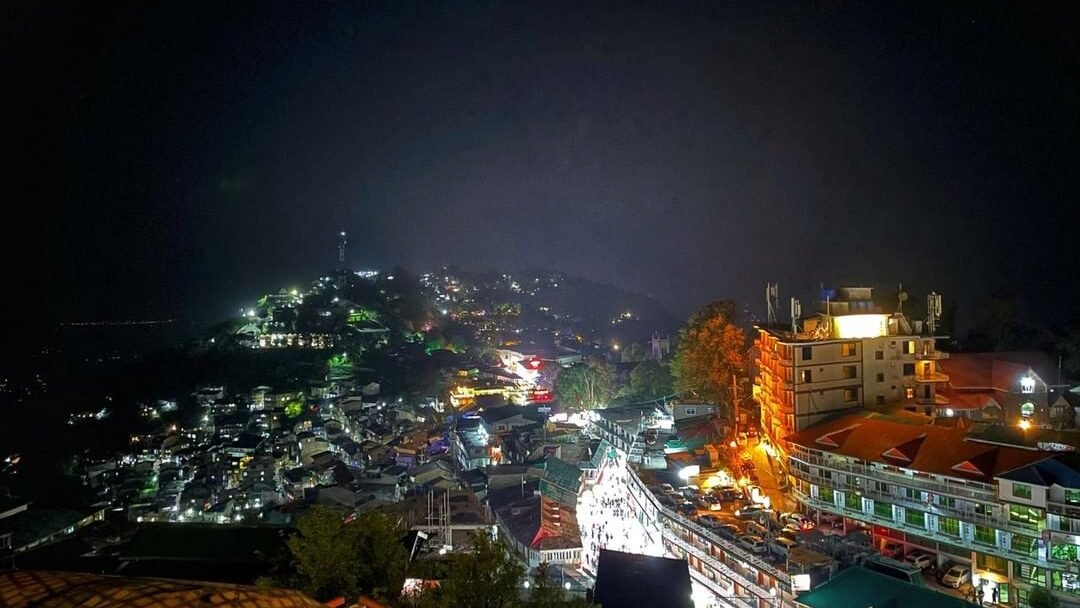 Murree mall road is constantly loaded up with a horde of vacationers. It has so many eateries from the top-notch ones to the street food sellers. Tourists appreciate walking around investigating the numerous shopping alternatives.
They extensively buy dry fruits and Kashmiri shawls. One can even stay in any of the many lodging alternatives on the main road and nearby.
Kashmir point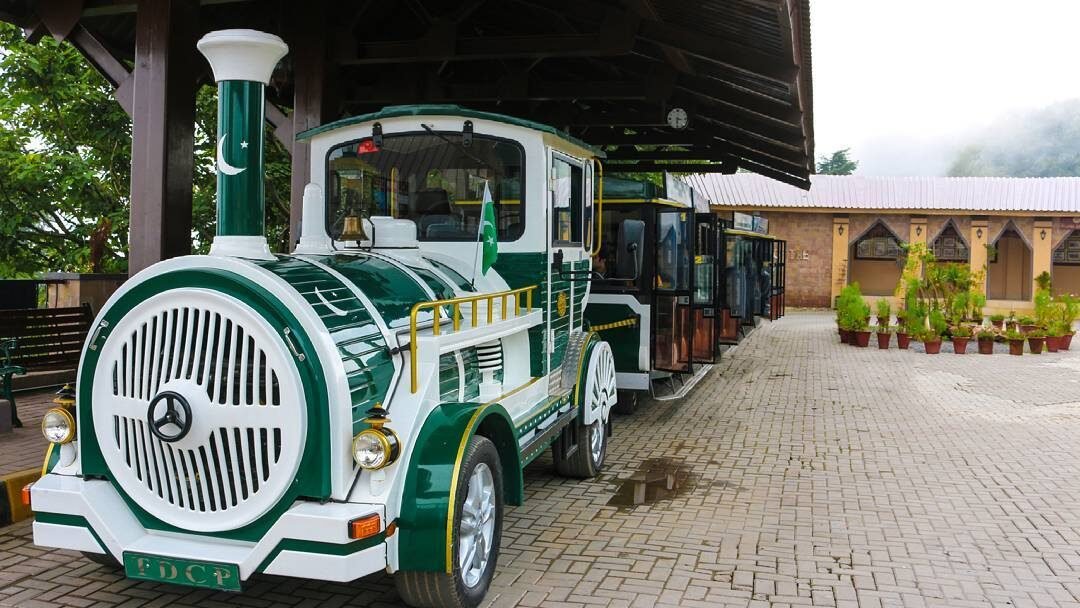 Almost 15 mins away from G.P.O, Kashmir point is renowned because one can see the wonderful Kashmir Mountains from here. Tourist train takes guests on an overview to the encompassing including Governor House.
The site is useful for clicking pictures, touring, and having evening tea. One can either decide to hike up till there or hire a cab. 
Pindi point
Pindi Point is yet another busiest point of Murree with hotels to stay in. One can walk straight through the mall road to go there or can avail the shuttle service to reach. Those who choose to trek there could find many playgrounds and shops.
Pindi point also has a chair lift vicinity to take in the mesmerizing natural views.
Patriata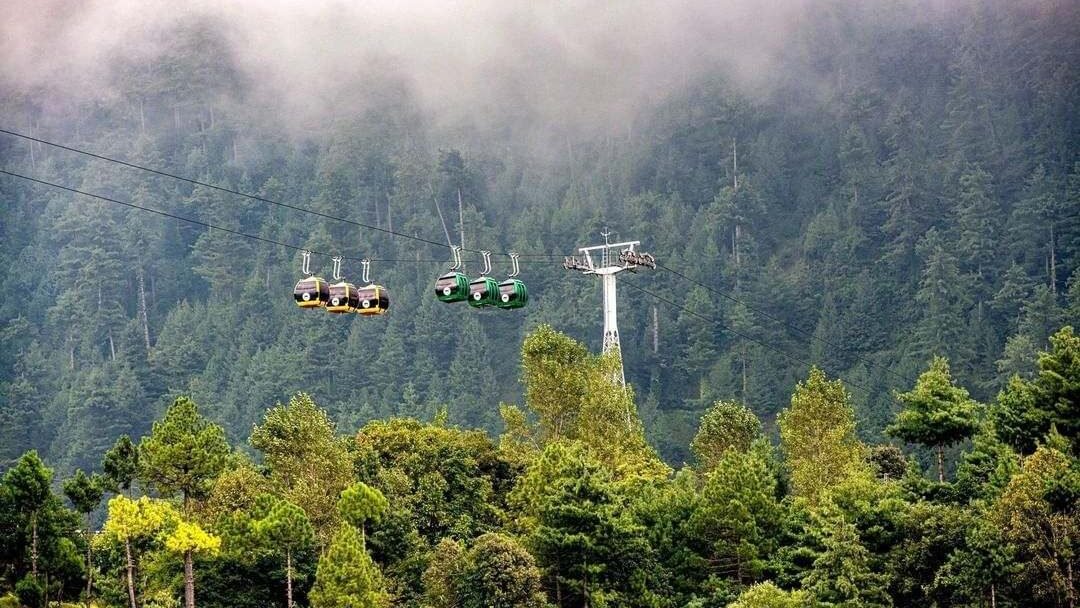 Patriata is another most visited adventurous and scenic tourist place 15 km away from Murree. The chair lifts are the main tourist attractions here. They take the visitors from Patriata over the top of another hill from where one can get in the cable car.
Chair lifts travel at the height of 7500 ft above tall pine trees and forests.
Murree nearby places
Ayubia
Ayubia is a national park with a series of forests and their inhabitants. It gets more snowfall in winters and is cold and rainy in summers too. Monkeys roaming around are one of the major tourist attractions.
Mukeshpuri top and pipeline track both are trekking places with a beautiful view of sky-high mountain peaks covered with clouds and green forests.
Bhurban
Bhurban is yet another national park with PC hotel as the major tourist spot in it. Bhurban is an extraordinary spot for touring and to have a stunning encounter amid nature.
Dunga Gali close to it gives an exceptional encounter of seeing extraordinary types of butterflies and birds. There are numerous ideal spots to stay in like Dream Valley View apartments.
Nathia Gali
Nathiagali is a peaceful spot surrounded by mountains and forests. It has tourism spots like Church park, Samandar Katha Lake, and Namli Maira Waterfall. Nathiagali has relatively colder weather in summer and unending snowfall in winter followed by occasional rainfall.
One can enjoy eating at eateries and food stalls here. Additionally, one can partake in a walk around the market too.
Hotels in Murree
PC Bhurban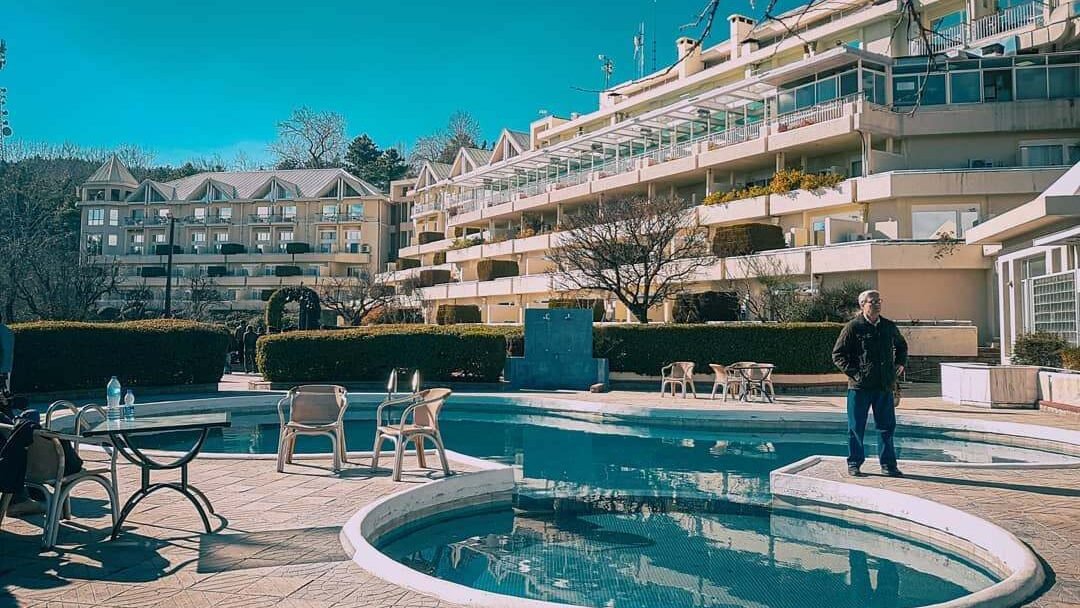 PC hotel Bhurban is another franchise of the all-famous 5-star hotel in Pakistan. People visit Bhurban especially to explore it. The entire structure stands still on the top of the cliff with state-of-the-art facilities. It has a pool, 3 suppers choice for the guests, just as sterling bistros.
Pearl Continental has luxurious rooms and a serene environment followed by breathtaking views.
Hotel One
Hotel One is another project of Pearl Continental. It is located at main mall road Murree providing a beautiful view to the clients. It has all of the fine facilities for the visitors. Proper arrangement during Covid has been made other than ensuring security, cleanliness, and parking.
Hotel One in Murree serves the best including proper meals and refreshment packages.
The Roomy Lodge
The Roomy Lodge is one of the coziest and finest hotels in Murree. They have a fine parking area and reliable services. They offer 24/7 wifi services, water services, and other facilities. Moreover, one can get a scenic view of mountains at the back of the lodge.
It is located a bit away from the mall road in a tranquil location.
How to get parking in Murree?
Parking is a significant issue in Murree, particularly when the traveling seasons are at their pinnacle. There are a few spots where one easily parks the vehicles. Regardless of whether these spots are filled one just has the alternative to leave the vehicle out and about close by the boundaries.
GPO Parking Spot
Individuals could leave their vehicles securely in the GPO parking space in case they are not staying anywhere on the mall road. The space is restricted yet essentially it guards your vehicle while you visit Murree.
Hotels with Free Parking
Numerous lodgings have open and free stopping choices. One can undoubtedly leave their vehicles there without a lot of stretches. These parking areas additionally have watchmen to look after your car.
How to book a government guest house in Murree?
Government rest houses in Murree can be availed by contacting the ones owning them or through websites. One could search rest houses at the desired location and get the address, as they can also be booked through sending applications via posts.
Ensure that you have applied for the right type of government guest house at least 5 days before the booking date.
Conclusion
Through an ultimate guide to Murree Galiyat, we have discussed all the tourist attraction points in Murree and its nearby places. Thank you for reading this guide about Murree and the worth visiting places nearby.
Check out our guide on guide on Naran Kagan to make most out of your visit. Stay connected to get to know about more Northern Areas and other places in Pakistan.