There is no shortage of tourist attractions in Pakistan and it's hard to imagine a landscape more majestic than Pakistan's rocky peaks, hidden villages, and windswept plains. Representing the east of Gilgit- Baltistan, Skardu is a border town like no other. Rough, dusty, constantly expanding, the most enchanting landscape you've ever seen.
A truly astonishing treasure lies beneath the Skardu's dusty surface and it holds one fine tourist spot, named Italian Museum. This museum is an iconic symbol of friendship between Italy and Pakistan.
For all trekking enthusiasts, the exquisite Italian K2 Museum in Skardu is for you.
Why K2 Museum is a tourist attraction?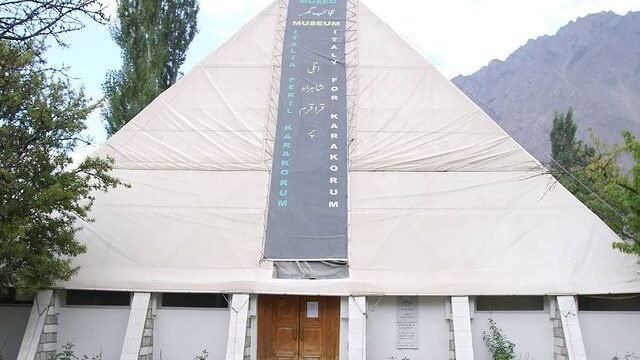 K2 Museum is sponsored by the Italian government and established in 2004 to celebrate the first successful summit of the deadliest mountain on Earth, the K2, by an Italian expedition in 1954. That expedition was led by Arditio Dezio. It is dedicated to the Pakistani people and all mountaineers. Inside, there are many interesting color photos and some black & white pictures, documenting the historic K2 expedition and earlier expedition to distant Baltistan, led by De Filippi.
The K2 Museum has a huge amount of historical data, maps, documentaries, and geographical and cultural information about the K2 mountain. It also displays local customs and traditional clothing. Even the whole PTDC motel itself is the story of climbing and hiking in the mighty mountains of Skardu. All these features make it one of the amazing tourist attractions for visitors.
Location Of Italian K2 Museum
K2 Museum is a unique pyramid-style tent Museum, located in the garden of PTDC Motel in Skardu, about a 5-10 minutes walk from the center of Skardu. It indeed is the hotel of choice for all mountaineering expeditions to Concordia and K2.
The distance from the town of Skardu to the K2 Italian Museum is approximately 23Km and it takes 1 hour and 5 minutes by jeep or car. Beginner climbers who want to learn more about the mighty mountains should check out this museum.
Things to do Nearby the Museum
Despite being an outpost town in the middle of an infamous wilderness, Skardu offers several attractions within close proximity. There are a lot of activities, the nearby places of K2 Museum offer to its visitors. You can find some great nature outside and some hidden gems in between.
Trekking
The whole city is surrounded by rocky mountains, and you will find hiking routes to Askole, Concordia, and K2 basecamp. The surrounding mountains offer visitors the perfect opportunity to hike and discover new tourist landscapes.
Skardu valley is a paradise for travelers who love long hikes to see the unparalleled beauty of the world.
Sightseeing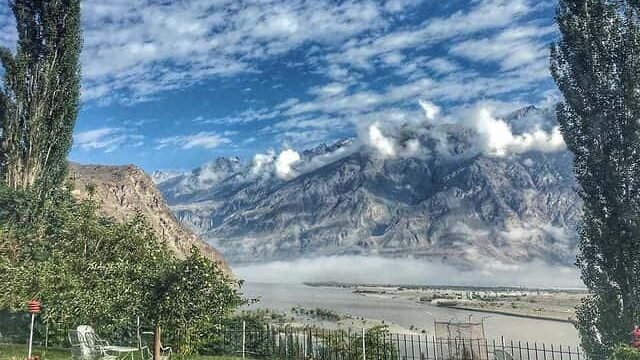 Home to all lush greenery, this place is truly magnificent and different, with mountains, sand dunes, flowing rivers, and even snow in spring and winter. While on trekking routes, you will discover the beauty of snow-capped mountains and scenic views. This majestic scenery makes everyone fall in love with it.
Explore nearby Lakes and waterfalls
A lot of people have gone out of their way to visit beautiful lakes and waterfalls, because who doesn't like chasing nature's unmatched beauty?
Compared to the constantly discordant Skardu, the time spent at these lakes is so peaceful that you'll forget the city even exists. If you are planning to visit K2 Museum, make sure to visit the lakes in the surrounding.
Jeep Ride to Katpana Desert
There are many tourist attractions around the PTDC Motel, but a jeep ride to the Katpana desert is worth your time. Make sure you have a good jeep that can handle the sandbar and it's way easy to drive off-road up to the sand dunes.
The dunes at Katpana desert are higher, the scenery is more beautiful, and the stillness is more noticeable.
Sandboarding at Sarfaranga Desert
Not far from PTDC Motel, the Sarfaranga desert is hardly a 2-minutes drive. Boards can be hard to find but the sand dunes in the desert are great for sandboarding too! If you can't get a real board, you can find an inflatable float from Skardu Bazar, and try your luck with one of them.
In addition, the tranquility of the desert is at best, a stunning and captivating experience from the top of sand dunes.
Places to Stay Near Italian K2 Museum
Staying in a quality hotel will turn a great trip into something out of the ordinary. So, here is a brief guide regarding the best hotels to stay near K2 Museum.
Sarfaranga View Rock Guest House Skardu
Sarfaranga View Rock Guest House is one of the great hotels you can find in Skardu and it is just at a distance of 5-minutes from the Italian K2 Museum. All rooms are individually designed and offer amenities such as premium bedding and a separate sitting area. Other facilities in all rooms, include a balcony, separate dining area, LED TV, complimentary tea and coffee, and electric kettles.
Sarfaranga View Rock House offers airport shuttle service, a free daily front desk, and extra perks including cooked-to-order breakfast, and a newspaper in the lobby. All guests can enjoy free Wi-Fi in rooms, along with 2 cafés and a garden.
PTDC Motel Skardu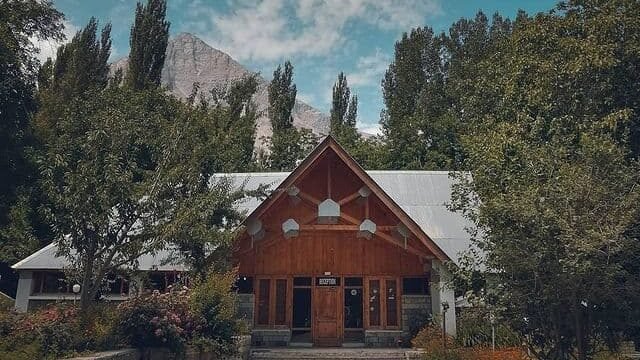 PTDC Motel is the only hotel in Skardu located on the banks of the Indus River. The comfortable rooms with mesmerizing views from windows, and the fine restaurant will make your stay at this motel a memorable one. You can taste the fresh apple, apricot, and almond trees grown in its backyard garden. The evenings and mornings in this motel are surreal.  The motel also has jeep rentals, satellite TV, fax, and gift shops. And yes, they provide dedicated parking and free Wi-Fi.
This hotel is the second home in Skardu for most tour operators. You don't have to worry about positioning your guides when you're at the PTDC Motel Skardu. They also organize special excursions to the famous Deosai Plains,  and most importantly, they are reliable.
Hotel Highlander Inn
For a comfortable stay for guests, Hotel Highlander Inn offers cozy rooms. The views of mountains from the windows and terrace are amazing.
Among the rooms, there are great options for families. Staff can arrange room service upon request. There is a parking lot on the territory and also has ATM Service. Even Hotel Highlander Inn welcomes guests with pets.
Plan a Trip!
A trip to Skardu is definitely a journey to heaven. Skardu's alluring beauty is soothing to the eyes and makes you feel much closer to the spiritual side of life. The Exquisite Italian K2 Museum is definitely a must-visit place when you come to Skardu.