Pakistan has one of the most wonderful yet unexplored tourist locations on the planet. Kumrat Valley is one of such entrancing spots, situated in the Upper Dir locale of Khyber Pakhtunkhwa. Because of the endeavors of the Government of Pakistan, the valley has been made substantially more secure and inviting to vacationers from across the globe.
This Ultimate Guide To Kumrat; A Blissful Valley in Swat will tell you further secret miracles of Kumrat Valley.
Location of Kumrat Valley in Swat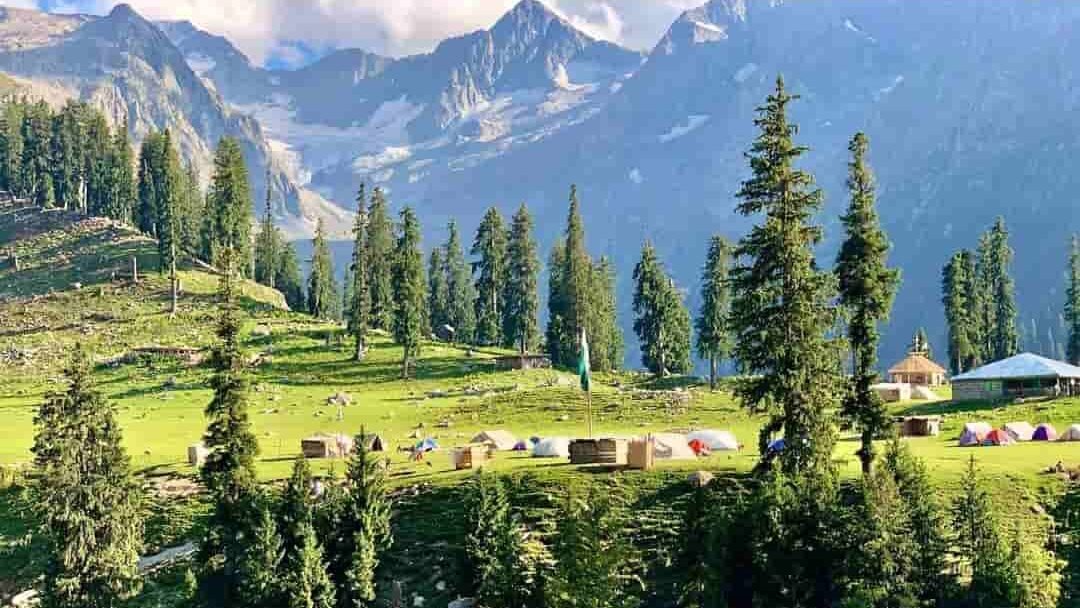 Kumrat Valley is one of the most beautiful places in Swat. It is located at a distance of 42.7 kilometers from the Swat Valley, and 2 hours away from the Thall town. 
The heaven on Earth, Kumrat Valley is visited by thousands of tourists each year. It is famous for the tourist sites located near it.
What is Kumrat Valley Swat Famous For?
Kumrat Valley is famous for its fairytale-like panorama created by the Deodar Trees. The beautiful Panjkora river passing through the valley makes it look more ravishing. 
Kumrat Valley has further lush valleys and forests rich with unique flora and fauna. The snow-covered mountains one can get a brief look at are top-notch in beauty.
Kumrat Valley Surroundings
Kumrat Valley is much cherished for its amazing surroundings. On the East side of it is the Swat valley along with Kalam Valley, Utror, and Gabral. On the West, it is the Upper Dir region, and on the NorthEastern side are some areas of Chitral Valley. 
Being surrounded by so many beautiful and administratively significant sites adds more to the significance of Kumrat.
Tourist Attractions in Kumrat Valley Swat
Panjkora River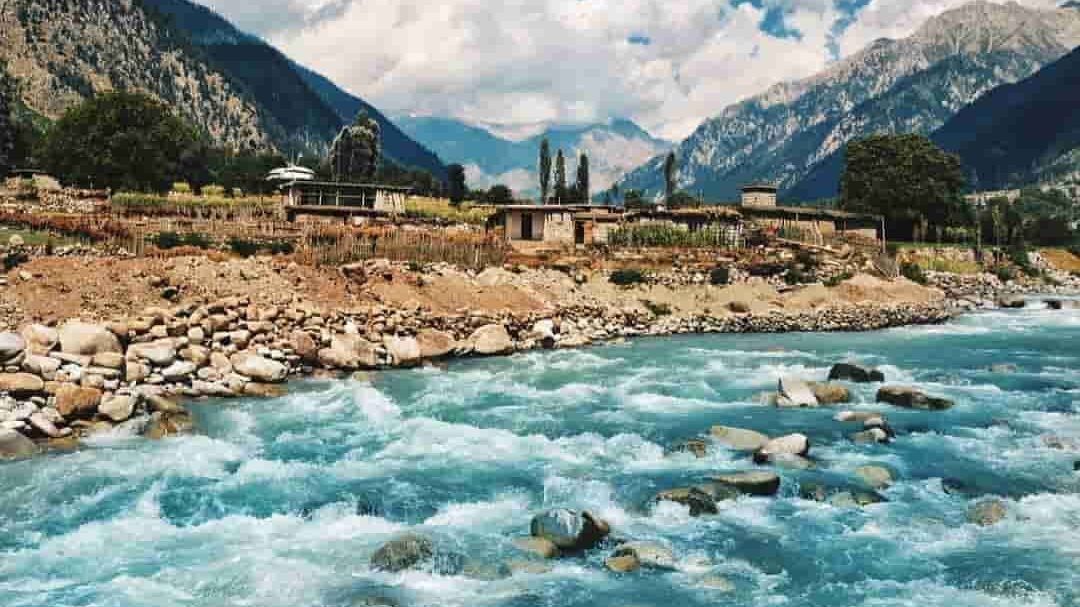 Panjkora River is situated in the Northwest area of the Khyber Pakhtunkhwa district in Pakistan. The significant source of this stream is the glaciers of the Hindu Kush Mountains.
Close by this river are found the grave cultural legacies of the Gandhara heritages like Timergara and Balambat. Panjkora river is additionally renowned for being a territory for remarkable types of Trout fish. Cyprinids are the local ones, while brown and rainbow trouts were additionally found here.
Katora Lake
The bowl-shaped Katora Lake is located in the Kumrat Valley that reaches Jahaz Banda. It is an alpine glacial lake located at an elevation of 11,500 feet from the surface. 
One can reach Katora lake base camp in Jandrai in 5 hours via a jeep from the Swat. One can also choose the option Katora trek to arrive at the lake after 2 days long trekking.
Jahaz Banda Waterfall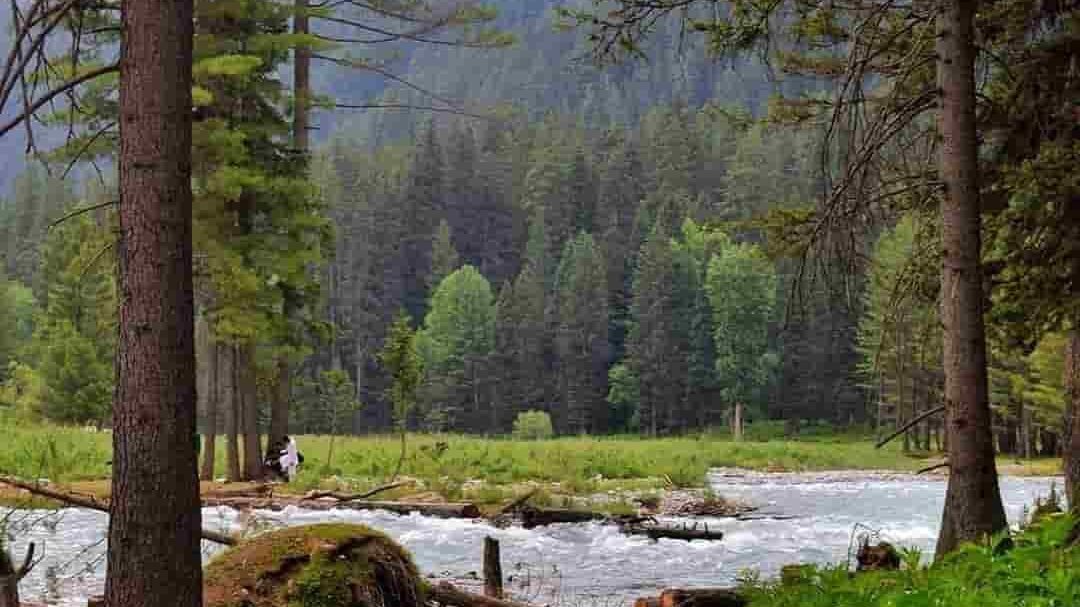 Jahaz Banda waterfall is located in the beautiful Jahaz Banda meadows. It is located at a much height that the cascading water turns into the fog in the midway. 
Jahaz Banda regales hundreds of tourists each year with its mesmerizing sight. The surroundings of this cascade are equally remarkable and breathtaking.
Do Kala Chashma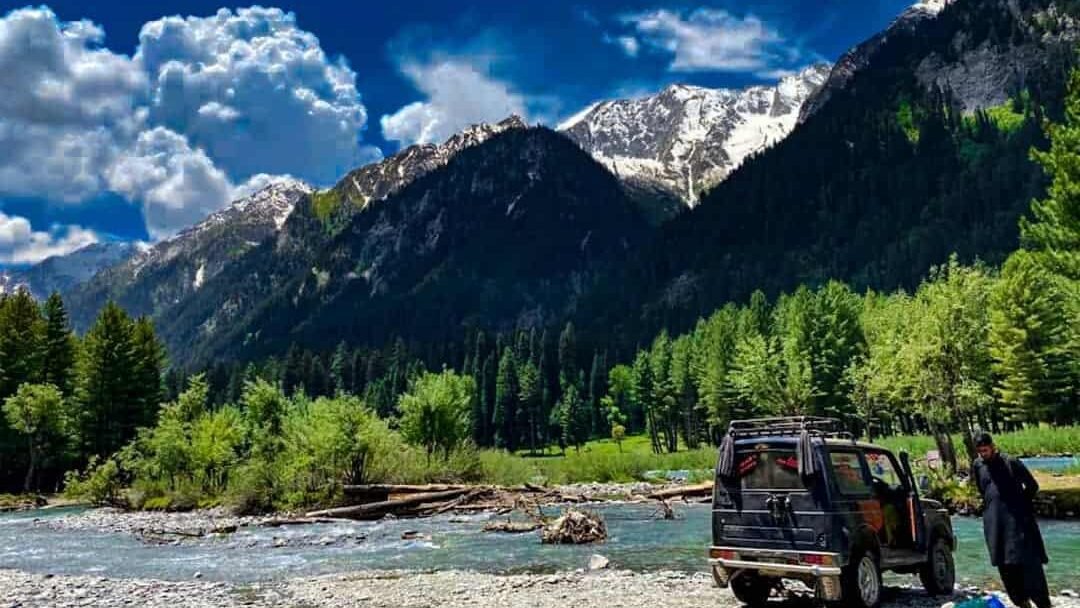 The delightful sight of an exuberant river passing through the mighty black mountains is what makes Do Kala Chashma famous. It is also considered the beginning point of the Kumrat Valley. 
The spring is situated a good ways off of 90 minutes from the Kumrat Valley. Do Kala Chashma is one of the best tourist sites in Kumrat.
Thall Ancient Mosque
The magnificent Jamia Masjid Thall is a marvel of ancient architecture. This 19th-century Mosque made of stone and wood is located on the bank of Kumrat River in the Dir district.
The handcrafted artistic patterns and flowers add to the grandeur of Thall Mosque. This double story is located amidst the calm ambiance and beautiful sights of the river Kumrat and green meadows.
Places to Visit Near Kumrat Valley
Saidu Sharif
Saidu Sharif is significant because of the official reasons and the location that makes it the exact center of the Swat region. It has all the facilities of elegant hotels, shopping malls, local markets, and historical sites to visit. 
Saidu Sharif to Kumrat valley distance is of 6 hours and 20 minutes. It equally has beautiful tourists spots nearby including the Pari lake, Mahodand lake, Kalam, etc
Kundol Lake
Kundol lake otherwise known as the Kundol Dand is located at a distance of 20.8 kilometers from Kalam Valley. It is famous for the myth associated with it of the moon-shaped golden bowl that emerges from its center and has magical powers.
It is located in the Hindukush mountain range at an elevation of 9950 feet from the surface. Kundol lake is also famous for the beautiful sights one gets to see en route towards it.
Marghazar Swat
Marghazar is known as the Greenland or Green Valley in Swat. Due to its surroundings of forested hills, mountains, green pastures, and streams, it is one of the best places to stay in Swat. 
Marghzar Valley is also famous for the White House palace that was once visited by Queen Elizabeth. It is also renowned for the Elum Mountains which have both geographical and archeological significance.
Kalam Valley
Kalam Valley is one of the most popular tourist sites in Swat. It is famous for being home to 50 glacial lakes. It is also the point from where the Swat River flows and gets divided into Ushu and Gabral rivers.  
Due to its valleys, hill stations, lakes, and mountains, the Kalam Valley is visited much by tourists. It also has a mild climate making it suitable for visitors to stay.
Saidgai Lake
Saidgai lake is in the outskirts of Swat and Dir valleys. It is an alpine glacial lake located at an elevation of 11,500 feet.
Being one of the largest lakes in the region, Saidgai Lake also serves as a reservoir of other streams. It is highly visited by trekkers and adventure lovers that enjoy taking in the beauty of this lake encircled by snowy peaks and pine forests.
Madyan Valley
Madyan is one of the most beautiful hill stations in Swat. It is located at a distance of 4 hours and 38 minutes from Kumrat Valley. 
Because of the moderate weather and availability of hotels, restaurants, and tourist sites, people prefer to stay in Madyan Valley. The valley can also be a perfect getaway as tourists can enjoy multiple activities here like boating, swimming, trekking, etc.
Bahrain
Bahrain is a beautiful town in Swat located along the bank of River Swat, It is famous for the best sights one can take a glance at.
Due to its location at the conjecture of River and Daral and River Swat, Bahrain presents a scenic spectacle. It is also considered as one the most preferred places to stay in Swat.
Matiltan Valley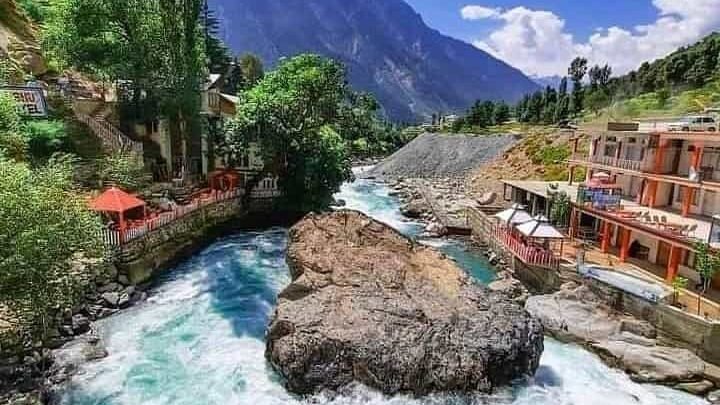 Matiltan village and valley is located at a distance of 11 kilometers from Kalam Valley in Swat. Apart from the gigantic glaciers, blanketed mountains, and pine woodlands, one can also catch a glimpse of the tallest peak of Falak Sar mountain.
Matiltan village can be reached through a jeep or other four-wheel vehicle or trekking. One has to surpass it to reach the Mahodand lake too.
Mahodand Lake
Mahodand lake is the most wonderful lake in Swat situated a good ways off of 5 hours from the Kumrat Valley.
The lake is served by the liquefying glaciers of the Hindukush mountains. Mahodand lake is valued by travelers in light of its quiet atmosphere and appealing sights of the snow-covered mountains, fields, pine trees, and the mirror impression of these in the lake.
Malam Jabba
Malam Jabba caters to thousands of international and national tourists every year. It is well-known for being the most beautiful skiing destination in Pakistan. 
The best time to visit Malam Jabba is during Summer or Spring when the temperature is moderate. You could check the Malam Jabba hotels availability easily and about their environment in our article. Notwithstanding, the ones who wish to partake in the yearly winter celebration here should visit during Winter.
Fizagat Swat
Fizagat is one of the peaceful hill stations of Swat located at an elevation of 3120 feet from the surface. It is famous for indulging tourists in lovely sights of its mountains, forests, streams, waterfalls, and meadows. 
Fizagat park well-maintained by the Government of Pakistan is one of the picnic points in Fizagat. After many renovations of this park, more fun features like cable cars, riverboats, and river lifts have been added to it.
Janshai Meadows
The Janshai Meadows is nestled exceptionally amidst the snow-covered mountains, pine woodlands, and freshwater streams. One can easily reach here from Kalam Valley located at a distance of 59.5 kilometers from Kumrat.
Tourists find Janshai Meadows appealing because of the alluring natural sights and tranquility of this place. Voyagers are in every case much charmed about investigating this hidden gem in Swat.
Desan Meadows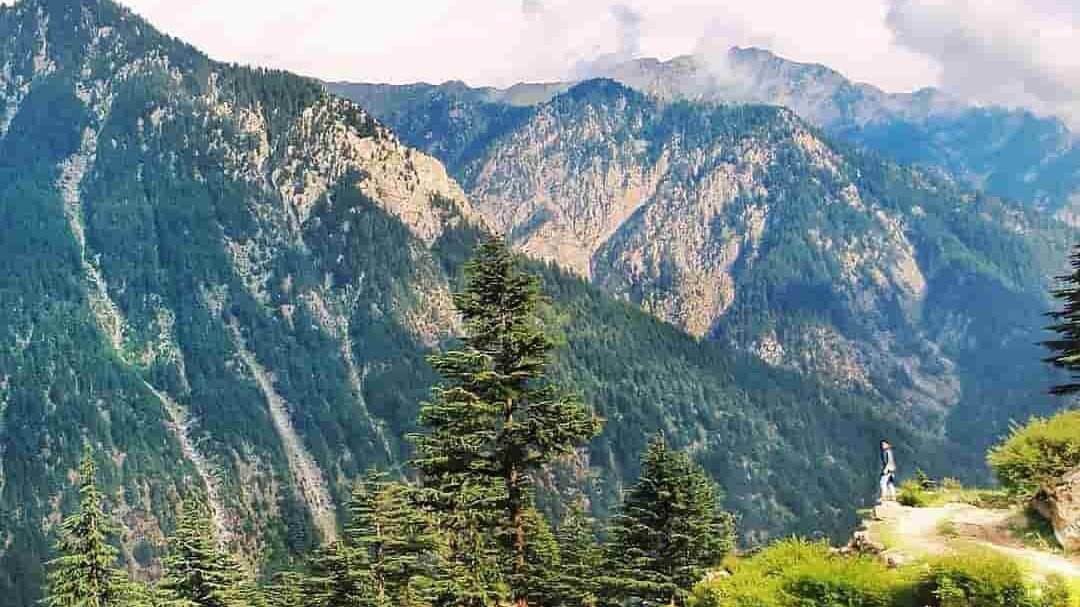 Desan Meadows is one of the most breathtaking tourist locations in Swat. It is reached mostly by independent trekkers to enjoy the magnificence of its exotic sights. 
One can choose to travel towards Desan meadows via jeep or trek that begins from the Kalam Bazaar that is of 5 hours. Tourists can also trek further for 2 hours from Desan to Godar lake.
Tourist Activities To Enjoy in Kalam
Trekking
There are multiple options in the Kumrat valley for trekkers as it has multiple tracks leading to the marvels of beauty. Katora lake is one of its kind that one trek through towards Katora Lake.
Moreover, the trek starting from Kalam Bazaar towards Desan meadows and further to Godar lake is equally marvelous.
Fishing
Trout is the major reason that tourists visiting Swat prefer fishing. The famous spot however is Mahodand lake but the lakes in Kalam are equally cherishable for the activity. 
Most of the restaurants are located along the bank of River Swat in Madyan, Bahrain and Saidu Sharif are pioneers in serving savory trout.
Camping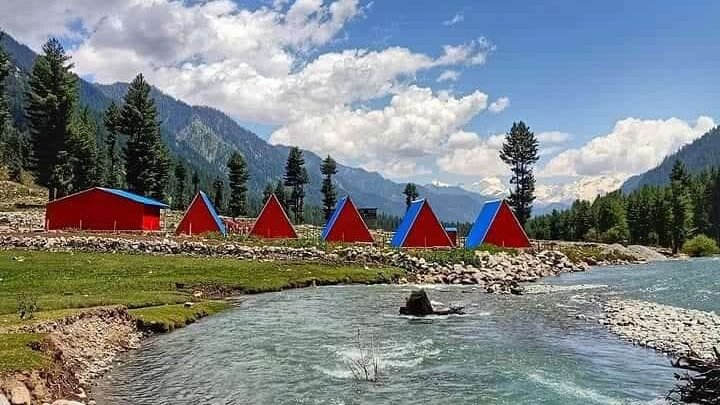 Northern areas of Pakistan are ideal for camping and enjoying a bonfire night with family and friends. Swat like has many such places where one can enjoy camping and most of them even have a camping facility provided by the government like Kumrat Valley.
Furthermore, independent trekkers and mountaineers can set up their camps near the beautiful Mahodand and Kundol lakes. Elum mountains and Hindukush mountains are preferred for expeditions.
Boating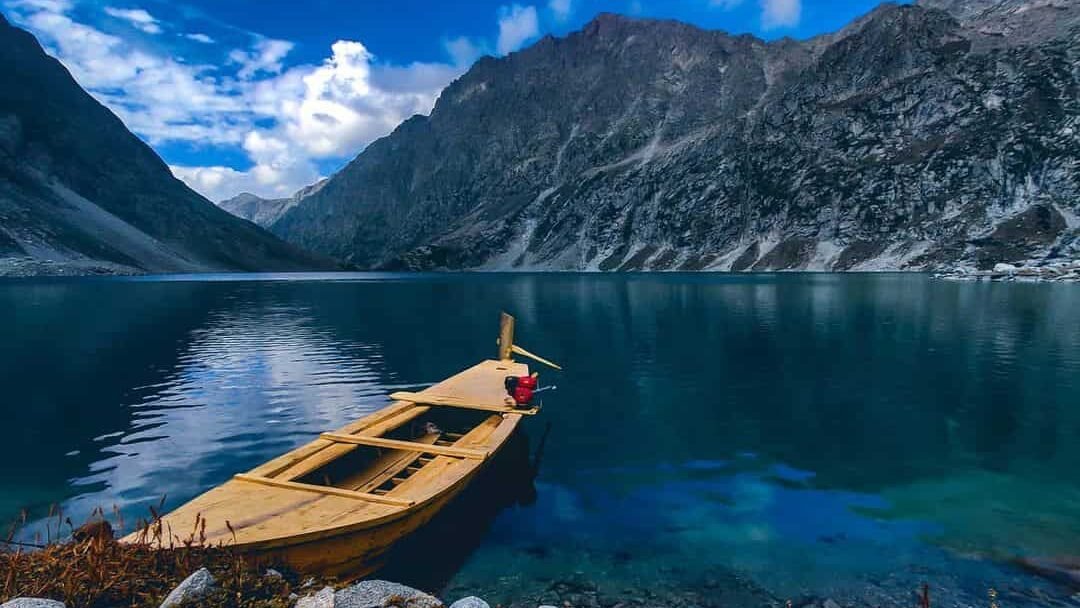 Boating is one of the most cherished and widely available in the entire Khyber Pakhtunkhwa province.
Mahodand and Kundol lake are one of the best places for boating. Meanwhile tourists also prefer boating in Kumrat at the nearby lakes.
Skiing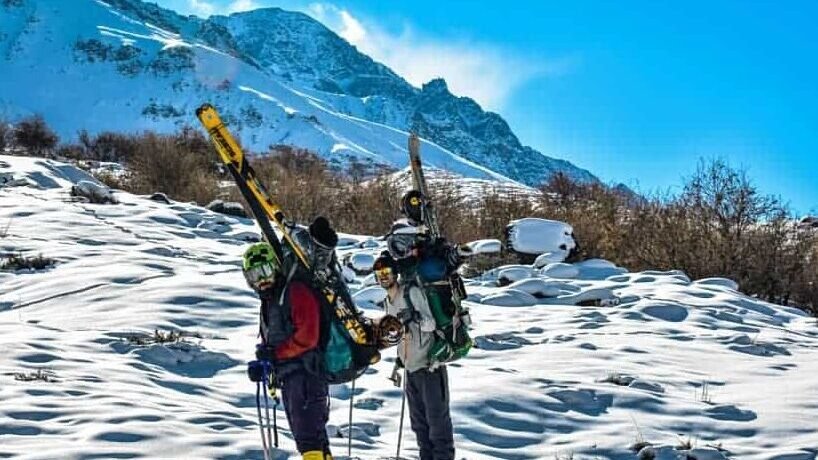 Malam Jabba is the best skiing destination in Pakistan. The Ski resort here entertains thousands of tourists with top-notch facilities.
Skiing could be enjoyed during winter when the hills are all blanketed with snow. One can enjoy the annual winter festival held in Malam Jabba.
The Weather of Kumrat Valley in Winter
The weather in Kumrat Valley remains colder for most of the months during the year. December, January, and February are the coldest months with temperature falling to -16 and lower than that.March, April, October, and November are slightly on the colder side.
During snowfall one can get the best time to partake in the winter activities in Kumrat and Malam Jabba.
Kumrat Valley Climate in Summer 
The best time to visit Kumrat Valley is during Summer and Spring seasons. During June, July, August, and September the weather is suitable when it remains between 5.6 to 16 Celcius.
Sometimes there might be a little rainfall in June, July, and August. Even during Summer, the nights in Kumrat are comparatively colder than the days.
Hotels in Kumrat Valley
Kumrat Glamping Resorts
Kumrat Glamping Resorts are located in Thall. They are situated at a distance of 49 kilometers from Chitral.
Furnished with proper amenities and facilities, Kumrat Glamping Resorts are a good option to stay for families. They have the availability of continental breakfast, room service, garden, and a beautiful river view.
Green Hill Hotel Thall
Hotel Green Hills is also located in the vicinity of Thall town. It has all the adequate facilities to make the guests feel at home. The hotel has its own restaurant, 24 hour desk and room service, security, and etc.
Each of their rooms has a balcony to take in the lovely river view. Moreover, one can now also book a room online at Hotel Green Hills Thall.
Conclusion
Have you ever wished to see heaven on Earth? Surely, Kumrat Valley will fulfill that desire of yours. It is one of the fairytale-like places in Pakistan that are yet to be explored much by the world.
If you are planning to visit Swat anytime soon, consider LovinPakistan to be your travel partner. Explore onto our blog multiple places that are worth appreciating in Swat.