Whether you're an art lover or a history buff, there are some museums that are sure to take your breath away and are well worth a visit at least once in a lifetime.
As one of Pakistan's oldest cities, Lahore preserves its rich history in many museums and if you love exploring history and culture, following Museums in Lahore; Footprints of Generations has to be your go-to place.
Lahore Museum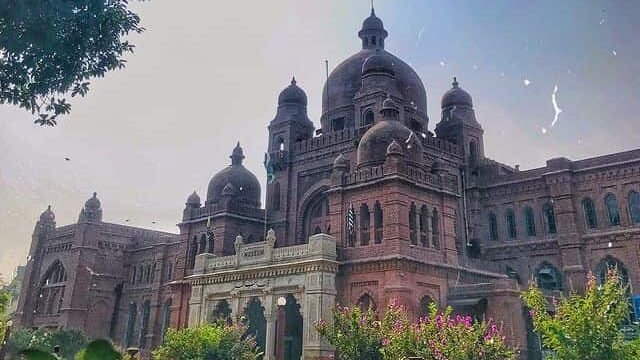 Lahore Museum, which opened in 1894 also known as the Central Museum. Its majestic red-brick building combines the old traditions of Mughal architecture and stands out among the buildings built in Lahore during the British era. It preserves the relics of an ancient civilization with a history of 123 years and kept the remnants and prestige of all religions.
The Mughal Gothic architectural style and artistic infrastructure of Lahore Museum attract its visitors. This building surprisingly, contains 500,000- year-old instrumental artifacts from the stone age, shocked? You must be!
Features
Among the museum's 20 galleries, remains of Harappa, Mohenjo-Daro, and other civilizations have been preserved which makes it one of the most popular museums in Lahore.
 The coin collection and calligraphic manuscripts attract scholars around the world for their rarity and abundance.
 One of the most interesting sections is "Arms and Artillery", step inside and you will see a bronze statue of Queen Victoria wearing a hornitos lace apron.
It has an extensive collection of musical instruments and an elaborate collection of weapons and armor.
The Tibetan section of the museum has some great examples of lama temple banners.
There is also the Pakistan Movement Gallery, a photo gallery commemorating Pakistan's rise to an independent state.
Army Museum
On August 13, 2017, Army Museum was inaugurated by Chief of Army Staff General Qamar Javed Bajwa and is located just 11 minutes away from Allama Iqbal International Airport. The ground is paved with helicopters and tanks.
The first thing that catches your eye is the four captured Indian tanks, three of these were captured in the 1965 war and the fourth one was captured in the 1971 war. Life-size statues of elephants and horses are displayed on the left and right of the living room in front of the entrance of various galleries, along with a brief history of their use.
Features
As you enter the building, you will see black marble slabs engraved with the names of martyrs, and these slabs are updated from time to time.
If you keep going, you will see the sculptural structure of Pakistani Army Generals from 1947 until now.
This museum displays photos, facts, and figures of leaders who led the Pakistani movement.
Separate galleries depict the two major wars of 1965 and 1971.
Photos of young students and teachers, who were martyred in the December 2014 terrorist attack on Army Public School Peshawar are a source of inspiration and memory for visitors.
It is an affordable spot for tourists in Lahore as you just have to buy a ticket for 50 PKR and you will get entire information about the wings of the Pakistan Army.
AL- Hamra Art Centre
It is situated on Mall Road, Lahore, designed by Nayyar Ali Dada, and completed in 1992. The building contains an auditorium, theatre, an art gallery, and a music Centre located on three separate wings.
This Art Centre is built of thick brick and resembles the Mughal style. This popular and successful building shows its complexity in a simple yet powerful way.
Features
Alhamra art council hosts cultural fairs, festivals, and other arts and cultural-related events in Pakistan or abroad, organizing cultural ensembles, and exhibition of plastic, metal, and wood arts and crafts.
 It establishes a library of musical instruments, and sculptures, a permanent art gallery with paintings, and an audio-visual library.
This council aims to promote the art and culture of the country, sustaining the lives of artists and improving the social and economic conditions of artists.
National History Museum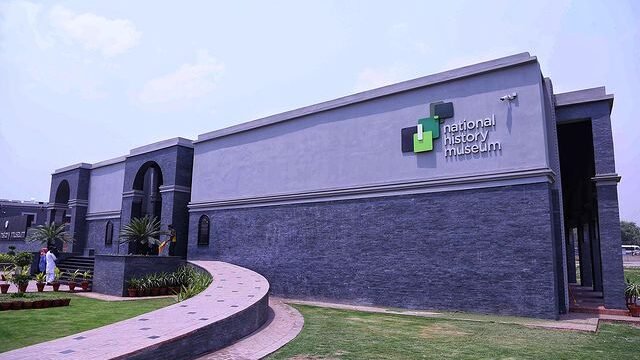 It is Pakistan's first digital museum located in Iqbal Park and has become a popular tourist attraction since its opening. It was inaugurated by CM Punjab, Shehbaz Shareef, on April 17, 2018. At over 35,000 square feet, it beautifully showcases Pakistan's history in a contemporary style.
The National History Museum consists of five halls dedicated to different times in Pakistan's history. This digital museum brings together memorable history, Pakistani heroes, and pop culture under one roof.
Features
Some of the key features of the National Museum of History include a timeline of Pakistani currency, the Jinnah-Gandhi negotiations, memorabilia of British rule in the subcontinent, and models of rehabilitation offices.
It also offers presidential citations, hero citations, important aircraft owned by Pakistan, important articles, letters, and direct accounts.
Numerous exhibitions, audio, and video features, and an extensive collection make a visit to the museum impressive and relive Pakistan's independence.
Allama Iqbal Museum
This was the residence of our National poet, Allama Muhammad Iqbal, and was converted into a museum formerly known as Javed Manzil. Pakistan's government bought the mansion from Iqbal's son for £3.5 million.
The rooms of Allama Iqbal Museum have been kept the same as they were in the 1930s and a platform has been created for visitors to explore the entire house. Pakistan's President Muhammad Zia ul Haq opened the museum in December 1984. Iqbal's son donated 600 pieces belonging to Muhammad Iqbal to the museum.
Features
It displays original furniture, clothes, original manuscripts, diaries, photographs, certificates, awards, and educational degrees.
This museum also has a library and nine galleries, and each gallery displays different belongings of Allama Iqbal.
The museum is open daily from 9 am to 4 pm, and there is no entrance fee but all donations are welcome.
National Museum Of Science And Technology
This Science and Technology Museum was established in 1965 by the Government of Pakistan and the Ministry of Education with the aim of building scientific awareness among students and the general public.
The National museum of science and technology is a non-profit, permanent, publicly accessible institution serving society, exhibiting the tangible and intangible heritage of humanity and its environment for the purpose of educating the public.
Features
It illuminated the history of life and the history of science through the exhibition.
This museum conducts annual science fairs, workshops, and seminars to raise public interest and awareness of science and technology.
There are also annual essay writing contests and science quizzes, and organize healthy competitions for students.
The exhibition and its galleries have undergone four stages of expansion and this museum became an affiliated department of the Punjab Department of Science and Education.
The exhibits include Rolls-Royce engines, salt, and coal mine operations, and the largest Foucault pendulum in South Asia.
Fakir Khana Museum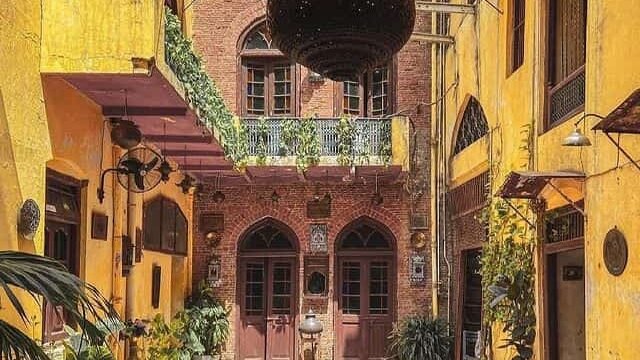 The Fakir khana Museum has been open to the public since 1901 and is located inside the Bhatti Gate and is known as the largest private repository of cultural and historical artifacts in South Asia. It is one of the places included in most guided tours of Lahore being among places that tourists cherish a lot.
Lahore's famous Fakir family serves as guardians of heritage and history, gathering and preserving great art connoisseurs. The building was originally owned by Raja Toder Mal, Minister of Finance at the Akbar court in the Mughal Empire.
Features
For visitors to enjoy, the Fakir khana Museum houses a variety of gifts from Queen Victoria and Maharaja Ranjit Singh depicting Punjab's cultural history and heritage.
The museum also has about 10,000 manuscripts, ceramics, miniature paintings, and statues, most of them from the Sikh period.
Despite the many works of art, the gallery's most valuable and attractive asset are paintings by Nawab Mumtaz Ali, because it was painted with a single strand of hair.
This is a beauteous museum in Lahore that is perfect for lovers of art and antiques, but reservations are required before visiting as the museum is not open to the public.
Shakir Ali Museum
The museum is located in New Garden Town Lahore and, is the official birthplace of Shakir Ali, an artist known for his most beautiful architecture, and also an art teacher and director of the National University of the Arts.
If we talk about the architecture of the Shakir Ali museum, it is built with burnt bricks, as Shakir Ali hand-picked each brick and door hinge, it took almost 10 years to complete this masterpiece.
Features
A walk through the museum's galleries recalls Ali's famous paintings, photographs of his life, portraits of him taken by other artists, and works of art donated by his students.
In the living room, there are several items from British Arts and Crafts movement.
There are dinner sets on the country-style table and luxurious tea sets on the chest of drawers.
The museum features an astonishing variety of works of art created by Pakistani artists, some are abstract works, some depict rural landscapes, and some are jewels resembling past architecture.
This Museum hosts workshops to preserve the artist's name and his efforts in this field.
Open Your Eyes to the Past in the Experience You Want!
For those who are quick to find museums boring, it's time to rethink. Galleries have mastered the art of creating fascinating art, history, and cultural exhibitions that will change the minds of skeptics.
Plan your next trip to the best museums in Lahore, and these museums have the ability to drop your jaw as you pass through their door. If you are in Lahore and have yet not discovered the best food available here then do read our article on 50 exotic places to eat in Lahore.