They say Lahore is yet another world with bustling streets, contemporary and traditional cuisines, and remnants of historical marvels. The city of gardens is visited by people for different purposes mainly tourism, business, and education.
This cultural heritage of Pakistan is cherished by both national and international tourists. Being keen voyagers and pilgrims of adventure the vacationers customarily need legitimate direction to the most ideal getaway spots in Lahore.
Hereafter, we have come to furnish you with an answer with a rundown and subtleties of The Most Captivating Guided Tours of Lahore.
Guided Tours of Lahore by Walled City Authority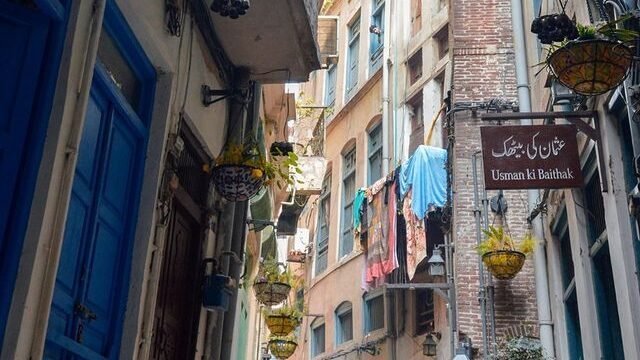 Get ready for a trail through the enriched history and culture of Lahore. Walled City Authority Lahore introduced many development projects over quite a few decades to preserve the ancestral identity of the heart of Pakistan. 
Among all of their initiatives towards the promotion of tourism in Pakistan are the Guided tours of Lahore. Wait no more and check out the best sites to visit in Lahore.
Pilgrimage Tour (Yatra Tour)
The Yatra Tour ensures to take the pilgrims and other tourists to the sacred sites and other facilities. Among all of the religious sites in Lahore, the Sikh heritage sites are the most visited ones.
Walled City Authority's Yatra Tour is a complete package including a trip to Sikh Gurdwaras and Janam Asthana. The tour package with a Sikh guide includes brunch at Cooco's Den, a live cultural performance, a Rangeela Rickshaw Ride, and Souvenirs of Sikh culture. 
Sites To Visit
Birth Place/ Janam Asthana of Guru Ram Das
Doorway to the Guru Dera Sahib/ Gurdwara Dera Sahib
Doorway to Guru Arjun Dev/ Gurdwara Guru Arjun Dev
Samadhi of Ranjeet Singh/ Tomb of Ranjeet Singh
Samadhi of King Kharak Singh/ Tomb of Kharak Singh
Samadhi of Kanwar Nau Nehal Singh/ Tomb of Kanwar Nau Nehal Singh
Ticket Price
Rs. 1500 Per Person
Timings 
11 A.M to 2 P.M
Bhatti & Taxali Gate Tour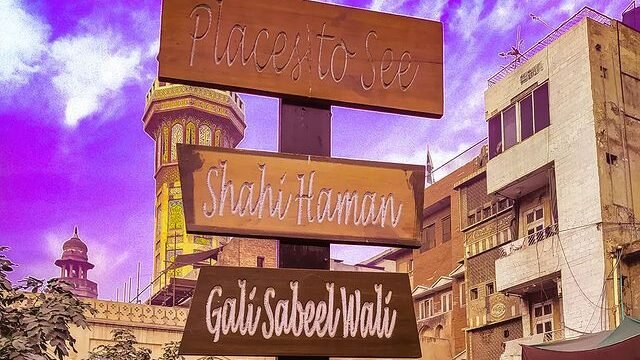 Bhatti Gate and Taxali Gate are two of the popular 13 doors of Walled City Lahore. Every road addresses the engraved history of Punjab since the hours of the Mughals and Sikhs. The Bhatti meets Taxali Gate Tour takes you through the memorable roads, MughalEra architectural wonders, melodic customs, and residencies of legends.
Have a vivacious encounter while visiting the musical rigmaroles, revered Havelis, and jazzy Bazaars. This fun-filled guided tour of Lahore starts from Food Street from where the visitors get a ride on Rangeela Rickshaw to Bhatti Gate to proceed with the walking tour. 
Sites To Visit
Lunch at one of the best restaurants in Lahore.
Stroll to the Shaikhupuria Bazaar. 
Flute performance at Victoria School.
Manga Chowk
The Luminous Wajid Ali Shah Haveli
Faqir Khana Museum
Heer Goi/ Circumlocution at Mubarak Begum Haveli
Legendary Madam Noor Jahan's House
Taxali Mosque
Tabla and Harmonium performance at Taxali Gate
Shabu Sweets
Pakistan Talkies
Lounge of Ustaad Daman 
A grand welcome with Dhol at Food Street of Lahore
Ticket Price
Rs. 1500 Per Person
Timings
11 A.M to 2:30 P.M
Tour to The Wrestling Gymnasium (Kushti Tour)
The Walled City Authority has illuminated the dying culture in front of the tourists as well as the youth of Pakistan. In order to pay tribute to Gama Pehalwan and enlighten the tradition of Punjab, they have launched Kushti Tour.
Wrestling matches are organized and one can have a bewildering experience of intangible culture while being on a tour to Taxali Gate.
Sites To Visit
Live wrestling match
Cultural performances
Visit the Bhatti Gate and Taxali Gate
Lunch at the Food Stree in Lahore Fort
Ticket Price
Not Available
Timings
Not Available
Tour to The Royal Trail
Let the guide take you through the historic streets of Delhi Gate and into the times of Nawabs and Mughals. The Royal Trail Tour is a walking tour starting from Delhi Gate but after 1.75 hours of the tours, you can take a ride on a Rangeela Rickshaw to explore further.
It will make you visit the 12 gates of Lahore through Circular Road while moving towards the Lahore Fort. The professional guides will not just introduce you to the places but will also make you familiar with the tales of the olden times.
Sites To Visit
Breakfast at Shahi Hammam
Visit Wazir Khan Mosque through Sabeel Wali Gali.
Gali Surjan Singh
Mohammadi Muhallah
Alif Shah Haveli
Haveli of Bej Nath
Dina Nath Well
Chitta Gate
Shahi Hammam/ The Royal Bath
Lahore Fort
Badshahi Mosque
Ticket Price
Rs. 1500 Per Person
Lahore Fort Guided Tour Fee
| | | |
| --- | --- | --- |
| Foreigner | Entry Fee | Sheesh Mahal |
| Rs. 500 | Rs. 50 | Rs. 100 |
Badshahi Mosque Guided Tour Fee
Rs. 20 Per Person
Shahi Hammam/ Royal Bath Tour Fee
| | |
| --- | --- |
| Locals | Foreigners |
| Rs. 50 | Rs. 400 |
Timings
Every Sunday from 10 A.M to 12 P.M
Walled City Virtual Heritage Tours
Culture is a forgotten aspect of identities for the new generations. The flavor of traditions is often left behind when one does not get much of a chance to explore them due to a busy schedule. Therefore, Walled City Authority Lahore took the initiative to make the masses aware of the information regarding the historical sites of Lahore. 
The Lahore Heritage 360 site shows a panoramic view that the users can move in any direction and zoom in and out as per their choice. The i button helps one to know the history of any additional information about different sites. The following historic marvels of Walled City Lahore could be traveled virtually through these 360-dimensional tours. 
Lahore Heritage 360 Tours
Lahore Fort 360 Tour
Badshahi Mosque 360 Tour
Royal Trail 360 Tour
Hazoori Bagh 360 Tour
Gali Soorjan 360 Tour
Masjid Wazir Khan 360 Tour
Shahi Hammam 360 Tour
Walled City Authority History By Night Tours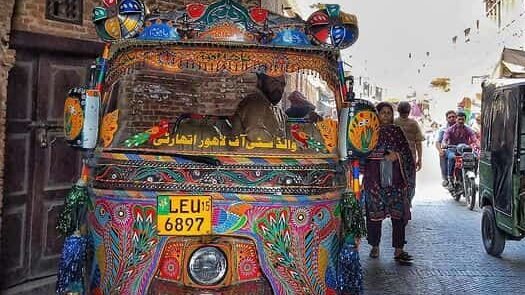 Ever wondered how the ethereal historical sites in Lahore look at night? Let Walled City Authority Lahore take you through the pearls of old legacy in a night view. The grand tour begins from Fort Food Street, where the visitors are taken to Huzoori Bagh. 
After a visit to the monumental Badshahi Mosque, the next spot is Lahore Fort where one will catch a glimpse of more Mughal architectural marvels like Sheesh Mahal, Picture Wall, and Summer Palace. Maharaja Samadhi and Ranjeet Singh's tomb is also included in the package. Moreover, do not miss out on adding on the free tours in your historical tour by night with TDCP Lahore.
Major Attractions
The picturesque Huzoori Bagh
Grand Badshahi Mosque
Royal tour to Lahore Fort, Sheesh Mahal, Picture Wall, and Summer Palace
Visit to the Samadhi Maharaja
Ranjit Singh's Tomb visit.
Costless Additions in History By Night Tours
Live Classical Music Performance
Mughal Attired Tourist Guides 
Traditional Refreshment Arrangements
Rangeela Rickshaw Ride
Timing
7: 30 p.m to 9:30 p.m
Ticket Price
Rs.1500 per person.
Guided Tours of Lahore by TDCP Sightseeing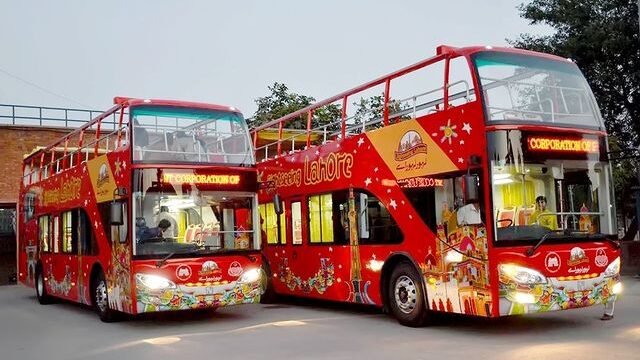 Have you ever happened to be on a tour of Lahore on a double-decker bus? If not then avail of this opportunity being provided in the heart of Pakistan. TDCP Sightseeing Tours of Lahore on a double-decker bus with the capacity to accommodate 60 tourists are innovative and ethereal. 
The guide also keeps on updating the tourists throughout about the historical and factual information of the sites. The expedition starts from Qaddafi Stadium and takes you to 36 famous landmarks of Lahore combined with different stopovers. 
Mentioned underneath are the enthralling guided tours of Lahore one can avail of for the best tourism experience in Pakistan.
Daily Walled City Tours
Explore the various culturally and historically enriched sites in Lahore's walled city area. The TDCP Sightseeing tour plan for the walled city proceeds at different timings throughout the day from 8 am to 10 pm. There are 1 30 to 2 hours stay at various worth visiting sites in Lahore. 
Tourists get to experience prestigious sites such as the Tomb of Allama Iqbal and many more nearby. Moreover, alongside sightseeing, the tourists also get entertained by the different live shows, musical performances, monkey shows, etc during this guided tour of Lahore. Rooftop dinner and lunch at the best restaurants in Lahore are a plus to make the tour more interesting.
Timings
Timings
Stay Duration
Places To Visit
10 a.m to 1:30 pm
1: 30 Hours
1. Lahore Fort
2. Badhsahi Mosque
3. Allama Iqbal Tomb
4. Greater Iqbal Park
5. Minar-e-Pakistan
6. National History Museum
12 pm to 4 pm
2 Hours
1. Greater Iqbal Park
2. Minar-e-Pakistan
3. Dancing Fountain Show
4. National History Museum
5. Rangeela Rickshaw Ride
6. Lahore Fort
7. Badshahi Mosque
8. Huzoori Bagh
9. Fort Food Street
10. Boating Lake
4:15 pm to 8:30 pm
2:15 Hours

1. Dancing Fountain Show
2. Minar-e-Pakistan
3. Boating Lake
4. Tomb of Allama Iqbal
5. Lahore Fort
6. Badshahi Mosque
4:15 pm to 8:30 pm
2:15 Hours
1. Fort Food Street
2. Puppet Show
3. Monkey Show
4. Lahore Fort
5. Badshahi Mosque
6. Boating Lake
7. Tomb of Allama Iqbal
8. Dancing Fountain Show
4:15 pm to 6 pm
Qaddafi Stadium to Azadi Flyover
6 pm to 10 pm
2 Hours
1. Minar-e-Pakistan
2. Dancing Fountain Show
3. Food Street
4. Puppy Show
5. Monkey Show
6. Live Musical Performance
7. Rooftop Dinner
8 pm to 11:30 pm
1: 30 Hours
1. Food Street
2. Monkey Show
3. Puppy Show
4. Live Music
5. Rooftop Dinner
TDCP Sightseeing Lahore Walled City Tour Schedule
Tour of Flag Lowering Ceremony at Wagah
A tour to the second largest city of Pakistan is incomplete without sighting the zealous military parade at Wagah Border. The prestigious flag-hoisting and lowering ceremonies is a part of many guided tours of Lahore and are held daily accompanied by an enthusiastic display of patriotism and bravery by the soldiers.
Being one of the most popular tourist attractions in Lahore the Wagah Border is visited by thousands of visitors to witness the parade. Are you also excited to catch sight of the rivalry and bravery between the two nations? Then wait no further and book your seats for this tour by TDCP Sightseeing bus service.
Timings
3:30 to 7:30 pm daily
Weekend Heritage Tours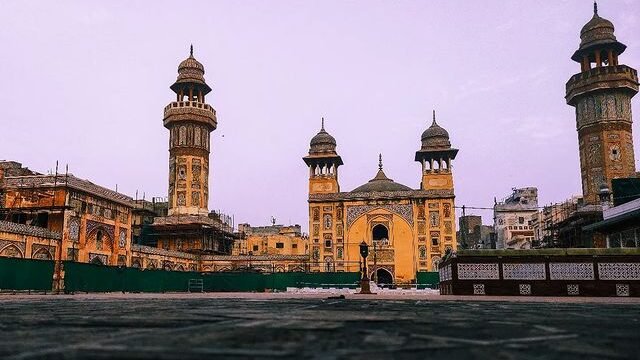 Let TDCP Sightseeing Tour double-decker bus service excite your weekends with their heritage tours of Lahore. This is one of the most informative guided tours of Lahore where one could see the marvels of historical remains and vibrant traditions of Punjab.
The tour starts at different timings throughout the weekends and takes you through the famous gates of Lahore, Lahore Fort, and Wazir Khan Mosque. Moreover, the visitors also get a chance to have a Royal Photography session and they can likewise buy some cool Mughal traditional stuff from the souvenir shop. 
Timings
Day of Tour
Places to Visit
12 pm to 4 pm
Sunday
1. Delhi Gate
2. Shahi Hammam
3. Gali Surjan Singh
4. Wazir Khan Mosque
5. Dena Nath Well
4:15 pm to 8:30 pm
Sunday
1. Delhi Gate
2. Shahi Hammam
3. Gali Surjan Singh
4. Wazir Khan Mosque
5. Dena Nath Well
6. Greater Iqbal Park
7. Dancing Fountain Show
4:15 pm to 8:15 pm
Saturday
1. Shah Aalam Garden
2. Fountain Show
3. Royal Photography
4. Gulabi Bagh
5. Souvenir Shops
TDCP Sightseeing Lahore Weekend Heritage Tour Schedule
Sunday Museum Tours
A delightful Sunday Museum Sightseeing Tour is arranged by TDCP to make your weekend momentous with a visit to the best museums in Lahore. The boarding time on the double-decker is at 2 p.m from when the tourists are taken to the Lahore Museum.
After spending an hour there you will be taken to the National History Museum in Greater Iqbal Park to relish history for another hour. The bus is finally boarded again to reach the ending point of this tour at Qaddafi Stadium after an entire day of admiring historical expeditions. 
Timings
2 pm to 6 pm (Every Sunday)
Guided Tours of Lahore by Private Operators 
Street Food of Lahore Walled City Tour
 Experience the exotic food options available in Lahore with the Street Food of Lahore Walled City Tour. One can immerse in this walking tour and have a taste of one of the best street foods in Lahore. 
This amazing tour not just takes you through the cultural heritage of Lahore but also through the flavors of 10 eateries to tantalize your taste buds. Starting from Shahi Hammam the next stop is Delhi Gate and then the main meal at Haveli, one of the best rooftop restaurants in Lahore.
Duration
3 to 4 hours
Facilities
Local street food tasting
Traditional lunch/dinner
Local hot and cold beverages
Separate options for vegetarians
Shahi Hammam entry ticket
Historical Tours
Lahore is home to ancient diverse cultural values and heritage sites. With historical tours of Lahore by private operators, one gets to see the most amazing museums in Lahore.
Moreover, you get a chance a delve into rich Mughal architectural sensations. An air-conditioned vehicle takes you on this amazing guided tour of Lahore to have an insight into the walled city. 
Duration
6-8 hours
Facilities
Breakfast/lunch, and dinner
Luxurious transport
Multilingual and Bilingual guides
Visit at Fort food street and Lahore Fort.
Walking tour of Anarkali Bazaar
Kartarpur Tour
A visit-free gateway through which millions of Sikhs visit Pakistan from India to visit Gurdwara Darbar Sahib. Kartarpur is one of the most important religious sites for Sikhs and they prefer visiting here on the birth anniversary of Baba Guru Nanak.
The Kartarpur Tour takes you to the Gurdwara where you can experience the rituals like Guru ka Langar. Moreover, the tourists can also participate in the rituals and the different charity campaigns running on the spot. 
Duration
4 Hours
Facilities
Breakfast/Lunch/Dinner facilities.
Wheelchair accessibility
Tour to the Gurdwara Darbar Sahib
Participation of tourists in Sikh rituals. 
Bon Voyage!
Lahore Lahore Ey (Lahore is Lahore) because of its bustling streets, markets, and remarkable tourist sites to discover. Not just that it overflows with the beauty of its gardens, the aroma of its foods, and the epitome of culture restored in the form of its heritage sites.
We hope with this much information about the captivating guided tours of Lahore, it would have become easier to choose your most desired go-to spot in the town.