Madyan is located at a distance of 51 kilometers from Mingora city. It is one of the most visited places in Swat. People love to spectate the beautiful sceneries, camping amidst its green fields, fishing trout in the calm lakes and freshwater streams. 
This ultimate guide to Madyan: A beautiful hill station in Swat will disclose the most of this much-cherished tourist attraction in Pakistan.
Where is Madyan Located in Swat?
Madyan is located at a distance of approximately 31 miles from Mingora. Due to its location in the center of Mingora and Kalam, Madyan Swat is preferred by tourists as an ultimate resting point. 
The Madyan Valley is located on the bank of the Swat River surrounded by mountains, and hills. Tourists can cover Swat to Madyan distance of 13.5 kilometers via a jeep or sedan car. There are multiple hotels, restaurants, and lodges for thousands of tourists that visit this place throughout the year.
More About Madyan
Madyan is famous for most of the things and trout fish is one of them. One can enjoy fishing trout and eating it live at different spots. 
Other than that the Madyan valley is a hill station hence, it is rich in greenery that increases the beauty of its surroundings. Moreover, in winters one can experience seeing multiple snow-capped mountains. Most of the time people prefer to plan a stay here because of the moderate weather. 
Things To Do in Madyan Swat
Fishing
Madyan Swat is famous for Trout found in abundance here. There are multiple points in Madyan by the Swat river where one can get an opportunity to catch trout. Moreover, one can also travel to any of the nearby places like Kalam and enjoy fishing in its streams and lakes. 
Boating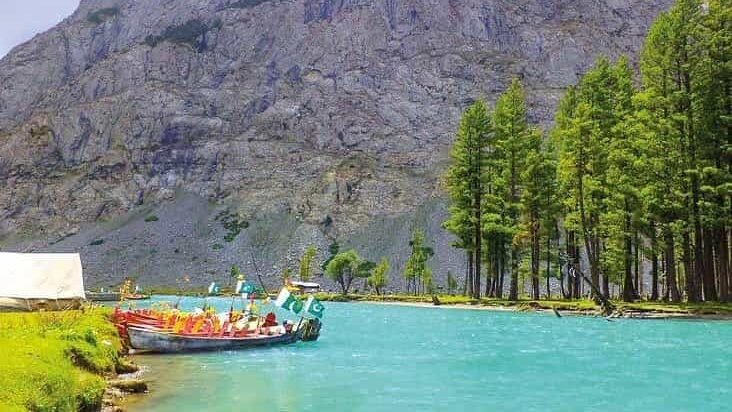 Madyan Valley in Swat has many spots nearby specifically for boating. However, nearby places like Kalam and Mahodand provide this opportunity to the tourists to enjoy boating. 
Tourists can visit any place near Madyan Valley and enjoy boating in the beautiful lakes. Fizagat in Mingora is also an adorable place to enjoy boating at.
Hiking/ Trekking
There are multiple spots where one can reach by trekking or hiking from Madyan Swat. One of them is the trek towards the Darra village. It takes 45 minutes to reach there and one can hike more towards Junusar for sightseeing. 
Many tourists enjoy trekking from Madyan to Besham to visit Bashigram lake. Moreover, one can also trek towards Kalam from Madyan.
Scenic Dining
If you are in Madyan or anywhere in Swat and haven't enjoyed your meal by the Swat River, you're surely missing out a lot. The real beauty of this place is that there are restaurants located just on the bank of the gushing Swat River to serve freshly cooked Trout fish. 
One can enjoy such a lovely meal with friends or family anywhere in Madyan or its nearby places.
Places To Visit Near Madyan in Swat
Malam Jabba
Malam Jabba is famous for Naltar, a ski resort. Madyan to Malam Jabba distance is of approximately 2 hours that can be covered by any jeep or other transport. 
The best time to visit Malam Jabba is in February or June however tourists can also enjoy their visit in November and December. Tourists prefer to visit this place during Winter because of the splendid winter activities they can enjoy there.
Fizagat
Fizagat Valley is one of the most famous hill stations in Swat. Tourists love to visit this place to get indulged in sightseeing in its breathtaking surroundings, camping, and other activities. 
One of the major attractions in Fizagat Valley is the Fizagat National Park. There is a separate area for women and children in the park. Tourists enjoy visiting the zoo in the park along with an experience on river lifts, and cable cars.
Marghazar
Marghazar is translated as Green Land or Green Valley. It is one of those beautiful hill stations located in Swat that tourists visit the most. 
Apart from the natural sites, Marghazar Valley has the famous White Palace as one of the major tourist attractions. Madyan to Marghazar distance is of 2 hours that can be covered either via Bahrain Road or Bagh Deri Road.
Saidu Sharif
Saidu Sharif is the capital of the Swat region having many official and residential buildings. It is always preferential for planning stays while traveling to Swat because of its suitable climate and accommodations. 
The two major tourist sites in Saidu Sharif are the Swat Museum and the Wadudia Hall built by the Mauryan Emperor Ashoka.
Mingora
Mingora is famous for being the core of social, political, and economical movements in the Malakand Division. It is the 26th largest city of Swat. 
Mingora is also a convenient place for tourists to stay at. It has multiple hotels, restaurants, resorts, markets to facilitate the visitors. One can also easily travel to other places located in Swat via Mingora. 
Kalam Valley
Kalam Valley is a major tourist attraction in Swat. Travelers from across the globe visit this place to take in its beautiful sights. 
Kalam is famous for its mountains, freshwater streams, lakes, and forests. It is likewise famous for the activities like hiking, trekking, fishing, and camping that visitors can partake in. Kalam to Madyan distance is 1 hour and 30 minutes covered through Bahrain road.
Hotels in Madyan Valley
SHAH Family Guest House
Shah Family Guest House is a family-friendly place to plan a stay while traveling Madyan. It is near Malam Jabba and Mingora which makes the other tourist attractions accessible from here. 
The property is well-equipped with all the necessities for a comfortable stay. 
The location of Shah Family Guest House itself is very admirable. It is situated among tall trees nearest to the bank of the Swat river.
Madyan Guest House
Madyan Guest House offers various facilities to visitors. There is proper availability of comfortable rooms, freshly cooked flavorful meals, kids friendly environment, and much more. 
Madyan Guest House provides all the facilities to live the way you want during your stay that makes one feel at home. It is located above the Main Bazaar of Madyan in Khyber Pakhtunkhwa.
Hotels near Madyan
Most of the tourist prefer to stay in Swat and from there they decide to explore the beauty of this district. You may prefer to choose a hotel by booking online or can consider the below mention hotels.
The Rose Palace Swat
The Rose Palace Swat is located in Fizagat. It is at a distance of 17 kilometers from Malam Jabba and 1.5 kilometers from Mingora. The property owns comfy rooms with 24/7 room service availability. 
Each room in Rose Palace Swat comes with a terrace to enable guests to breathe in the freshness and beauty of the surroundings. One can further enjoy the facility of free WiFi and car parking at this hotel.
Grand Holiday Hotel Mingora
The Grand Holiday Hotel in Mingora is situated in a picturesque location. It is without a doubt one of the best hotels in Swat. With the finest accommodations, guests are given hospitable treatment, budget-friendly options with a family-friendly environment. 
One of the benefits of staying in The Grand Holiday Hotel is that it is nearest to the main bazaar in Fizagat. One can take a stroll to it and explore traditional items and food. 
Woodridge Cottages Kalam
Woodridge Cottages in Kalam is equipped with top-notch amenities to facilitate the guests. People visiting here can have two options either to have a room with Garden View or the ones with River View. 
Each room in Woodridge Cottages Kalam is furnished according to the finest standards of comfort. Guests are free to avail free of cost car parking without prior reservations.
Route Towards Madyan Valley From Swat
All it takes is a 2-hour drive from Swat to Madyan via N95 or Bahrain Road. However, the other option is to travel via Shamozai road which takes approximately the same time to cover the distance. 
Tourists can choose any public conveyance like jeeps, cars, or wagons to travel towards Madyan. The drive is scenic with the views of the Swat river flowing at the other side of the road. 
Madyan Swat Weather
Madyan in Summer
Madyan is visited and chosen as a place for stay by the tourists because of its adequate climate. The temperature in Summer rises maximum to 32 Celsius in June and July. However, the nights feel comparatively colder. 
Madyan also experiences rain during summer that lasts for 10 to 14 days. The days are sunny or partly cloudy.
Madyan in Winter
As per the Madyan weather forecast, the lowest temperature gets in Winter is 11 Celsius in the daytime and 1 Celsius at night in January. 
According to the recent Madyan weather reports the temperature has risen to 17 Celcius with some days being sunny while others remain partially cloudy with occasional rainfall.
Conclusion
Swat is full of places that can undoubtedly be called wonders of nature. This Guide to Madyan: A Beautiful Hill Station in Swat has uncovered much to facilitate the ones planning to visit there soon. To get more information about Swat visits our blog on Mahondad Lake: an Unimaginable natural beauty.