Malam Jabba is an incredible hill station in Swat, Pakistan. This place is famous for its breath-taking natural beauty, crystal-like streams, lush pine forests, ski resort, and a lot of other attractions. The tourists can enjoy a lot of entertainment activities there and we have also listed some best dining places in Malam Jabba to satisfy your food craving.
Because of its scenic beauty and a lot of activities, Malam Jabba attracts local visitors but also international tourists. However, the government has also worked considerably to improve Malam Jabba roads and infrastructure making it the best place to visit in Pakistan. 
Where Malam Jabba is Located?
Malam Jabba is nestled beautifully within the Hindu Kush mountain range in Swat Valley, KPK. This place is located almost 43 KM away from Saidu Sharif and 300 KM away from Islamabad. However, it is considered the most beautiful skiing destination.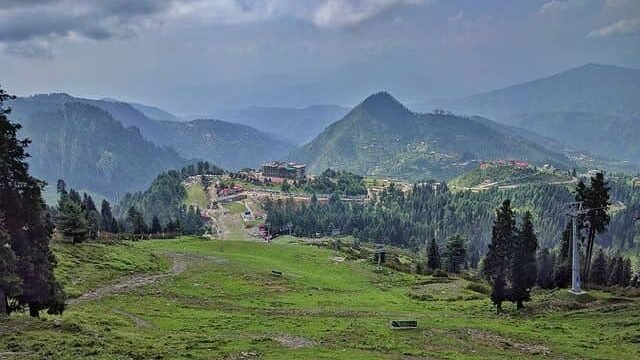 How to Reach Malam Jabba?
You can easily reach this place from Islamabad and Swat Valley. The distance between Islamabad and Malam Jabba is almost 173 Miles which is 4 hours and 30 minutes, approximately. However, you can reach Malam Jabba from Islamabad conveniently by traveling on M1, N95, and M16. Also, this place can be reached by air as the flights operate between Islamabad and Saidu Sharif Airport. However, the distance between Sawat and Malam Jabba is approximately 1 hour and 30 minutes. 
Malam Jabba Weather
Malam Jabba weather is more favorable in summer for tourists. However, if you want to enjoy exciting snow activities, you must plan to visit this place in the winter. Malam Jabba temperature goes higher to 31°C in June and July. However, the temperature goes lowest to -1°C in the winter months. In the spring season, the weather remains moderate with almost 20°C temperature. 
Which is the best time to Visit Malam Jabba?
The perfect time to go to Malam Jabba is during the spring season, from February to June. During this time, the weather is highly favorable, greenery is everywhere, and traveling is also convenient. In the winter months, the mountains are packed with snow while the temperature goes as low as 1°C. However, if you want to enjoy Malam Jabba winter sports festival, you must plan your tour during winter. 
Things to do in Malam Jabba
Malam Jabba is an incredible skiing place and tourist attraction in Pakistan with its amazing natural beauty. This place is called the "Switzerland of Pakistan". In winters, Malam Jabba Swat becomes the ultimate paradise because of the scenic views. Along with natural beauty, this destination offers a wide range of thrilling and exciting activities. Malam Jabba has the biggest and finest ski resort spanning over 270 acres of land and a ski slop of 800m. During your visit to Malam Jabba, you must experience the following activities to make your trip memorable. 
Malam Jabba Chairlift
The chairlift ride at Malam Jabba is a must have experience as this place has some of the best chairlifts. While riding on them, you can encounter the fascinating views of Hindu Kush mountains, green landscapes, and hills. You will definitely lost in the beauty of your surroundings while viewing them from a different perspective.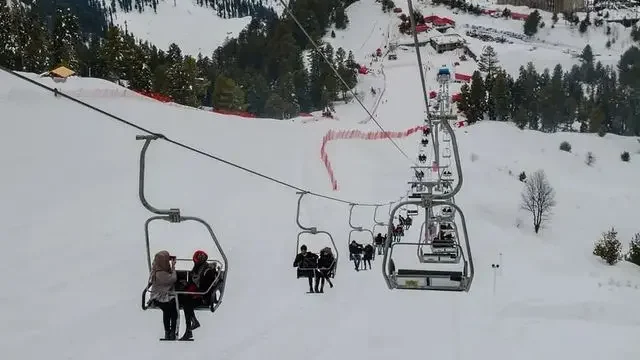 Winter Sports Activities
If you plan to visit Malam Jabba Swat in the winter season, you must not miss enjoying various recreational activities. In the backside of Malam Jabba ski resort, the visitors can experience various winter sports activities such as sledding, ice skating, snowboarding, curling, bandy, speed staking, and more.
Zipline 
Malam Jabba zip line is a new initiative and a great attraction for tourists. With 9,200 feet in length, this is the largest zipline in Pakistan that offers an exciting and thrilling experience to people. The zipline ride is safe as all the safety measures are taken before starting it. 
Malam Jabba Skiing 
Malam Jabba is famous for its ski resort that can make your trip more exciting, thrilling, and memorable. Here, you can have a safe and incredible skiing experience that you will not forget for the rest of your life. All the safety gears are available at this place to make skiing and other winter sports risk-free. Also, the ski resort offers a lot of leisure facilities to visitors. 
Hotels in Malam Jabba 
Malam Jabba offers the best accommodation opportunities to its visitors according to international standards. There are various luxury resorts and hotels in Malam Jabba to stay with comfort and convenience. All the hotels offer spacious rooms, leisure features and a lot of premium facilities. Here are the best Malam Jabba hotels that you should consider for your stay during your trip. 
Pearl Continental Hotel Malam Jabba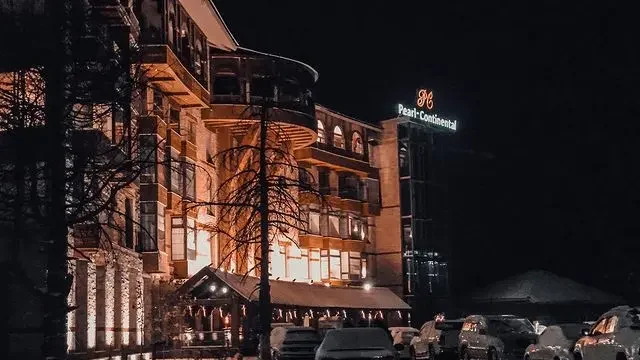 Malam Jabba PC hotel offers 5-star accommodation to visitors along with a lot of deluxe features and facilities. Featuring the finest restaurant, luxury fitness center, garden, and high-end room service, this hotel is an excellent option to make your residence remarkable during your Malam Jabba trip. All the rooms are deluxe thus packed with modern amenities. Also, you can enjoy breathtaking scenery from the balcony of your room.
Sky View Hotel
Situated in Malam Jabba, Sky view hotel is an affordable and premium choice to make your stay memorable. The hotel features a beautiful garden, luxury bedrooms, 24/7 desk service, WiFi, parking, a restaurant offering the best cuisines, and a lot of other deluxe facilities. 
Malak Tower Hotel
If you planning to stay in Malam Jabba, Malak tower is among the best hotels offering a wide range of features and facilities. This place ensures comfortable accommodation along with the incredible scenic views from the terrace and balconies of the rooms. 
Al Sadiq Hotel 
Al Sadiq hotel in Malam Jabba provides facilitated and affordable living during your trip. Each room is equipped with LED TVs, a garden view, attached bathrooms, WiFi, and other basic facilities. Also, you can enjoy delicious cuisine at the restaurant of this hotel. 
Malam Jabba Nearby Places 
During your trip to Malam Jabba, you should make it more exciting and memorable by visiting the nearby tourist attractions. This place is famous for its incredible surroundings, hill stations, historic sites, and many other worth visiting destination. The most famous Malam Jabba nearby places to visit are as follows! 
Fizagat
Fizagat is a popular hill station in Swat valley closely located in Malam Jabba. This place has a great appeal for tourists because of its mesmerizing natural beauty and greenery. Also, many entertainment activities can be experienced here. Fizagat Swat is almost 39 KM away from Malam Jabba you can reach within 1 hour directly through Malam Jabba Road. 
Mahodand Lake
Incredibly nestled in Kalam valley, Mahodand lake is a hotspot tourist destination in Malam Jabba Swat. The lake is famous for its mesmerizing atmosphere, freezing water, and abundance of trout fish. Hence, Mahodand lake is surrounded by meadows, lush green landscapes, cedar tree clumps, pine trees, and much more that will amaze you. This lake is 154 KM away from Malam Jabba you can reach through Bahrain Road. 
Marghazar Valley
Marghazar which is also known as greeland is a famous tourist destination in Swat that offers you a chance to make lifetime memories while enjoying breathtaking natural surroundings, a refreshing atmosphere, scenic forested mountains, and many other things. Here, the White Palace is also worth visiting which was constructed in 1940. Marghazar valley is famous for its peaceful atmosphere and green landscapes along with the best accommodation options. This valley is 59 KM away from Malam Jabba you can reach within 2 hours via Malam Jabba Road. 
Swat Museum
Located on Saidu Sharif Road, Swat meuseum is a worth visiting place during your trip to Swat. This museum was built in 1958 with the collaboration of the Italian mission. Here, you can encounter magnificent Gandhara sculptures and other wonderful things.
Bottom Line
So, plan your trip to Malam Jabba now to make lifetime memories. If you are on long vacation to Swat then stay connected with us.