Lahore is a center of both chronicled and current developments. Other than the touring places, one could undoubtedly discover impeccable diners too in new and old Lahore. Whether luxurious and unobtrusive, or antiquated conventional ones, Lahore has countless choices to satisfy your cravings for food.
Short recorded underneath are the 30 best rooftop restaurants one can discover in Lahore to partake in the beautiful sights while fulfilling your appetite. 
Rooftop Restaurants in Garden Town
Heights n Delights 
Heights and Delights has a peaceful and contemporary ambiance with fairy lights making it look serene and adorable.
It has so many options to choose from an ala carte menu including tantalizing starters, soups, Pakistani & Chinese cuisines, BBQ items, and much more. Buffet arrangements could also be done on special orders. However if you are a someone who loves Chinese food then do not forget to explore our list of Chinese restaurants in Lahore.
Rooftop Restaurants in Gulberg
The Skye  
A deluxe spot for your dinner and hi-tea reservations, The Skye is located in the Indigo Heights at Gulberg. It is considered as one of the highest roof-top restaurants in Lahore with scrumptious starters, exquisite salads, soups, main courses, desserts, and an option to pick a trolly item.
The Skye offers to enjoy one of the best buffets in Lahore on hi-tea and dinner.
Monal
One could discover such countless alternatives at Monal, from an Ala Carte menu to hi-tea or dinner buffet, Sunday Brunch Special buffet to the individual platter.
The Monal Lahore is also preferred by people for celebrations due to its scenic atmosphere.  From right up there the guests find it aesthetically appealing taking into view the beauty of its surroundings.
Maisonette Roof Top
The maisonette is one more choice at Lahore to appreciate lunch, hi-tea, and supper. While eating under open-sky one could have a stunning sight of Lahore as well. They have a wide scope of food assortments that they serve in Buffet and Ala Carte dining as well.
There are also other facilities for live music and valet parking. An earlier reservation could be fixed whenever needed for a party or meeting, and so on.
Rare
Haven't you tried the best steaks in town yet? Take a dig at some at the Rare rooftop eatery. They serve the classic, perfectly cooked mouth-watering variety of authentic South African steaks.
It specializes in serving the savory T-bone in the most pleasant over-the-top ambiance.
Bagh
Have an unmatched dining experience beneath the open sky. They have specialties of BBQ, Traditional Pakistan and Chinese. It also has fun rides for kids to enjoy while you enjoy the meals. 
The place is also preferred for the arrangement of all sorts of events.
Oban
If you are foody and are in search of an inquisitive dining place then do visit Oban hotel. They serve premium breakfast, lunch, dinner, and hi-tea buffets.
Not just that but they also arrange a special Sunday Brunch buffet for a wondrous weekend. Get a chance to enjoy your meals here on the rooftop while taking in the beautiful view of its surroundings.
Howdy Rooftop
Howdy is already an ultimate solution to the cravings of all Fast Food lovers out there. Serving internationally for many decades with flavorful steaks, burgers, fries and so much more.
Now Lahoris can also have a unique experience to enjoy their favorite food items in an open space. The outdoor ambiance is as calm and lavish as the indoor environment is.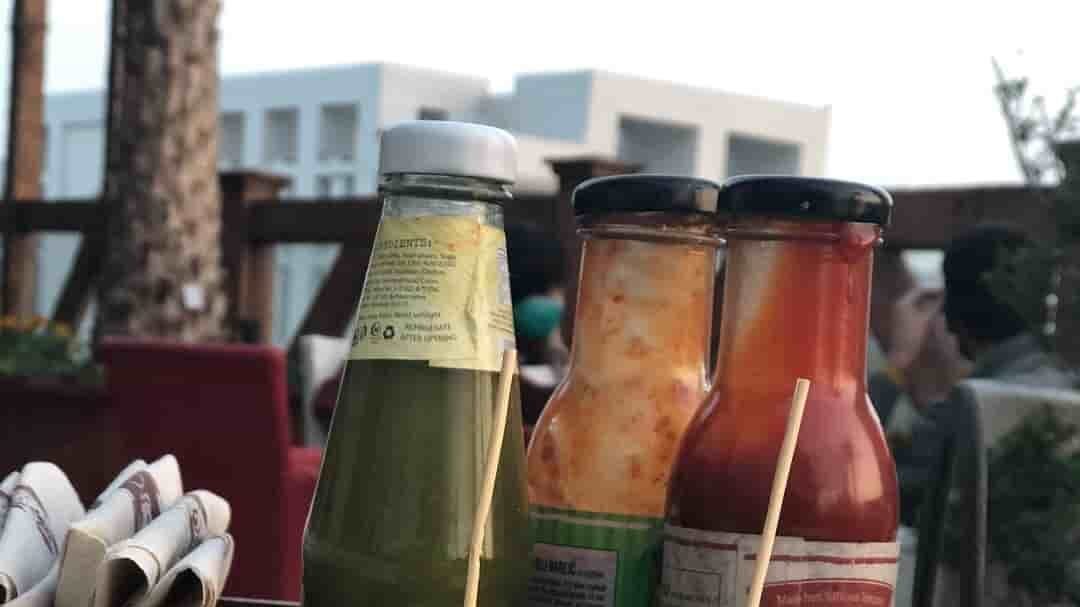 Karak Khel
Karak Khel has already captured many of its visitors' hearts with the fusion of Eastern ambiance and taste. It is a fine dining place to visit with family and friends having a special variety of tea to entertain you with.
Now they have more space to cater to more visitors on the rooftop. Do not miss out on their Angara Tea in case you are planning to visit.
Wasabi
Let Wasabi take you on an amazing trip to Japan through its food. Try here the authentic cuisines made from original spices and techniques to deliver pure taste. One can have here a great deal of Bento Boxes, Sushi, and other Japanese dishes.
The ambiance and interior of this place are also set accordingly to make you feel more connected to the culture. 
Cafe Beirut
Started by 2 Lebanese entrepreneurs lately, the restaurant Cafe Beirut is now serving Lebanese dishes internationally. Their Cheese Kellage, Tabouleh, and Hummus with Meat are an exclusive addition to their menu.
One can also get a complete variety of other Middle Eastern cuisines here served in a peaceful ambiance. 
Lahori Barbecue Rooftop
Lahore Barbecue Rooftop restaurant is located at the top of Oban Hotel. The scenic cityscape and the lively open-air environment create a worthwhile ambiance. 
One can avail of an extensive lunch cum hi-tea buffet opportunity with numerous varieties. The BBQ range is equally exotic and flavorful.
Penthouse Lahore
Explore the matchless combination of exquisite meals with lavish ambiance in The Penthouse located in the heart of the city Lahore.
The place is perfect for all your official and unofficial dinings served with equally appreciable hospitality.  It has extensive options to treat your taste buds from American, Chinese, and many other cuisines. 
Baranh
Get the taste of extremely desi flavors compiled together in compelling dishes. One can also order online from one of the best restaurants in Lahore known as Baranh. Do try out their specialties Tawa Chicken and Fried Fish to get affiliated more with the heritage of Lahore.
However, they also create a variety of customized meals on special order and deliver them at your doorstep too.
Junoon Restaurant
Junoon is the best Pakistani food restaurant in Lahore. They serve an intriguing menu for dinner, lunch, and breakfast as well as an exclusive range of Faloodas and other desserts.
The welcoming ambiance and luxurious interior of the place make it exotic and favorable for all sorts of meetups.
Rooftop Restaurants in Johar Town
The Veranda
Get indulged in the heavenly taste of Italian, Fast Food, Continental, and other cuisines at The Veranda. Not only do they have great taste but also an appreciable atmosphere created on the rooftop.
One can also avail of the special deals and discounts they offer on and off on various occasions.
Qabail
Let Qabail bring to you the flavors of authentic Pashtoon cuisines and so the tales of various tribes. It not just provide legit tribal taste but also the aura of this restaurant represents a qabail feel.
Due to the hospitality, ambiance, quality, and quantity, it is considered one of the best places to eat in Lahore.
Caspian Sea
For all the love you have for Asian and Desi food, visit the Caspian Sea. Due to its location and the low-lighted atmosphere, it gives a peaceful vibe to the customers.
They further offer an affordable lunch buffet with an extensive variety of Pakistani Cuisines and other Asian specialties.
Baithak Khaas
Are you in search of the best rooftop restaurant in town? Visit Baithak Khas to try exclusive Pakistani, BBQ, and other traditional dishes.
They give an opportunity to explore the gourmand Punjabi food complimented by the soothing warm ambiance, welcoming staff, and authentic flavors. The place is likewise perfect for all your personal and official events.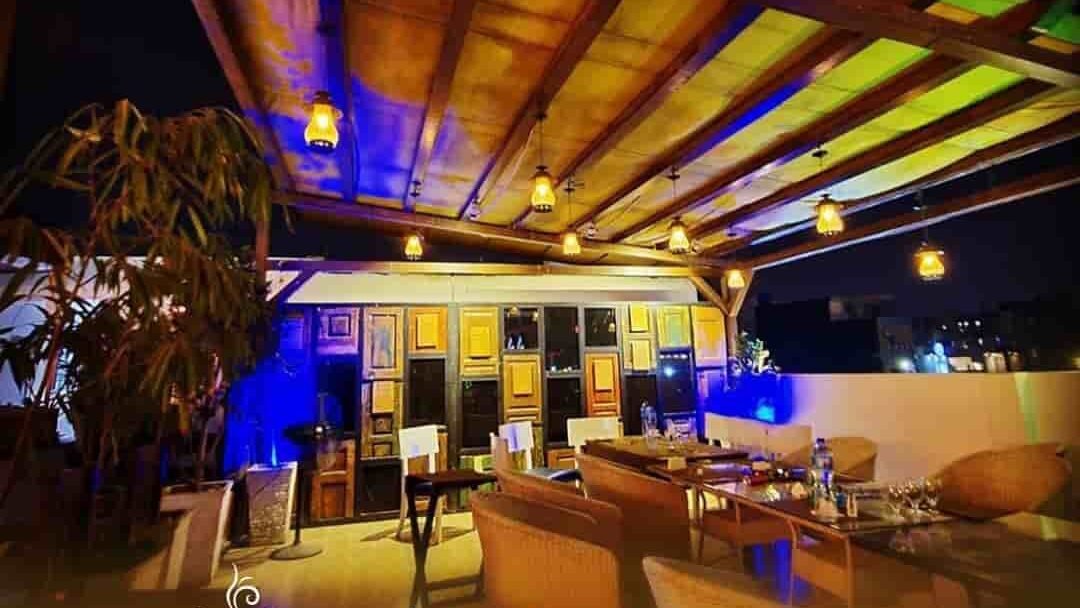 Musically  
Musically roof eatery gives both live amusement and intriguing food. In the midst of the stunning vibe, one could have a brilliant taste of scrumptious food. 
Other than that, it likewise presents different arrangements and occasion bundles at the most moderate rates.
Rooftop Restaurants in DHA
Napoli
Napoli restaurant has a legion of Neapolitan, aristocratic, and traditional cuisines. It is located in a peaceful environment with the opportunity for one to have a panoramic view of the city.
It includes all sorts of food on the menu including Italian, Thai, Chinese, Pakistani, and much more. It has an extended list of desserts and salads. Moreover, a whole list of items for beverages, kid's meals, seafood and so much more to enjoy.
Kuchi
Kuchi is a premium Turkish and Afghani cuisine restaurant. They excel in serving affordable meals with authentic and traditional flavors from Turkey and Afghanistan. If you are someone who loves turkish food then do not forget to check our article on top turkish restaurants in Lahore.
Further special discounts are given to ESR members, everyone visiting here on special occasions can avail of the premium deals for 2 and 3 persons.
Banera
Banera Rooftop Restaurant is a hub of multicultural food items. From Continental to Chinese, Desi to Italian, suitable and affordable lunch and breakfast options.
It has got a peaceful environment for a comfortable dining experience.  One could also book the spot for private occasions.
Spice Bazar
Spice Bazaar serves an assembly of dishes from continental, mediterranean, and many other cuisines from across the world. They have 2 halls for the celebration and one rooftop for dining.
It allows the guests to enjoy the best buffet dining in both indoor and outdoor settings.
Rooftop Restaurants in Old Lahore
Haveli
Haveli Restaurant Lahore is an aesthetically appealing spot with historically and culturally enriched Mughal architecture. It has a picturesque aura and a diverse range of dishes from the traditional/ desi ones to Chinese and BBQ to Fastfood.
There are 2 locations you could find Haveli at, the most preferable one is at Fort Road food street in Old Lahore. There is an option of a traditional and reasonable breakfast too in the morning.
Riwaj Restaurant
Riwaj Restaurant excels in serving exquisite BBQ items as well as other traditional cuisines. They provide an open-air dining concept with live cooking.
Everything served here is cooked fresh as per the demands of the customers. Sajji, Tawa Piece, and special Tea.
Sweet Tooth
Ever had an experience of enjoying your favorite desserts on a rooftop? Have it at Sweet Tooth then. It is the ultimate solution for all your sweet cravings serving an excellent range of desserts.
The matchless old English bar vibe created by the neon lights and rooftop makes it the best to visit for the love of your sweet tooth.
Andaaz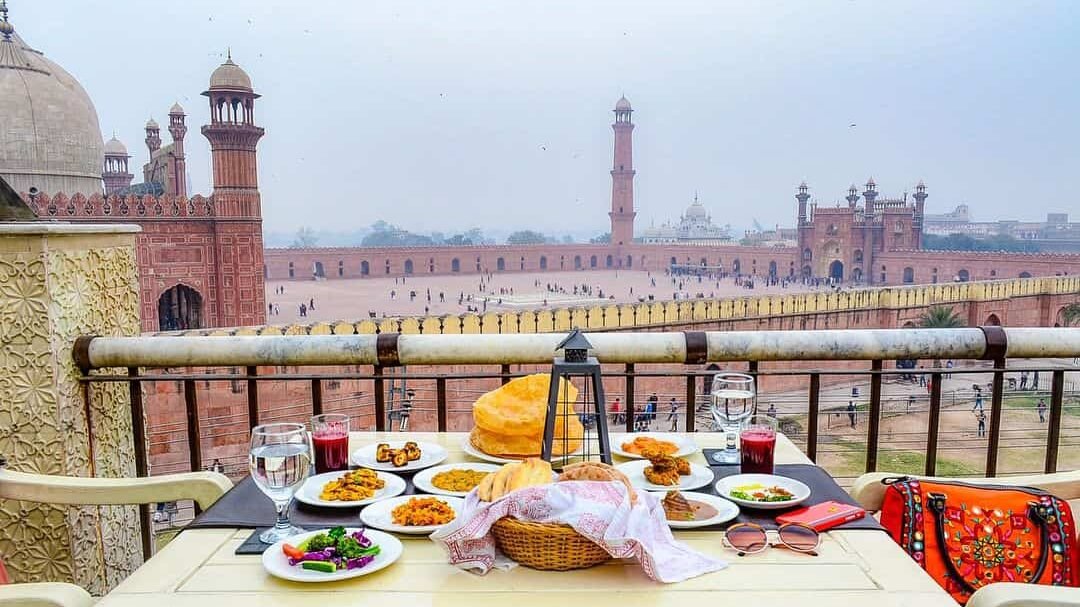 If you are a bon viveur then the ethnic and artistic ambiance of Andaaz rooftop restaurant will excite you more. The location itself is much ideal as it gives the chance to dine in while enjoying the beautiful view of the Badshahi Mosque at the front.
It serves an exquisite variety of traditional food, delightful desserts, and an impressive range of beverages. 
Rooftop Restaurants at Thokar Niaz Baig
Signature Cafe & Restaurant
A one of its kind place located adjacent to the Deawoo Terminal is worthwhile for all sorts of dinings. They serve with an Ala Carte as well as a Buffet menu for lunch, dinner, and hi-tea.
Moreover, Signature Cafe and Restaurant is also preferred for the arrangement of Birthdays parties and Anniversaries in Lahore.
Rooftop Restaurants in Lahore Cantt
Parwaaz Rooftop Restaurant
The incomparable dining place with indelible international delicacies is being served in a praiseworthy environment. Parwaaz Rooftop Restaurant is located at the top to give visitors a chance to cherish the beautiful sight of the bustling city of Lahore.
The aromatic and flavorful al fresco meals served in an urban setting more authenticated by live BBQ make it more exotic.
Bistro 210
With Bistro 201 one could easily have a taste of multiple cuisines at one place. It has got facilities of both Ala Carte and indoor buffet on demand.
Exclusive arrangements could be made for birthdays and anniversaries. One could have a bird's eye view of Lahore while dining at this secure and serene place. 
Conclusion
Thank you for reading this article about the 10 best rooftop restaurants in Lahore. To all the foodies out there, Lahore has got brilliant opportunities for satisfying your foody desires.
To explore some more, Stay connected with us via our social media channels..