The Swat tour is incomplete without visiting Shahi Bagh. The landscape is famous for its unmatchable paradisiacal natural beauty. The magnificence of this place lures the travelers and distinguishes this location from other tourist spots in Swat. The calm and clean water streams in its surroundings make it look like a small island. 
Want to explore a wondrous vacation place in Pakistan? If yes then wait no more and go through this guide on Shahi Bagh; An Alluring Landscape in Swat.
Location of Shahi Bagh
The locations of Swat are all enriched with endless charm and natural beauty. Shahi Bagh is located at a distance of 30 km from Kalam Valley and 14 km from Utror Valley in Gabral at 10,000 ft above sea level.
It is one of those enthralling spots that stand majestically amidst the magnanimous mountains and green pastures. However, due to being located at such a height, cellular coverage is not possible here. 
How to Visit Shahi Bagh in Swat?
Swat valley is located in Khyber Pakhtunkhwa province of Pakistan which is famous for its naturally inherent as well as archaeological and contemporary archeological marvels.
There are numerous mesmerizing spots you can visit while being in Swat and Shahi Bagh is one of them. One can reach here from almost all over Pakistan after arriving at Swat. 
Kalam to Utror & Gabral Route
Kalam to Utror distance is approximately 1 hour via Utror road. The tourists have to travel through Ushu Valley and cross the Utror River until they reach an intersection point after 3 kilometers. 
One side of the road will lead to Deodar Forests while the other will take you from Kalam to the Utror Valley. A bumpy ride on a 4-wheeler vehicle preferably a jeep will take you to Gabral Bridge and presumably towards your destination. 
Kumrat to Kalam Route
Kumrat to Kalam distance is around 3 hours and 31 minutes. Nonetheless, the distance from Kumrat to Shahi Bagh through Bahrain Road is 6 hours and 36 minutes. Subsequent to leaving from Kumrat you will show up at Thal the vast majority favor having a stay here as well. 
You need to cover Thal to Utror Valley distance of 1 hour and 47 minutes prior to arriving at Kalam. From Kalam, one should travel for 3 hours and 29 minutes towards Shahi Bagh while going through other wondrous vacationer destinations Madyan and Bahrain.
The Weather in Shahi Bagh
The serene atmosphere and the heavenly lush green whereabouts freshen the mind and souls of tourists. Even though Swat welcomes tourists throughout the year. However, the best time to visit Shahi Bagh is from June to September.
During Summer when the sun shines brightly the tourists can take in the clear yet mesmerizing view of the snow-covered pinnacles and grassy meadows in the surroundings. 
The temperature of Shahi Bagh in Winter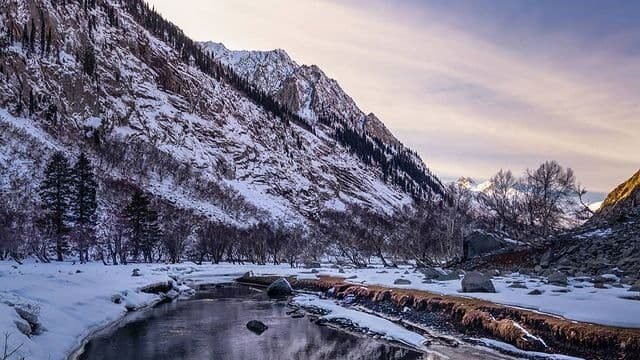 Shahi Bagh is enveloped in snow from September till June. The temperature during winters in Upper Swat Valley ranges from 7.6 Celsius to 1.5 Celsius including Shahi Bagh.
The lakes and waterfalls get frozen and green pastures turn white after getting covered by snow. Snowfall also causes trouble to the tourists traveling to areas in the Upper Swat region. 
The temperature of Shahi Bagh in Summer
June to September are ideal months to travel to Shahi Bagh. The region gets rainfall that causes landslides during July.
The weather usually remains sunny or partially cloudy during Summer and Spring. The temperature of the entire Upper Swat region during Summer ranges from 15 Celsius to 17 Celcius including Shahi Bagh.
Excite Your Vacations in Shahi Bagh!
Camping on the Island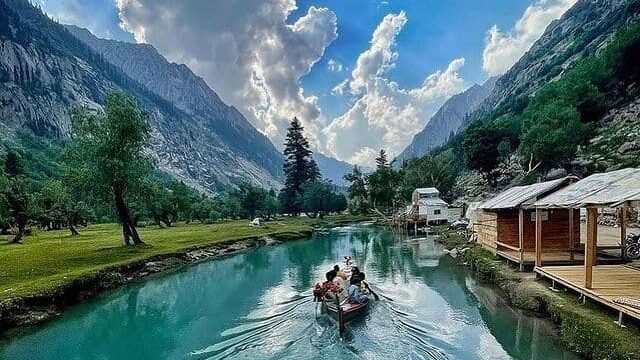 The campsite at Shahi Bagh is located in one island-shaped piece of this valley. The clear water streams, greenery, and snow-capped mountains encircle the site.
After a 4-hour jeep drive to Shahi Bagh tourists can set their own camps or choose to reside in any camping pods available for rent.
Hiking/ Trekking
Hiking and trekking are the favorite activities for those visiting the Northern Areas of Pakistan. Tourists can relish a 3-hour trek from Shahi Bagh to Gabin Jabba taking in the view of breathtaking mountains and alluring cascades.
Almost 50,000 people visit Shahi Bagh each year and most of them prefer to reach here by hiking towards it from Kalam. This beautiful trek along the river makes the trip unforgettable with unmatched beauty to delve into.
Trek Towards Pistachio Forest
The organic sites in Shahi Bagh are the major tourist attractions. Pistachio and Deodar Forests make the tours even more incredible with beauteous sites.
Tourists can have an extremely enthralling experience of nut-picking in this dense forest. 
Trawling and Hunting Trout Fish
Trout fish is a must to try whenever you visit anywhere in the KPK province. In fact, Mahodand Lake near Kalam Valley is famous for having an abundance of trout fish.
During your trip to Shahi Bagh, you can have a taste of this traditional delicacy at almost any local food stall or hotel near Gabral, Kalam, and the lakes nearby. 
Tourists Spots Near Shahii Bagh, Swat
Kumrat 
A ravishing landscape with Deodar trees standing tall in its surroundings is the sight that Kumrat Valley is famous for. The entire location is enriched with blooms and luscious greenery to captivate the onlookers. 
It is one of the best places to visit in Swat for the purpose of hiking, fishing, sightseeing, and boating. Kumrat Valley is located at a distance of approximately 3 hours from Shahi Bagh in Gabral.
Utror Valley
Encircled by the Gabral Valley and Bhan Valleys, the Utror Valley stands out due to its natural sights. It is visited by thousands of people to explore the lakes, waterfalls, and freshwater streams located here.
This hill station situated at a height of 7500 feet is famous for the sites that make your vacations perfect. 
Blue Sangham Park
Blue Sangham Park is located at a distance of 4 kilometers from Kalam Valley. It is a great tourist site present as a conjoining point of two rivers.
The lovely sight of gushing rivers leaves the tourists awestruck. You can sit near the bank of the river and enjoy your meals from the tuck shops or tea bars located here. 
Kharkhari Lake/ Gabral Lake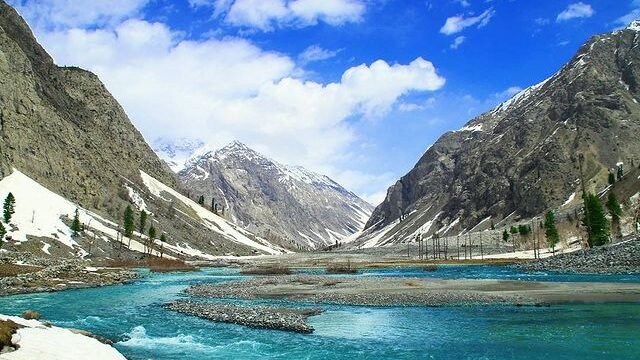 Kharkari Lake is also known as Gabral Lake due to being located in Gabral Valley. Gabral river serves as a tributary for this 250-meter wide and 400-meter-long lake. 
Kharkhari Lake/ Gabral Lake is also famous for its natural resources including medicinal herbs found here. It is also known for the clear water reflecting the view of snowy mountains. 
Places to Stay at Shahi Bagh
Shahi Bagh does not have any hotels and the only accommodation available here are the tent villages and a couple of restaurants. Tourists can easily rent out any of the tents on the spot by paying the local caretakers for as many days as they want. 
However, tourists can also choose to reside in any of the hotels at nearby places preferably Kalam.
Places to Stay in Kalam 
Blue Water Valley
The property offers a 4-star accommodation facility to its guests. Each room at Blue Water Valley hotel has a lake view and 24/7 room service availability.
Apart from free car parking, restaurant, and garden, a shuttle service is also provided for guests to explore the area. Other facilities like fishing, swimming pool, and kid's playground are also provided here for guests' entertainment. 
Sangam Hotel and Resort
Luxury rooms and affordable stay are all that we all desire to have on a trip. Sangam Hotel and Resort has 3 categories of luxurious rooms all equipped with top-notch amenities.
It is one of the best places to stay in Kalam with the availability of free breakfast, WiFi, and an onsite car rental service. 
Have a Lively Vacation!
Are you fed up with the daily grind and want an escape from it all? Then pack your bag and head towards the piece of heaven on Earth, Shahi Bagh in Kalam. 
For more updates on the sites to visit in Swat stay in touch with LovinPakistan.