Lahore leads the way when it comes to desi dishes. Halwa puri is a staple breakfast of Pakistani people. Crispy puris and sweet halwa can brighten anyone's day.
This Halwa puri pairing is the perfect way to start your lazy sunday. But the question is where to get the best and delicious one. So check out the list of 17 best Halwa Puri places in Lahore, that you must try.
Taj Mahal Sweets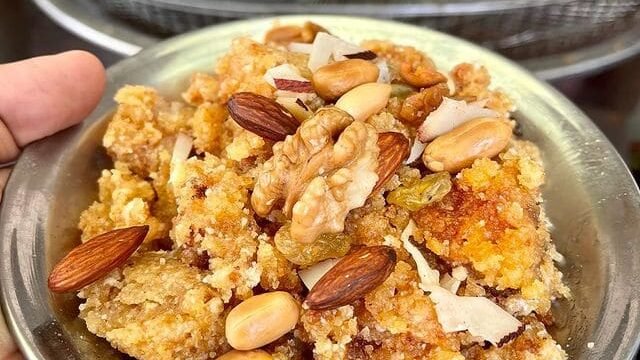 If you want to try the best Halwa Puri in Lahore, this is the place for you! Taj Mahal sweets  served two types of halwas: one made of regular suji and another one is poora Halwa, made from khoya and topped with various nuts. Just enjoy it with their warm crispy puris.
This food point is in a bustling area, but the fresh and unique flavors of their Halwa puri are well worth it!
Contact
042 37639007
Timings
3:00 AM – 11:00 PM
Zafar Halwa Puri
This wonderful place has won the hearts of Lahori people with its scrumptious Halwa Puri. It's an outdoor dhaba type place, and what's the real Lahore experience if you're sitting outside and don't have food.
It is one of the affordable halwa puri places in Lahore where you can get one plate of halwa and two puffed-up puris in 100.
Contact
0322 8008214
Timings
6:00 AM – 10:00 PM
Chand Sahab Sweets
Chand Sahab Sweets is another popular Halwa puri places in Lahore. The location is near the Taxali Gate and always crowded with people especially on weekends.
They have the most mouth-watering breakfast options for you. If you ever visit Chand sahab sweets, try to arrive early in the morning and enjoy a delicious halwa puri breakfast with chanay and mango pickle.
Timings
7:00 AM – 12:00 PM
Sadiq Halwa Puri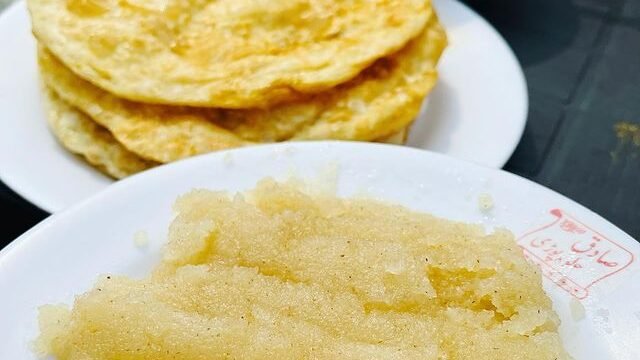 Sadiq Halwa puri is one of the well-known Halwa Puri places in Lahore and no one can beat their taste. For fresh puri chana and halwa cooked in desi ghee, visit this place, and we are sure you won't regret it.
In addition, refreshing lassi is also served for a hearty breakfast. They have two branches in a town. This shop opened in 1880, so it is one of the oldest Halwa puri places in Lahore.
Contact
0323 3333169
Timings
4:00 AM – 12:30 PM
Lahore Chatkhara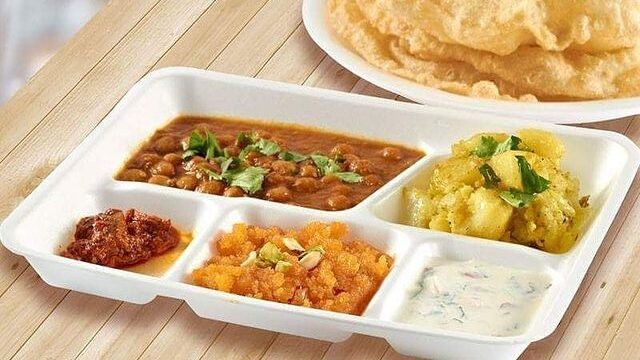 Lahore Chatkhara offers street food at affordable prices in a clean and hygienic environment. They serve halwa puri, with aloo bhujia, channay or naan with haleem in traditional thalis.
You won't regret spending your money here with great food and a relaxed atmosphere. So, if you want to try a delicious breakfast, Lahore Chatkhara is the best choice.
Contact
(042) 35291147
Timings
9:00 AM – 1:00 AM
Chacha Bassa Halwa Puri
You heard the name of Chacha Bassa, but did you know they make the best roadside halwa puri? In addition to fresh Halwa puri, you can enjoy their tasty aloo and chana mix, mutton dishes, and tikki.
This shop is always crowded with customers, and sometimes you must wait for your turn. This place is a perfect choice if you want to add some flavor to your breakfast.
Contact
0308 3333902
Timings
5:30 AM – 1:00 PM
Sarwar Halwa Puri
Halwa Puri breakfast can be a little unhealthy sometimes, but their whole-grain puris are suitable for the stomach. The great ambiance, traditional recipes, and delicious flavors make it one of the ideal halwa puri places in Lahore.
Sarwa Halwa Puri's plus point is that if you're late, you can still enjoy their meal because this place offers the option of a late breakfast too.
Contact
0300 4167878
Timings
6:00 AM – 7:00 PM
Bundu Khan
Bundu Khan offers an all-in-one experience with both indoor and outdoor dining options. If you doubt the menu, you must decide from the various options. The taste of this place is not limited to lunch and dinner, but their breakfast is also delightful.
You can enjoy traditional halwa puri along with murgh chanay. And if you haven't tried the most flavorsome halwa puri of Bundu khan, you are missing out!
Contact
111-444-411
Timings
12:00 PM – 1:00 AM
Haveli Restaurant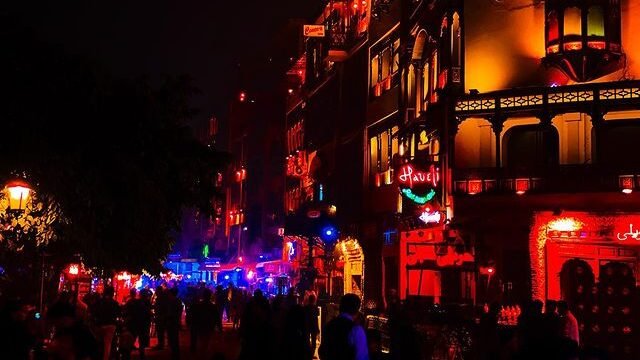 Haveli Restaurant is one of the famous halwa puri places in Lahore. This place offers you great food with amazing views of historic buildings from all four sides. This view is even more beautiful at night.
The taste of Haveli Restaurant's halwa puri and other dishes is beyond what words can express. Their dishes are a a bit pricey, but the food quality and atmosphere are worth the price.
Contact
0321 4651052
Timings
6:00 PM – 3:00 AM
Butt Sweets & Bakers
This bakery is known for its mithai and baked goods. But in addition, they offer a great variety of desi nashta. This can be your go-to place if you want to enjoy a hearty breakfast in the morning.
Butt Sweet's halwa Puri and Pheni are the most popular menu items. Also, try their potato chana curry; you will love it! Butt Sweets is one of the oldest yet best Halwa Puri places in Lahore, established in 1947.
Contact
0332 5681234
Timings
12:00 PM – 2:00 AM
Aslam Halwa Puri
This place is in demand for its appealing halwa puri. They offer both dine-in and takeaway options. Nothing beats the taste of their crispy fried puris, mouth-watering halwa, and savory channay.
Hurry up, and get your next breakfast from this renowned halwa puri place in Lahore. But remember, their samosas and meethi tiki are also worth trying.
Contact
0302 4332336
Timings
6:00 AM – 9:00 PM
Chaaye Khana
This place stands out for its incredible service and aesthetic interior, giving you the right vibe. Chaaye Khana offers an extensive menu and attracts customers with various Desi and continental breakfast items.
Their Halwa puri, omelet, lassi, and tea will make your Sunday even more special. If you're a fan of Halwa Puri, Chaaye Khana is a must-try!
Contact
(042) 357782
Timings
10:00 AM – 12:00 AM
Capri Restaurant
Whether it's a cup of tea, or the tastiest paratha or puri, Capri's has got you covered! Their food is top-notch in quantity and quality. It is one of the adored Halwa puri places in Lahore.
Capri's breakfast menu is excellent, and halwa puri is one of the most recommended dishes. The crunchy, hot puri served with mouth-watering halwa is irresistible!
Contact
(042) 35758750
Timings
7:00 AM – 10:00 PM
Karachi Sweet Shop
Karachi Sweet shop has maintained its quality for over 20 years, and it's near old Anarkali at the beginning of food street. Their breakfast comprises halwa puri, fluffy puri, and sweet halwa with nuts.
If you are into Samosas or jalebis this place is not to be missed! Also try their other sweets as well as savoury items.
Contact
0321 3646141
Timings
7:00 AM- 12:00 PM
Dogar Restaurant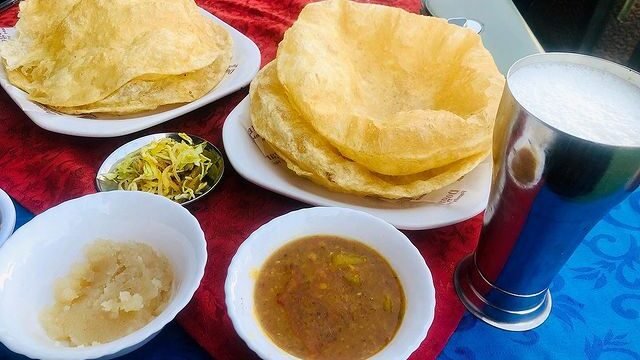 Counting the places that serve halwa puri, how can we miss the Dogar Restaurant, one of Lahore's most famous breakfast spots? From Tandoori Naan to Murgh Chanay, and halwa puri, everything is cooked to perfection.
They serve the best hot puri with the tastiest halwa and alu ki bhujia. You should try their lassi too. Dogar's prices are very affordable, which makes them one of the most visited halwa puri places in Lahore.
Contact
0321 2222511
Timings
6:00 AM – 2:00 AM
Chashni
Famous for its appealing mithai, Chashni also serves its customers a delicious desi breakfast. Whether you crave halwa puri or qeema paratha, this restaurant will meet your needs.
Chashni's taste is out of the world and is one of the perfect halwa puri places in Lahore to impress your guests with an amazing breakfast.
Contact
0300 0195560
Timings
9:00 AM – 11:00 PM
Monal Lahore
Everyone loves this lively eatery, excellent service, and lip-smacking food. Visit this place for an unforgettable breakfast experience. It is one of the best rooftop restaurant in Lahore. The taste of their round exquisite puri served with wonderful chanay and halwa is indescribable.
Also don't forget to try their delicious aloo bhujia and lassi. The main thing is quality; that's why it is one of the most recommended halwa puri places in Lahore.
Contact
(042) 35789824
Timings
1:00 PM – 12:00 AM
Get the Best Halwa Puri in Lahore!
To satisfy your cravings, we provide all the best information. So, you should definitely check out this list of the best halwa puri places in Lahore. A real treat!