Lahore, known as the Heart of Pakistan, the City of Gardens, and the Paris of the East, is one fine city with heritage, art, and major historical landmarks. This city is famous as the cultural capital of Pakistan and is a city of exceptional hospitality.
Plan a trip and your experience will be truly unforgettable because from seeing valuable artifacts to historic sites, shopping malls, and museums, the choices are endless. Here's the list of the top 28 alluring tourist destinations in Lahore.
Heritage Landmarks To Visit In Lahore
The Minar- e-Pakistan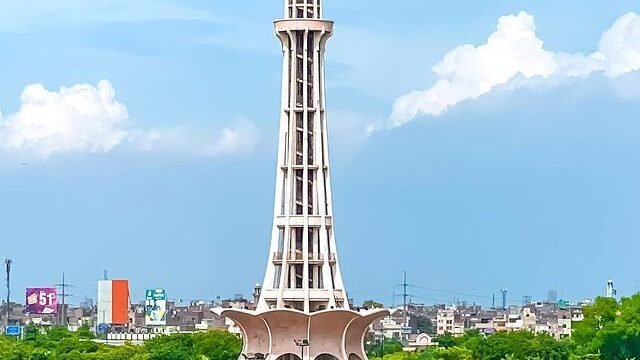 Minar-e-Pakistan is a well-known monument that perfectly reflects the ideology of Pakistan and evokes a special sense of patriotism for the country. It is known as the "Tower of Pakistan", and reflects a mix of Mughal, Islamic and modern architectural engineering.
Minar-e-Pakistan emphasizes the importance of the Pakistan resolution adopted at the meeting of the Muslim Federation of India held on 22-24 March 1940 in Minto Park. Many tourists from all over the world prefer to visit this historic tourist destination in Lahore.
Location
Iqbal Park, Circular Road, Lahore, Pakistan.
Lahore Fort
Lahore Fort or Shahi Qila is one of the amazing structures of the Great Mughals. This must-see historic palace was built in the 11th century by the legendary Mahmoud Ghazni. As you enter Shahi Qila, you will see a beautiful garden right in front of you. It has three museums: the Mughal Museum, the Armory Gallery, and the Sikh Museum, each with several interesting exhibits.
This huge complex is a delight for all art lovers, who have the opportunity to enjoy the beauty of Sheesh Mehal, Moti Masjid, Hathi Paer, Naulaha Pavilion, Paien Bagh, summer palace, and Alamgiri Gate located in Lahore Fort.
Location
Fort Road, Walled City of Lahore, Lahore, Pakistan
Wagah Border
The border between the Pakistan and India is Wagah. The flag lowering ceremony, also known as the Wagah-Attari Border Ceremony or Beating Retreat Ceremony, takes place daily at the Wagah border near the border gates in the evening just before sunset.
Cheering crowds on both sides are something every visitor should experience before leaving the city. This ceremony is considered one of the most visited tourist destinations in Lahore and although it is a bit out of the way, it is well worth attending at least once.
Delhi Gate
The Delhi Gate, known as "Delhi Darwaza", is perhaps the most visited gate and it is no exaggeration to say that it is the king of all gates. One can have an enthralling guided tour of Lahore that takes you through many historical buildings that can be visited via this gate.
If brick walls and arches could speak, they would tell millions of different stories of love and glory, war and peace, and betrayal and loyalty. The Delhi Gate is illuminated, creating a fascinating view around the gate, and has become an iconic heritage of the walled city of Lahore.
Location
Akbari Mandi, Walled City of Lahore, Pakistan
Bhati Gate
Bhati Gate, the second largest gate, is a contrast of architecture, art, culture, tradition, and religious awareness in the walled city of Lahore. The mausoleum of Hazrat Data Ali Hajveri (R.A) located nearby this gate enhances its significance and the sounds of Qawwali echoing in the streets make the air spiritual here.
This precious heritage of the city is a must-see place, especially for tourists who want to experience the sights of Lahore.
Location
Hakiman Bazar, Mohalla Patrangan Kucha Faqirkhana, Lahore, Pakistan
Mosques to Visit in Lahore
Badshahi Mosque
It is one of the most famous mosques in the world and was built by Mughal emperor Aurangzeb in 1674 and is entirely made of red sandstone. Reports show that the mosque can accommodate around 40,000 people at one prayer.
Badshahi mosque was famous for its exceptional and extraordinary size that could be seen from almost 10 miles away! Even today, this historic and sacred relic retains its grandeur and magnificence.
Location
Walled City of Lahore, Lahore, Pakistan
Wazir Khan Mosque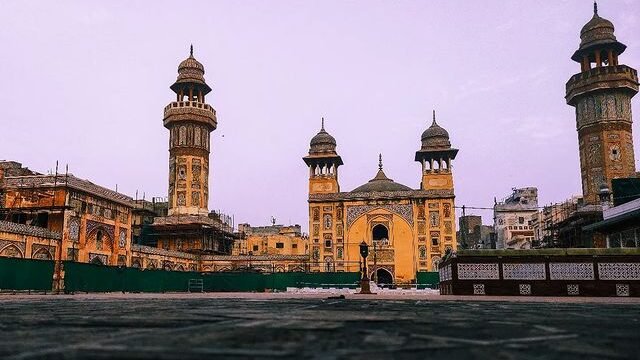 Wazir khan Mosque seems to be in direct contrast to the magnificence of Lahore Fort. With its glazed faience tiles and impressive octagonal minarets, this majestic mosque is an important part of the Mughal era heritage.
The floral motifs and turquoise calligraphy combine to create the enchanting beauty of the façade and make Wazir khan Mosque one of the best places to visit in Lahore. Don't miss it!
Location
Shahi Guzargah, Dabbi Bazar, walled city of Lahore, Pakistan
Grand Jamia Masjid, Bahria Town
Grand Jamia Masjid is a proud landmark of Lahore and a symbol of Pakistan in the Islamic world. A 165-foot spire towers over each of the mosque's four corners, giving it a fascinating look, and a fountain in the center of the courtyard, further enhances its beauty.
The Grand Jamia mosque has a dazzling six-arched wooden door and fascinates you with the views of white chandeliers, mosaic tiles, and frescoes of extraordinary beauty.
Location
Bahria Town Main Blvd, Sector C Janiper Block, Lahore, Pakistan
Mosque Of Maryum Zamani Begum
The mosque is a simple and elegant massive structure richly decorated with frescoes with geometric, floral, and vine ornaments. The Maryum Zamani Begum Mosque's importance is also in its outstanding painting known as "Monnabat Kari", an example of artistic work.
The architectural plans and decorative details, especially the calligraphy, make Maryum Zamani Begum mosque one of the most outstanding monuments of the Mughal Empire.
Location
Fort Road, Walled City of Lahore, Lahore, Pakistan
Moti Masjid
This mosque is built of Sang-e-Marmar, the same white marble used in the construction of Taj Mehal, and you will see this marble shining like a pearl, which is a specialty of Moti Masjid.
The luminous facade of Moti Masjid is divided into five rooms, the center of which extends slightly into a courtyard. A distinctive feature of this mosque is that both men and women can pray here.
Location
Walled City of Lahore, Lahore, Pakistan
Historical Gardens to Visit In Lahore
Shalimar Garden
Shalimar garden was built by Mughal Emperor, Shah Jahan in 1641 and this magnificent 80-acre garden is a great example of the Mughal Empire's renowned architectural craftsmanship. On its territory, you can admire 410 fountains, marble pools, 12 types of trees, and numerous pavilions.
For nature lovers, the Shalimar Garden in Lahore is the perfect place to get away from the hustle and bustle of the city.
Location
G.T. Road, Lahore, Pakistan
Greater Iqbal Park
Iqbal Park, formerly known as Minto Park, is a sacred site where a Pakistan resolution was passed in 1940 and is surrounded by 13 historic gates of the city. There is a golf ride, the Pakistan History Museum, and a huge garden which is one of the most attractive tourist destinations in Lahore
This is one of the largest parks in history and an ideal place for visitors to relax, have a picnic and enjoy the majestic fountains and waterfalls. Sculptures inside the park, depicting crooked trees, birds, musical instruments, and peacocks aesthetically delight and attract visitors.
Location
Alama Iqbal Town, Lahore, Pakistan
Lawrence Garden (Bagh-e-Jinnah)
Bagh-e-Jinnah, a huge historic park in Lahore, is more than just a place to relax. This park also has entertainment and sports facilities such as an outdoor theatre, restaurants, tennis courts, gymnasiums, and cricket fields.
Lawrence garden houses the botanical garden, the Dar-ul-Islam temple, and the Quaid-i-Azam library.
Location
Lawrence Road, Lahore, Pakistan
Shopping Malls and Markets To Visit in Lahore
Emporium Mall
Emporium mall, the second largest shopping mall in Pakistan, opened to the public in 2016. This mall has more than 200 domestic and foreign brands, a 5-star hotel, a Newplex cinema, and a spacious food court.
Other hotel amenities include Fun Factory Park, The Bounce, banquet facilities, restaurants and eateries, and the large hypermarket. If you are a true shopaholic, don't miss the Emporium Mall.
Location
16M Abdul Haque Rd, Trade Centre Commercial Area Phase 2, Johar Town, Lahore, Pakistan
Packages Mall
The Packages Mall is famous for its modern structure designed to international standards. The mall has three floors, over 200 international and local brands, one of the best cinemas, a food court, and a hypermarket.
The Packages Mall promises to provide a sophisticated shopping experience with a variety of shopping, dining, and entertainment options tailored for you and your whole family.
Location
Main Walton Road, Lahore, Pakistan
Fortress Square Mall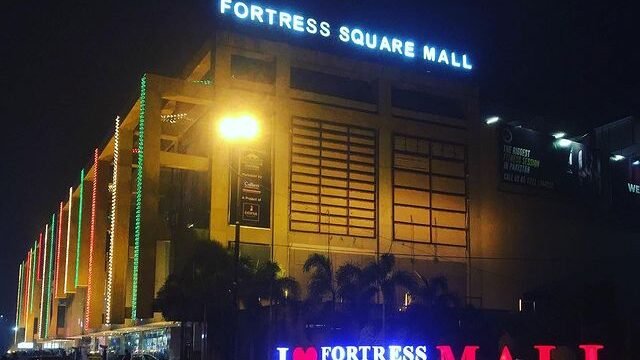 Fortress Square, one of the most visited tourist destinations in Lahore, is a 5-story shopping mall, featuring over 100 local and international brands.  In addition to a variety of brands, the mall also has ample parking, a food court, and a cinema.
Undoubtedly, Fortress Square is the best place for everything from shopping to dining to relaxing.
Location
Mian Mir Bridge, Saddar Town, Lahore, Pakistan
Anarkali Bazaar
Anarkali bazaar is one of the oldest bazaars in Lahore, from jewelry to embroidered items, leather clothing, and shoes, you can find the best of Lahore at this market. This bazaar is basically divided into two sections; the "Old Anarkali" and the "New Anarkali". Old Anarkali is the favorite spot of foodie people, whereas New Anarkali is best for shopping.
This market is the most famous market in Lahore and people all over the world visit there it shows the culture of Pakistan and reflects the history of the Mughal Empire.
Location
Mall Road, Lahore, Pakistan
Museums To Visit In Lahore
Lahore Museum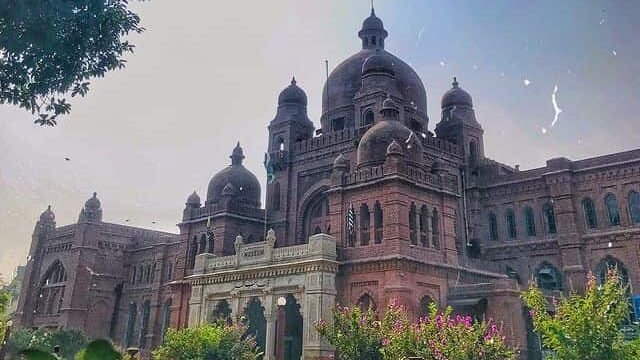 In harmony with the old traditions of Mughal architecture, the Lahore Museum stands out among the buildings built during the British era. The museum presents its visitors with works of Gandharan sculpture, Islamic arts and crafts, and a collection of miniatures and rare manuscripts.
Take a few hours to make the most of the majestic Lahore Museum, with exhibits spanning the entire history of the subcontinent.
Location
Shahrah-e-Quaid e Azam, Mall Road, Lahore, Pakistan
Army Museum
The various sections of the Army Museum in Lahore are named "National Rebirth", "Quaid and the Armed Forces", "Shahad Corner", "Nishan-e-Haider Gallery", "Siachen Life Corner" and "Kashmir". Despite this, there are separate galleries that depict the major wars of 1965 and 1971.
If you've never been to the best museums in Lahore, now is the time to visit the Army Museum in Lahore.
Location
Amjad Chaudhry Rd, Saddar Town, Lahore, Pakistan
Fakir Khana Museum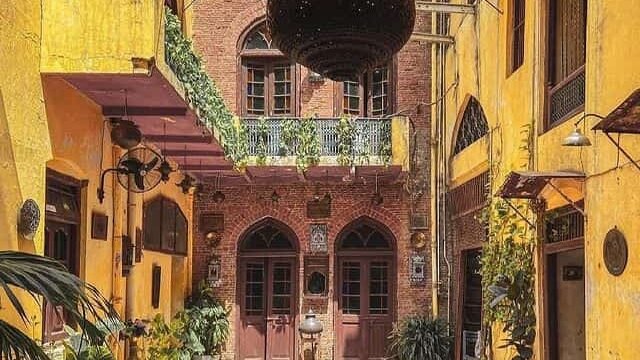 Fakir Khana Museum is an unusual place and is the only private museum in Lahore. This is the best spot for lovers of artworks and antiques. Despite the artworks, the attractive assets of this gallery are paintings of Nawab Mumtaz Ali.
Hidden treasures of Fakir Khana Museum include miniature paintings, Islamic art, woodwork, Persian rugs, coin collections, and Chinese porcelain.
Location
Hakimian Bazar, Kucha Faqirkhana, Walled City of Lahore, Lahore, Pakistan
Mausoleum And Shrines To Visit In Lahore
Tomb of Jahangir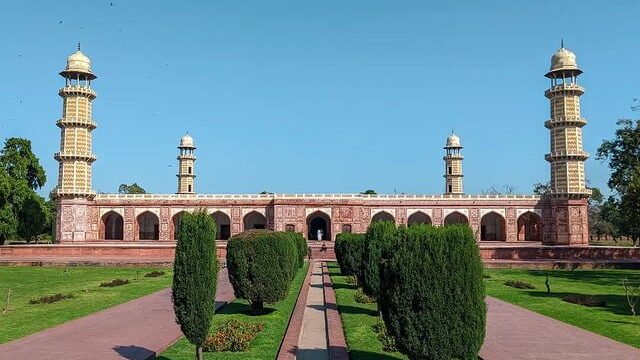 This mausoleum was built for the Mughal Emperor Jahangir and is in red sandstone with floral marble inlay. The corridors around it are decorated with very elegant mosaics depicting flowers and verses from the Quran.
The Jahangir Mausoleum holds a special place among Pakistan's architectural relics as it is the only surviving Mughal tomb in the country, and remains the most popular tourist destination in Lahore. If you are into architecture this is definitely one of the best places in Lahore!
Location
Shahdara Bagh, Lahore, Pakistan
Tomb Of Nur Jahan
Nur Jahan, the wife of Jahangir, acquired unprecedented political power for a Mughal woman.
Nur Jahan's Tomb is stylistically similar to Jahangir's Tomb, but is about half the size and has no corner minaret.
Location
Shahdara Bagh, Lahore, Pakistan
Data Darbar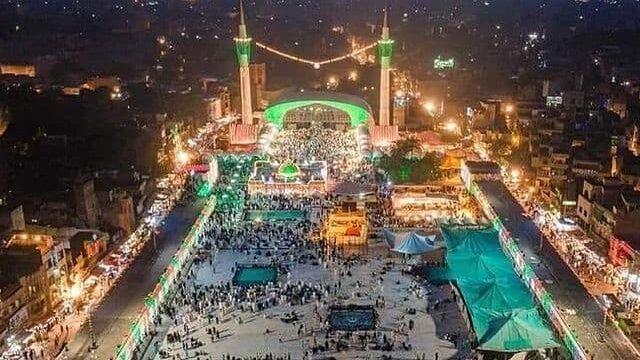 Data Darbar, Considered the holiest site in Lahore, shrine of Data Ganj Baksh, and there is a peace in the surrounding. Its marble courtyards and ornate tombs are a sight to behold. It regularly hosts Qawali programs and a large organization of free food.
 Anyone can come and enjoy the free delicious food. This place teaches us a lesson about human equality. Data Darbar is a legitimate example of Pakistan's rich culture and utmost dedication.
Location
Main Bazar, Data Darbar Road, Lahore, Pakistan
Madho Laal Hussain Shrine
This is the shrine of famous Sufi poet, Hazrat Shah Hussain. Every year, usually in March, the annual Mela Chiragan is held at the temple. In this festival, men and women perform traditional Dhamal on the beat of Dhol, and the shrine is decorated with lights and oil lamps.
This shrine symbolizes unity and love against all odds, and is a popular place for people to come and pay their respects.
Location
Baghbanpura Near Shalimar Garden, Lahore, Pakistan.
Amusement Parks To Visit In Lahore
Joyland
With spacious grounds for thrills and thrilling rides, this park is a must-see for all ages. Joyland has Discovery rides, Dragon rides, Top Spins, and many other adventurous rides. It is a great place to visit as it offers opportunities to relax and enjoy different types of entertainment.
There are numerous stalls and shops where you can enjoy street food, ice cream, and other snacks. With the motto of spreading a smile, Joyland remain consistent in providing modern, affordable entertainment and rides to the masses.
Location
Fortress Stadium Circular Road, Saddar Town, Lahore Pakistan
Playdium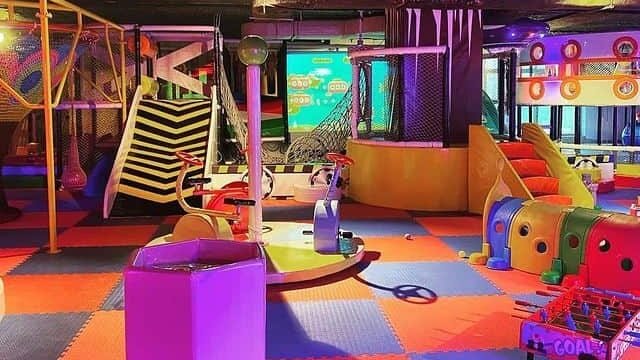 With a number of options for recreational activities and games for all ages, from play areas to bumper cars, shooting and racing simulations, bull riding, augmented reality, and many other categories, it is quickly becoming a tourist and public attraction.
Its unique ambiance makes Playdium the perfect place for artistic photography. Try not to be sober every time, let your inner child out for a while and plan a trip to this amazing amusement place.
Location
Avenue Mall, Lahore, Pakistan
Sozo Waterpark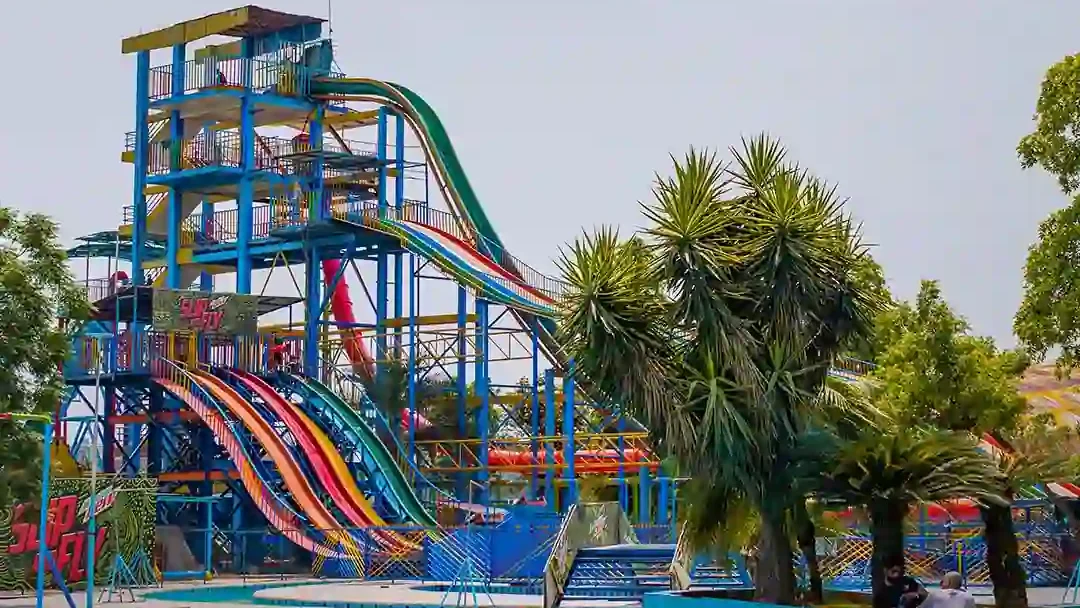 Sozo water park has amazing rides for adventurers and fun people. The men's area has 3 swimming pools and many water slides such as a speed slide, wave pool, twister slide, and free fall slide, there are also some helter-skelter type slides for boys. There's a separate section for ladies in Sozo Waterpark.
With an outdoor pool, slides, and attractions, it's a fun experience for people of all ages who want to enjoy the summer. The dry part of the park offers a variety of attractions, including kiddie rides, as well as a lawn where you can just sit and relax.
Location
Canal Bank Road, Near Jallo Park, Lahore, Pakistan.
Lahore Zoo
Lahore zoo is a home to wide variety of animals and birds. There are different areas at zoo, including an Elephant house, Lion's house, a waterfall lake, a Monkey House, a Fancy Bird Aviary, a Chimpanzee house, and a reptile house. It is one of the most visited tourist destinations nationwide.
Other notable attractions at Lahore Zoo include horseback riding, jumping castles, painting contests, camel rides, mechanical elephant rides, face painting, guided tours, food stalls and gift shops selling mugs, shirts, hats, bags and posters.
Location
Shahrah-e-Quaid-e-Azam, Jubilee Town, Lahore, Pakistan
Conclusion
With its magnificent architecture, state-of-the-art infrastructure and historical monuments, the ancient city, Lahore is truly a sight to behold.
Despite all the bustle of the city, these top 28 tourist destinations in Lahore knows how to win hearts.